Helping You Engage Both Inside & Outside of D.C.
Distilling your government affairs team's complex issues into engaging slide decks, newsletters, one-pagers, and more.
White-Label Slides
Access our library of more than 11,000 ready-made, customizable PowerPoint slides to educate yourself, stakeholders, and PACs on complex issues and how policy impacts politics.
Download an unlimited number of editable slides and visuals.
Educate your PACs and stakeholders on election impact, energy, health care, trade, defense, economics, technology, and more.
Edit our slides so they can be seamlessly incorporated into your newsletters, memos, social media campaigns, and more.
Over 250 new slides are available each week.
Featured White-Label Presentations
2022 Election High-level Trends
The 2022 Election: High-level Trends deck provides top-line results and maps of congressional and gubernatorial elections. The deck includes the following visualizations: Top-line results of Congressional control - A brief overview of key Senate swing states and the Georgia Senate runoff results - Charts and maps of Senate and House results - Maps of governor and state legislature results - A table of selected ballot initiative outcomes
Party leadership in the 118th Congress
A look at party leadership in the new Congress, including an overview of McCarthy's concessions to the House Freedom Caucus in his bid to become Speaker.
PAC 101
This deck provides an overview of PACs and the importance of PAC giving, as well as information on PAC trends in 2022.
Presentation Center Concierge
We produce customized content to support your Federal, State, PAC, and Grassroots efforts and initiatives.
Trust our team of dedicated policy researchers, data analysts, and graphic designers to produce content on the latest updates and movement in Washington, including on-demand graphics, charts, and data visualizations specific to your issue and audience.
Build

your presentation from scratch. 

Craft

custom deliverables including newsletter templates, one-pagers, annual reports, and more based on best practices from within our membership.

Visualize data. Let us help you amplify your message with sharp, clear visuals.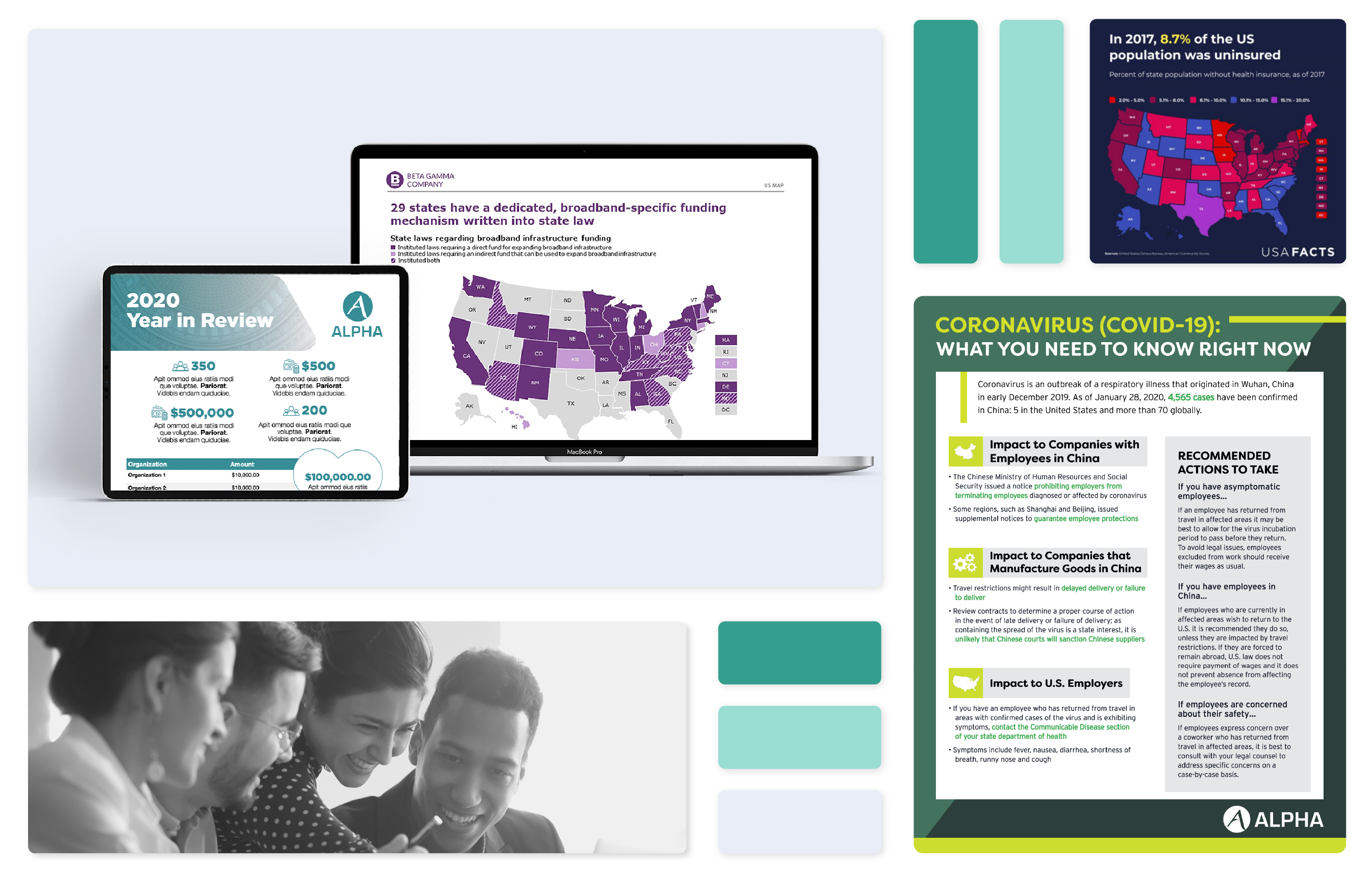 The Presentation Center produces timely, relevant content that is easy to access and use in our day-to-day work. National Journal helps us save time and optimize efficiency!
Anna Schneider — Volkswagen,
Senior Vice President, Industry and Government Relations
Organizations We Work With