National Journal Daily
Published and hand-delivered every day that Congress is in session, NJ Daily is your source for everything happening on the Hill.
Provides members with insider access to Congress, from in-depth policy coverage to profiles of key figures and power players on Capitol Hill .
Delivered to the desks of congressional offices and top officials across the executive branch.
We have expertise in analyzing critical issues and have been a trusted, non-partisan resource to Washington influencers since 1969.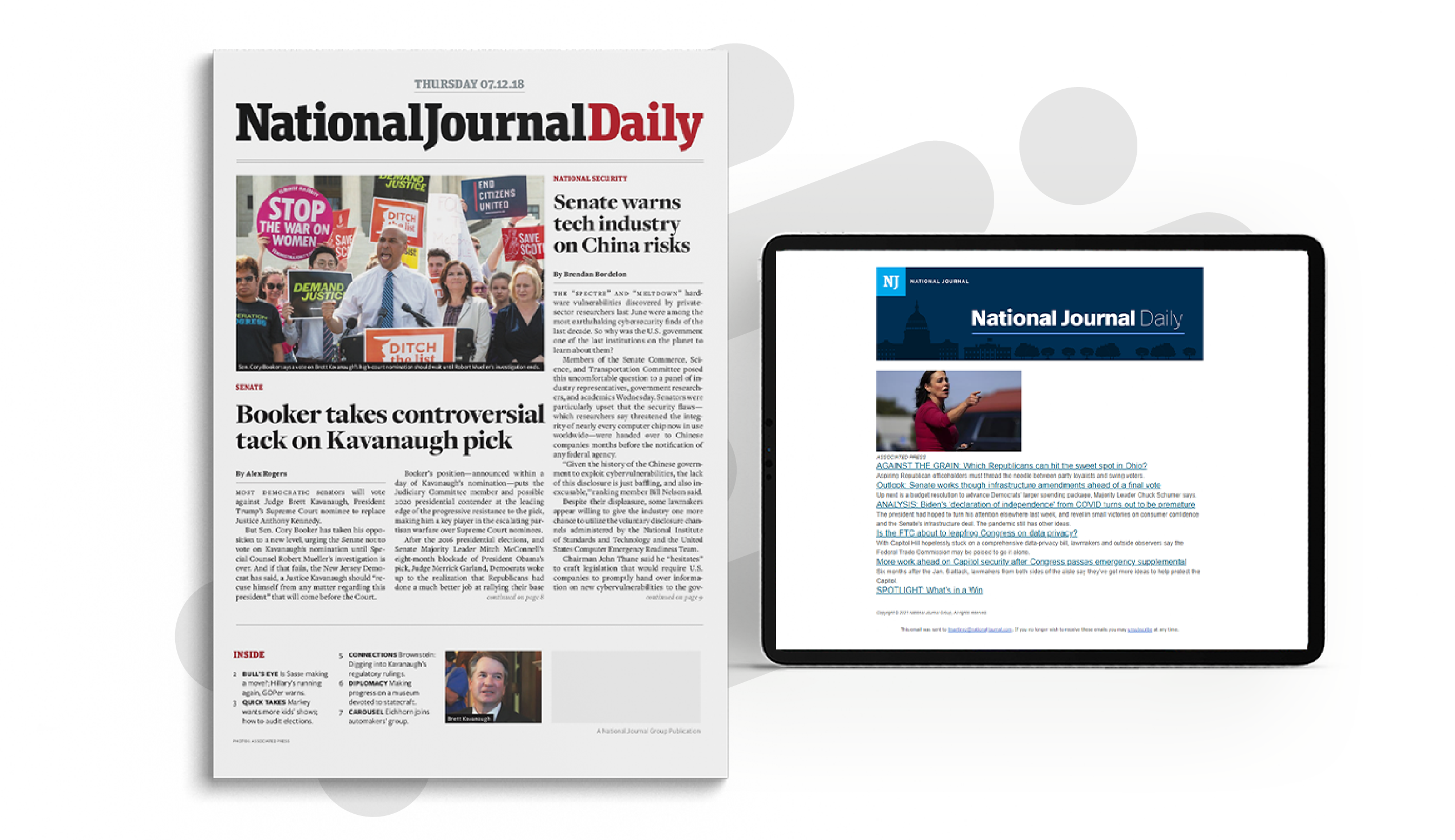 Hotline
Hotline's Wake-Up Call and Latest Edition preview the day's top stories and election updates.
Wake Up Call:  A concise round-up of the latest race and election news from the last 24 hours.
Latest Edition: An analytical breakdown of how the latest updates could impact the election landscape.
We have expertise in providing 360° coverage of elections across the country by condensing coverage from hundreds of sources.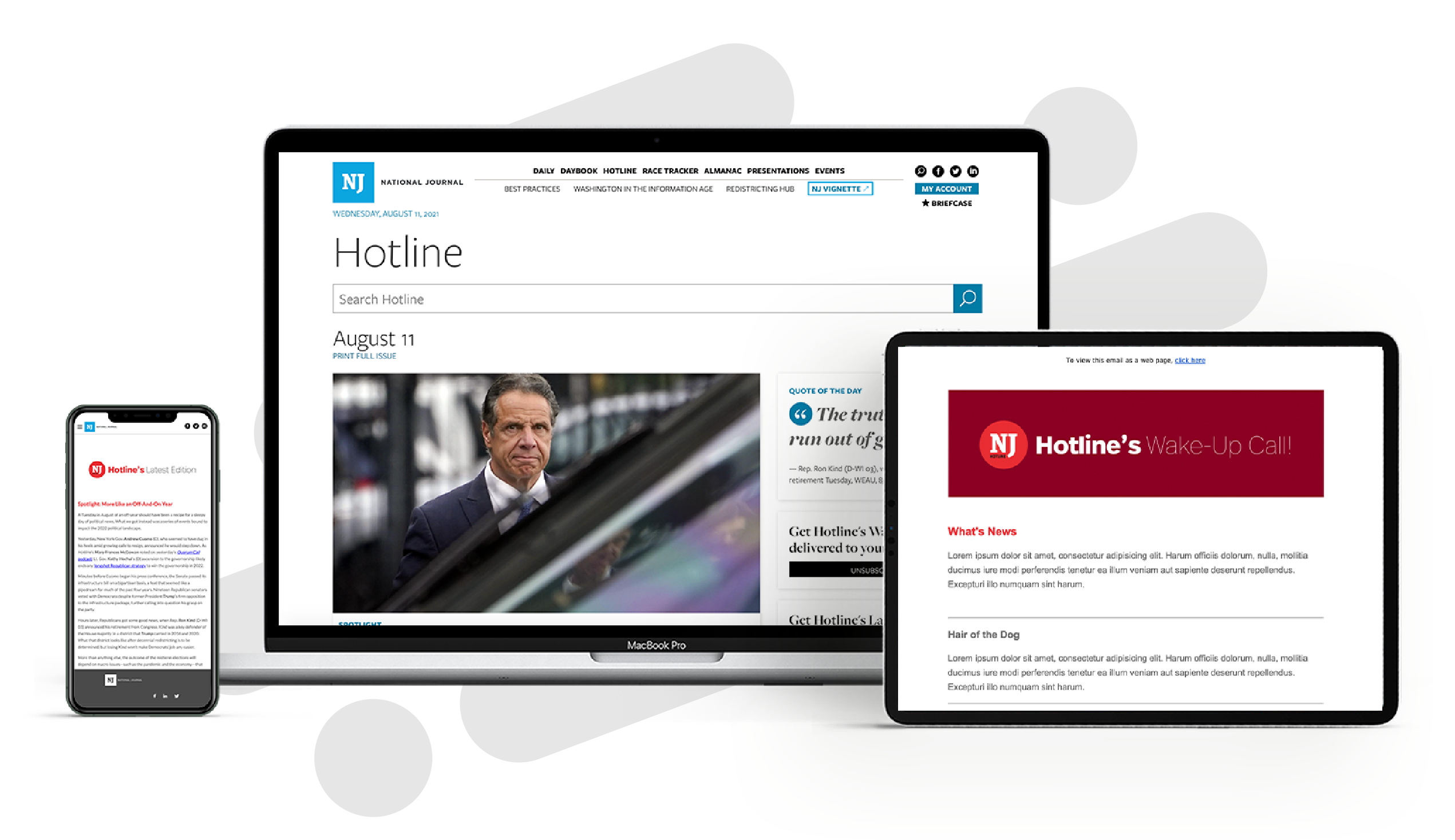 Race Tracker
Powered by the intelligence of National Journal's Hotline, Race Tracker is the go-to source for data on elections, campaigns, and candidates.
A digital, interactive hub that encompasses every detail of each key race so you don't have to search across multiple sources.
Customizable dashboards allow you to quickly pull and download polling data, campaign contributions, issue ratings, and more.
We have expertise in compiling and analyzing data, polls, and results from the races that matter most to you.
Daybook
National Journal's Daybook keeps you informed about the most important events and hearings in Washington.
Plan your week with the most comprehensive list of policy events happening in Washington.
Search by topic, date, and location, then export the list to keep tabs on the events most relevant to you.
We have expertise in ensuring Washington professionals never miss an event, hearing, vote, or briefing that could have an impact on their work or interests.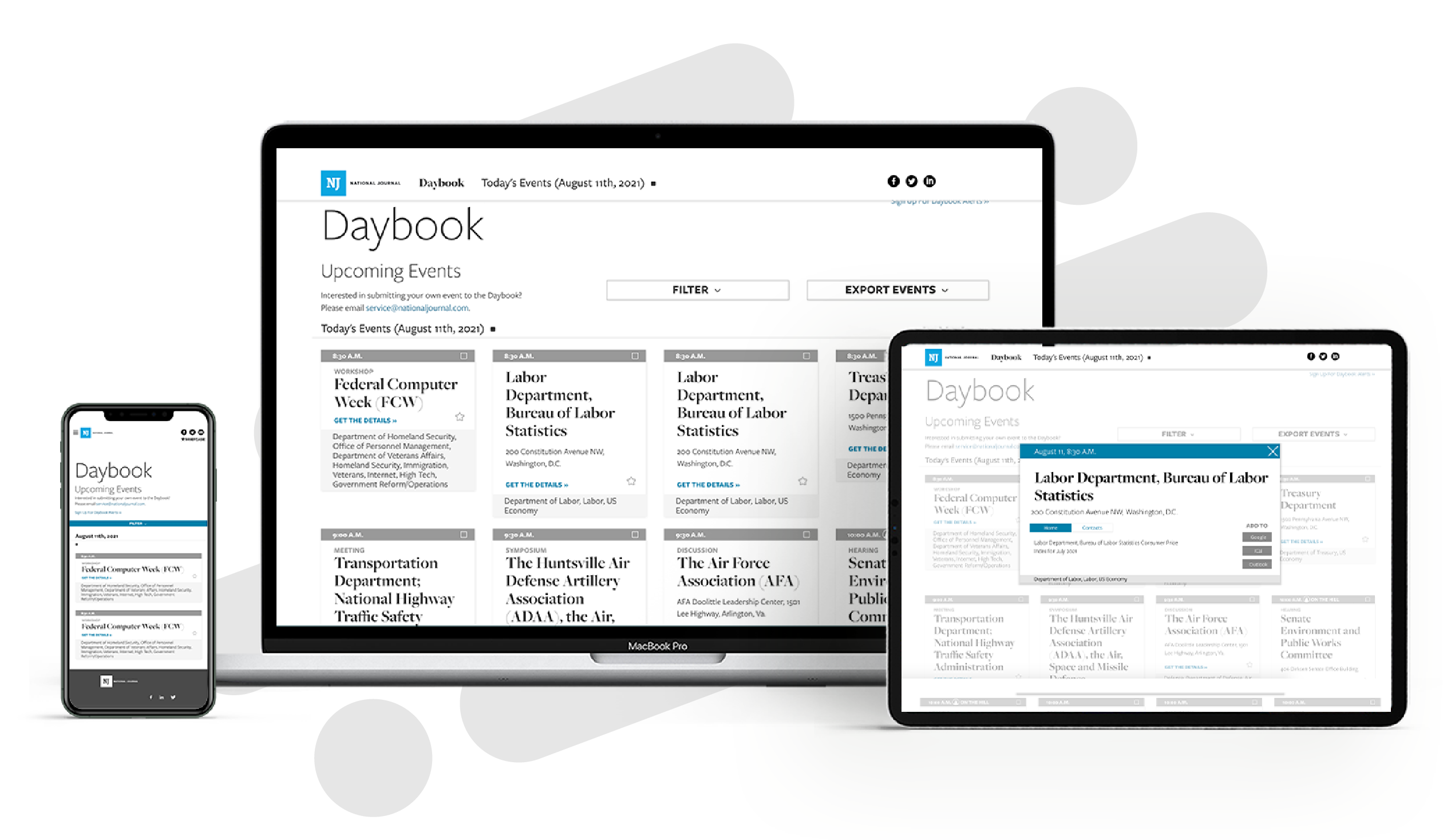 Almanac
Published since 1972, The Almanac of American Politics provides political operators with profiles of every member of Congress, and demographic and historical election data by state and congressional district.
The digital edition also includes updated directories for all federal staff.
Export full congressional and federal staff directories.
Filter your searches by party affiliation, job title, agency, and appointment type to quickly find the information you need.
We have expertise in keeping up with the high volume of Hill staff turnover and providing up-to-date contact information for your outreach.