Add to Briefcase
Sept. 10, 2015, 8 p.m.
In New Hamp­shire, where sev­er­al pres­id­en­tial con­tenders are pin­ning their hopes, it's a sim­il­ar story. Lind­sey Gra­ham spent 26 days in New Hamp­shire this sum­mer, more than any oth­er can­did­ate, fol­lowed closely by Chris Christie with 25 days. They have little to show for it: Christie is hov­er­ing around the 4 per­cent mark in the state, while Gra­ham is barely re­gis­ter­ing.
Mean­while, Trump holds a com­fort­able polling ad­vant­age over his Re­pub­lic­an com­pet­it­ors in Iowa, New Hamp­shire, and across the coun­try head­ing in­to the fall, des­pite keep­ing one of the light­est sum­mer travel sched­ules. From the end of May through the be­gin­ning of Septem­ber, Trump spent sev­en days in Iowa and five days in New Hamp­shire. And in total, Trump logged just 27 days on the cam­paign trail, few­er than any oth­er GOP can­did­ate aside from long-shots George Pa­taki and Jim Gilmore.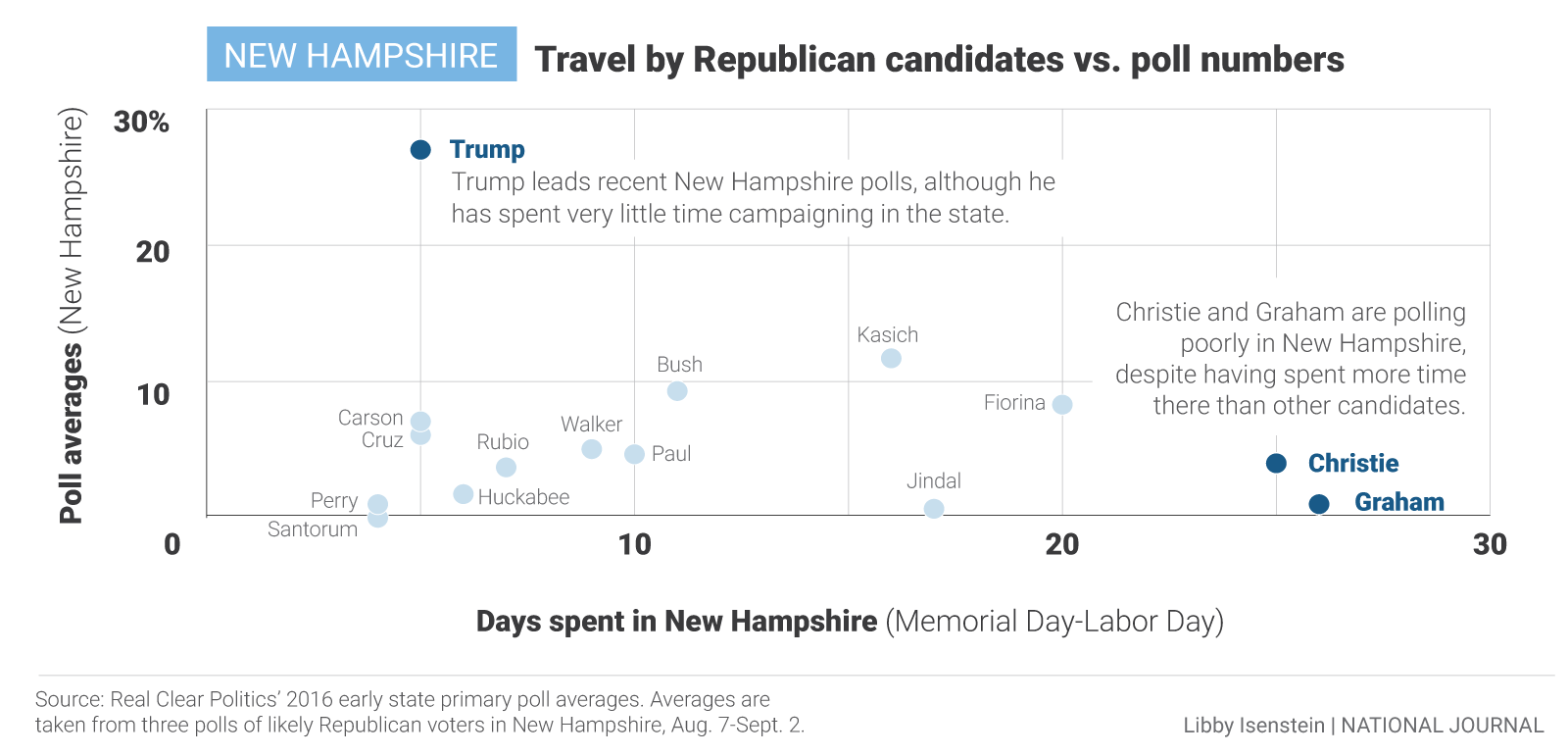 The dy­nam­ic in South Car­o­lina, which has seen far less ac­tion both in terms of cam­paign trips and polling than the two states in front of it on the primary cal­en­dar thus far, is fol­low­ing the same trend. San­tor­um, Hucka­bee, and Rick Perry in­ves­ted the most time there dur­ing the sum­mer, but aren't any­where near the top of the polls in the state.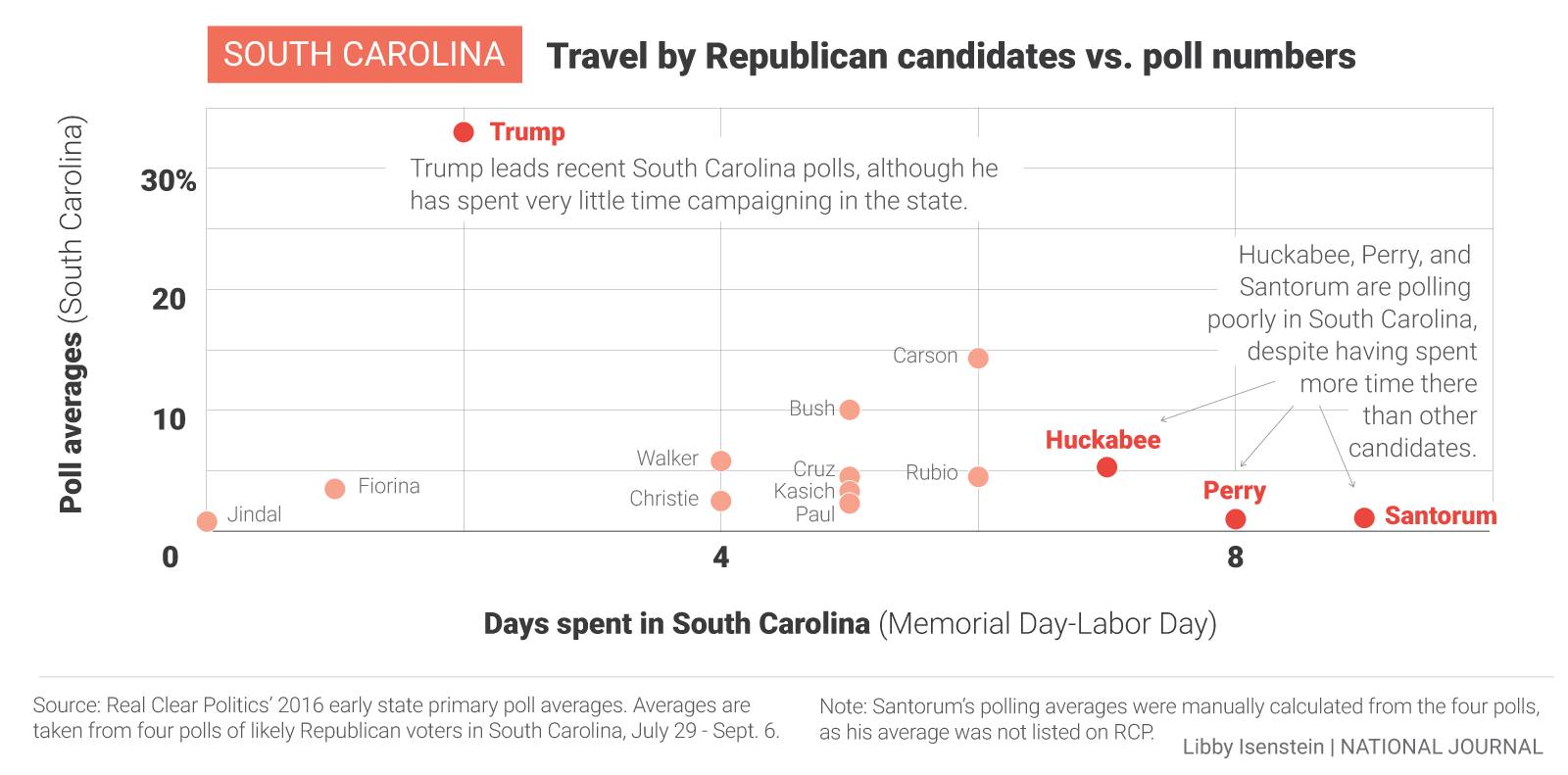 The Demo­crats who have traveled most of­ten to Iowa and New Hamp­shire aren't hav­ing much luck either. Mar­tin O'Mal­ley spent the most days in Iowa of any can­did­ate from his party at 18 days, and Lin­coln Chafee topped the list in New Hamp­shire with 19 days. Neither is mak­ing much of a dent in the polls.
Some fre­quent early-state fly­ers have seen their ef­forts re­war­ded, though. On the GOP side, for in­stance, Carly Fior­ina spent the third-most time in both Iowa and New Hamp­shire this sum­mer, and has seen her stand­ing gradu­ally im­prove in both states. (A strong de­bate per­form­ance last month has a lot to do with that, too.)
Na­tion­al Journ­al's Travel Track­er cov­ers the trips that de­clared Demo­crat­ic and Re­pub­lic­an pres­id­en­tial can­did­ates have made out­side of their home states since the 2014 midterm elec­tions. The data is com­piled through press re­leases, news art­icles, and ori­gin­al re­port­ing.
Be­low are some oth­er in­ter­est­ing find­ings from the 951 cu­mu­lat­ive days pres­id­en­tial can­did­ates spent on the cam­paign trail from Me­mori­al Day through Labor Day:
—Iowa and New Hamp­shire con­tin­ue to dom­in­ate 2016 cam­paigns' it­in­er­ar­ies. Can­did­ates from both parties spent a com­bined 465 days in those two states, ac­count­ing for nearly half of this sum­mer's total cam­paign days.
—Still, not every can­did­ate booked a trip to those states. Gilmore was the lone White House hope­ful from either party not to vis­it Iowa dur­ing this peri­od, while Hucka­bee was the only one not to swing by New Hamp­shire.
—While the early-vot­ing states of Iowa (241 days), New Hamp­shire (224 days), and South Car­o­lina (78 days) were the most pop­u­lar des­tin­a­tions for can­did­ates, two big-money states—Cali­for­nia (35 days) and New York (29 days)—roun­ded out the top five.
—What about Nevada, the for­got­ten early state? Thir­teen can­did­ates paid a vis­it to the first-in-the-West caucus state, which adds up to a total of 28 cam­paign days. Marco Ru­bio, who along with Jeb Bush is mak­ing early in­roads with the state's in­flu­en­tial Mor­mon com­munity, spent the most time there (six days).
—The bloc of South­ern states hold­ing nom­in­at­ing con­tests on March 1 also re­ceived plenty of at­ten­tion. Can­did­ates spent a total of 78 days (the same as in South Car­o­lina alone) cam­paign­ing in Alabama, Arkan­sas, Geor­gia, Ten­ness­ee, Texas, Ok­lahoma, and Vir­gin­ia, which have be­come known as the "SEC primary" states.
—John Kasich has placed his em­phas­is squarely on New Hamp­shire, where he spent 17 of his 38 days on the trail this sum­mer. But the Ohio gov­ernor has his eye on the Mid­w­est as well. Michigan was tied with South Car­o­lina for the state Kasich spent the second most time in (five days). "We're kiss­ing cous­ins, we're neigh­bors," Kasich said dur­ing a Ju­ly stop in Michigan.
—Hil­lary Clin­ton and Bush covered the most ground this sum­mer. Clin­ton vis­ited a total 28 states, while Bush made his way to 24 states. (Their totals may be in­flated com­pared to oth­er can­did­ates, however, since their sched­ules have re­ceived more press cov­er­age.)
—All told, only six states did not re­ceive a vis­it from a pres­id­en­tial con­tender this sum­mer: Hawaii, Kan­sas, Montana, Neb­raska, North Dakota, and West Vir­gin­ia. Sunny Hawaii re­mains the only state that hasn't played host to a can­did­ate since Novem­ber 2014.
Graphics by Libby Isenstein