Add to Briefcase
Sept. 15, 2015, 9 a.m.
In June 2010 in Prud­hoe Bay on Alaska's fri­gid North Slope, a white mod­el air­plane could be seen fly­ing in a pat­tern above en­ergy gi­ant BP's oil field. Weigh­ing about 13.5 pounds, with a fixed wing­span of just sev­en feet, this Puma AE drone was do­ing what oth­er­wise might re­quire a full-size, manned air­craft: tak­ing high-res­ol­u­tion pho­tos and meas­ure­ments.
"It's a lot more ac­cur­ate, and it's faster," said Curt Smith, tech­no­logy dir­ect­or at BP, com­par­ing the drone to tra­di­tion­al air­craft.
Drones are fast gain­ing ac­cept­ance for uses out­side of the mil­it­ary, but BP was one of the earli­est ad­op­ters: That 2010 flight was the first routine com­mer­cial drone flight ap­proved by the Fed­er­al Avi­ation. For BP, drones are prov­ing a vastly more agile, ef­fi­cient and ef­fect­ive way of mon­it­or­ing sprawl­ing en­ergy de­vel­op­ment op­er­a­tions and in­fra­struc­ture.
Best of all, drones can work while the oil­field fa­cil­ity op­er­a­tions con­tin­ue. "Nor­mally, you had to shut everything down," he said.  This en­ables in­spect­ors to bet­ter spot po­ten­tial prob­lems: an er­rant flare or an off-and-on leak — haz­ards per­haps oth­er­wise not evid­ent when the plant isn't op­er­at­ing.
In short, drones make mon­it­or­ing oil and gas fa­cil­it­ies much easi­er. The day may not be far off when more than 1,000 miles of pipeline that were pre­vi­ously in­spec­ted by manned aer­i­al fly­overs can in­stead be mon­itored vir­tu­ally around-the-clock with a pre­vi­ously un­at­tain­able level of watch­ful­ness and pre­ci­sion.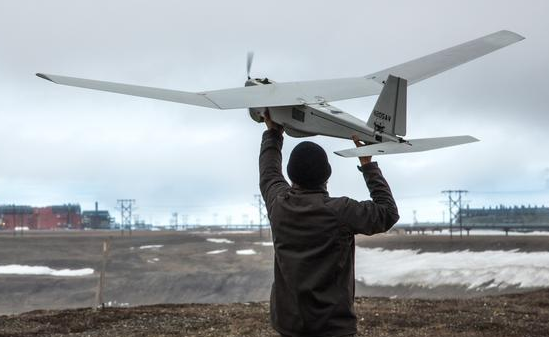 "Now we're able to take con­tinu­ous meas­ure­ments," said Dave Truch, also a tech­no­logy dir­ect­or at BP. "It's about con­tinu­ous cov­er­age and mov­ing more and more to real-time mon­it­or­ing and change de­tec­tion."
The Un­manned Aer­i­al Sys­tems pro­ject is a product of BP's Chief Tech­no­logy Of­fice, a group tasked with keep­ing an eye on the tech­no­logy ho­ri­zon to find new ways to solve prob­lems. For ex­ample, the group took a tour of Google's of­fices in Menlo Park – circa 2003.
"It was some kind of con­ver­ted strip mall," Smith re­called, of the then-early-stage tech firm and its small staff. "They really all kind of fit in one room."
In 2006, the pres­id­ent of BP's pipeline group asked how the com­pany could bet­ter mon­it­or a 12,000-mile net­work of pipelines that stretched across Canada and the U.S. At the time, it was be­ing in­spec­ted about once a week, cour­tesy of a pi­lot who would fly by and look out the win­dow.
The group pitched sev­er­al ideas — cam­er­as, sensors — but each cre­ated new tech­nic­al prob­lems. Then the con­ver­sa­tion turned to drones. "He said, 'That's what I want,'" Smith re­called, "'That's the one.'"
BP began work­ing on the idea. They ran tests with NASA. They met in Wash­ing­ton with the Fed­er­al Avi­ation Ad­min­is­tra­tion, which reg­u­lates air­craft. The agency re­jec­ted what must have seemed a far-fetched idea at the time.
But by 2013, after drones had be­gun to go main­stream, the FAA re­con­sidered. On June 2014, BP and its part­ner, Aer­oVir­on­ment, launched the first un­manned air­craft mis­sion to sur­vey its North Slope Alaska oil field. The event marked the first time the Fed­er­al Avi­ation Ad­min­is­tra­tion (FAA) has gran­ted per­mis­sion for UAS routine com­mer­cial ser­vices over land in the U.S.
The fixed-wing drones can fly over gravel roads in icy con­di­tions to help guide and spot vehicles in icy or bliz­zard con­di­tions. The com­pany also flies ro­tor­craft drones — the kind that re­semble mini-heli­copters — to in­spect fa­cil­it­ies like oil-tank roofs or power lines, which could be es­pe­cially com­plex.
BP now em­ploys drones across the globe, such as in­spect­ing oil rigs in the U.K.
Even so, some lim­it­a­tions re­main; drones may only fly with­in line of sight. Con­sequently, in­spec­tion runs must be with­in line of sight of the con­trol­ler. Get­ting per­mis­sion to fly bey­ond line of sight is what Smith calls "the next fron­ti­er" — one that opens up re­volu­tion­ary pos­sib­il­it­ies in terms of im­proved safety, ef­fi­ciency, in­spec­tions and en­vir­on­ment­al pro­tec­tion.
"My friends tell me that's com­ing soon," he said.