Add to Briefcase
Oct. 30, 2015, 4:14 p.m.
Cam­paigns have spend­ing habits, just like people. And what a 2016 con­tender buys can say a lot about what they stand for—even if it's just book­ing a hotel room.
Na­tion­al Journ­al took a closer look at two areas of cam­paign ex­pendit­ures—tax­is and ho­tels—to see how cam­paigns vary in which brands they use the most.
The Uber campaign
When a pres­id­en­tial can­did­ate needs a ride, who do they call? Most of the time, Uber. Pay­ments to the ride-hail­ing app ac­count for three-quar­ters of all cam­paign spend­ing on tax­is.
Of the 17 can­did­ates with avail­able data, five didn't even re­port a single tra­di­tion­al taxi charge—that is, noth­ing with "taxi" or "cab" in its name or de­scrip­tion. And only two can­did­ates—Hil­lary Clin­ton and Mike Hucka­bee—spent more on tra­di­tion­al tax­is than they did on Uber or Ly­ft. 
Lind­sey Gra­ham's cam­paign is, in fact, the only one to have used Ly­ft, a pop­u­lar com­pet­it­or of Uber. Ly­ft rides ac­coun­ted for 31 per­cent of Gra­ham's taxi spend­ing.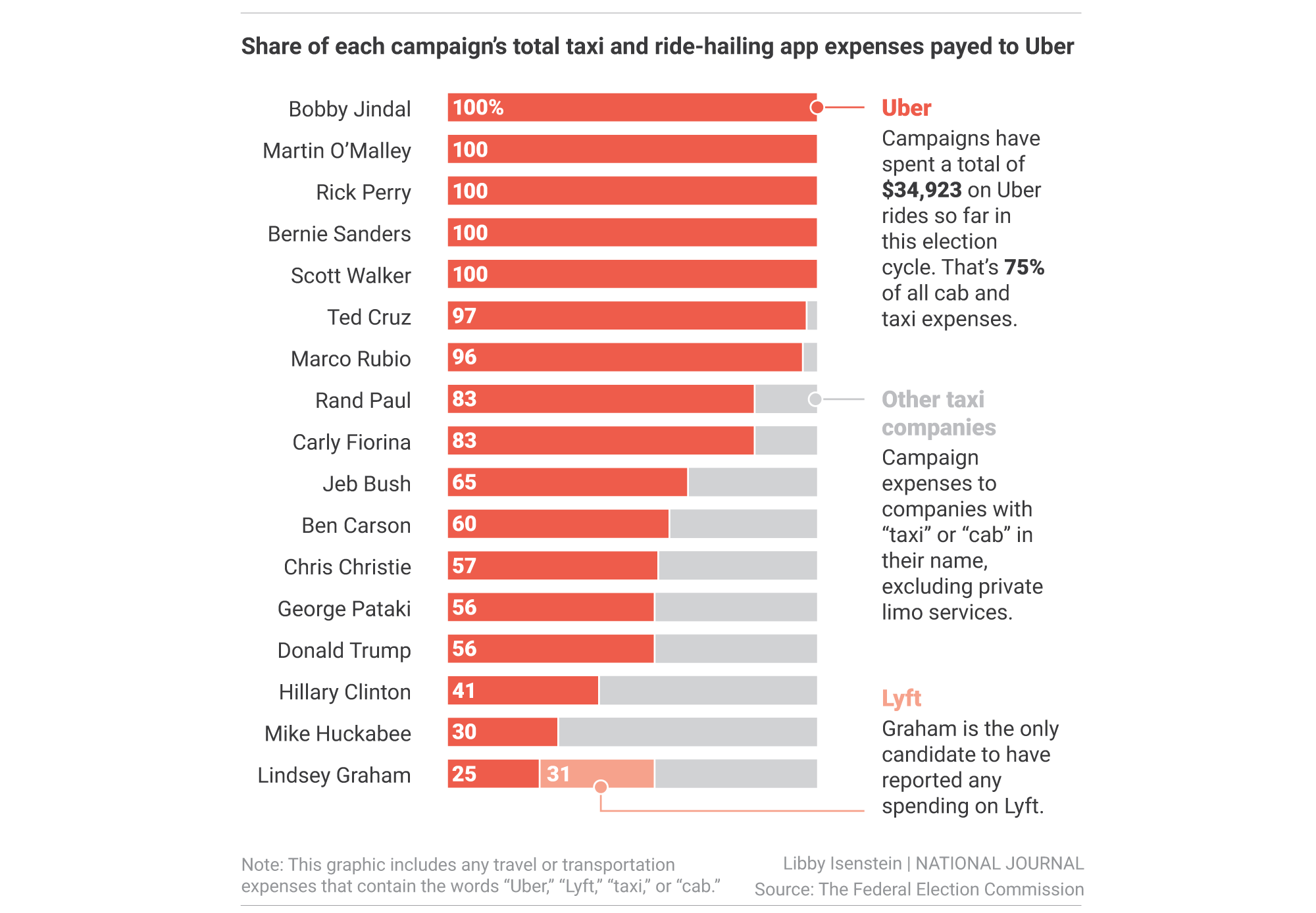 The only oth­er ride-hail­ing app used by any cam­paign was Curb. Ted Cruz lis­ted a single $21 charge—too small an amount to high­light on its own. That ride is in­cluded in Cruz's "oth­er taxi" total.
This ana­lys­is didn't look at hired car ser­vices or lim­ousines, which see plenty of use on the cam­paign trail.
And as usu­al, there is am­bi­gu­ity with­in these fil­ings. A cam­paign can re­port ex­pendit­ures un­der vague head­ings, like "re­im­burse­ment," without spe­cify­ing ex­act de­tails. So track­ing every single dol­lar spent by each cam­paign would be nearly im­possible. (For over­all num­bers of how much each cam­paign has raised and spent, see Na­tion­al Journ­al's cam­paign-fin­ance dash­board.)
Living large (or small)
The most com­mon ho­tels for cam­paigns on the road are pre­dict­ably Mar­ri­otts, Hiltons, and the like. With­in each cam­paign, there is a bit more vari­ety.
Us­ing cat­egor­ies provided by STR Glob­al (a travel re­search com­pany that re­leases stand­ard­ized data on all ma­jor hotel brands in the United States), we were able to map out each cam­paign's spend­ing habits by hotel class. In oth­er words—which can­did­ates splurge for lux­ury and which tend to take more mod­est op­tions?
Team Clin­ton has logged nine stays with Ritz-Carlton, while Rick Perry and Hucka­bee each re­por­ted one vis­it (and zero for the rest). Not sur­pris­ingly, Don­ald Trump is the only can­did­ate to lodge at a Trump hotel. Mean­while, Bernie Sanders's cam­paign is the only one to book a Motel 6.
Des­pite pour­ing a large chunk of its lodging money in­to lux­ury ho­tels, the Trump cam­paign's hotel spend­ing is one of the more evenly dis­trib­uted across qual­ity tiers. Bernie Sanders's cam­paign has the highest per­cent­age of funds spent at mid­scale and eco­nomy ho­tels. And there are a hand­ful of can­did­ates who have nev­er booked a lux­ury hotel brand.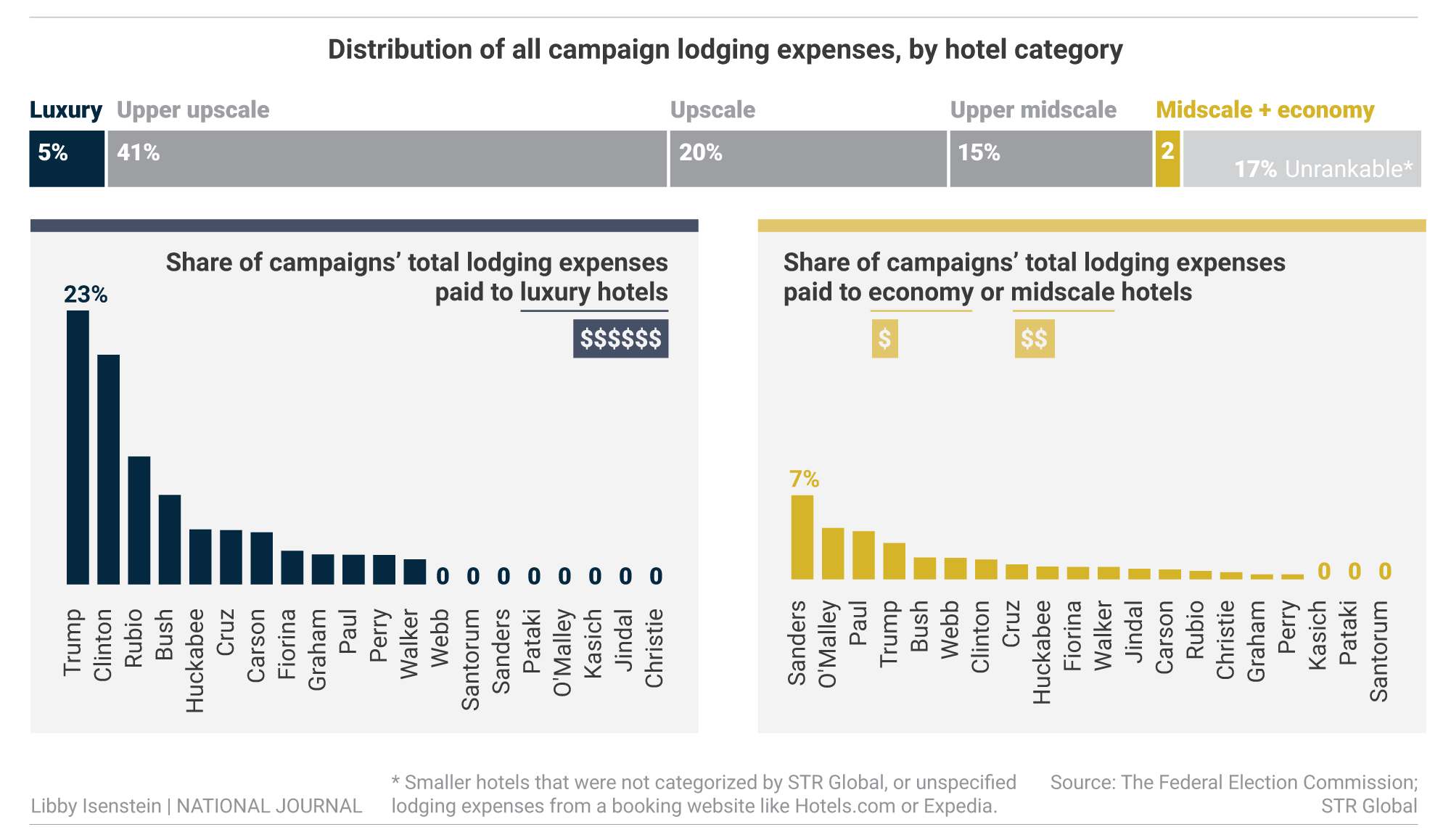 And, just for kicks, some oth­er fig­ures from these fil­ings:
Since the start of 2016 elec­tion cycle, across all cam­paigns, a cu­mu­lat­ive $20,000 has been spent on flags, at least $46,000 on mu­sic li­cens­ing, and at least $5 mil­lion on post­age.