The head of the Fed­er­al Com­mu­nic­a­tions Com­mis­sion prom­ised Thursday to en­force his agency's reg­u­la­tions re­quir­ing tele­vi­sion sta­tions to give polit­ic­al can­did­ates equal op­por­tun­it­ies for air­time.
"The rules are pretty clear. Rules are rules," FCC Chair­man Tom Wheel­er told re­port­ers. "I hope that we have de­veloped a repu­ta­tion as folks who en­force the rules."
Hil­lary Clin­ton's ap­pear­ance earli­er this month on Sat­urday Night Live could trig­ger the so-called "equal-time" rules, as could Don­ald Trump's plan to host the long-run­ning NBC com­edy show next month. That doesn't ne­ces­sar­ily mean Lin­coln Chafee will be the next host of SNL—but it could mean that loc­al NBC af­fil­i­ates across the coun­try will have to give pres­id­en­tial can­did­ates ac­cess to equal TV time.
Un­der a law passed in 1934, the FCC re­quires broad­cast tele­vi­sion and ra­dio sta­tions (but not cable chan­nels) to give equal op­por­tun­it­ies to "leg­ally qual­i­fied" can­did­ates. The law ex­empts news pro­grams, which the FCC has broadly in­ter­preted to in­clude talk shows like The To­night Show.
But the rules would likely ap­ply to a scrip­ted pro­gram like SNL. Con­cern over hav­ing to give air­time to oth­er can­did­ates led some sta­tions to stop air­ing Arnold Schwar­zeneg­ger movies in his cam­paigns for Cali­for­nia gov­ernor and sta­tions to pull re­runs of Law & Or­der when Fred Thompson ran for the Re­pub­lic­an pres­id­en­tial nom­in­a­tion in 2007.
Lawrence Lessig, a Har­vard Uni­versity law pro­fess­or who is run­ning a long-shot pres­id­en­tial cam­paign to draw at­ten­tion to cam­paign-fin­ance is­sues, has already filed re­quests with dozens of NBC af­fil­i­ates for three minutes and 12 seconds of air­time fol­low­ing Clin­ton's ap­pear­ance on SNL last month.
"We are not ask­ing him to be placed on Sat­urday Night Live it­self, of course—just the op­por­tun­ity he is guar­an­teed un­der fed­er­al law to use your pub­licly li­censed air­waves to make his case to your view­ers, com­par­able to what Sec­ret­ary Clin­ton was af­forded for free," Adam Bon­in, an at­tor­ney for Lessig, wrote in a let­ter to the NBC sta­tions.
In re­sponse, NBC asked Lessig to prove that he is a "leg­ally qual­i­fied can­did­ate," which can be es­tab­lished by qual­i­fy­ing for bal­lots in at least 10 states or "sub­stan­tial" cam­paign activ­ity. If the NBC sta­tions re­fuse to provide air­time to Lessig, he could com­plain to the FCC.
In an email to Na­tion­al Journ­al, Bon­in said he is "de­lighted" but not sur­prised by Wheel­er's prom­ise to en­force the rules. "The law on this is clear, and the FCC has been en­for­cing it since the early days of ra­dio," Bon­in said.
The two Re­pub­lic­an FCC com­mis­sion­ers, Ajit Pai and Mi­chael O'Ri­elly, de­clined to com­ment on the equal-time rules, not­ing that they could have to rule on dis­putes. The equal-time rules are dis­tinct from the "Fair­ness Doc­trine"—the now-de­funct FCC policy that was re­viled by con­ser­vat­ives and re­quired sta­tions to air op­pos­ing views on im­port­ant is­sues. The agency form­ally re­pealed the Fair­ness Doc­trine in 2011.
An­drew Schwartz­man, a me­dia at­tor­ney at Geor­getown Uni­versity Law Cen­ter's Com­mu­nic­a­tions and Tech­no­logy Law Clin­ic, said that it is rare for pres­id­en­tial can­did­ates to in­voke the equal-time rules but that the is­sue fre­quently comes in­to play in loc­al and state races. "Over-the-air tele­vi­sion and ra­dio re­main the most im­port­ant force shap­ing pub­lic opin­ion with re­spect to elec­tions," Schwartz­man said. "A broad­caster li­censed to serve the pub­lic should not be able to put a thumb on the scale."
What We're Following See More »
UNTIL DEC. 9, ANYWAY
Obama Signs Bill to Fund Government
56 minutes ago
REDSKINS IMPLICATIONS
SCOTUS to Hear Case on Offensive Trademarks
1 hours ago
WHY WE CARE
"The Supreme Court is taking up a First Amendment clash over the government's refusal to register offensive trademarks, a case that could affect the Washington Redskins in their legal fight over the team name. The justices agreed Thursday to hear a dispute involving an Asian-American rock band called the Slants, but they did not act on a separate request to hear the higher-profile Redskins case at the same time." Still, any precedent set by the case could have ramifications for the Washington football team.
STAFF PICKS
Bannon Still Collecting Royalties from 'Seinfeld'
2 hours ago
WHY WE CARE
The Hollywood Reporter takes a look at a little-known intersection of politics and entertainment, in which Trump campaign CEO Steve Bannon is still raking in residuals from Seinfeld. Here's the digest version: When Seinfeld was in its infancy, Ted Turner was in the process of acquiring its production company, Castle Rock, but he was under-capitalized. Bannon's fledgling media company put up the remaining funds, and he agreed to "participation rights" instead of a fee. "Seinfeld has reaped more than $3 billion in its post-network afterlife through syndication deals." Meanwhile, Bannon is "still cashing checks from Seinfeld, and observers say he has made nearly 25 times more off the Castle Rock deal than he had anticipated."
IT'S ALL CLINTON
Reliable Poll Data Coming in RE: Debate #1
2 hours ago
WHY WE CARE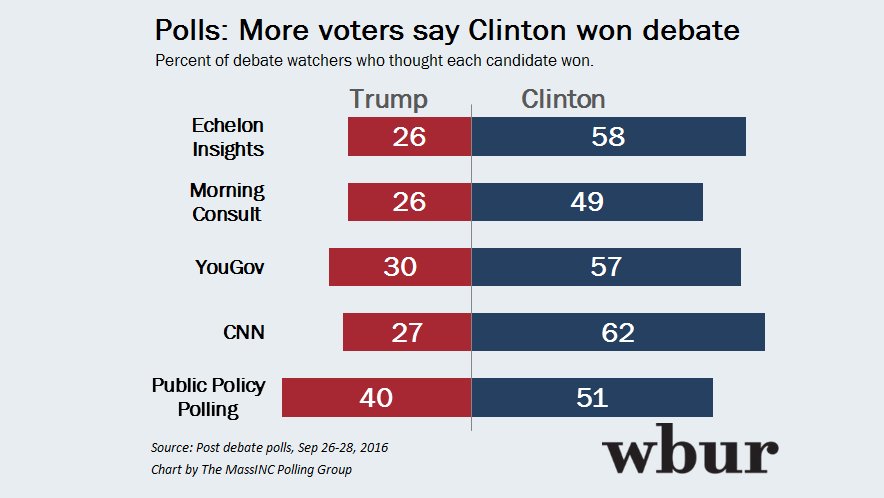 NEXT THURSDAY
Trump Transition Team Meeting with Silicon Valley VIPs
5 hours ago
THE DETAILS
Donald Trump's "transition team will meet next week with representatives of the tech industry, multiple sources confirmed, even as their candidate largely has been largely shunned by Silicon Valley. The meeting, scheduled for next Thursday at the offices of law and lobbying firm BakerHostetler, will include trade groups like the Information Technology Industry Council and the Internet Association that represent major Silicon Valley companies."