Add to Briefcase
Aug. 7, 2013, 3 p.m.
When it comes to sign­ing onto le­gis­la­tion as co­spon­sors in Con­gress, lib­er­als are more lib­er­al with their pens.
Lib­rary of Con­gress re­cords show wide dis­par­it­ies in how much le­gis­la­tion law­makers choose to co­spon­sor. Some law­makers have ad­ded their sig­na­tures to hun­dreds of their col­leagues' bills and amend­ments through the first sev­en months of this ses­sion, a Na­tion­al Journ­al Daily re­view has found. Oth­ers have been far more stingy.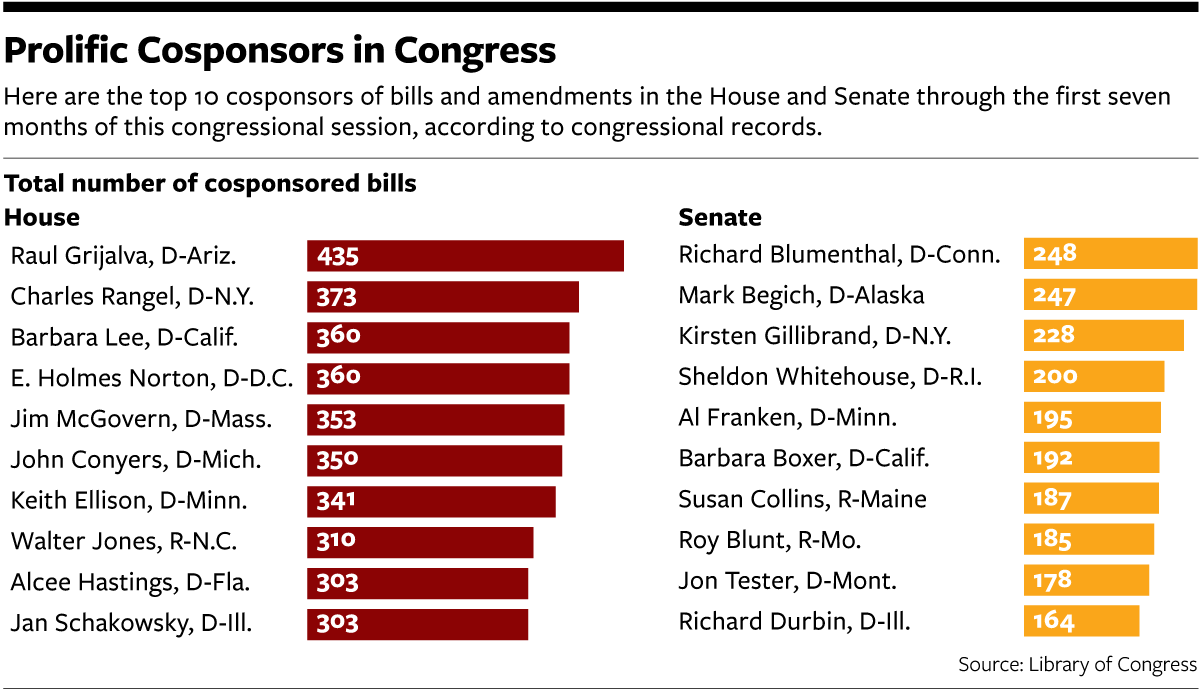 Lead­ing the way in the House is Rep. Raul Gri­jalva of Ari­zona, a 10-term Demo­crat who has at­tached his sig­na­ture as a co­spon­sor to a whop­ping 435 bills or amend­ments — an av­er­age of al­most two a day. In the Sen­ate, Sen. Richard Blu­menth­al, D-Conn., leads the list with 248 co­spon­sor­ships.
"It's got a little bit of act­iv­ism to it," said Gri­jalva, who co­chairs the Con­gres­sion­al Pro­gress­ive Caucus, adding that he sees co­spon­sor­ing as an av­en­ue for law­makers in the minor­ity party to show their sup­port and con­nect with oth­er Demo­crats on is­sues they agree on, but which likely "won't see the light of day" in terms of a vote.
The top 10 co­sign­ers in the House have each topped the 300-bill mark. Just one of them — Rep. Wal­ter Jones of North Car­o­lina (310) — is a Re­pub­lic­an.
In the Sen­ate, the 10 most-pro­lif­ic co­spon­sors have each signed onto at least 164 bills or amend­ments. All are Demo­crats, ex­cept GOP Sens. Susan Collins of Maine (187) and Roy Blunt of Mis­souri (185).
At the op­pos­ite end of the spec­trum — not count­ing top House lead­ers, who do not typ­ic­ally co­spon­sor many bills — are two South­ern Re­pub­lic­ans. In the House, Rep. Rob Woodall, R-Ga., in his second term, is the stingi­est in co­spon­sor­ing, with just 32 meas­ures. Sen. Richard Shelby, R-Ala., rep­res­ents the low in the Sen­ate, at 23.
For their parts, House Speak­er John Boehner, R-Ohio, and Ma­jor­ity Lead­er Eric Can­tor, R-Va., have not co­sponsored any bills or amend­ments yet this ses­sion, not a big de­par­ture from past prac­tice (Boehner co­sponsored three meas­ures last ses­sion). Minor­ity Lead­er Nancy Pelosi, D-Cal­if., has co­sponsored 19 meas­ures so far, and Minor­ity Whip Steny Hoy­er, D-Md., has co­sponsored 27.
Sen­ate Ma­jor­ity Lead­er Harry Re­id, D-Nev., has co­sponsored 38 bills and amend­ments, while Sen­ate Minor­ity Lead­er Mitch Mc­Con­nell, R-Ky., has co­sponsored 70.
Shelby's of­fice ex­plained in a state­ment that he does not co­spon­sor much le­gis­la­tion for "pro­ced­ur­al" reas­ons. "He rarely co­spon­sors bills upon in­tro­duc­tion be­cause they can change markedly in com­mit­tee from what he signed onto. And if he's not a mem­ber of the com­mit­tee to which the bill is re­ferred, he doesn't have the abil­ity to in­flu­ence wheth­er changes hap­pen there," the state­ment ex­plained.
Woodall, in a state­ment, ex­plained, "Since day one, pur­pose­ful co­spon­sor­ship has been my goal. Rather than sign­ing every bill that comes across my desk, I fo­cus on those se­lect bills that I can be help­ful push­ing for­ward."
Over­all, re­cords show that House Demo­crats av­er­aged 146 co­spon­sor­ships in the first sev­en months of the ses­sion, com­pared with 97 for Re­pub­lic­ans. Sen­ate Demo­crats av­er­age 119 co­spon­sor­ships, com­pared with 94 for Re­pub­lic­ans.
For a law­maker pro­pos­ing a bill, a high num­ber of co­spon­sors — es­pe­cially if those in­clude mem­bers of both parties — is something con­crete they can point to as evid­ence of sup­port.
Yet the prac­tice hasn't al­ways been com­mon in both cham­bers, or even al­lowed. In fact, the House in 1909 ac­tu­ally banned the prac­tice as a re­form. But that was re­con­sidered in 1967 to al­low up to 25 co­spon­sors per bill, and in 1978 that lim­it was re­moved.
What do co­spon­sor­ships say about a law­maker?
There have been aca­dem­ic stabs at ana­lyz­ing the mo­tiv­a­tions — so­cial as well as polit­ic­al — be­hind the act of co­spon­sor­ing, res­ult­ing in a wide range of con­clu­sions and in­ter­pret­a­tions as to why le­gis­lat­ors pub­licly ex­press sup­port for a piece of le­gis­la­tion.
Some sug­gest law­makers who are most act­ive in co­spon­sor­ing tend to be less power­ful le­gis­lat­ors, of­ten new to Con­gress and eager to jump on le­gis­la­tion offered by oth­er law­makers.
Oth­er stud­ies sug­gest more soph­ist­ic­ated un­der­pin­nings, pos­it­ing that co­spon­sor­ship is one way for law­makers to sig­nal to those out­side of Con­gress their de­gree of sup­port on spe­cif­ic mat­ters.
Some stud­ies also go as far as to sug­gest there is a pos­it­ive link between lib­er­al­ism and fre­quent co­spon­sor­ship, or that pro­lif­ic co­spon­sor­ship is a func­tion of a pref­er­ence for big gov­ern­ment. Oth­ers sug­gest that it is, more than any­thing, a sig­nal of which law­makers are best con­nec­ted with­in a le­gis­lat­ive body.
"There tends to be a lot of re­cipro­city in co­spon­sorhip — you sign my bill and I'll sign yours," said James Fowl­er, a pro­fess­or of med­ic­al ge­net­ics and polit­ic­al sci­ence at Uni­versity of Cali­for­nia (San Diego) and the au­thor of a 2006 study on the sub­ject. "Thus, many of these in­di­vidu­als are also very likely to be 're­ceiv­ing' co­spon­sor­ships as well. And both send­ing and re­ceiv­ing co­spon­sor­ships are signs that a le­gis­lat­or is so­cially well-con­nec­ted with­in the cham­ber."
Fowl­er said in an e-mail that his work showed that be­ing well-con­nec­ted in this way is im­port­ant. It means a law­maker is more likely to per­suade col­leagues; to take lead­er­ship roles in the party; or to seek and ob­tain high­er of­fice, he said.
"I think good le­gis­lat­ors know this in­stinct­ively, that these small signs of sup­port are baby steps to­wards form­ing the kinds of re­la­tion­ship one needs in or­der to be suc­cess­ful," Fowl­er said. "But it is also pos­sible that some people just mim­ic the strategy without hav­ing any of the oth­er skills it would take to turn these small acts in­to le­gis­lat­ive suc­cess. So it's not al­ways true that co­spon­sor­ing a lot is a sign of a good le­gis­lat­or, but most of the time it is."
Gri­jalva con­curs that co­spon­sor­ing of­ten has a lot to do with per­son­al re­la­tion­ships. He said he co­spon­sors a bill for two reas­ons: Either the le­gis­la­tion is something he sup­ports, a state­ment of po­s­i­tion to be seen both by con­stitu­ents and fel­low law­makers, or it is a way to show sup­port for and ap­pre­ci­ation to col­leagues, in­clud­ing new­er law­makers.
Gri­jalva, a Mex­ic­an-Amer­ic­an, notes cor­rectly that a num­ber of the top co­spon­sors in the House are "people of col­or." He adds, "This is a way to take some ac­tion, push back as a mem­ber of the minor­ity party," and help to cre­ate "place­hold­ers" in terms of fu­ture agenda-set­ting.
Blu­menth­al, in a state­ment from his of­fice, de­scribed his pro­lif­ic co­spon­sor­ing as a sign of his eager­ness to work with many of his col­leagues on im­port­ant is­sues, re­gard­less of party.
"Dat­ing back to my 20 years as Con­necti­c­ut's at­tor­ney gen­er­al, my philo­sophy has been that I will seek to open any door to find pos­it­ive solu­tions for the people of Con­necti­c­ut," the fresh­man sen­at­or said. "As a mem­ber of five over­sight com­mit­tees with broad jur­is­dic­tion, I have an op­por­tun­ity to help vet­er­ans, con­sumers, seni­ors and stu­dents, and to lead le­gis­lat­ive ef­forts on ma­jor de­fense and gun safety ini­ti­at­ives. I am proud to have worked with so many of my col­leagues on both sides of the aisle on crit­ic­al is­sues."