With no fan­fare — well, maybe a little fan­fare — House Re­pub­lic­ans by the end of this week will of­fi­cially have a brand new ma­jor­ity lead­er, a new ma­jor­ity whip, and just 12 sched­uled le­gis­lat­ive days re­main­ing be­fore it's time to pick yet an­oth­er new slate of lead­ers.
This all hap­pens, tech­nic­ally, after the stroke of mid­night Thursday, com­mem­or­ated in a no­ti­fic­a­tion by Re­pub­lic­ans to the House clerk de­clar­ing that as of Aug. 1, Kev­in Mc­Carthy is the ma­jor­ity lead­er and Steve Scal­ise is the new ma­jor­ity whip.
No parade. No tick­er tape.
Mean­while, the cur­rent ma­jor­ity lead­er, Eric Can­tor, doesn't com­pletely turn in­to a pump­kin.
But Can­tor's already di­min­ished vis­ib­il­ity and in­flu­ence will now be ac­com­pan­ied by a loss of much of his staff as well as his prime second-floor Cap­it­ol of­fice digs between Statu­ary Hall and the Ro­tunda, close to where the No. 1 House Re­pub­lic­an, Speak­er John Boehner, com­mands.
Can­tor has said he will re­main as a con­gress­man through the end of this term and not quit early. But now, his Wash­ing­ton activ­it­ies through Decem­ber will mostly be based out of his reg­u­lar third-floor of­fice in the Can­non House Of­fice Build­ing.
"My grand­fath­er said it best: A pea­cock one day, a feath­er dust­er the next. That's the best way you can ex­plain it," said Rep. John Lar­son, D-Conn.
"In fact, my heart goes out to Eric Can­tor and his fam­ily," Lar­son said. But he ad­ded of Con­gress, "Noth­ing is more im­port­ant here to people than real es­tate. When you're out, you're out."
That may seem a smidge like cro­codile tears from a polit­ic­al ad­versary. But as a former House Demo­crat­ic Caucus chair­man, Lar­son has gone through kind of the same thing him­self — al­though not at quite the same level — hav­ing lost his lead­er­ship status in 2013 be­cause of Demo­crat­ic Caucus term lim­its.
Can­tor's of­fice did not re­turn re­quests for an in­ter­view about this week's of­fi­cial changeover.
It wasn't term lim­its that did in Can­tor's lead­er­ship status. Rather, it was Re­pub­lic­an voters in his Vir­gin­ia dis­trict.
And it was right after his primary elec­tion loss that Can­tor an­nounced he would step down as ma­jor­ity lead­er — but not right away. He set Ju­ly 31 as the date. And that set off an in­tern­al House Re­pub­lic­an elec­tion to re­place him.
The res­ult was that Mc­Carthy was chosen to move up from be­ing ma­jor­ity whip to ma­jor­ity lead­er, a rise from No. 3 to the No. 2 spot. And Scal­ise was picked to suc­ceed Mc­Carthy as whip — a job that makes him the party's new vote counter and en­for­cer.
A Mc­Carthy spokes­man said Fri­day that he wasn't sure wheth­er all the fi­nal de­cisions re­gard­ing his boss's of­fice space had been made.
However, oth­er House Re­pub­lic­ans said the Cali­for­ni­an has told them he has de­cided not to move in­to the second-floor space Can­tor is va­cat­ing, but in­stead stay where he is in a suite of first-floor of­fices off the main hall­way in the Cap­it­ol. In fact, cur­rent Minor­ity Whip Steny Hoy­er oc­cu­pied that same space that Mc­Carthy will re­main when he was ma­jor­ity lead­er un­til 2011. And Boehner also made that his base of op­er­a­tions when he was ma­jor­ity lead­er.
In­stead, it is Scal­ise and his whip op­er­a­tions that are mov­ing to take Can­tor's space — and Scal­ise's chosen chief deputy whip, Rep. Patrick McHenry of North Car­o­lina, will work in a third-floor of­fice above that spot.
As of Fri­day, that re­shuff­ling still had not oc­curred and Scal­ise's op­er­a­tions re­mained holed up in a tem­por­ary loc­a­tion in the base­ment of the Cap­it­ol, in HC-8.
(There has been talk of the House's chief ad­min­is­trat­ive of­ficer find­ing Can­tor some oth­er niche as a "ma­jor­ity lead­er emer­it­us" on the first floor of the Cap­it­ol. But a space crunch, caused by renov­a­tions else­where on Cap­it­ol Hill, and the de­mands for such things as space for the new se­lect com­mit­tee on Benghazi are crimp­ing avail­able of­fice space.)
"Have you ever tried to move a Cap­it­ol Hill of­fice?" one seni­or lead­er­ship aid said. "It's one of the most miser­able ex­per­i­ences pos­sible. It takes forever to box everything up."
"But we'll be fully en­gaged next week," Rep. Den­nis Ross, picked by Scal­ise to be a mem­ber of his seni­or whip team, said Fri­day. In fact, the Flor­ida Re­pub­lic­an said the first test for the new whip team will be work on lead­er­ship's bill to re­spond to the bor­der crisis, which faces stiff hurdles with­in the GOP Con­fer­ence.
Pre­vi­ously Scal­ise had been serving as chair­man of the largely con­ser­vat­ive Re­pub­lic­an Study Com­mit­tee, which boasts more than 170 mem­bers. But it re­mains to be seen wheth­er Boehner and his lead­er­ship team — with the Louisi­anan on board — will now have any firmer hold over the of­ten rowdy right wing of the GOP Con­fer­ence.
"It's a tough first test," agreed Rep. Kay Granger, R-Texas, who pre­dicted that Scal­ise will get a load of help in this maid­en ef­fort from Mc­Carthy and his old whip team.
As of Fri­day, mean­while, the name­plates out­side all of these of­fices re­mained as they have been. That in­cludes Can­tor's name, along with the title of ma­jor­ity lead­er, on the door of a ce­re­mo­ni­al of­fice just across the hall from the House cham­ber.
Can­tor has for weeks scaled back his vis­ible activ­it­ies, such as ap­pear­ing with oth­er GOP lead­ers in front of mi­cro­phones after closed-door con­fer­ences or en­ga­ging on the floor with Hoy­er over the up­com­ing week's agenda. In that, he has already de­ferred to Mc­Carthy.
And as of Fri­day, no GOP events or parties were planned this week to com­mem­or­ate the ac­tu­al turnover in lead­er­ship. A closed-door GOP con­fer­ence set for Tues­day may or may not even make note of it, aides said.
This new era could well be a short one. That's be­cause the House is sched­uled to have just 10 ad­di­tion­al le­gis­lat­ive days in Septem­ber, and then two more days in Oc­to­ber, be­fore break­ing again un­til after the Nov. 4 elec­tions. And then, House Re­pub­lic­ans both reelec­ted and newly elec­ted will vote on a lead­er­ship team for the next Con­gress.
Per­haps re­call­ing what had happened to Can­tor, Mc­Carthy and Scal­ise are hold­ing off on the trum­pets. Lar­son says a de­scrip­tion of Con­gress giv­en to him once by Rep. John Con­yers may best ex­plain it
"The thing about this place," Lar­son said, "is they bury the bod­ies warm. I was a fresh­man. That's the first thing he told me."
What We're Following See More »
STAFF PICKS
Bannon Still Collecting Royalties from 'Seinfeld'
49 minutes ago
WHY WE CARE
The Hollywood Reporter takes a look at a little-known intersection of politics and entertainment, in which Trump campaign CEO Steve Bannon is still raking in residuals from Seinfeld. Here's the digest version: When Seinfeld was in its infancy, Ted Turner was in the process of acquiring its production company, Castle Rock, but he was under-capitalized. Bannon's fledgling media company put up the remaining funds, and he agreed to "participation rights" instead of a fee. "Seinfeld has reaped more than $3 billion in its post-network afterlife through syndication deals." Meanwhile, Bannon is "still cashing checks from Seinfeld, and observers say he has made nearly 25 times more off the Castle Rock deal than he had anticipated."
IT'S ALL CLINTON
Reliable Poll Data Coming in RE: Debate #1
1 hours ago
WHY WE CARE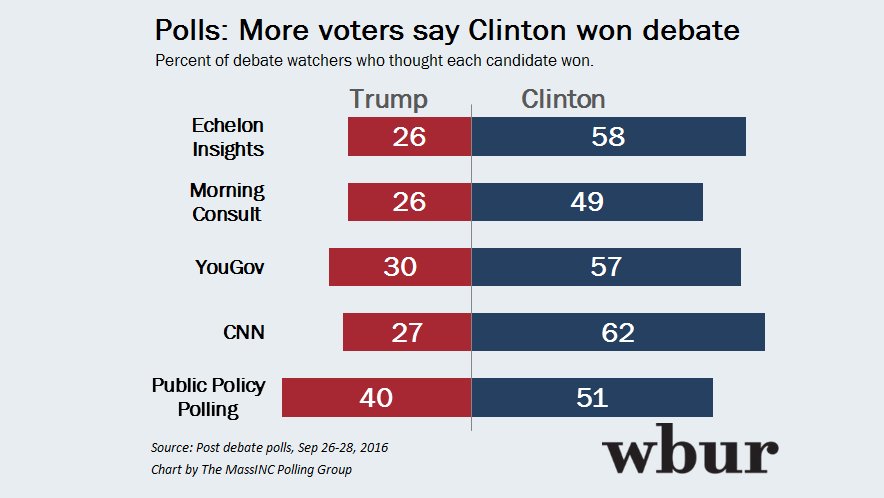 NEXT THURSDAY
Trump Transition Team Meeting with Silicon Valley VIPs
3 hours ago
THE DETAILS
Donald Trump's "transition team will meet next week with representatives of the tech industry, multiple sources confirmed, even as their candidate largely has been largely shunned by Silicon Valley. The meeting, scheduled for next Thursday at the offices of law and lobbying firm BakerHostetler, will include trade groups like the Information Technology Industry Council and the Internet Association that represent major Silicon Valley companies."
WHAT WILL PASS?
McConnell Doubts Criminal Justice Reform Can Pass This Year
3 hours ago
ALSO FIRED UNATTRACTIVE WAITRESSES
Trump Did Business with Cuba
4 hours ago
THE LATEST
Today in bad news for Donald Trump:
Newsweek found that a company he controlled did business with Cuba under Fidel Castro "despite strict American trade bans that made such undertakings illegal, according to interviews with former Trump executives, internal company records and court filings." In 1998, he spent at least $68,000 there, which was funneled through a consluting company "to make it appear legal."
The Los Angeles Times reports that at a golf club he owns in California, Trump ordered that unattractive female staff be fired and replaced with prettier women.