July 17, 2014, 12:21 p.m.
A Sikh or­gan­iz­a­tion is ask­ing in­tel­li­gence au­thor­it­ies to dis­close in­tern­al com­mu­nic­a­tions that con­tain eth­nic epi­thets.
The Sikh Co­ali­tion on Thursday filed a Free­dom of In­form­a­tion Act re­quest to the Na­tion­al Se­cur­ity Agency and the FBI for em­ploy­ee emails sent from Sept. 11, 2001, un­til the present that con­tain the slurs "ra­g­head" or "tow­el­head."
The move is in re­sponse to a new Ed­ward Snowden leak pub­lished last week that re­vealed the NSA and the FBI have spied on the emails of five high-pro­file Muslim-Amer­ic­ans who are not pub­licly known to be guilty of any ter­ror­ist activ­ity. In the same leak, one dis­closed file from 2005 shows an uniden­ti­fied tar­get's name be­ing logged in a spread­sheet as "Mo­hammed Ra­g­head."
"As Amer­ic­ans, we ex­pect law-en­force­ment of­fi­cials to be­have like adults," said Am­ardeep Singh, pro­gram dir­ect­or of the Sikh Co­ali­tion, in a state­ment. "The Sikh Co­ali­tion will not tol­er­ate the use of ra­cial or re­li­gious slurs by people who are sup­posed to pro­tect us."
Shortly after the re­port's pub­lic­a­tion, a White House spokes­wo­man said it had asked James Clap­per, the dir­ect­or of na­tion­al in­tel­li­gence, to "un­der­take an as­sess­ment of in­tel­li­gence com­munity policies, train­ing stand­ards, or dir­ect­ives that pro­mote di­versity and tol­er­ance, and as ne­ces­sary, make any re­com­mend­a­tions changes or ad­di­tion­al re­forms."
The White House and the Of­fice of the Dir­ect­or of Na­tion­al In­tel­li­gence did not im­me­di­ately re­spond Thursday to a re­quest for a status up­date on the in­tern­al re­view.
The Sikh Co­ali­tion is a non­profit or­gan­iz­a­tion formed shortly after the Sept. 11, 2001, ter­ror­ist at­tacks.
Last week, Jason Leo­pold, a well-known and pro­lif­ic open-re­cords re­port­er, also filed a re­quest with the FBI ask­ing for sim­il­ar doc­u­ments.
What We're Following See More »
STAFF PICKS
Bannon Still Collecting Royalties from 'Seinfeld'
54 minutes ago
WHY WE CARE
The Hollywood Reporter takes a look at a little-known intersection of politics and entertainment, in which Trump campaign CEO Steve Bannon is still raking in residuals from Seinfeld. Here's the digest version: When Seinfeld was in its infancy, Ted Turner was in the process of acquiring its production company, Castle Rock, but he was under-capitalized. Bannon's fledgling media company put up the remaining funds, and he agreed to "participation rights" instead of a fee. "Seinfeld has reaped more than $3 billion in its post-network afterlife through syndication deals." Meanwhile, Bannon is "still cashing checks from Seinfeld, and observers say he has made nearly 25 times more off the Castle Rock deal than he had anticipated."
IT'S ALL CLINTON
Reliable Poll Data Coming in RE: Debate #1
1 hours ago
WHY WE CARE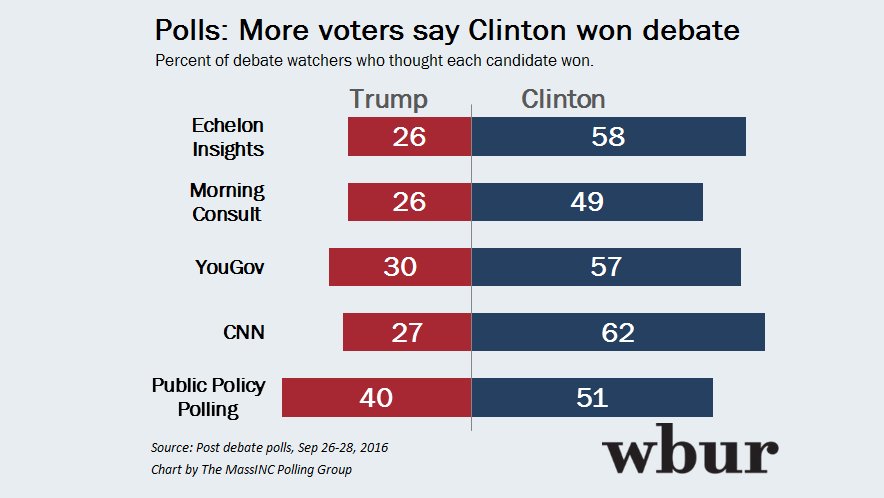 NEXT THURSDAY
Trump Transition Team Meeting with Silicon Valley VIPs
3 hours ago
THE DETAILS
Donald Trump's "transition team will meet next week with representatives of the tech industry, multiple sources confirmed, even as their candidate largely has been largely shunned by Silicon Valley. The meeting, scheduled for next Thursday at the offices of law and lobbying firm BakerHostetler, will include trade groups like the Information Technology Industry Council and the Internet Association that represent major Silicon Valley companies."
WHAT WILL PASS?
McConnell Doubts Criminal Justice Reform Can Pass This Year
3 hours ago
ALSO FIRED UNATTRACTIVE WAITRESSES
Trump Did Business with Cuba
4 hours ago
THE LATEST
Today in bad news for Donald Trump:
Newsweek found that a company he controlled did business with Cuba under Fidel Castro "despite strict American trade bans that made such undertakings illegal, according to interviews with former Trump executives, internal company records and court filings." In 1998, he spent at least $68,000 there, which was funneled through a consluting company "to make it appear legal."
The Los Angeles Times reports that at a golf club he owns in California, Trump ordered that unattractive female staff be fired and replaced with prettier women.