Nis­reen Zaqout is from Ga­za. She's been fol­low­ing the news cov­er­age in Wash­ing­ton of the rock­et at­tacks at home.
"They frame what's go­ing on back home as if it is Hamas vs. Is­rael," Zaqout said. "My house is not Hamas and my house got bombed."
Zaqout, 21, is spend­ing the sum­mer in Wash­ing­ton as part of New Story Lead­er­ship for the Middle East, a sev­en-week pro­gram de­signed to bring Is­raeli and Palestini­an col­lege stu­dents to­geth­er to talk about change for their em­battled home­land. New Story Lead­er­ship is a 501(c)(3) char­ity foun­ded by edu­cat­or Paul Cos­tello.
Her part­ner for the sum­mer is Asi Gar­barz, 27, an Is­raeli who grew up on Kib­butz Pelekh in north­ern Is­rael. Zaqout and Gar­barz get along, some­times.
"We would come back from meet­ings and keep ar­guing in the hall­way out­side Con­gress­man [Jared] Pol­is's of­fice," Gar­barz said. "His aides would come out to stop us."
But they're talk­ing, and that's new.
"I have seen wars," said Gar­barz. "I have stood in check­points. And I have served in the West Bank. But nev­er in my life have I ex­per­i­enced the war in the way that I did this sum­mer: through the eyes of Nis­reen and her fam­ily."
There are eight oth­er stu­dents in the pro­gram, and while work­ing to­geth­er in con­gres­sion­al of­fices and at­tend­ing events in D.C., they've come to agree that the two-state solu­tion is what must be real­ized if there is any chance for peace. That's a big step for someone like Hamze Awawde, 24, a Palestini­an who said he used to be against the peace talks al­to­geth­er be­cause it meant con­vers­ing with the en­emy.
"Both sides need to talk," Awawde said. "I am now for something I was once against. Try­ing to un­der­stand that both na­tions want peace and a bet­ter fu­ture for their chil­dren takes hard work. It's hard to find a com­mon place where Is­rael­is and Palestini­ans can meet to dis­cuss these is­sues."
Awawde, Gar­barz, and Noa Shuster­man, a 26-year-old Is­raeli stu­dent in the pro­gram, are plan­ning Re­think Middle East, a so­cial move­ment they want to start to en­cour­age mod­er­ate Is­rael­is and Palestini­ans to speak as loudly as the ex­trem­ists, and be­gin to in­flu­ence which lead­ers get elec­ted and sent to the ne­go­ti­at­ing table.
Awawde already serves as the Palestini­an co-co­ordin­at­or of YaLa Young Lead­ers Face­book Move­ment, a pro­ject co­sponsored by the U.S. State De­part­ment. In­spired by move­ments brought to life dur­ing the Ar­ab Spring, Awawde says so­cial me­dia is a place where young people liv­ing in the Middle East can go to over­come the bar­ri­ers that sep­ar­ate people.
"We have gathered in Wash­ing­ton, D.C., to talk about peace, em­body­ing the fu­ture we want to have," Awawde said. "If this is pos­sible now des­pite the blood­shed back home, I truly be­lieve that our people can find a way to work to­geth­er."
But his Is­raeli part­ner for the sum­mer, 28-year-old Ye­honatan Toker, said watch­ing the news from home has left him dis­heartened about the pro­spects for peace.
"We crossed the ocean to meet with one an­oth­er be­cause we couldn't cross the street back home to meet," Toker said. "Now here we are, car­ry­ing our books of his­tory on our back. I want my chil­dren to write their own his­tory, and I want them to do it with Hamze's chil­dren, without need­ing to cross an ocean to do so."
Zaqout still car­ries her his­tory with her. She re­called the words of her grand­fath­er be­fore she came to Wash­ing­ton: "Do not for­get that you are a Palestini­an. Do not for­get my right of re­turn."
She said she knows the two-state solu­tion is the right thing for peace. But it's hard, she said, when it feels like you lose.
"To be hon­est, as a Palestini­an, I'm done. I don't want to com­prom­ise. It's de­press­ing," Zaqout said. "My grand­fath­er was from a vil­lage in Jer­u­s­alem, and in 1948 he moved to Ga­za be­cause his vil­lage was de­mol­ished. He wants to see his yard back, his house back. And I carry that vis­ion and I want for my grand­fath­er to have that. But I un­der­stand that there's a prag­mat­ic solu­tion and that dream is not really go­ing to hap­pen."
What We're Following See More »
NEVER TRUMP
USA Today Weighs in on Presidential Race for First Time Ever
11 hours ago
THE DETAILS
"By all means vote, just not for Donald Trump." That's the message from USA Today editors, who are making the first recommendation on a presidential race in the paper's 34-year history. It's not exactly an endorsement; they make clear that the editorial board "does not have a consensus for a Clinton endorsement." But they state flatly that Donald Trump is, by "unanimous consensus of the editorial board, unfit for the presidency."
COMMISSIONERS NEED TO DELIBERATE MORE
FCC Pushes Vote on Set-Top Boxes
11 hours ago
THE LATEST
"Federal regulators on Thursday delayed a vote on a proposal to reshape the television market by freeing consumers from cable box rentals, putting into doubt a plan that has pitted technology companies against cable television providers. ... The proposal will still be considered for a future vote. But Tom Wheeler, chairman of the F.C.C., said commissioners needed more discussions."
UNTIL DEC. 9, ANYWAY
Obama Signs Bill to Fund Government
16 hours ago
IT'S ALL CLINTON
Reliable Poll Data Coming in RE: Debate #1
18 hours ago
WHY WE CARE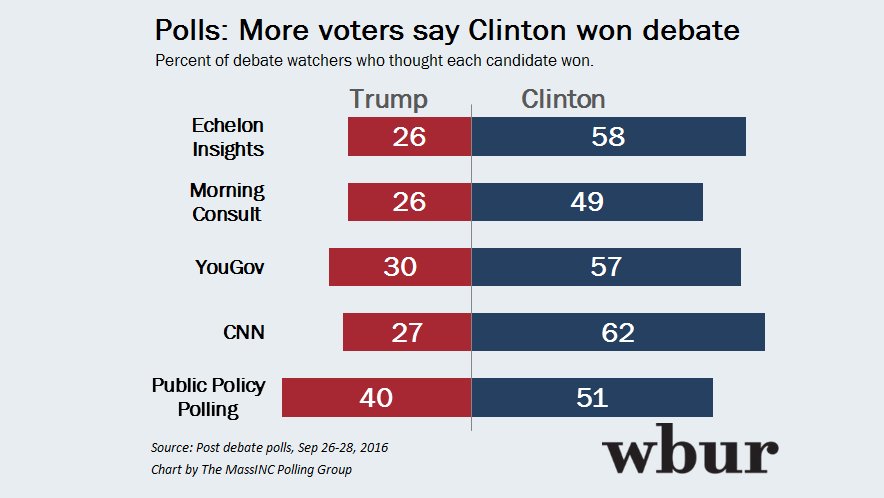 WHAT WILL PASS?
McConnell Doubts Criminal Justice Reform Can Pass This Year
20 hours ago