Ima­gine a vo­lun­teer for the U.S. Cham­ber of Com­merce in Arkan­sas, try­ing to as­sist Rep. Tom Cot­ton in his race against Demo­crat­ic Sen. Mark Pry­or, knocks on a voter's door in Little Rock and dis­cov­ers the po­ten­tial GOP sup­port­er owns a gun.
In the world of voter out­reach, it's a po­ten­tially cru­cial piece of in­form­a­tion; with the right pitch from a group like the Na­tion­al Rifle As­so­ci­ation, for in­stance, it could prove de­cis­ive in get­ting that voter to pull the lever for Cot­ton. Ex­cept, in years past, it's also the kind of in­form­a­tion that the two sep­ar­ate groups would nev­er share with each oth­er, at least not by Novem­ber.
Be­gin­ning this week, Re­pub­lic­ans are try­ing to change that. Data Trust — a privately op­er­ated en­tity backed by the Re­pub­lic­an Na­tion­al Com­mit­tee that main­tains a mas­ter list of voter in­form­a­tion na­tion­wide — is rolling out a mar­quee tech­nic­al up­grade that will al­low Re­pub­lic­an cam­paigns and their al­lies to share voter in­form­a­tion with one an­oth­er in real time. The new fea­ture will let cam­paigns and ap­proved out­side groups not only ac­cess voter in­form­a­tion any­time (with their own data soft­ware) but up­date it in­stantly, so oth­ers view­ing the voter lists can see the in­form­a­tion im­me­di­ately.
Hy­po­thet­ic­ally, if the Cham­ber of Com­merce and NRA both used Data Trust, the gun-rights group could learn about the Little Rock gun own­er minutes after the cham­ber reached out to him or her, and have its own vo­lun­teer on the voter's door­step the next day.
The data-shar­ing up­grade is a po­ten­tially im­port­ant de­vel­op­ment for the midterm elec­tions; its de­sign­ers hope cam­paigns will have enough time in the next four months to ad­opt the up­grade. But per­haps more im­port­antly, it is a not-in­sig­ni­fic­ant mile­stone in the Re­pub­lic­an Party's years-long ef­fort to close the so-called "data and tech­no­lo­gic­al di­vide" between it­self and Demo­crats. Demo­crat­ic can­did­ates and their al­lies' ef­fect­ive use of data is one reas­on their polit­ic­al op­er­a­tions were con­sidered su­per­i­or in the 2012 elec­tions, and why Re­pub­lic­ans vowed in the af­ter­math of those races to im­prove their own cap­ab­il­it­ies.
It's also something that's avail­able not just to be­hemoths like the cham­ber, NRA, or ma­jor Sen­ate cam­paigns but to the smal­lest of op­er­a­tions, John DeStefano, pres­id­ent of Data Trust, told Na­tion­al Journ­al in an in­ter­view. The hope, he said, is that all al­lies of the Re­pub­lic­an Party can work to­geth­er to build an un­rivaled "found­a­tion" of voter in­form­a­tion.
"It's a huge step," he said. "I think we as a party, if we're go­ing to be suc­cess­ful, we need to get every­body — from the in­di­vidu­al com­puter-sci­ence-ma­jor­ing col­lege Re­pub­lic­an to the large ac­com­plished data firms — on the same page and all work­ing to­ward the same goal. And this helps ac­com­plish that."
Hurdles re­main. For one thing, every one of the hun­dreds if not thou­sands of Re­pub­lic­an groups will have to ad­opt the sys­tem and then use it cor­rectly. And Re­pub­lic­ans have been re­luct­ant in the past to share in­form­a­tion with even their al­lies, part of what many op­er­at­ives say is a cul­tur­al prob­lem with the party that is its main obstacle to catch­ing Demo­crats on the data and tech front.
And even if all goes ac­cord­ing to plan, it's not as if Demo­crats don't have the same cap­ab­il­ity already.
"I'm not sure the way to meas­ure our suc­cess is based on where Demo­crats are and where they have been," DeStefano said. "We took a hard look at what we needed to do to get our team on the same page. … As long as we as a party can con­tin­ue to work to­geth­er to get folks to un­der­stand how im­port­ant it is to share as much info as we can, we're go­ing to be suc­cess­ful."
Data Trust was picked by party lead­ers in spring of 2013 for an ex­clus­ive data-shar­ing agree­ment with the RNC, with the idea be­ing that a privately held com­pany could be­come the de-facto clear­ing­house for all voter in­form­a­tion for the Re­pub­lic­an Party.
Cla­ri­fic­a­tion: This story has been up­dated to re­flect Data Trust's ex­clus­ive data-shar­ing agree­ment with the RNC. 
What We're Following See More »
STAFF PICKS
Bannon Still Collecting Royalties from 'Seinfeld'
49 minutes ago
WHY WE CARE
The Hollywood Reporter takes a look at a little-known intersection of politics and entertainment, in which Trump campaign CEO Steve Bannon is still raking in residuals from Seinfeld. Here's the digest version: When Seinfeld was in its infancy, Ted Turner was in the process of acquiring its production company, Castle Rock, but he was under-capitalized. Bannon's fledgling media company put up the remaining funds, and he agreed to "participation rights" instead of a fee. "Seinfeld has reaped more than $3 billion in its post-network afterlife through syndication deals." Meanwhile, Bannon is "still cashing checks from Seinfeld, and observers say he has made nearly 25 times more off the Castle Rock deal than he had anticipated."
IT'S ALL CLINTON
Reliable Poll Data Coming in RE: Debate #1
1 hours ago
WHY WE CARE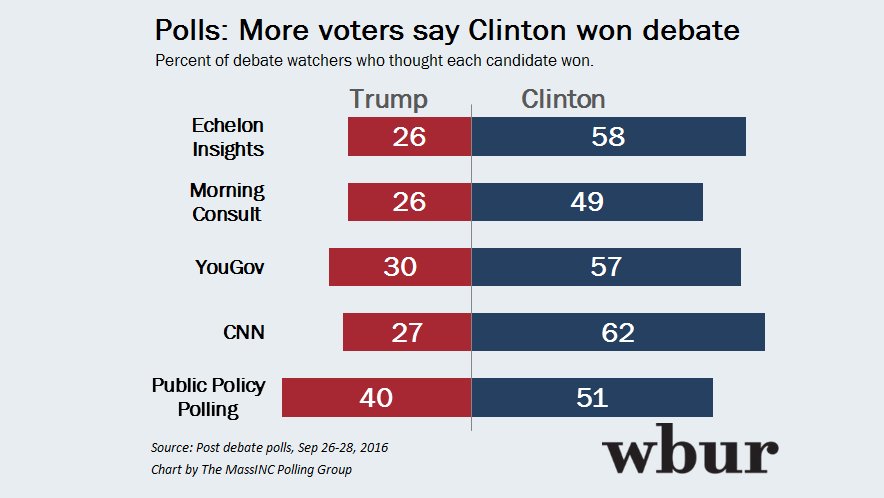 NEXT THURSDAY
Trump Transition Team Meeting with Silicon Valley VIPs
3 hours ago
THE DETAILS
Donald Trump's "transition team will meet next week with representatives of the tech industry, multiple sources confirmed, even as their candidate largely has been largely shunned by Silicon Valley. The meeting, scheduled for next Thursday at the offices of law and lobbying firm BakerHostetler, will include trade groups like the Information Technology Industry Council and the Internet Association that represent major Silicon Valley companies."
WHAT WILL PASS?
McConnell Doubts Criminal Justice Reform Can Pass This Year
3 hours ago
ALSO FIRED UNATTRACTIVE WAITRESSES
Trump Did Business with Cuba
4 hours ago
THE LATEST
Today in bad news for Donald Trump:
Newsweek found that a company he controlled did business with Cuba under Fidel Castro "despite strict American trade bans that made such undertakings illegal, according to interviews with former Trump executives, internal company records and court filings." In 1998, he spent at least $68,000 there, which was funneled through a consluting company "to make it appear legal."
The Los Angeles Times reports that at a golf club he owns in California, Trump ordered that unattractive female staff be fired and replaced with prettier women.