The House passed a bill that would ex­tend the life of a con­tro­ver­sial chem­ic­al se­cur­ity pro­gram on Tues­day, but some Demo­crats are hop­ing a Sen­ate ver­sion ex­pec­ted later this month will en­able tough­er rules.
The House bill, H.R. 4007, would au­thor­ize the Chem­ic­al Fa­cil­ity Anti-Ter­ror­ism Stand­ards of the Home­land Se­cur­ity De­part­ment for three years. The pro­gram, which is meant to pre­vent ter­ror­ists from us­ing in­dus­tri­al sites in the United States for cre­at­ing massive ex­plo­sions, has pre­vi­ously been re­newed an­nu­ally through the con­gres­sion­al ap­pro­pri­ations pro­cess.
Pro­ponents of the bill — in­clud­ing DHS of­fi­cials, in­dustry lead­ers and law­makers on both sides of the aisle — say the le­gis­la­tion is needed in or­der to provide the pro­gram with sta­bil­ity that they say will make it more ef­fect­ive and provide com­pan­ies with reg­u­lat­ory cer­tainty.
Rep­res­ent­at­ive Ben­nie Thompson (D-Miss.) said on the House floor Tues­day that the bill, which the lower cham­ber ul­ti­mately ap­proved by voice vote, was a "good start." There is "more work to be done," however, Thompson said.
Be­fore fi­nal le­gis­la­tion reaches the pres­id­ent's desk, law­makers should add pro­vi­sions to pro­tect whis­tleblowers rais­ing chem­ic­al-se­cur­ity con­cerns, along with lan­guage that would man­date con­sult­ing with work­ers dur­ing the de­vel­op­ment of site-pro­tec­tion plans, Thompson said.
Law­makers also must ad­dress the fact that the cur­rent bill does not in­clude so-called in­her­ently safer tech­no­logy pro­vi­sions that would give DHS of­fi­cials the au­thor­ity to re­quire spe­cif­ic safety and se­cur­ity up­grades in cer­tain cases, said Thompson, the top Demo­crat on the House Home­land Se­cur­ity Com­mit­tee.
In­dustry op­poses such pro­vi­sions, but they are favored by labor uni­ons and en­vir­on­ment­al­ists.
Thompson also ex­pressed dis­ap­point­ment that an ex­emp­tion for wa­ter treat­ment fa­cil­it­ies would con­tin­ue un­der the cur­rent bill, but said the le­gis­la­tion's re­quire­ment that the de­part­ment con­duct an as­sess­ment of the chem­ic­al se­cur­ity risks that such fa­cil­it­ies pose was a step in the right dir­ec­tion.
Along with oth­er Demo­crats, Thompson said he would try work with sen­at­ors to make changes to the bill.
Rep­res­ent­at­ive Patrick Mee­han (R-Penn.), said he ex­pec­ted that the Sen­ate Home­land Se­cur­ity could mark up a com­pan­ion bill this month. Mee­han is chair­man of the House Home­land Se­cur­ity Sub­com­mit­tee on Cy­ber­se­cur­ity, In­fra­struc­ture Pro­tec­tion and Se­cur­ity Tech­no­lo­gies that ini­tially ap­proved the House bill.
What We're Following See More »
ABSENT FROM LIST: GENNIFER FLOWERS
Most Trump Guests Have Military Ties
2 hours ago
TOP OF MIND
Trending on Google: 'Why Should Trump Not Be President'
2 hours ago
THE DETAILS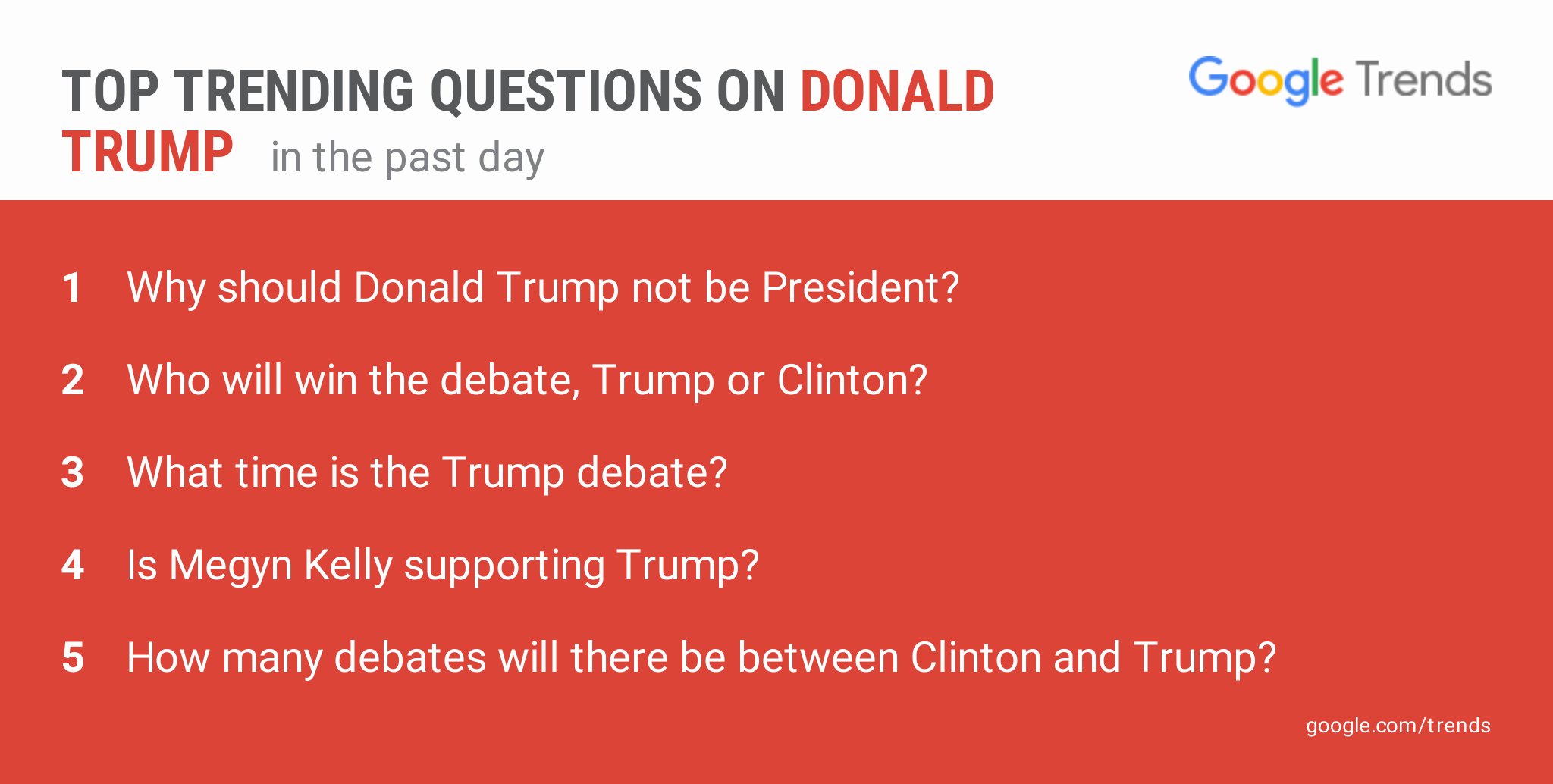 WHO PLAYED THE DONALD?
Longtime Clinton Aide Played Trump in Mock Debates
5 hours ago
THE DETAILS
After keeping the information private for most of the lead-up to the debate on Monday, it has been revealed that longtime Clinton aide Philippe Reines has been playing the role of Donald Trump in her debate prep. Reines knows Clinton better than most, able to identify both her strengths and weaknesses, and his selection for a sparring partner shows that Clinton is preparing for the brash and confrontational Donald Trump many have come to expect.
WEEKEND POLLING ROUNDUP
New Polls Still Show Razor-Thin Margins
5 hours ago
THE QUESTION
How Many Times Has the Trump Campaign Emailed Ted Cruz's Supporters?
5 hours ago
THE ANSWER
More than 30 times, in the case of some donors. Long before Cruz endorsed Trump—and before he even snubbed the nominee at the Republican National Convention—"the senator quietly began renting his vast donor email file to his former rival, pocketing at least tens of thousands of dollars, and more likely hundreds of thousands, that can be used to bankroll the Texan's own political future."