Rep. Keith El­lis­on, the first Muslim-Amer­ic­an mem­ber of Con­gress, re­spon­ded to a new re­port Wed­nes­day that the fed­er­al gov­ern­ment spied on five Amer­ic­an cit­izens who are Muslim and have ap­par­ently com­mit­ted no acts of wrong­do­ing, call­ing such ac­tions "troub­ling" and "wrong."
"Sus­pi­cious be­ha­vi­or in­dic­at­ing crim­in­al be­ha­vi­or should be the basis for at­tract­ing law en­force­ment sur­veil­lance — not a per­son's re­li­gion. Pro­fil­ing based on re­li­gion breeds dis­trust and re­sent­ment in com­munit­ies that are po­ten­tial part­ners in the fight against crime," the Min­nesota Demo­crat said in a state­ment.
El­lis­on also re­spon­ded to an eth­nic slur that se­cur­ity of­fi­cials used as a place­hold­er for a po­ten­tial Muslim tar­get, which was in­cluded in The In­ter­cept's re­port: "Mo­hammed Ra­g­head." El­lis­on called the "use of hate­ful anti-Muslim train­ing ma­ter­i­als" evid­ence of re­li­gious pro­fil­ing by the U.S. gov­ern­ment and warned of severe con­sequences. "Un­due sur­veil­lance has a chilling ef­fect in all com­munit­ies. It tells young boys and girls who want to serve their coun­try in the mil­it­ary or in elec­ted of­fice to stay out of the pub­lic space. This is wrong. We can­not al­low fear and hatred to drown the in­clus­ive prom­ise of our na­tion," he wrote.
In re­sponse, El­lis­on said he would re­quest a "full ex­plan­a­tion" as to why the five Amer­ic­ans were tar­geted. It wasn't im­me­di­ately clear who El­lis­on would ap­peal to for fur­ther in­form­a­tion, but a let­ter is ex­pec­ted to be draf­ted in the next few days.
The Na­tion­al Se­cur­ity Agency and the FBI tar­geted email ac­counts be­long­ing to the five Amer­ic­an cit­izens between 2002 and 2008. The tar­geted Amer­ic­ans are Fais­al Gill, a Re­pub­lic­an op­er­at­ive who worked at the Home­land Se­cur­ity De­part­ment un­der Pres­id­ent George W. Bush; As­im Gha­foor, an at­tor­ney who has worked on ter­ror­ism cases; Hooshang Amirah­madi, an Ir­a­ni­an-Amer­ic­an pro­fess­or; Agha Saeed, a former pro­fess­or; and Ni­had Awad, the ex­ec­ut­ive dir­ect­or of the Coun­cil on Amer­ic­an-Is­lam­ic Re­la­tions. All five men have denied any ties to ter­ror­ist or­gan­iz­a­tions, have clean re­cords (as far as is pub­licly known), and have not ad­voc­ated for "vi­ol­ent ji­had," ac­cord­ing to the ori­gin­al In­ter­cept re­port.
Aside from El­lis­on's state­ment, re­sponse to the re­port on Cap­it­ol Hill has been al­most nonex­ist­ent. Even mem­bers who are typ­ic­ally highly crit­ic­al of the NSA's activ­it­ies have not yet is­sued state­ments on the re­port, which con­firms that the agency spied on Amer­ic­an cit­izens with no ap­par­ent ties to ter­ror­ism.
What We're Following See More »
NEVER TRUMP
USA Today Weighs in on Presidential Race for First Time Ever
7 hours ago
THE DETAILS
"By all means vote, just not for Donald Trump." That's the message from USA Today editors, who are making the first recommendation on a presidential race in the paper's 34-year history. It's not exactly an endorsement; they make clear that the editorial board "does not have a consensus for a Clinton endorsement." But they state flatly that Donald Trump is, by "unanimous consensus of the editorial board, unfit for the presidency."
COMMISSIONERS NEED TO DELIBERATE MORE
FCC Pushes Vote on Set-Top Boxes
7 hours ago
THE LATEST
"Federal regulators on Thursday delayed a vote on a proposal to reshape the television market by freeing consumers from cable box rentals, putting into doubt a plan that has pitted technology companies against cable television providers. ... The proposal will still be considered for a future vote. But Tom Wheeler, chairman of the F.C.C., said commissioners needed more discussions."
UNTIL DEC. 9, ANYWAY
Obama Signs Bill to Fund Government
12 hours ago
IT'S ALL CLINTON
Reliable Poll Data Coming in RE: Debate #1
14 hours ago
WHY WE CARE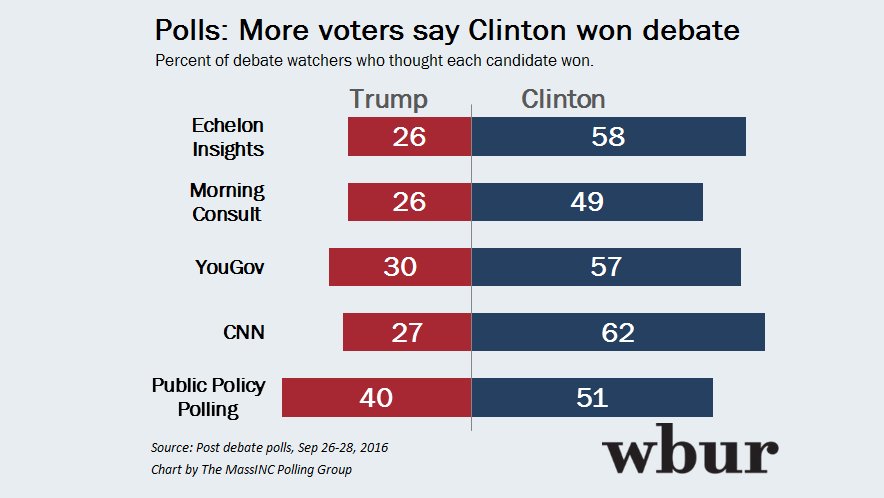 WHAT WILL PASS?
McConnell Doubts Criminal Justice Reform Can Pass This Year
17 hours ago