Top Re­pub­lic­an of­fi­cials are de­scrib­ing their choice of Clev­e­land to host the party's 2016 con­ven­tion as a busi­ness de­cision that GOP Chair­man Re­ince Priebus said is all about lo­gist­ics, not polit­ics. But there are clear polit­ic­al be­ne­fits to pick­ing Clev­e­land even if the chair­man can't ac­know­ledge them.
That has noth­ing to do with the now thor­oughly dis­cred­ited no­tion that bring­ing your con­ven­tion to a pivotal state in the sum­mer some­how de­liv­ers its elect­or­al votes in the fall. That just doesn't hap­pen. A can­did­ate doesn't win be­cause of a con­ven­tion. But he can lose an elec­tion be­cause of a bad con­ven­tion. And in choos­ing Clev­e­land over the oth­er fi­nal­ist, Dal­las, the GOP has avoided pit­falls that could have cost them dearly. If Re­pub­lic­ans had gone to Dal­las to pick their nom­in­ee, that nom­in­ee would have spent much of the four-day gath­er­ing run­ning away from im­ages of the party that would have been de­cidedly un­help­ful to his post-con­ven­tion task of broad­en­ing his ap­peal bey­ond just the Re­pub­lic­an core.
The face of a Dal­las con­ven­tion, without much doubt, would have been Texas firebrand and Tea Party darling Sen. Ted Cruz. It would have been Cruz in prime time, Cruz on the morn­ing shows, Cruz at the del­eg­a­tion lunches, Cruz on speed-dial for the net­work book­ers 24/7. Of course, he would have to share some of the spot­light with his fel­low Tex­ans Re­pub­lic­ans. Like the ar­chi­tects of the state party plat­form who last month ad­ded a plank em­bra­cing re­par­at­ive ther­apy for gays, the con­tro­ver­sial psy­cho­lo­gic­al treat­ments that are sup­posed to help people go straight. And don't for­get the plat­form's tough­er lan­guage on bor­der is­sues and im­mig­ra­tion. At a time when the Latino vote is be­com­ing more crit­ic­al in pres­id­en­tial elec­tions, a Dal­las con­ven­tion would have a four-day fo­cus on the GOP's less-than-wel­com­ing at­ti­tude to­ward His­pan­ics.
All of that would have pleased the party's most con­ser­vat­ive faith­ful who be­lieve that a sharp­er clar­ity is needed to win in 2016 after more fuzzy Es­tab­lish­ment nom­in­ees fell short in 2008 and 2012. But it would have com­plic­ated the gen­er­al elec­tion cam­paign for the nom­in­ee emer­ging from Dal­las re­min­is­cent of the last party con­ven­tion in Texas. The Re­pub­lic­an gath­er­ing in Hou­s­ton in 1992 is still re­membered for the harsh tone struck. Patrick J. Buchanan gave Pres­id­ent George H.W. Bush what he wanted "" an en­thu­si­ast­ic en­dorse­ment "" but also something he didn't want "" a call to arms in what he called "a cul­tur­al war." He con­cluded his re­marks with a ringing call to "take back our cit­ies, and take back our cul­ture and take back our coun­try." Most troub­ling to the Bush team is that this con­clu­sion came much later than they planned and pushed former Pres­id­ent Ron­ald Re­agan's much more ap­peal­ing re­marks out of prime time. Re­agan's speech, the last one he ever made to a GOP con­ven­tion, was up­beat and op­tim­ist­ic and funny, ur­ging Re­pub­lic­ans to ap­peal to "your best hopes, not your worst fears." But most of Amer­ica had gone to bed and nev­er saw it.
Earli­er nom­in­ees were sim­il­arly hurt by bad con­ven­tions. The Demo­crat­ic con­ven­tion in San Fran­cisco in 1984 is best re­membered for Wal­ter F. Mondale's pledge to raise taxes, per­mit­ting Re­pub­lic­ans to run for dec­ades against what Jeanne Kirk­patrick scorn­fully called "San Fran­cisco Demo­crats." And Barry Gold­wa­ter prob­ably was not go­ing to beat Pres­id­ent Lyn­don B. John­son any­way. But his San Fran­cisco con­ven­tion de­clar­a­tion that "ex­trem­ism in the de­fense of liberty is no vice" doomed his can­did­acy in 1964.
Pick­ing Clev­e­land does not im­mun­ize the party from sim­il­arly dis­astrous speeches in 2016. But it does avoid the self-in­flic­ted wound of present­ing Texas as the dir­ec­tion the party wants to go. In­stead of Cruz, the Clev­e­land con­ven­tion will put for­ward the much-more bland style of Ohio Re­pub­lic­an. For the last cen­tury, this swingi­est of all swing states has elec­ted lots of Re­pub­lic­ans. But none were firebrands who could be labeled as ex­trem­ists. From Gov. James A. Rhodes to Sen. Robert Taft Jr. and Gov. Robert Taft III, from Gov. and Sen. George Voinovich to today's Gov. John Kasich and Sen. Rob Port­man, the state has elec­ted Re­pub­lic­ans who are seen as mod­er­ate con­ser­vat­ives able to ap­peal to the middle class and work­ing people.
Without doubt, they lack the flash of Ted Cruz and they will make a Clev­e­land con­ven­tion less ex­cit­ing than a Dal­las gath­er­ing would have been. It won't be great TV. But for the even­tu­al Re­pub­lic­an nom­in­ee, that is good news.
What We're Following See More »
UNTIL DEC. 9, ANYWAY
Obama Signs Bill to Fund Government
1 hours ago
REDSKINS IMPLICATIONS
SCOTUS to Hear Case on Offensive Trademarks
1 hours ago
WHY WE CARE
"The Supreme Court is taking up a First Amendment clash over the government's refusal to register offensive trademarks, a case that could affect the Washington Redskins in their legal fight over the team name. The justices agreed Thursday to hear a dispute involving an Asian-American rock band called the Slants, but they did not act on a separate request to hear the higher-profile Redskins case at the same time." Still, any precedent set by the case could have ramifications for the Washington football team.
STAFF PICKS
Bannon Still Collecting Royalties from 'Seinfeld'
2 hours ago
WHY WE CARE
The Hollywood Reporter takes a look at a little-known intersection of politics and entertainment, in which Trump campaign CEO Steve Bannon is still raking in residuals from Seinfeld. Here's the digest version: When Seinfeld was in its infancy, Ted Turner was in the process of acquiring its production company, Castle Rock, but he was under-capitalized. Bannon's fledgling media company put up the remaining funds, and he agreed to "participation rights" instead of a fee. "Seinfeld has reaped more than $3 billion in its post-network afterlife through syndication deals." Meanwhile, Bannon is "still cashing checks from Seinfeld, and observers say he has made nearly 25 times more off the Castle Rock deal than he had anticipated."
IT'S ALL CLINTON
Reliable Poll Data Coming in RE: Debate #1
3 hours ago
WHY WE CARE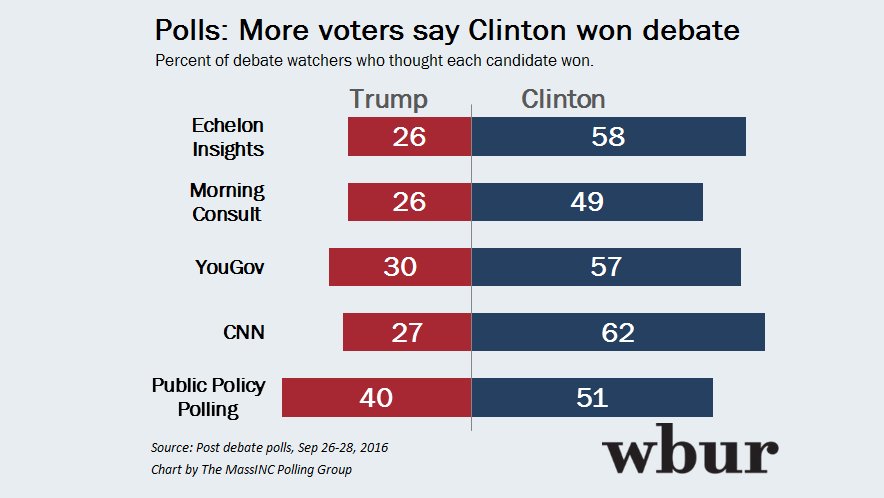 NEXT THURSDAY
Trump Transition Team Meeting with Silicon Valley VIPs
5 hours ago
THE DETAILS
Donald Trump's "transition team will meet next week with representatives of the tech industry, multiple sources confirmed, even as their candidate largely has been largely shunned by Silicon Valley. The meeting, scheduled for next Thursday at the offices of law and lobbying firm BakerHostetler, will include trade groups like the Information Technology Industry Council and the Internet Association that represent major Silicon Valley companies."