Add to Briefcase
July 3, 2014, 4:45 a.m.
The U.S. eco­nomy ad­ded 288,000 jobs in June, ac­cord­ing to the new jobs re­port from the Bur­eau of Labor Stat­ist­ics. The un­em­ploy­ment rate dropped from 6.3 to 6.1 per­cent.
On top of that good news comes pos­it­ive re­vi­sions for job gains in May and April. The May re­port was re­vised up from 217,000 jobs to 224,000, and the April re­port was boos­ted from 282,000 to 304,000. Av­er­age hourly wages are up two per­cent since last June.
A big month wasn't un­ex­pec­ted. Eco­nom­ists pre­dicted that the U.S. eco­nomy ad­ded 215,000 jobs in June, and the private payrolls pro­vider ADP pegged June's job growth at 281,000. The U.S. eco­nomy has now ad­ded over 200,000 jobs a month since Feb­ru­ary, the kind of growth un­seen since the tech boom in 1999 and 2000. Last month, the U.S. fi­nally re­covered all jobs lost dur­ing the re­ces­sion.
Now the re­quis­ite cold wa­ter: not everything is sud­denly great. The eco­nom­ic re­cov­ery is still mov­ing along, but it's not now sud­denly boost­ing every­one ahead. The num­ber of long-term un­em­ployed Amer­ic­ans dropped by 293,000 to 3.1 mil­lion in June, but some of that drop could be the res­ult of people drop­ping out of the labor force. The un­em­ploy­ment rate for black Amer­ic­ans dropped in June, but it's still at 10.7 per­cent, well above the 5.3 per­cent rate for white Amer­ic­ans. The num­ber of in­vol­un­tary part-time work­ers in­creased in June by 275,000.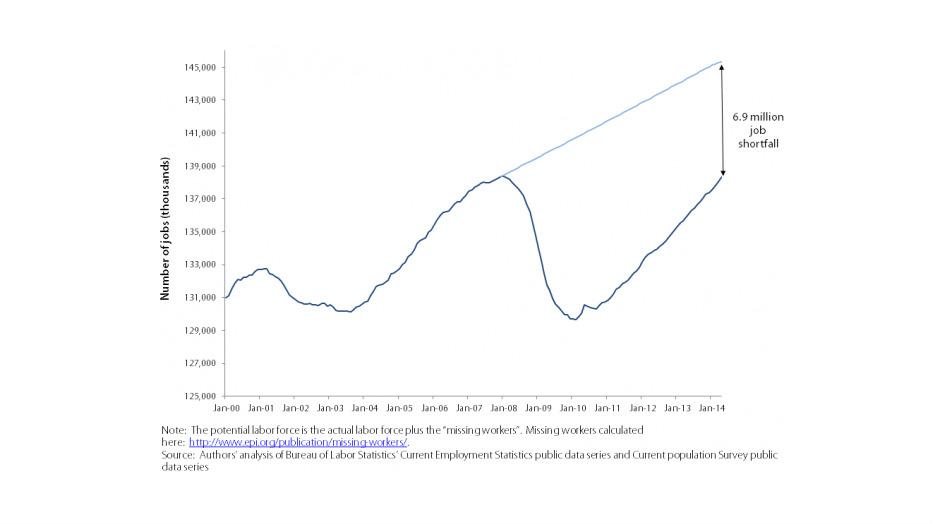 And as the left-lean­ing Eco­nom­ic Policy In­sti­tute showed last month, there's still a massive short­fall in jobs when you look at the growth of the po­ten­tial labor force: (Eco­nom­ic Policy In­sti­tute)
So there's ob­vi­ously a ways to go. But the last five months of jobs growth have been in­cred­ibly prom­ising, sug­gest­ing that the re­cov­ery ac­tu­ally, really this time is get­ting ser­i­ous. This re­port is, by-and-large, very good news.