The Na­tion­al Se­cur­ity Agency's In­ter­net sur­veil­lance pro­grams are leg­al and ef­fect­ive, ac­cord­ing to the Pri­vacy and Civil Liber­ties Over­sight Board, an in­de­pend­ent watch­dog agency.
In a draft re­port, the pan­el ex­presses con­cern with cer­tain ele­ments of the NSA's massive col­lec­tion of In­ter­net data with­in the United States, and out­lines sev­er­al re­forms it says would bol­ster pri­vacy pro­tec­tions and im­prove trans­par­ency.
But the re­port, set for form­al re­lease Wed­nes­day, is sure to dis­ap­point pri­vacy ad­voc­ates, who had hoped the board would make a broad call for re­form in its re­view of spy­ing un­der Sec­tion 702 of the For­eign In­tel­li­gence Sur­veil­lance Act.
The pro­vi­sion gives in­tel­li­gence agen­cies the au­thor­ity to spy on the com­mu­nic­a­tions of for­eign­ers loc­ated out­side the United States. The NSA has used the power for its "PRISM" pro­gram, in which it is­sues de­mands to com­pan­ies such as Face­book, Google, and Mi­crosoft for their users' com­mu­nic­a­tions. The NSA has also been us­ing the au­thor­ity to tap in­to the In­ter­net back­bone to suck up in­ter­na­tion­al com­mu­nic­a­tions.
The Pri­vacy and Civil Liber­ties Over­sight Board, a bi­par­tis­an five-mem­ber group that was formed to pro­mote pri­vacy after the Sept. 11 at­tacks, said cer­tain as­pects of the sur­veil­lance push the pro­grams "close to the line of con­sti­tu­tion­al reas­on­able­ness." For ex­ample, the NSA not only spies on the com­mu­nic­a­tions to and from cer­tain tar­gets, but also scans through vast amounts of In­ter­net data look­ing for any com­mu­nic­a­tions about the tar­gets. The gov­ern­ment also "in­cid­ent­ally" col­lects a large amount of in­form­a­tion from Amer­ic­ans, and some­times searches through its data­bases spe­cific­ally look­ing for Amer­ic­an data.
The House ap­proved le­gis­la­tion last month that would re­quire the gov­ern­ment to ob­tain a war­rant for such searches of Amer­ic­ans' com­mu­nic­a­tions. But the board's re­port doesn't en­dorse le­gis­la­tion to close so-called back­door do­mest­ic searches. The pan­el notes that the pro­gram only in­ten­tion­ally col­lects com­mu­nic­a­tions of for­eign­ers, who aren't covered by the Fourth Amend­ment.
The re­port re­com­mends that the NSA tight­en its tar­get­ing pro­ced­ures and provide more jus­ti­fic­a­tion to the For­eign In­tel­li­gence Sur­veil­lance Court when it searches for Amer­ic­ans' in­form­a­tion. The FBI should face tough­er lim­its on its abil­ity to use the in­form­a­tion for crim­in­al in­vest­ig­a­tions, and the gov­ern­ment should make more in­form­a­tion about its spy­ing pub­lic, the board said.
None of the re­com­mend­a­tions re­quire le­gis­lat­ive ac­tion. 
Two of the board mem­bers, Chair­man Dav­id Med­ine and Pa­tri­cia Wald, is­sued a sep­ar­ate state­ment say­ing the re­com­mend­a­tions don't go "nearly far enough to pro­tect U.S. per­sons' pri­vacy rights." The mem­bers said they would have called for more ju­di­cial over­sight of the searches of U.S. in­form­a­tion.
Pri­vacy groups say the re­port falls far short of ad­dress­ing the pro­grams' ser­i­ous pri­vacy vi­ol­a­tions of Amer­ic­ans and for­eign­ers.
"The PCLOB's pro­posed re­forms for Sec­tion 702 are an an­em­ic set of re­com­mend­a­tions that will do little to stop ex­cess­ive sur­veil­lance," Cindy Cohn, the leg­al dir­ect­or of the Elec­tron­ic Fron­ti­er Found­a­tion, wrote in a blog post. "The gov­ern­ment's col­lec­tion and search of Amer­ic­ans' com­mu­nic­a­tions without a war­rant or in­di­vidu­ally ap­proved court or­der is barred by the Con­sti­tu­tion and must be stopped."
The re­port's mod­est re­com­mend­a­tions con­trast with the sweep­ing call for re­form in the board's re­view of spy­ing un­der Sec­tion 215 of the USA Pat­ri­ot Act earli­er this year. The NSA uses that pro­vi­sion, which has re­ceived more at­ten­tion in the wake of Ed­ward Snowden's leaks, to col­lect re­cords such as phone num­bers and call times on mil­lions of U.S. phone calls.
Al­though Sec­tion 702 is aimed more at spy­ing on for­eign­ers, it al­lows the NSA to read the ac­tu­al con­tents of emails and oth­er com­mu­nic­a­tions.
Dustin Volz con­trib­uted to this art­icle
What We're Following See More »
UNTIL DEC. 9, ANYWAY
Obama Signs Bill to Fund Government
1 hours ago
REDSKINS IMPLICATIONS
SCOTUS to Hear Case on Offensive Trademarks
1 hours ago
WHY WE CARE
"The Supreme Court is taking up a First Amendment clash over the government's refusal to register offensive trademarks, a case that could affect the Washington Redskins in their legal fight over the team name. The justices agreed Thursday to hear a dispute involving an Asian-American rock band called the Slants, but they did not act on a separate request to hear the higher-profile Redskins case at the same time." Still, any precedent set by the case could have ramifications for the Washington football team.
STAFF PICKS
Bannon Still Collecting Royalties from 'Seinfeld'
2 hours ago
WHY WE CARE
The Hollywood Reporter takes a look at a little-known intersection of politics and entertainment, in which Trump campaign CEO Steve Bannon is still raking in residuals from Seinfeld. Here's the digest version: When Seinfeld was in its infancy, Ted Turner was in the process of acquiring its production company, Castle Rock, but he was under-capitalized. Bannon's fledgling media company put up the remaining funds, and he agreed to "participation rights" instead of a fee. "Seinfeld has reaped more than $3 billion in its post-network afterlife through syndication deals." Meanwhile, Bannon is "still cashing checks from Seinfeld, and observers say he has made nearly 25 times more off the Castle Rock deal than he had anticipated."
IT'S ALL CLINTON
Reliable Poll Data Coming in RE: Debate #1
3 hours ago
WHY WE CARE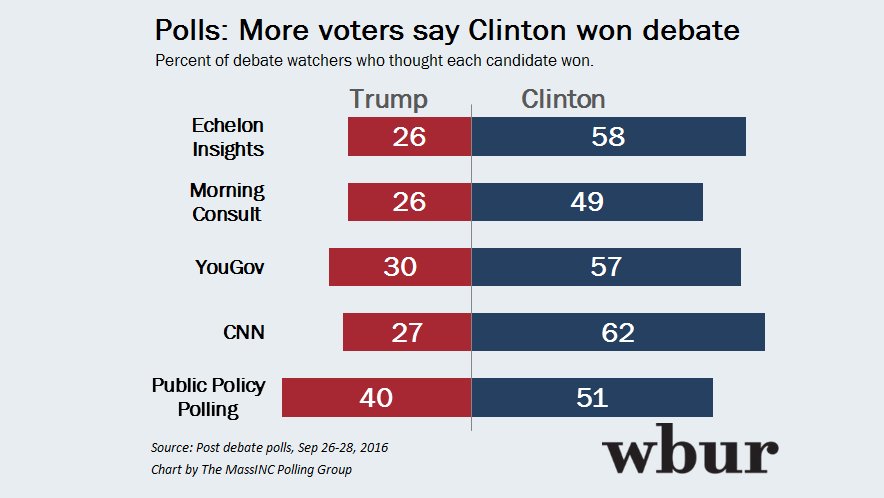 NEXT THURSDAY
Trump Transition Team Meeting with Silicon Valley VIPs
5 hours ago
THE DETAILS
Donald Trump's "transition team will meet next week with representatives of the tech industry, multiple sources confirmed, even as their candidate largely has been largely shunned by Silicon Valley. The meeting, scheduled for next Thursday at the offices of law and lobbying firm BakerHostetler, will include trade groups like the Information Technology Industry Council and the Internet Association that represent major Silicon Valley companies."