On Sunday, a team of U.N. in­spect­ors led by Swedish arms ex­pert Ake Sell­strom post­poned in­def­in­itely its planned two-week mis­sion to Syr­ia after plan­ning snags arose, CBS News re­por­ted.
The ori­gin­al de­par­ture date for the trip, which will in­vest­ig­ate al­leged chem­ic­al weapons use at three sites in the Middle East­ern na­tion, was to be Monday, but "tech­nic­al hitches" forced the team of 10 ex­perts to post­pone the jour­ney to Dam­as­cus, ac­cord­ing to un­named U.N. sources cited by the net­work.
Ne­go­ti­ations with the Syr­i­an gov­ern­ment have been dif­fi­cult, with onsite lo­gist­ics play­ing a ma­jor role in the delay, ac­cord­ing to CBS News.
Khan As­sal is the only site of the three that has been pub­licly iden­ti­fied by the U.N. in­spect­ors. That town re­cently shif­ted in­to op­pos­i­tion con­trol, but rebels have said the in­vest­ig­at­ors would be giv­en open ac­cess. Atay­bah and Homs are re­portedly the two oth­er sites, which have not been con­firmed on the basis of se­cur­ity con­cerns.
A total of 13 re­ports of chem­ic­al at­tack in Syr­ia have been re­ceived by the United Na­tions, CBS cited the in­ter­na­tion­al body as say­ing last week. More than 100,000 people have been killed in the two-year-old civil war, with the vast ma­jor­ity of cas­u­al­ties at­trib­uted to con­ven­tion­al at­tacks.
The U.N. in­spec­tion mis­sion's stated goal is not to de­term­ine which side used chem­ic­al weapons, but wheth­er chem­ic­al weapons have been used in the con­flict. However, some crit­ics have said that such an in­quiry without the goal of at­tri­bu­tion would of­fer lim­ited value.
Ac­cord­ing to an un­named source for CBS News, the team "will no­ti­fy the Syr­i­ans when they are ready to head to the coun­try."
What We're Following See More »
NEVER TRUMP
USA Today Weighs in on Presidential Race for First Time Ever
7 hours ago
THE DETAILS
"By all means vote, just not for Donald Trump." That's the message from USA Today editors, who are making the first recommendation on a presidential race in the paper's 34-year history. It's not exactly an endorsement; they make clear that the editorial board "does not have a consensus for a Clinton endorsement." But they state flatly that Donald Trump is, by "unanimous consensus of the editorial board, unfit for the presidency."
COMMISSIONERS NEED TO DELIBERATE MORE
FCC Pushes Vote on Set-Top Boxes
7 hours ago
THE LATEST
"Federal regulators on Thursday delayed a vote on a proposal to reshape the television market by freeing consumers from cable box rentals, putting into doubt a plan that has pitted technology companies against cable television providers. ... The proposal will still be considered for a future vote. But Tom Wheeler, chairman of the F.C.C., said commissioners needed more discussions."
UNTIL DEC. 9, ANYWAY
Obama Signs Bill to Fund Government
12 hours ago
IT'S ALL CLINTON
Reliable Poll Data Coming in RE: Debate #1
14 hours ago
WHY WE CARE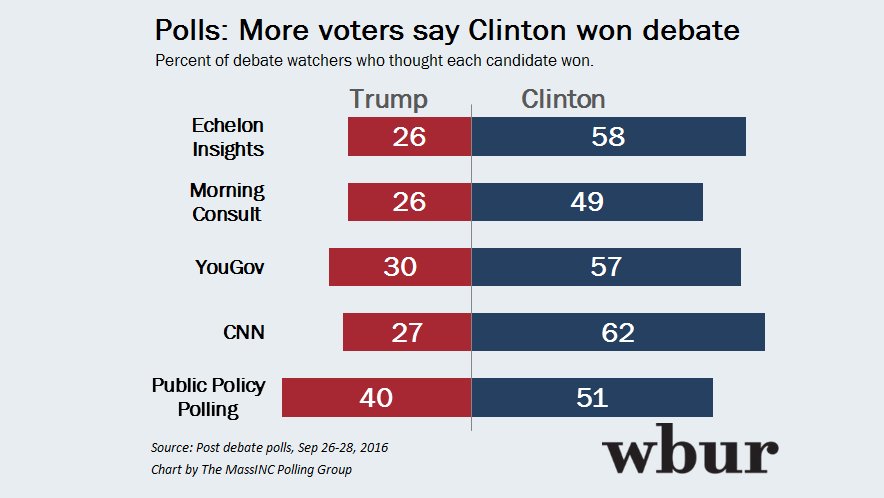 WHAT WILL PASS?
McConnell Doubts Criminal Justice Reform Can Pass This Year
17 hours ago