A U.S. Dis­trict Court judge has ruled that New York's con­tro­ver­sial prac­tice of "stop and frisk" is un­con­sti­tu­tion­al, on grounds that it un­fairly singles out ra­cial groups.
The policy al­lows po­lice of­ficers to stop, ques­tion, and pos­sibly search a per­son if the of­ficer has sus­pi­cions that per­son has or may com­mit a crime. The policy was in­voked 4.4 mil­lion times between 2004 and 2012, ac­cord­ing to the judge's rul­ing. And it has been ef­fect­ive. The At­lantic re­cently re­por­ted that "in 2011, 770 guns were re­covered across New York dur­ing frisks. That amounts to a 30 per­cent in­crease over 2003, when 594 guns were re­covered."
But here's what has raised eye­brows, and promp­ted the lit­ig­a­tion: In that 2004-2012 time frame, 80 per­cent of those stopped in New York City were black or His­pan­ic. In 2010, blacks and His­pan­ics made up about 50 per­cent of the city's pop­u­la­tion. 
U.S. Dis­trict Judge Shira Scheind­lin put it in no un­clear terms as to why the pro­gram should be ree­valu­ated. Re­gard­less of how well the policy works, she wrote in an opin­ion Monday, it vi­ol­ates con­sti­tu­tion­al pro­tec­tions. The de­cision, in all, is 195 pages long, but the fol­low­ing pas­sage sums up the sen­ti­ment:
It is im­port­ant to re­cog­nize the hu­man toll of un­con­sti­tu­tion­al stops. While it is true that any one stop is a lim­ited in­tru­sion in dur­a­tion and depriva­tion of liberty, each stop is also a de­mean­ing and hu­mi­li­at­ing ex­per­i­ence. No one should live in fear of be­ing stopped whenev­er he leaves his home to go about the activ­it­ies of daily life. Those who are routinely sub­jec­ted to stops are over­whelm­ingly people of col­or, and they are jus­ti­fi­ably troubled to be singled out when many of them have done noth­ing to at­tract the un­wanted at­ten­tion. Some plaintiffs test­i­fied that stops make them feel un­wel­come in some parts of the city, and dis­trust­ful of the po­lice. This ali­en­a­tion can­not be good for the po­lice, the com­munity, or its lead­er. Fos­ter­ing trust and con­fid­ence between the po­lice and the com­munity would be an im­prove­ment for every­one.
In Ju­ly, New York Po­lice Com­mis­sion­er Ray Kelly took to the Wall Street Journ­al op-ed pages to de­fend the pro­gram, point­ing to how murders are down 29 per­cent over last year, which had the low­est rates in half a cen­tury. He called the ra­cial-pro­fil­ing charges against the po­lice force "disin­genu­ous," cit­ing how the re­duc­tion in crime has the greatest pos­it­ive im­pact on minor­ity com­munit­ies.
But Scheind­lin didn't care that the pro­gram was ef­fect­ive. After all, she reasoned, it would be a lot easi­er to cap­ture crim­in­als if po­lice routinely re­sor­ted to il­leg­al means.
I em­phas­ize at the out­set, as I have throughout the lit­ig­a­tion, that this case is not about the ef­fect­ive­ness of stop and frisk in de­ter­ring or com­bat­ing crime. This Court's man­date is solely to judge the con­sti­tu­tion­al­ity of po­lice be­ha­vi­or, not its ef­fect­ive­ness as a law-en­force­ment tool. Many po­lice prac­tices may be use­ful for fight­ing crime — pre­vent­at­ive de­ten­tion or co­erced con­fes­sions, for ex­ample — but be­cause they are un­con­sti­tu­tion­al they can­not be used, no mat­ter how ef­fect­ive.
Along with the rul­ing came some "rem­ed­ies" for what ails stop and frisk. Scheind­lin ordered a pi­lot pro­gram for of­ficers to wear cam­er­as to mon­it­or their in­ter­ac­tions with oth­ers, and com­munity meet­ings centered around re­forms.
May­or Mi­chael Bloomberg
What We're Following See More »
UNTIL DEC. 9, ANYWAY
Obama Signs Bill to Fund Government
4 hours ago
REDSKINS IMPLICATIONS
SCOTUS to Hear Case on Offensive Trademarks
4 hours ago
WHY WE CARE
"The Supreme Court is taking up a First Amendment clash over the government's refusal to register offensive trademarks, a case that could affect the Washington Redskins in their legal fight over the team name. The justices agreed Thursday to hear a dispute involving an Asian-American rock band called the Slants, but they did not act on a separate request to hear the higher-profile Redskins case at the same time." Still, any precedent set by the case could have ramifications for the Washington football team.
STAFF PICKS
Bannon Still Collecting Royalties from 'Seinfeld'
5 hours ago
WHY WE CARE
The Hollywood Reporter takes a look at a little-known intersection of politics and entertainment, in which Trump campaign CEO Steve Bannon is still raking in residuals from Seinfeld. Here's the digest version: When Seinfeld was in its infancy, Ted Turner was in the process of acquiring its production company, Castle Rock, but he was under-capitalized. Bannon's fledgling media company put up the remaining funds, and he agreed to "participation rights" instead of a fee. "Seinfeld has reaped more than $3 billion in its post-network afterlife through syndication deals." Meanwhile, Bannon is "still cashing checks from Seinfeld, and observers say he has made nearly 25 times more off the Castle Rock deal than he had anticipated."
IT'S ALL CLINTON
Reliable Poll Data Coming in RE: Debate #1
6 hours ago
WHY WE CARE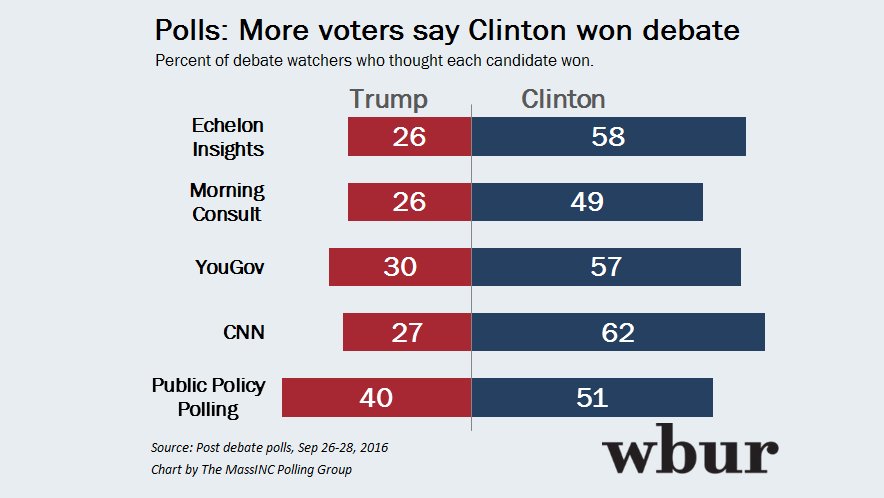 NEXT THURSDAY
Trump Transition Team Meeting with Silicon Valley VIPs
8 hours ago
THE DETAILS
Donald Trump's "transition team will meet next week with representatives of the tech industry, multiple sources confirmed, even as their candidate largely has been largely shunned by Silicon Valley. The meeting, scheduled for next Thursday at the offices of law and lobbying firm BakerHostetler, will include trade groups like the Information Technology Industry Council and the Internet Association that represent major Silicon Valley companies."