Aug. 21, 2013, 10:02 a.m.
A massive ex­er­cise is planned for Novem­ber that aims to test the re­si­li­ency of the U.S. power grid to with­stand ma­jor dam­age caused by a nat­ur­al dis­aster or de­lib­er­ate at­tack, the New York Times re­por­ted.
Thou­sands of people are pre­par­ing for the drill, in­clud­ing U.S, Mex­ic­an and Ca­na­dian gov­ern­ment of­fi­cials. They are join­ing busi­ness lead­ers, U.S. Na­tion­al Guard of­ficers, coun­terter­ror­ism spe­cial­ists and util­ity per­son­nel to tee up the ex­er­cise, which will im­it­ate kin­et­ic strikes and com­puter as­saults that could shut down large swaths of the elec­tric­al net­work.
In ex­cess of 150 en­tit­ies have agreed to take part in the sim­u­lated event, called "Gri­dEx 2."
Fears about the pos­sible det­on­a­tion of a nuc­le­ar war­head in the skies above the United States, for the pur­poses of cre­at­ing an elec­tro­mag­net­ic pulse aimed at sizz­ling elec­tron­ics on the ground, have led a num­ber of pub­lic fig­ures to call for sig­ni­fic­ant steps to strengthen the power grid. Ex-CIA head R. James Wool­sey is plan­ning a cam­paign to con­vince state gov­ern­ments to pass laws re­quir­ing util­it­ies to harden their elec­tron­ics against po­ten­tial EMP at­tacks.
A key ob­ject­ive of Gri­dEx 2 is to learn how gov­ern­ments would handle a loss of elec­tric­al power that is large enough to drastic­ally af­fect the de­liv­ery of com­mon and es­sen­tial goods and ser­vices.
Gov­ern­ment and util­ity com­pan­ies have dis­cussed in re­cent years how chal­len­ging it can be to pro­tect the power grid, which is in­volved in nearly all as­pects of mod­ern life. It is man­aged in large part by a patch­work of re­gion­al and city au­thor­it­ies and privately owned firms.
Some util­ity-sec­tor of­fi­cials blame the gov­ern­ment for not shar­ing in­tel­li­gence about threats to the power grid. In re­sponse, gov­ern­ment lead­ers have re­com­men­ded that some util­ity heads ap­ply for se­cur­ity clear­ances that would al­low them ac­cess to clas­si­fied in­form­a­tion.
What We're Following See More »
STAFF PICKS
Bannon Still Collecting Royalties from 'Seinfeld'
49 minutes ago
WHY WE CARE
The Hollywood Reporter takes a look at a little-known intersection of politics and entertainment, in which Trump campaign CEO Steve Bannon is still raking in residuals from Seinfeld. Here's the digest version: When Seinfeld was in its infancy, Ted Turner was in the process of acquiring its production company, Castle Rock, but he was under-capitalized. Bannon's fledgling media company put up the remaining funds, and he agreed to "participation rights" instead of a fee. "Seinfeld has reaped more than $3 billion in its post-network afterlife through syndication deals." Meanwhile, Bannon is "still cashing checks from Seinfeld, and observers say he has made nearly 25 times more off the Castle Rock deal than he had anticipated."
IT'S ALL CLINTON
Reliable Poll Data Coming in RE: Debate #1
1 hours ago
WHY WE CARE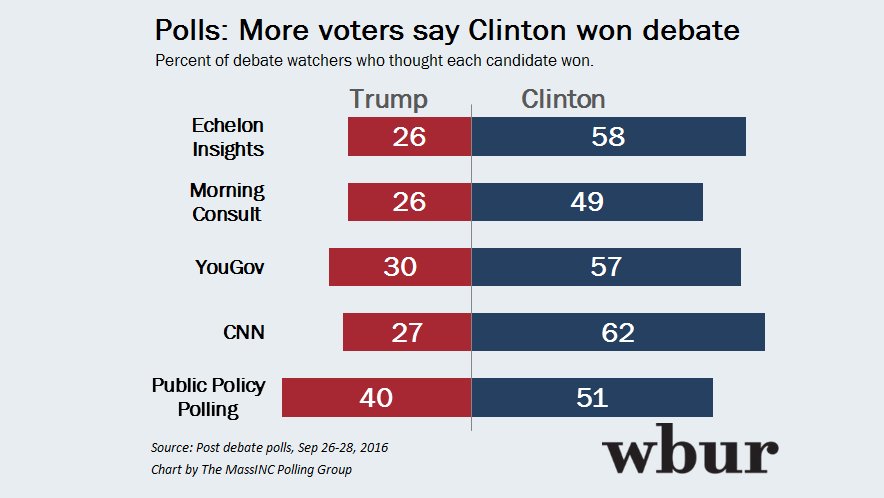 NEXT THURSDAY
Trump Transition Team Meeting with Silicon Valley VIPs
3 hours ago
THE DETAILS
Donald Trump's "transition team will meet next week with representatives of the tech industry, multiple sources confirmed, even as their candidate largely has been largely shunned by Silicon Valley. The meeting, scheduled for next Thursday at the offices of law and lobbying firm BakerHostetler, will include trade groups like the Information Technology Industry Council and the Internet Association that represent major Silicon Valley companies."
WHAT WILL PASS?
McConnell Doubts Criminal Justice Reform Can Pass This Year
3 hours ago
ALSO FIRED UNATTRACTIVE WAITRESSES
Trump Did Business with Cuba
4 hours ago
THE LATEST
Today in bad news for Donald Trump:
Newsweek found that a company he controlled did business with Cuba under Fidel Castro "despite strict American trade bans that made such undertakings illegal, according to interviews with former Trump executives, internal company records and court filings." In 1998, he spent at least $68,000 there, which was funneled through a consluting company "to make it appear legal."
The Los Angeles Times reports that at a golf club he owns in California, Trump ordered that unattractive female staff be fired and replaced with prettier women.