AUSTIN, Texas—Nafisa remembers the day she fled Afghanistan for a new home as the time her family was torn apart.
In the chaotic rush to Hamid Karzai International Airport to board a plane to safety, the 52-year-old mother of eight was separated from her husband, her eldest son, and three of her grandchildren.
"The Taliban wouldn't allow my husband and son to enter the airport," Nafisa said from her living room in Austin. "They were left in Afghanistan. I speak with them regularly, and they are in danger. They change locations often. It's a very bad situation."
Almost one year after the U.S. completed its chaotic withdrawal from Afghanistan, marking an end to a war that lasted two decades, shoes and children's bicycles pile up in front of Nafisa's doorway in the unforgiving sun at an apartment complex in south Austin. Nafisa, a former teacher whose daughter worked at the U.S. embassy in Kabul, sits in her living room listening to an English-language lesson on her phone. One of her sons and his wife are visiting, tending to their months-old infant, and puttering around her kitchen.
She and seven of her children settled in Austin following three months on a military base in New Mexico. She now lives with her four youngest children in a two-bedroom apartment in a complex which houses around 60 Afghan families.
Nafisa says she is grateful to the U.S. for taking her family in. Afghanistan was often so dangerous that she was glad to leave. But she wishes to live together with her extended family in one house. Instead, she has struggled to find an affordable three-bedroom apartment. Meanwhile, she worries about her family back in Afghanistan and hopes to be reunited with them when her immigration status is settled. It's a common challenge faced by Afghan refugees in Austin, who often have difficulties finding housing large enough to accommodate families that frequently have a dozen members or more even after leaving some behind.
National Journal granted first-name-only status to some of the individuals in this story due to concerns for their privacy and the personal safety of their relatives in Afghanistan.
The state of Texas has taken in over 10,000 refugees from Afghanistan since the country fell to the Taliban immediately following U.S. withdrawal. It's the highest number of Afghan refugees in any single state. Many have resettled in Austin. Refugee Services of Texas has a large office in the city where Afghans bring binders bursting with paperwork to free legal seminars. Some have Special Immigrant Visas, part of a program that gives permanent residence to individuals who helped the U.S. government abroad. But the majority were paroled into the U.S. through the Afghan Placement and Assistance Program, which offers temporary legal status and expedited work authorization to fleeing Afghans. These are often family members of people who worked for the U.S. government, but their permanent immigration status in the U.S. is uncertain. They must apply for asylum or Temporary Protected Status, a process that can drag on for years.
Congress appropriated $13.3 billion to assist Afghan evacuees during the first months following the fall of Kabul.
Meanwhile, Afghan families must learn to navigate the complexities of life in the United States, including how to rent an apartment without a credit score or rental history, sign up for food stamps and Medicaid, and access in-network health care providers. They must search for a job with limited English-language skills and enroll their children in school. And in Austin—a city experiencing a population boom and skyrocketing rental prices as tech workers flock from California for sunshine with lower tax rates—refugees struggle to find affordable housing and landlords who want to rent to them.
A chaotic resettlement process
In September 2021, Refugee Services of Texas wasn't prepared to resettle the hundreds of refugees arriving in Austin each week.
Former President Trump had cut the number of refugees allowed into the U.S. to an all-time low over the previous four years. Without people to resettle, refugee-resettlement organizations cut staff and reduced services. Some even stopped working with refugees altogether. By the time Afghans began arriving in Texas, RST was the only organization working on refugee resettlement in Austin. They needed to start hiring quickly.
"There was no capacity. Our resettlement efforts were greatly reduced because of the Trump administration and then the pandemic, so we didn't have the staff in place," said Lauren Rizzo, a volunteer coordinator for RST. "We had to really rely on community partners to help us to feed people upon arrival and provide them with all of their household goods and transport them from hotels to apartments."
During a typical year before the Trump administration decimated refugee-resettlement agencies, RST would organize welcome teams of volunteers to meet families arriving at the airport. The volunteers would bring the newly arrived refugees to apartments RST paid for during the first months after the families' arrival. The apartments would have beds, rugs, couches, and other items sourced by the volunteers themselves, and the families would have a hot meal and a stocked fridge waiting for them at their new home.
The refugee-resettlement process also followed a strict timeline. Refugees would be enrolled in Social Security one day after settling into their new apartment. The following week they would get employment authorization.
But the combination of years of under-funding and the sudden influx of thousands of Afghans changed everything. Afghans were evacuated from their country in a hurry and sent to military bases in places like Qatar, Germany, Wisconsin, and New Mexico. They fled without the necessary paperwork and before their refugee status was official. Volunteers quickly learned they couldn't be perfectionists when setting up the apartments. In many cases, there wasn't enough housing for the families arriving.
During the tumultuous first months after refugees began landing in Austin, RST arranged for the newly arrived Afghans to stay in a La Quinta hotel as a temporary measure while they looked for more permanent housing. The hotels didn't have kitchens, so volunteers gathered donations to buy food and used commercial kitchens in churches and synagogues to cook meals they delivered to hotel rooms. At the time, Russ Apfel, a 75-year-old retiree who volunteers full-time to assist refugees in Austin, spent around $60,000 on groceries during the first five months, making about 100 separate orders of groceries each month.
The volunteers tried their best to source ingredients from Afghanistan and learn to make traditional Afghan meals like Kabuli palaw. Teams of volunteers dropped off food for dozens of families twice a day. The situation was chaotic, but the volunteers said no one ever went hungry or became homeless.
"We had weeks where we were picking up hundreds of refugees in one week," Apfel said. "We had no place to put them. There were no apartments. There were so many families, and we didn't have welcome teams that had been trained over the last five years. All the volunteers were running around trying to get people food."
'You need help. We have volunteers.'
Apfel was among the first wave of tech workers to leave a job in California and migrate to Austin. The native New Yorker, whose grandparents arrived in the U.S. as Jewish refugees escaping pogroms in Eastern Europe, had been living in Austin on and off for around three decades when Afghans began arriving in the city last year.
He and other members of Austin's Jewish community mobilized to do the work the refugee-resettlement organizations couldn't. The volunteers taught new arrivals how to use household appliances like microwaves, dishwashers, and ovens that were different from what they had at home. They showed them where to throw out the trash. And they drove them to appointments or explained the local bus system.
Apfel also helped connect new volunteers with RST. He noticed that some community members were reluctant to work with the organization because of its bureaucratic processes. Some found RST frustrating and inefficient. Still, people wanted to help the Afghans arriving in the city, and RST was the only organization coordinating their arrival. Apfel knew RST CEO Russell Smith, so he called him on the phone.
"I said, 'Russell, you need help. We have volunteers. How can we work with you guys?'" Apfel remembers. "We started getting opportunities to work with refugees while other groups weren't getting their calls returned. Once other groups learned we were getting opportunities, they asked if they could work with us. We met all of these fabulous people."
Today, Austin Jews and Partners for Refugees is an inter-faith umbrella organization that includes Muslim, Christian, Jewish, and secular groups working together to deliver essential services to the Afghans slowly rebuilding their lives in Austin. The volunteers help them sign up for Medicaid and Social Security and drive them to doctor's appointments. They've organized food, clothing, and furniture drives. They coordinate English-language classes.
Kashif Akhlaque, a 50-year-old Pakistani man active in the Mosque Masjid Aisha's North Austin Muslim Community Center, is one of the people dedicating numerous hours a week to helping refugees. On a Sunday afternoon in June, Akhlaque's son and an Afghan refugee move furniture around the mosque to set up for events. Akhlaque spent the afternoon delivering food as part of the mosque's weekly food drive.
Despite working a full-time job in the IT industry, Akhlaque also runs programs like a free health clinic, a drive-through grocery program, a diaper-bank service, and mental-health programs, among other services for refugees.
After coming home from his job each day and spending time with his family, Akhlaque sits down to answer emails around midnight and sort through a spreadsheet with information about the medical needs, language skills, and asylum status of hundreds of Afghan families. He often fields emergency calls in the middle of the night.
"Somebody called me at midnight and told me he was having a lot of pain in his side. I'm not a doctor, but it sounded like he had a kidney problem. We also had a miscarriage, an eviction, and someone's electricity was disconnected when the temperature was below freezing. They had a 6-month-old baby and no heat," Akhlaque said. "They call or send me a Facebook message or an email, and we respond within hours."
In one instance, a refugee called Akhlaque on the phone and asked for help with translation as he was getting dental work done. Akhlaque was in the middle of a job interview, but he took the call anyway. He also frequently attends medical appointments with refugees.
Despite the dedication of Austin's volunteers, there are challenges involved with relying on an unpaid workforce.
Madison O'Day, a supervisor for RST's resettlement program, remembers when one group of volunteers meeting refugees at the airport accidentally left someone behind. She noted that sometimes volunteers cancel at the last minute.
"It's a joy to work with volunteers, but I would like to have them on less essential tasks," O'Day said. "At the end of the day, my preference would be to have a team that is twice as large that could do all of it. Having the resources in-house to make sure that we're the ones responsible from beginning to end—that would be the dream for a resettlement agency of this size dealing with so many clients."
Still, RST's Rizzo says that refugee resettlement intentionally blends community support with the work of professional staff. That directive comes from the Office of Refugee Resettlement, a federal agency in Washington D.C.
"A lot of our financial support is tied to proving that there is a very supportive community here in Austin, so it's very important to get volunteer hours, donations, and really rally the community behind helping these families resettle here," Rizzo said. "The main goal is to integrate people as soon as possible into the greater community, so they don't become solely dependent on one agency."
The challenges for refugees in America
Wahab Rasooli was evacuated quickly from Afghanistan because his life was at risk. The popular singer and 31-year-old father of four worked for a media company connected to the former vice president under Ashraf Ghani, the head of the U.S.-allied government that fell immediately after the U.S. withdrawal.
"The Taliban doesn't like music," Rasooli said. "If we sing, the Taliban says we're not Muslim."
Rasooli is one of the lucky refugees who has found employment in his chosen field. He is learning English quickly, and he landed a job as an audio technician in a local school. But over the last few months in Austin, he hasn't succeeded in signing up for health insurance. He hopes that will change once he has been at his new job a little longer.
Once they settle into apartments, refugees must start organizing their lives as other U.S. residents do. That means finding affordable housing for their large families after the funding from RST runs out or figuring out what paperwork they need to secure employment or health insurance. But refugees face challenges that others don't.
Many people left behind items like marriage certificates or high school diplomas, limiting what services and opportunities they can access after they settle in their new home. In the rush to leave Afghanistan, people filled in incorrect information on intake forms to enter the U.S.
Nell Guzman, who runs a health care program at RST, said one family arrived with paperwork that said every family member had the same birthday. In another case, an 18-year-old was registered as an 11-year-old. Correcting the data can delay access to services like Medicaid or Social Security. Meanwhile, some of the new arrivals came with urgent health care needs. Some of the women were pregnant and needed immediate prenatal care.
Nafisa's son Ahmad's wife was pregnant when they arrived in the U.S., and the family says that no one arranged medical checkups for the first two months after her arrival. She gave birth to a healthy baby in May.
And many refugee families have had difficulties understanding the housing system in the U.S. The staff at RST has struggled to communicate when they will stop paying people's rent. Refugees have failed to understand that they must start the search for more affordable housing months in advance or that they will be obligated to pay high rent if they sign a new lease. Confusions due to language barriers are prevalent, and some people sign documents without knowing what they mean.
"There's a general sense of nervousness when people arrive," RST's Rizzo said. "You explain the services, and people sign paperwork that very clearly shows when they are getting their checks and how much they are getting, but when you first come, there is so much information. I think no matter how much information you give families at first, they aren't going to understand what's happening completely."
Meanwhile, the price of rent in Austin continues to rise. As more high-income individuals move to the city, landlords have less incentive to rent to refugees without lucrative jobs.
"It is increasingly difficult to provide people with adequate rent assistance based on the assistance that is provided by the government," Rizzo said. "It's also harder to find apartment complexes willing to work with us, simply because they don't have a necessity to work with us. It used to be a huge incentive for them because we could provide them with regular clientele. Now there are so many people moving here."
In Austin, properties also change hands frequently. Even when RST finds stable housing for refugee families for six months, it's not uncommon that the property will be sold and the rent subsequently increased in the meantime, making a previously affordable situation unaffordable. Some landlords have told RST that they no longer want refugees in their buildings.
There is also the thorny issue of figuring out long-term immigration status for those who do not have SIV status.
Nafisa's 26-year-old son Ahmad has been in touch with the organization Catholic Charities of Central Texas for legal representation. He was told in an email viewed by National Journal that he would need to pay $475 per person to apply for TPS, bringing the total to $950 for him and his wife, Samia.
Ahmad was studying law back in Afghanistan, but he now works as a dishwasher in a hotel. His salary doesn't allow him to pay TPS application fees.
"I didn't respond to the email because I don't have the money to pay them right now," Ahmad said.
Families left behind
Even the people who transition smoothly into their new life in the United States are often plagued by uncertainty about what will happen to family members back home in Afghanistan. The United States has no process for helping Afghans in the U.S. reunite with their family members now that the U.S. is no longer present in the country.
Shahnaz, a 55-year-old mother of 11 who also lives in Austin, has two children who were left behind in Afghanistan. She says they rarely leave their homes for fear of reprisal from the Taliban.
"We are happy here in the U.S. In Afghanistan, we were always afraid that they could be killed in a terror attack. But we are constantly thinking about my brother and whether we can bring him here," said Shahnaz's 40-year-old son Fahim, who works for a company assembling car parts. His wife also has family back in Afghanistan, including her parents, who she would like to bring to the U.S.
When a 6-magnitude earthquake hit eastern Afghanistan in late June, killing around 1,000 people and leaving tens of thousands homeless, she could not contact her family to offer support or even find out if they were still alive.
Families are also torn about how to survive financially in the U.S. while sending money to family members back home.
"We want to find ways to bring our family here so we can focus on our lives here instead of on Afghanistan," said Fahim, who supports six people on a salary of roughly $2,000 a month.
He says his family owned six apartments surrounded by fruit trees in Afghanistan. Now he shares one bathroom with six people.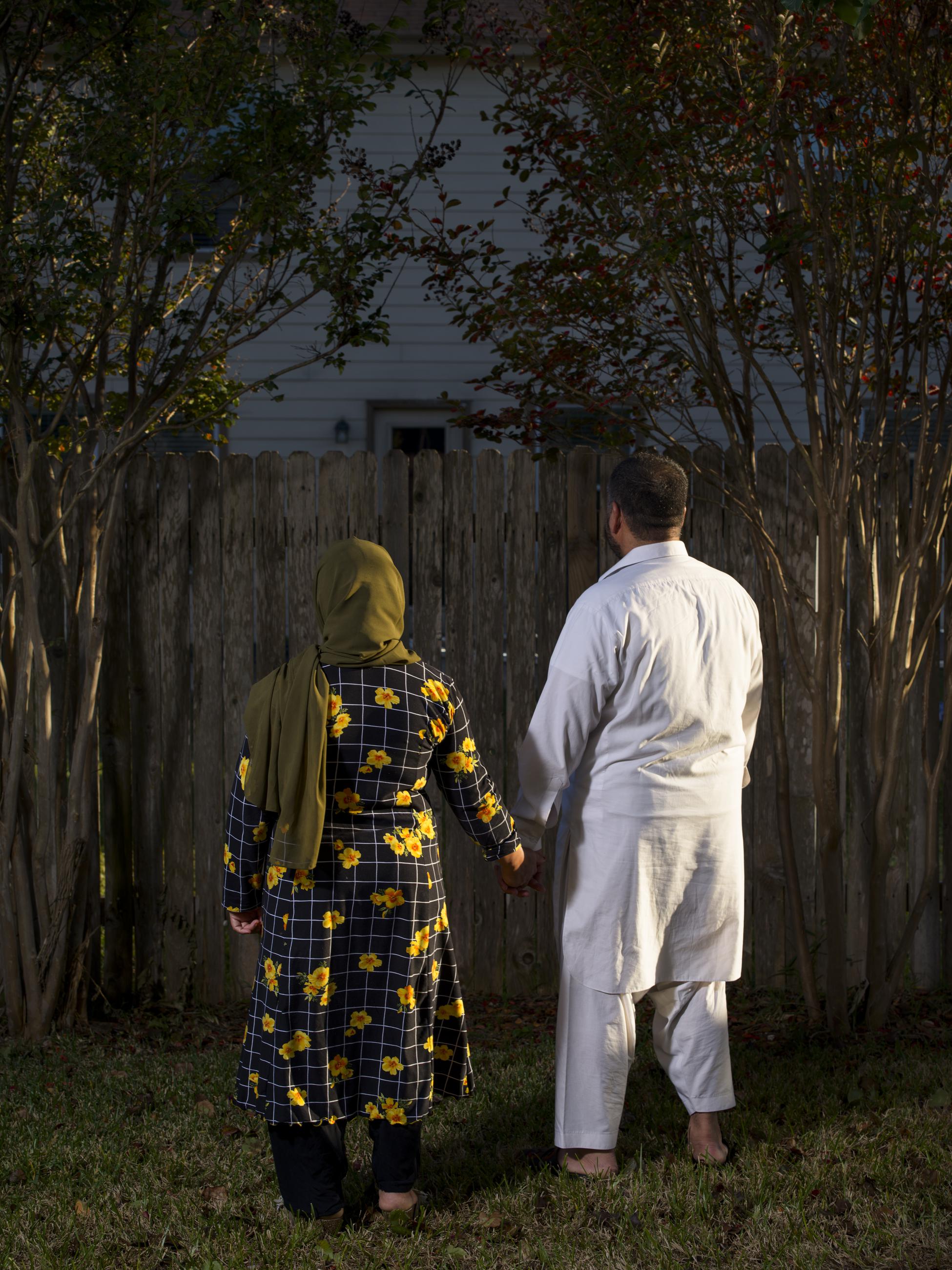 An uncertain future
In a complex in north Austin, 19-year-old Diana lives with her parents and four younger siblings in a two-bedroom apartment. RST has stopped paying the family's rent, and her father is the sole breadwinner. The family would like to move to a larger apartment, but they haven't been able to find one within their budget.
Despite the cramped quarters, Diana says she is happier in Austin than in Afghanistan, where strangers would criticize what she wore or police her behavior. She says her younger siblings are also doing well and learning English quickly.
Still, RST's O'Day is increasingly concerned Afghan families will have a hard time making ends meet in the United States in the long run. Financial assistance from RST winds down around six to eight months after a refugee's arrival. Meanwhile, funding for the organization's aid to Afghan parolees will end in October. There's no guarantee the Office of Refugee Resettlement will renew it, even though Afghans continue to contact RST for assistance.
"People are choosing to come to Austin because they see it's a quickly growing city, but they don't realize how the cost of living will affect their ability to resettle," O'Day said.
"They heard stories about walking around and picking up money off the street because there is just money lying around in America. Obviously, that's not true, so there is a really big adjustment period when clients come with optimistic expectations and are greeted with the grim reality that not only is it hard to be a refugee in the United States, but it's also hard to be a working-class family in the United States," O'Day continued.
Daily life in America is more grueling than many Afghans imagined.
"They're not living in apartments that they love," O'Day said. "They're working far more hours than they did in Afghanistan, and rent just continues to rise. That's what keeps me up at night."