Re­pub­lic­ans have long blamed Pres­id­ent Obama's sig­na­ture health care ini­ti­at­ive for in­creas­ing in­sur­ance costs, dub­bing it the "Un­af­ford­able Care Act."
Turns out, they might be right.
For the vast ma­jor­ity of Amer­ic­ans, premi­um prices will be high­er in the in­di­vidu­al ex­change than what they're cur­rently pay­ing for em­ploy­er-sponsored be­ne­fits, ac­cord­ing to a Na­tion­al Journ­al ana­lys­is of new cov­er­age and cost data. Adding even more out-of-pock­et ex­penses to con­sumers' monthly in­sur­ance bills is a swell in de­duct­ibles un­der the Af­ford­able Care Act.
Health law pro­ponents have ex­cused the rate hikes by say­ing the prices in the ex­change won't ap­ply to the mil­lions re­ceiv­ing cov­er­age from their em­ploy­ers. But that's only if em­ploy­ers con­tin­ue to of­fer that cov­er­age—something that's look­ing in­creas­ingly un­cer­tain. Already, UPS, for ex­ample, cited Obama­care as its reas­on for nix­ing spous­al cov­er­age. And while a Kais­er Fam­ily Found­a­tion re­port found that 49 per­cent of the U.S. pop­u­la­tion now re­ceives em­ploy­er-sponsored cov­er­age, more com­pan­ies are de­bat­ing wheth­er they will con­tin­ue to be in the busi­ness of provid­ing such be­ne­fits at all.
Eco­nom­ists largely agree there won't be a sea change among em­ploy­ers of­fer­ing cov­er­age. But they're also say­ing small busi­nesses are still in play.
Car­oline Pear­son, vice pres­id­ent at Avalere Health, a health care and pub­lic policy ad­vis­ory firm, said there's a cal­cu­la­tion low-wage com­pan­ies will make to de­term­ine if there's cost sav­ings in send­ing em­ploy­ees to the ex­changes.
"The amount you have to gross up their wages so they can get their own in­sur­ance and the cost of the pen­al­ties may add up to less than the cost of provid­ing care," she said.
It's a choice com­pan­ies are already mak­ing. The num­ber of em­ploy­ers of­fer­ing cov­er­age has de­clined, from 66 per­cent in 2003 to 57 per­cent today, ac­cord­ing to Kais­er's study.
The new vari­able is the pen­alty em­ploy­ers will face for not provid­ing cov­er­age, which will start in 2015 after it was delayed earli­er this year. The Health and Hu­man Ser­vices De­part­ment ar­gued that any in­crease in the num­ber of em­ploy­ers that drop be­ne­fits would not de­vi­ate from the his­tor­ic­al trend­line. And, HHS said, em­ploy­er de­cisions to drop cov­er­age might have noth­ing to do with the ACA. HHS spokes­wo­man Joanne Peters said pre­vi­ous health care re­form meas­ures have, in fact, re­versed that trend.
"As we saw in Mas­sachu­setts," Peters wrote in an e-mail, "em­ploy­er cov­er­age in­creased when sim­il­ar re­forms were ad­op­ted."
But oth­ers aren't as con­fid­ent. The drop-off in em­ploy­er cov­er­age par­alleled an in­crease in premi­ums, which rose 80 per­cent for fam­il­ies and 74 per­cent for singles in the last 10 years, the Kais­er study found.
"To any small em­ploy­er, it's a no-brain­er," said Devon Her­rick, a seni­or fel­low at the Na­tion­al Cen­ter for Policy Ana­lys­is, a con­ser­vat­ive policy re­search or­gan­iz­a­tion. "If work­ers can get bet­ter cov­er­age that's sub­sid­ized, it makes sense for the em­ploy­er to stop provid­ing health in­sur­ance."
Wheth­er the qual­ity of care in the new mar­ket is com­par­able to private of­fer­ings re­mains to be seen. But one thing is clear: The cost of care in the new mar­ket doesn't stack up. A single wage earner must make less than $20,000 to see his or her cur­rent premi­ums drop or stay the same un­der Obama­care, an in­de­pend­ent re­view by Na­tion­al Journ­al found. That's equi­val­ent to ap­prox­im­ately 34 per­cent of all single work­ers in the U.S. see­ing any be­ne­fit in the new sys­tem. For those seek­ing fam­ily-of-four cov­er­age un­der the ACA, about 43 per­cent will see cost sav­ings. Fam­il­ies must earn less than or equal to $62,300, or they, too, will be look­ing at a big­ger bill.
Those num­bers in­clude the gen­er­ous tax sub­sidies de­signed to make the new sys­tem more at­tract­ive to con­sumers.
"In 16 states that HHS stud­ied, premi­ums were on av­er­age al­most 20% lower than what the Con­gres­sion­al Budget Of­fice pro­jec­ted," Peters wrote in an e-mail.
Premi­ums may be lower than pre­dicted, but they're not com­pet­it­ive with what work­ers are now pay­ing for em­ploy­er-sponsored care.
On av­er­age, a work­er paid between $862 and $1,065 per year for single cov­er­age in 2013, ac­cord­ing to Kais­er's num­bers. For the av­er­age fam­ily plan, defined as a fam­ily of four, in­sur­ance cost between $4,226 and $5,284.
Few­er than half of all fam­il­ies and only a third of single work­ers would qual­i­fy for enough Obama­care tax sub­sidies to pay with­in or be­low those av­er­ages next year.
The cost of Obama­care will vary by state. But early num­bers from state ex­changes—in­clud­ing Cali­for­nia, Min­nesota, Wash­ing­ton, and Rhode Is­land, in ad­di­tion to those found on Kais­er's on­line cost cal­cu­lat­or—provide sim­il­ar es­tim­ates, all of which in­dic­ate a wide dis­par­ity between work­ers' con­tri­bu­tions to premi­ums un­der em­ploy­er plans as op­posed to Obama­care.
Look­ing at single versus fam­ily-of-four cov­er­age against the fed­er­al poverty line, low-in­come house­holds be­ne­fit most from Obama­care and the tax sub­sidies that de­fray costs. Those eli­gible for tax sub­sidies can make up to 400 per­cent of the fed­er­al poverty line, equi­val­ent to $45,960 for one per­son and $94,200 for a fam­ily of four. The data in the graph­ic is based on the Covered Cali­for­nia cal­cu­lat­or, which Seni­or Vice Pres­id­ent Larry Levitt of Kais­er said is a mar­ket "roughly in the middle of the pack."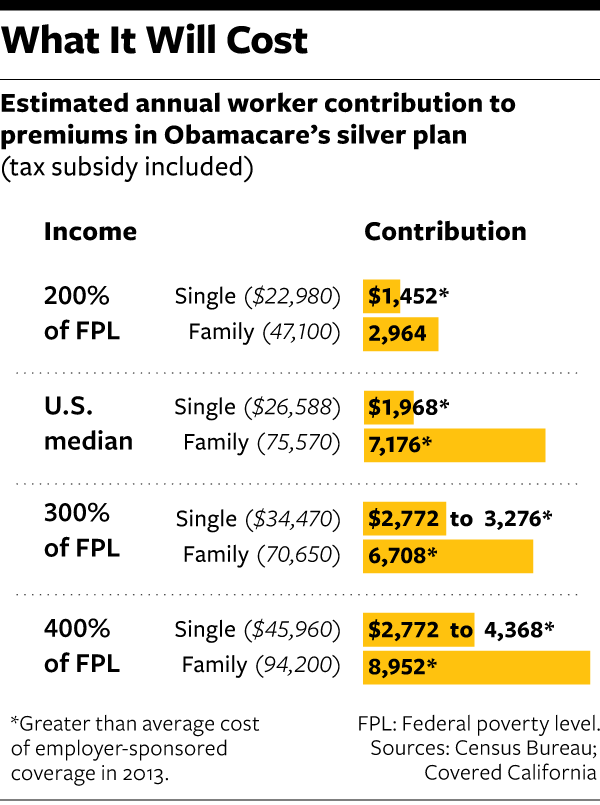 In places where the me­di­an fam­ily in­come is high­er, the num­ber of people who be­ne­fit from cost sav­ings will be even lower. It's a tough real­ity for Cali­for­nia, which is home to the largest num­ber of un­in­sured people in the coun­try (6.7 mil­lion) and there­fore viewed as the most im­port­ant test for the suc­cess of the new fed­er­al health law.
The truth is, Obama­care is do­ing what it was in­ten­ded to do: make health care af­ford­able for the na­tion's low­est earners by spread­ing out the costs among tax­pay­ers.
The trap is that the ex­changes also present a sav­ings for some em­ploy­ers but a rate hike for their em­ploy­ees.
And shift­ing em­ploy­ees to the ex­changes also is just lo­gist­ic­ally easi­er than try­ing to meet the law's em­ploy­er man­date.
Fifty per­cent of em­ploy­ers re­port be­ing "some­what pre­pared" to im­ple­ment the pro­vi­sions of the ACA, and an ad­di­tion­al 22 per­cent re­port be­ing "not pre­pared," ac­cord­ing to an Au­gust 2013 De­loitte present­a­tion to the Na­tion­al Con­fer­ence of State Le­gis­latures.
The re­port also in­dic­ates that, over­all, 81 per­cent of em­ploy­ers "do not an­ti­cip­ate drop­ping cov­er­age." Cheryl Smith, seni­or prac­ti­tion­er at De­loitte, said that num­ber is likely to change as em­ploy­ers learn more about the ex­changes.
"We're not go­ing to know who is com­ing in­to the ex­changes for the next few years," Smith said. "We also don't know for whom the sub­sidies will be most en­ti­cing."
The De­loitte re­port found sev­er­al factors that will feed in­to em­ploy­er de­cisions about drop­ping cov­er­age. Among them is an as­sess­ment of bet­ter be­ne­fits in an ex­change, a pen­alty for not provid­ing cov­er­age that is less than the cost of that cov­er­age, and a con­tin­ued trend of premi­ums rising faster than in­fla­tion.
Em­ploy­ers are also likely to join the ex­change if they have a great di­versity in plan of­fer­ings in their mar­ket. The study found that 71 per­cent of small busi­nesses would be more likely to join the ex­change in that scen­ario, com­pared with 49 per­cent of large com­pan­ies.
Of less im­port­ance was what com­pet­it­or com­pan­ies choose to do with their health be­ne­fits, De­loitte found.
"Will the ex­change feel the same as re­ceiv­ing health be­ne­fits from an em­ploy­er?" Levitt said. "No. For middle and high­er in­come they would be pay­ing more than they would with a job with health be­ne­fits. But it's hy­po­thet­ic­al, be­cause they don't have a job with health be­ne­fits."
Un­less they did, be­fore their em­ploy­er cut it.
Per­haps the biggest obstacle Obama­care faces today isn't get­ting people in the sys­tem, but mak­ing sure those who do get in ac­tu­ally re­ceive af­ford­able care.
This story has been up­dated to cla­ri­fy that De­loitte presen­ted to the Na­tion­al Con­fer­ence of State Le­gis­latures in Au­gust 2013.