Aug. 29, 2013, 10:59 a.m.
As Pres­id­ent Obama tries to fight glob­al warm­ing without any back­ing from a grid­locked Con­gress, he's us­ing every weapon in his ex­ec­ut­ive ar­sen­al. His En­vir­on­ment­al Pro­tec­tion Agency will soon roll out con­tro­ver­sial reg­u­la­tions on car­bon pol­lu­tion from coal-fired power plants. He's told every Cab­in­et agency to look in­to ways it can use its au­thor­ity to act on cli­mate change. And now the ad­min­is­tra­tion is stock­ing the ex­ec­ut­ive branch with an army of new ap­pointees who have a his­tory of work­ing ag­gress­ively on cli­mate is­sues and clean en­ergy, of­ten from lead­er­ship jobs at en­vir­on­ment­al ad­vocacy groups.
It's not sur­pris­ing to see a pres­id­ent name a top nom­in­ee — for Cab­in­et sec­ret­ary, say — who has led the way on an is­sue the White House cares about. In his first term, for ex­ample, Obama named as his En­ergy sec­ret­ary Steven Chu, a No­bel phys­i­cist who had de­voted his ca­reer to fight­ing cli­mate change. With the ex­ec­ut­ive branch the only av­en­ue for the pres­id­ent to make an im­pact on cli­mate policy, the Obama ad­min­is­tra­tion is filling out the second and third tiers of agen­cies — in­flu­en­tial work­horse po­s­i­tions such as chiefs of staff, as­sist­ant sec­ret­ar­ies, and heads of reg­u­lat­ory com­mis­sions — with ap­pointees just as de­voted to the cause, with the ex­pect­a­tion that they'll muscle through a cli­mate and clean-en­ergy agenda wherever they can.
The strategy is draw­ing cheers from en­vir­on­ment­al­ists and fire from con­ser­vat­ives, who both agree that these be­hind-the-scenes po­s­i­tions have a siz­able im­pact on shap­ing policy. "The pres­id­ent has made it "¦ clear that he wants fur­ther ac­tion on cli­mate to be a big part of his leg­acy," said Frank O'Don­nell, pres­id­ent of Clean Air Watch. "He's not go­ing to get co­oper­a­tion from Con­gress, so the only way to carve out a leg­acy on cli­mate is to have folks at fed­er­al agen­cies that can make things hap­pen. Some of these jobs which no one's ever heard of are be­ing filled by people who can make things hap­pen."
Scott Segal, who lob­bies for coal com­pan­ies with the law firm Bracewell & Gi­uliani, wrote in an e-mail to Na­tion­al Journ­al, "En­ergy- and en­vir­on­ment­al-policy de­vel­op­ment has al­ways been more about work­horses than show horses. The sub­ject mat­ter is ar­cane, and there­fore the role of the less vis­ible ex­ec­ut­ive ap­point­ment in ex­ec­ut­ive agen­cies looms large as com­plic­ated is­sues like car­bon policy loom on the near-term event ho­ri­zon." Segal ad­ded, "For cer­tain of these roles, the ad­min­is­tra­tion has shown a troub­ling pre­dis­pos­i­tion to nom­in­ate in­di­vidu­als from the act­iv­ist com­munity…. What is needed are real­ist­ic and dis­pas­sion­ate pro­fes­sion­als that can bal­ance eco­nom­ic and en­vir­on­ment­al ob­ject­ives with re­spect for the rule of law."
Segal and oth­ers in in­dustry are par­tic­u­larly in­censed at Obama's nom­in­a­tion of Ron Binz to chair the Fed­er­al En­ergy Reg­u­lat­ory Com­mis­sion, a re­l­at­ively ob­scure pan­el that non­ethe­less wields sig­ni­fic­ant reg­u­lat­ory muscle in im­ple­ment­ing en­ergy policy. Binz, a former chair­man of the Col­or­ado Pub­lic Util­it­ies Com­mis­sion, drew out­rage from the coal in­dustry for help­ing to write a state law aimed at shut­ting down coal-fired power plants. In state­ments and speeches, he's been up front about his philo­sophy of en­ergy: He backs re­new­ables over fossil fuels. His per­son­al web­site has a "Philo­sophy" list­ing a series of talks and state­ments cham­pi­on­ing re­new­able en­ergy. In an ed­it­or­i­al slam­ming Binz as "rad­ic­al," The Wall Street Journ­al called him "the most im­port­ant nom­in­ee you've nev­er heard of." As the drum­beat of op­pos­i­tion to Binz has in­creased, a group of en­vir­on­ment­al act­iv­ists hired a Wash­ing­ton PR firm, VennSquared Com­mu­nic­a­tions, to cam­paign for him as he heads in­to what looks like a tough and testy Sen­ate con­firm­a­tion pro­cess. (Binz de­clined a re­quest for an in­ter­view with Na­tion­al Journ­al, say­ing he in­tends to re­frain from speak­ing to the press un­til after his Sen­ate con­firm­a­tion.)
Also rais­ing eye­brows among con­ser­vat­ives is Obama's Ju­ly ap­point­ment of Kev­in Knobloch, former pres­id­ent of the Uni­on of Con­cerned Sci­ent­ists and a long­time play­er in the world of cli­mate policy and ad­vocacy, as the En­ergy De­part­ment's new chief of staff. "I can­not ima­gine a mo­ment in his­tory when we have had a win­dow where the De­part­ment of En­ergy's mis­sion has been more im­port­ant," Knobloch said of the de­part­ment's plans to toughen en­ergy-ef­fi­ciency stand­ards and in­nov­ate ways to burn fossil fuels more cleanly.
"Someone like Kev­in Knobloch — an ap­point­ment like that would have been less likely in the first term," said Paul Bled­soe, a seni­or cli­mate-policy ad­viser in the Clin­ton White House. "The chief of staff to the En­ergy De­part­ment, In­teri­or, EPA — those are im­port­ant jobs. Those are people with a great deal of in­flu­ence." O'Don­nell, pres­id­ent of Clean Air Watch, said, "I can't ima­gine why Kev­in would take that job un­less he had a chance to do something big — something his­tor­ic."
Mean­while, earli­er this month, the Sen­ate con­firmed Den­nis Mc­Ginn as as­sist­ant Navy sec­ret­ary for en­ergy in­stall­a­tions and the en­vir­on­ment. Al­though the po­s­i­tion is little known, the ap­point­ment of Mc­Ginn, a re­tired Navy vice ad­mir­al who headed the Amer­ic­an Coun­cil on Re­new­able En­ergy, sig­nals Obama's in­tent to keep us­ing the Pentagon to drive re­new­able-en­ergy tech­no­logy. Mc­Ginn has served as co­chair­man of the CNA Mil­it­ary Ad­vis­ory Board, which au­thored a prom­in­ent pa­per ur­ging the de­fense com­munity to pri­or­it­ize cli­mate change as a na­tion­al se­cur­ity is­sue. He also has served as a fel­low at the Rocky Moun­tain In­sti­tute, a think tank that pub­lishes pa­pers ad­voc­at­ing policies to fight cli­mate change and pro­mote re­new­able en­ergy.
"The ap­point­ment of Denny means this is not just a one-and-done is­sue," said Douglas Wilson, a former as­sist­ant sec­ret­ary of pub­lic af­fairs for the Pentagon. "What we're see­ing in these ap­point­ments is an ef­fort not to have place­hold­ers but people who have his­tory in clean en­ergy."
Amy Harder contributed to this article.
What We're Following See More »
STAFF PICKS
Bannon Still Collecting Royalties from 'Seinfeld'
54 minutes ago
WHY WE CARE
The Hollywood Reporter takes a look at a little-known intersection of politics and entertainment, in which Trump campaign CEO Steve Bannon is still raking in residuals from Seinfeld. Here's the digest version: When Seinfeld was in its infancy, Ted Turner was in the process of acquiring its production company, Castle Rock, but he was under-capitalized. Bannon's fledgling media company put up the remaining funds, and he agreed to "participation rights" instead of a fee. "Seinfeld has reaped more than $3 billion in its post-network afterlife through syndication deals." Meanwhile, Bannon is "still cashing checks from Seinfeld, and observers say he has made nearly 25 times more off the Castle Rock deal than he had anticipated."
IT'S ALL CLINTON
Reliable Poll Data Coming in RE: Debate #1
1 hours ago
WHY WE CARE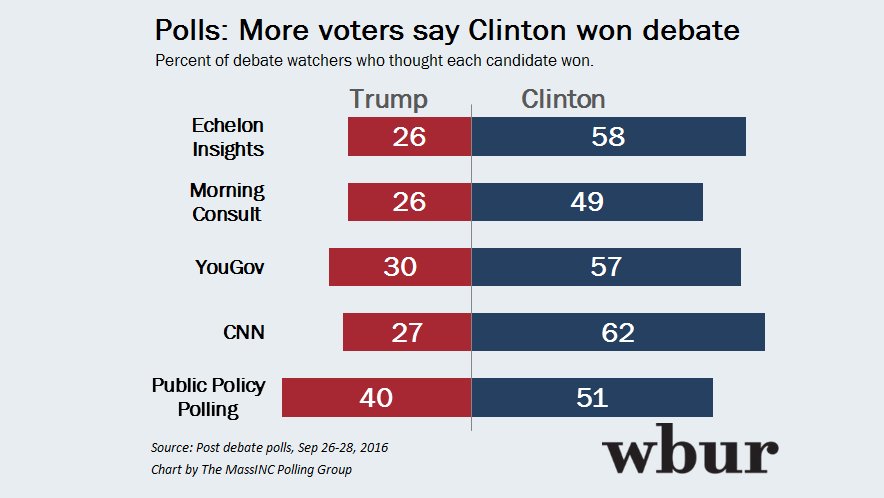 NEXT THURSDAY
Trump Transition Team Meeting with Silicon Valley VIPs
3 hours ago
THE DETAILS
Donald Trump's "transition team will meet next week with representatives of the tech industry, multiple sources confirmed, even as their candidate largely has been largely shunned by Silicon Valley. The meeting, scheduled for next Thursday at the offices of law and lobbying firm BakerHostetler, will include trade groups like the Information Technology Industry Council and the Internet Association that represent major Silicon Valley companies."
WHAT WILL PASS?
McConnell Doubts Criminal Justice Reform Can Pass This Year
3 hours ago
ALSO FIRED UNATTRACTIVE WAITRESSES
Trump Did Business with Cuba
4 hours ago
THE LATEST
Today in bad news for Donald Trump:
Newsweek found that a company he controlled did business with Cuba under Fidel Castro "despite strict American trade bans that made such undertakings illegal, according to interviews with former Trump executives, internal company records and court filings." In 1998, he spent at least $68,000 there, which was funneled through a consluting company "to make it appear legal."
The Los Angeles Times reports that at a golf club he owns in California, Trump ordered that unattractive female staff be fired and replaced with prettier women.