The second of two parts on politics in South Texas. To read Part One, on Democrats' efforts to hold off Republican gains in border districts, click here.
Since the Supreme Court allowed Texas's controversial abortion law to go into effect last month, it has roiled national politics. Multiple federal courts have weighed in on the bill, which bans most abortions after around six weeks of pregnancy. It also spurred the Democratic-led House to pass a bill that would enshrine Roe v. Wade into federal law.
Zoom in further, to the state level, and the uproar over Senate Bill 8 has fired up abortion-rights advocates in the Lone Star State. While many GOP politicians have avoided talking about the ban, which one poll showed a plurality of Texans oppose, the law is one of several that Texas Gov. Greg Abbott has signed as he faces primary challenges from the right next year.
Yet one of the most telling repercussions of the bill may happen at the district level. That's because Rep. Henry Cuellar, the lone remaining antiabortion Democrat in the House and the only Democrat to vote against the federal abortion bill, happens to represent a South Texas seat. And with abortion as a backdrop, he faces what could be his toughest challenge yet—a primary rematch against Jessica Cisneros, who's backed by both abortion-rights organizations and progressive groups.
"We have seen many anti-choice politicians really steer clear of weighing in on SB 8 because they know it's really politically unpopular," said Kristin Ford, acting vice president of communications and research at NARAL Pro-Choice America, which endorsed Cisneros in her 2020 campaign, and is doing so again. "I think that silence is so telling."
"It is indefensible that even after his own state passed the country's most extreme vigilante-enforced ban on abortion, Henry Cuellar still won't stand up to protect his constituents' basic reproductive rights," said Usamah Andrabi, candidate communications manager for Justice Democrats, which is also backing Cisneros.
In the past, the congressman has not made it clear where his redline on abortion is. Cuellar, the only Democratic member of the Congressional Pro-Life Caucus, was also the only Democratic House member to vote this summer in support of the Hyde Amendment, which prevents federal funds from being used for abortions. He has said he does not think a minor should be able to get an abortion without parental consent. But he is not as staunchly antiabortion as former Rep. Dan Lipinski, who lost the Democratic primary in Illinois's 3rd District last year. Where the antiabortion Susan B. Anthony List helped fund Lipinski in 2020, it has given Cuellar an "F" rating, though that scorecard takes into account votes on other issues unrelated to abortion. A representative for Cuellar did not respond to multiple requests for comment.
"Henry is a devout Catholic," said Colin Strother, a veteran Democratic strategist who worked for Cuellar for 18 years, until this summer. "He attributes his faith for a lot of the achievements that he's managed to attain. … He believes in a higher power, and he is a faithful and devout Catholic, and that influences his opinion on certain issues."
"Now, the reality when it comes to abortion, other than the Hyde Amendment, Henry's been pretty moderate on abortion throughout his career in Congress," Strother continued. "His faith tells him that it's not OK for government to fund abortion services."
Last week, Cuellar spoke to his hometown paper about his vote against the House's abortion bill.
"Sometimes people vote because of political [views], they think this is a Democratic or Republican issue," he told the Laredo Morning Times. "To me, it's a matter of conscience."
Even though Cuellar's position on abortion may be more aligned with that of his constituency than of his party, it may not have much impact in a majority-Latino region of Texas where talking about abortion is more taboo than in other parts of the state.
"South Texas [is a] heavily Catholic area," said Rafael Benavides, Spanish press secretary for the Texas Democratic Party. "The church has a very firm stance against abortion, and people are afraid to even engage in that conversation, or to defend the right to reproductive freedom for abortion. Because they feel like they're doing something wrong. They feel like they're going against the teachings or their faith."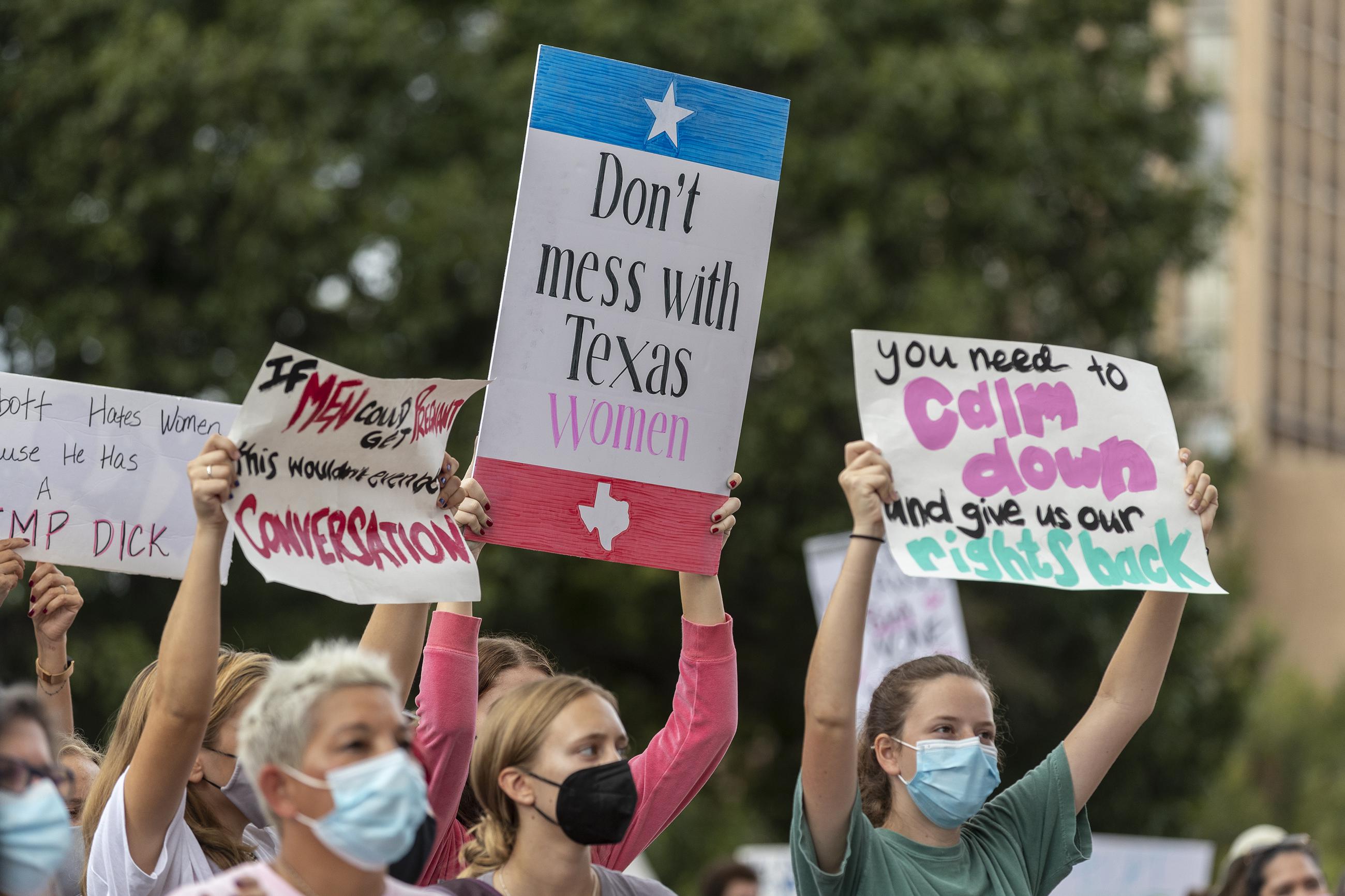 "We actually tried to make it an issue," Strother said about abortion during last year's campaign. "But again, it's one of those things that everyone knows happens. But we don't talk about that polite company."
For her part, Cisneros said she did not think abortion would be a major issue in and of itself, but would be part of larger conversations about health care, a top priority in the district. She recalled knocking on doors during the 2020 primary and talking to voters who said they were "pro-life." Usually, she found that they actually thought the decision should be a personal one, free from government interference.
"People knew that I was pro-choice," Cisneros said of the 2020 primary. "And we almost won."
Indeed, she came within 4 points of defeating Cuellar.
Kristen Hernandez, deputy director of campaign communication for EMILY's List, told National Journal that she thought Cuellar's September vote would benefit Cisneros's chances in the primary.
"I think that from a strategic perspective, Cuellar's vote … can play a big role as well because that's a direct impact that he's having in Congress," Hernandez said.
On the other hand, Kristen Day, the executive director of Democrats For Life of America, which supports the Texas law, applauded Cuellar's vote against the House's abortion bill. She told National Journal that she met with the congressman a few weeks ago and thanked him. During that meeting, she said, the two mostly discussed additional funding to support pregnant women, a goal she believes all Democrats can rally behind, even as she thinks the party's full-throated embrace of abortion rights will cost it votes in 2022.
But other sources who talked with National Journal did not think abortion would be a major campaign issue in South Texas.
Solidarity Strategies president Chuck Rocha, who on Tuesday launched Nuestro Texas, a state PAC focused on turning out Latino voters to defeat Republicans in the Rio Grande Valley, said abortion has not been a top concern in the focus groups he had conducted there.
"It's not something that calls for a cry to action by the local community, unlike you're going to see in places like the Dallas-Fort Worth area. … South Texas is much more conservative," Texas Democratic Party Chairman Gilberto Hinojosa said. "They support the Democratic agenda, but [abortion is] not something that's going to generate increased enthusiasm."
Nor is Cisneros worried that Republicans may have gotten a foothold in South Texas that would make it more challenging for a progressive like her to win. In fact, she noted that she won some precincts in the Rio Grande Valley where Trump's popularity increased.
"People that actually talked to other people in the district kind of saw that was going to happen," Cisneros said of Republicans' 2020 gains in South Texas. "One of the biggest sentiments that you would hear at the doors as we were campaigning was that a lot of folks felt frustrated that they've been voting Democrat for a very long time, and things weren't changing."
Asked about how the abortion law might affect races in South Texas, Macarena Martinez, the Republican National Committee's Texas communications director, suggested that voters are supportive of the conservative agenda spearheaded by Texas Gov. Greg Abbott. Pressed on whether that included SB 8, she said, "I don't think we've seen that play out yet; the law is too new. I wouldn't answer that right now."
National polling has found a majority of Americans oppose laws that ban most abortions after six weeks, though that opposition shrinks to a plurality among Texas voters, according to a June University of Texas/Texas Tribune poll. One national Marist poll showed support for a six-week ban was higher among Latinos than other demographic groups, though a majority still opposed the ban.
Unconcerned about the effect of her pro-abortion-rights stance on her campaign, Cisneros thinks increased name recognition and experience on the campaign trail will benefit her in next year's primary. That turned out to be the case for progressives taking on Democratic incumbents in a couple districts last year, including Illinois's 3rd, where Rep. Marie Newman defeated Lipinski on her second try.
But Strother said he thinks lessons learned last year will actually benefit Cuellar.
"As the person that was in charge, I have no problem telling you we got caught flat-footed," Strother said. "We weren't ready. You know, it's like getting off the couch to run a marathon. If you haven't trained in a while, it's going to be tough."
"We downplayed our opponent so much that we put our own voters to sleep," he said, adding that the congressman has since conducted a postmortem and revamped his campaign strategy with a new team. Strother predicted that Cuellar will double his margin in this year's primary.
Another factor working against Cisneros: this time, she won't share a ballot with Sen. Bernie Sanders, the presidential candidate who fired up the young progressives who gravitate to a campaign like hers.
"I think it'll be just as hard as it was the first time," said Rocha of Cisneros's bid.
Redistricting could also swing the race. According to FiveThirtyEight, Texas's proposed congressional map would make Cuellar's seat slightly bluer. But it would also excise the part of the district in Hidalgo County, where Cisneros found her second-largest margin of victory in 2020.
Still, don't count her out.
"A lot of people like to paint this area as a very moderate Democratic area, sometimes, because of the representatives that are in there, and they've been there for a long time," said Benavides, who made it clear the state party won't take sides before the primary. "That's not necessarily the case. … Every Latino in South Texas is owed the same individuality as white people."