In Seattle, where thousands of American Indian and Alaska Native people live outside tribal lands, Annette Squetimkin-Anquoe works to provide access to tribal services like drum classes, sweat lodges, and talking circles.
"For people that are living here in the urban community, it's really difficult to maybe go back home, or go to where your tribe is to get that care," said Squetimkin-Anquoe, a member of the Colville Confederated Tribes and the chief traditional-health officer for the Seattle Indian Health Board.
The Board provided traditional care remotely as the COVID-19 pandemic shut the city down and killed more than 1,600 people, including American Indian and Alaska Natives, in King County.
The American Indian and Alaska Native communities have been disproportionately affected by the COVID-19 pandemic compared to white Americans, according to data from the Centers for Disease Control and Prevention. Grappling with the "grieving fatigue" and mental-health toll from the pandemic requires traditional Indian medicine practitioners to play an active role in the healing of their communities, experts say.
But services provided by these practitioners remain uncovered by Medicaid, which provides health care to millions of low-income, elderly, and disabled individuals. More than a third of American Indian and Alaska Native adults were covered by Medicaid in 2018.
Squetimkin-Anquoe said the five traditional practitioners and four apprentices at the Seattle Indian Health Board—an urban Indian health organization that provides medical, behavioral, and traditional-health services—view recovery from the pandemic as a long-term process.
"Our traditional practitioners are helping [patients] become grounded and feel grounded emotionally and spiritually, so that they can approach their path in wellness in the best way possible moving forward," she said.
Traditional Indian medicine is separate from what the Board refers to as "Western medicine," typically found in the mainstream U.S. health system.
"We're obviously forced into this more Western system of care," said Esther Lucero, who is Diné and Latina, and president and chief executive officer of the Board. "You know, Annette often says, 'Gosh we don't just take care of our physical health separate from our social and emotional well-being, or our mental health—like, all of that has to come together.'"
The Board, along with other American Indian and Alaska Native groups in the U.S., is working to make sure traditional services are treated on par with Western medicine services under Medicaid. "It is about time that traditional Indian medicine is recognized as in parity with Western medicine," Lucero said.
Going underground
The U.S. has a long history of trying to eradicate Indigenous medicine. For many years between the late 1800s and early 1930s, ceremonies and religious practices were restricted and punishable offenses under codes issued by the Bureau of Indian Affairs in the Interior Department. Punishments included jail time and withholding rations, according to information provided by the office of Robert Clinton, a tribal judge and former law professor.
Practices went underground.
"There were decades of attempt to extinguish not just language and culture but traditional healing practices in American Indian [and] Alaska Native communities on the part of the federal government in the context of forcing the assimilation of Native people into the general mainstream of U.S. society," said Spero Manson, who is Pembina Chippewa and directs the Centers for American Indian & Alaska Native Health at the University of Colorado.
But, Manson added, "although it went underground, it survived and indeed thrived, and has been revitalized and growing in very important ways."
Although the codes restricting practices were removed in 1934, it wasn't until 1978 that the American Indian Religious Freedom Act was signed into law. The statute codified that U.S. policy would be "to protect and preserve for American Indians their inherent right of freedom to believe, express, and exercise traditional religions of American Indian, Eskimo, Aleut, and Native Hawaiians."
Now, the same department that issued the discriminatory codes is led for the first time by an American Indian, Interior Secretary Deb Haaland, a member of the Pueblo of Laguna. And now, traditional practitioners openly provide their services in their communities and, sometimes, in clinical settings.
"Traditional healing services are the indigenous knowledge that has evolved over thousands of years in Native ways of knowing, Native ways of relating to the spirit world, Mother Earth, the human body," said Stacy Bohlen, chief executive officer of the National Indian Health Board and an enrolled member of the Sault Sainte Marie Tribe of Chippewa Indians.
Traditional healing can include storytelling, burning of plants, and various ceremonies, although traditions can look different from tribe to tribe.
One type of traditional service is a sweat lodge. At the urban Indian organization Native American Connections in Phoenix, heated stones are placed in the middle of the lodge while participants are led in prayers and songs. "The Sweat Lodge, representing the womb of Mother Earth, is a sacred place to ask for healing, forgiveness, hope, vision, to give thanks, or anything else participants need during their journey of change," the group says on its site.
Although there are 574 federally recognized tribes with distinct and different cultures, Bohlen said that "our vision of healing and being fully healthy is a balance of mind, body, and spirit health, and that is embodied in traditional healing practices and ceremony."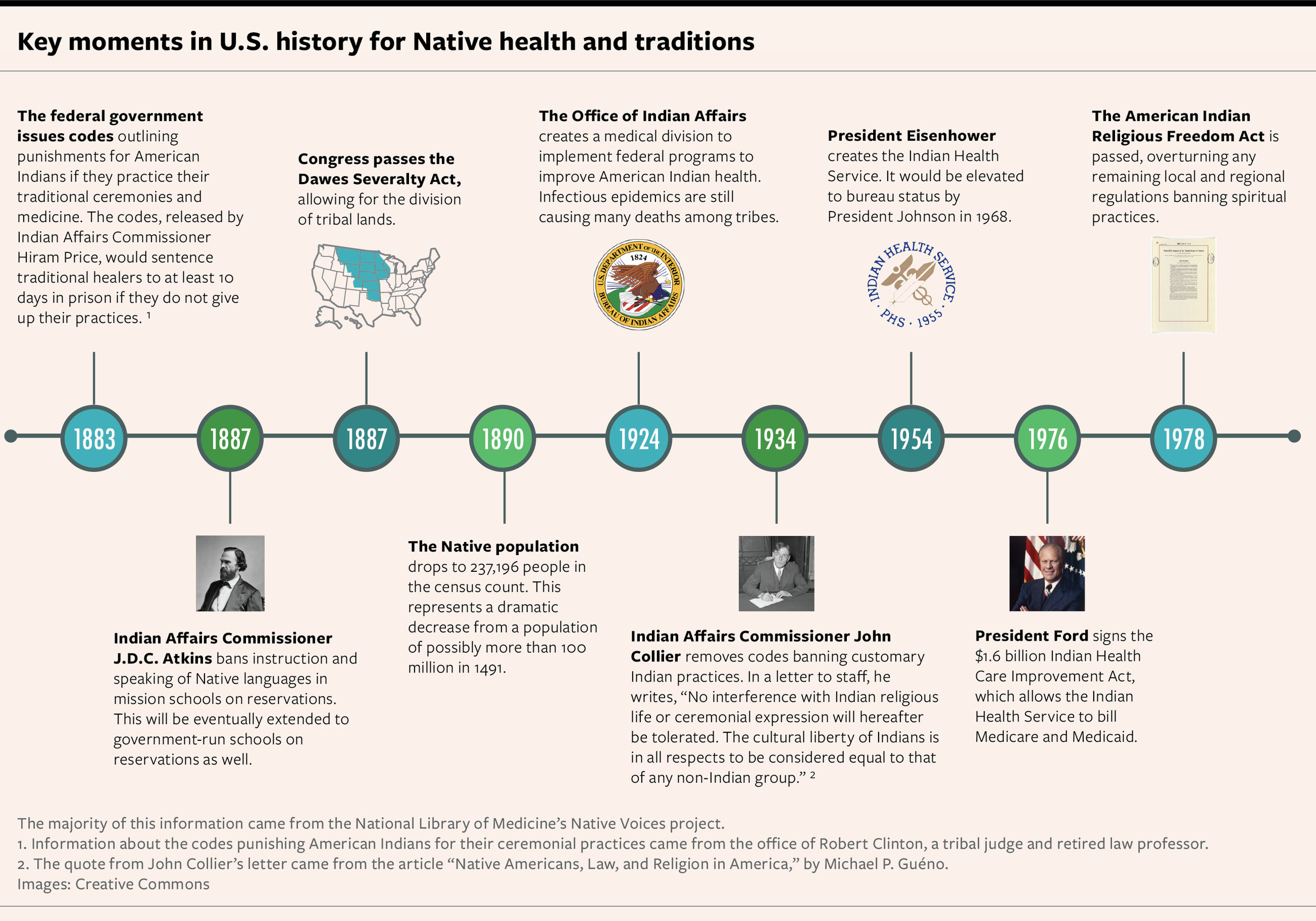 The 'grieving fatigue' of COVID-19
When the novel coronavirus started to spread across the U.S., taking thousands of lives, Bohlen said the National Indian Health Board sought to protect traditional healers. The board released recommendations and considerations regarding changes to funerary and burial practices, along with sweat lodges.
"We were actually trying to create protective space for traditional healers because their services were in incredibly high demand," Bohlen said. "They are frequently elderly people who have achieved elder status, having studied all their lives, and are so vital to the community."
Bohlen said she anticipates that the mental-health needs of American Indian and Alaska Native communities in the wake of the pandemic "are going to be pretty profound" and that traditional healers will likely be called upon to help.
Their services will be needed, she said, given "the grieving fatigue alone from the deaths that our communities have experienced, and the inability of our peoples to have the kind of funeral experiences that we engage in, to have those who have walked on move into the next world—those have been greatly curtailed."
Indian country will likely be hit by a "triple whammy" as the pandemic starts to wind down, according to Chris Fore, director of the TeleBehavioral Health Center of Excellence at the Indian Health Service. Along with behavioral-health patients who were already receiving care, Fore said, he anticipates there will be an increase in new patients seeking assistance, all while there is a provider shortage.
Fore, a member of the Choctaw Nation of Oklahoma, said he expects traditional healers, religious leaders, and schools to be part of the response. "I think we're going to need to leverage every partnership," he said.
"I think it's going to really take all of us to address it because none of us have the resources alone to do it," he added. "All of us together may not have the resources to cover everyone that needs to be covered, but I think that's going to be our most effective way of dealing with this post-pandemic grief, loss, stress, trauma that Indian country is going to be struggling with."
Fore, who worked as a child psychologist for 10 years at IHS's Acoma-Canoncito-Laguna Service Unit, said it could be difficult to bring in tribal services to IHS sites serving multiple tribes due to the range of cultural differences. He added that some tribes are intensely private about their traditional healing practices.
"I would often ask [patients] about: Have they sought traditional healing or done cultural practices? And they may tell me or they may not," he said. "If they were willing to talk to me about that, then I may suggest that they look into it, but if they went out and actually got a ceremony or talked to a traditional healer, they may or may not share that with me. It can be very private."
Although he may not know what services are provided by the traditional healer, Fore said he would encourage patients to seek out these practices if they help. He likened this to recommending that a devoutly Catholic patient speak to a priest.
"I don't know what that priest would necessarily tell them," he said. "My assumption is that because they've told me that this has been helpful for them in the past, that the patient may find benefit in doing that."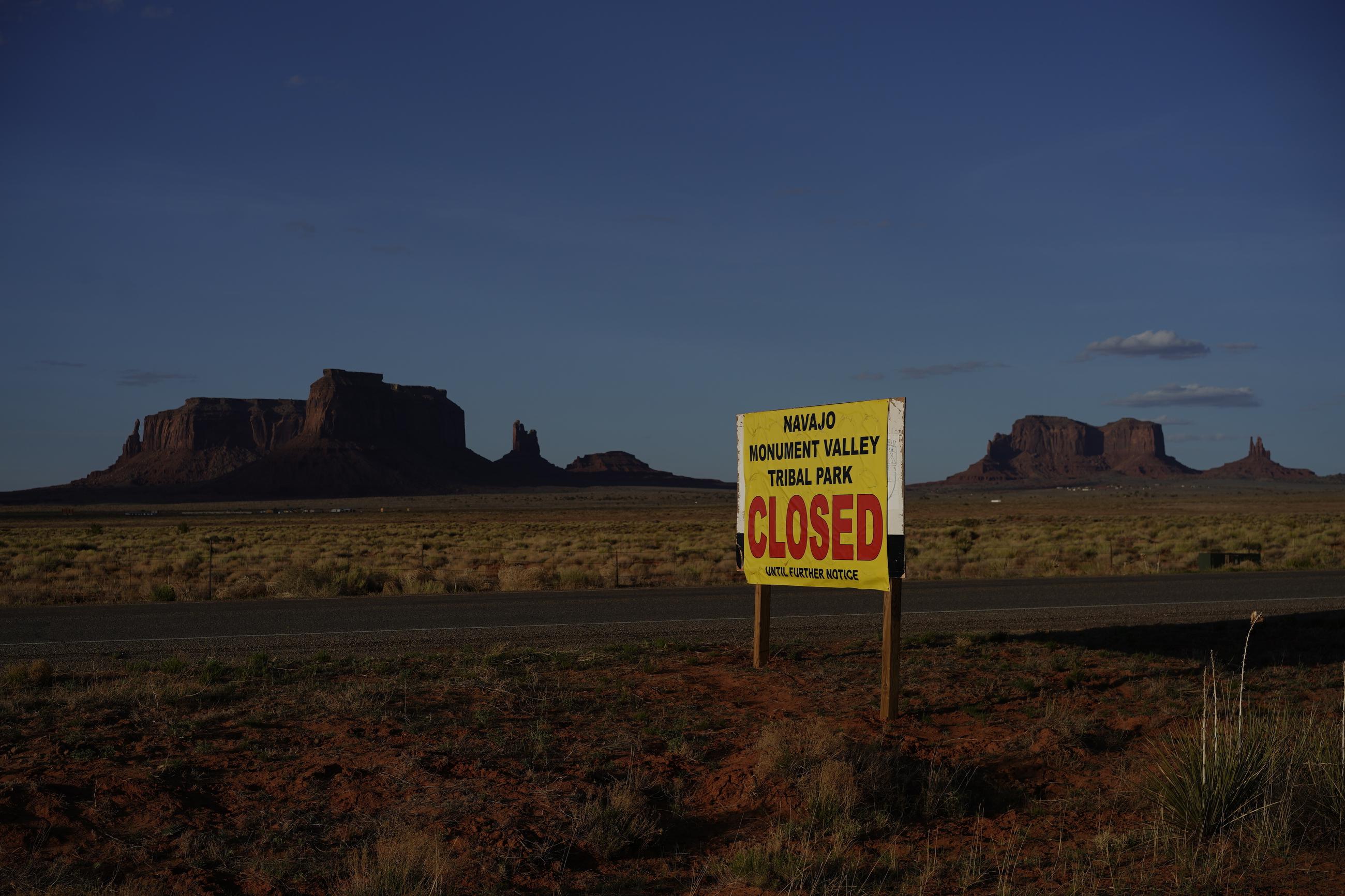 The push for Medicaid payments
To provide support for traditional medicine practitioners, both Washington state and Arizona are considering novel ways to secure Medicaid coverage for their services.
Currently, traditional providers at Native American Connections in Phoenix can access some Medicaid dollars if they bill under codes that don't reflect their Native services, said Diana Yazzie Devine, the president and CEO.
"I think to have to bill under some case-management code or group code is not reflective of really the quality that's being provided and the importance of it," Devine said. "It's disrespectful, to say the least."
Arizona is pursuing a waiver to its Medicaid program. In its proposal to the Centers for Medicare and Medicaid Services, the state is asking the federal government to allow the program to reimburse traditional services at IHS sites, tribal organizations, and urban Indian health programs.
"Over the years, the provision of traditional healing services has been supported primarily through tribal funds, various pilot programs, grants, and individual personal resources," the proposal says. "The tribes have long recognized the contribution of healers and practitioners who are valued for their role in aiding the healing of the spirit, mind, and body."
The proposal is still pending at CMS. Several public comments submitted on the waiver expressed support for traditional-healing-service reimbursements.
"Recognizing the importance of traditional healing services is a first step toward promoting health equity for Tribal members," wrote the Arizona Advisory Council on Indian Health Care in November comments on the waiver.
As part of a traditional-healing workgroup of tribal health officials, practitioners, and Medicaid staffers that ran from 2015 to 2017, Alida Montiel, the director of health and human services at the Inter Tribal Council of Arizona, helped craft recommendations on the waiver.
"We found traditional healers already hired by facilities, by the tribal facilities, some of the IHS, Indian Health Service—having traditional practitioners doing counseling services in substance-abuse programs, for example, and some of the practitioners doing outpatient services, or even inpatient services, going to the bedsides of folks in the hospital and doing prayers for them," said Montiel, who also serves on the Arizona Advisory Council on Indian Health Care. "Of course, all of this is happening without any type of Medicaid reimbursement."
Several states have requested coverage for traditional healing services—like ceremonial consultation, smudging ceremonies, or sweat lodges—under Medicaid, a CMS spokesperson said in an email to National Journal. The requests are still under review.
The Seattle Indian Health Board is working with the state of Washington on a pilot program defining new billing codes and building them into the electronic health-record system. The billing codes under consideration are for traditional Indian medicine health initial assessment, follow-up appointments, and group sessions like talking circles and drumming. Lucero said this should be completed by the end of December.
Services that the group names in its draft proposal also include smudging, where medicinal plants are burnt to purify the body, energy, and ceremonial space. Another is storytelling, which involves listening to tribal stories and interpreting meanings.
Lucero said that getting reimbursement would be leveraging a system "that's been forced upon us." She said she hopes the system built out in the pilot can be duplicated by other tribes and organizations.
"The ways that we used to care for our traditional healers have been impacted by Western systems," she said. "So, for example, we used to give them homes and we would make sure they had wood and food, and they never really needed for anything. Like everything, they needed to live and to sustain themselves as a community we were able to provide.
"Now, we're in this system where money kind of runs all those things," she added. "So even our traditional healers, although it's completely outside of our traditional ways of being and knowing, they also know that they have to be able to live."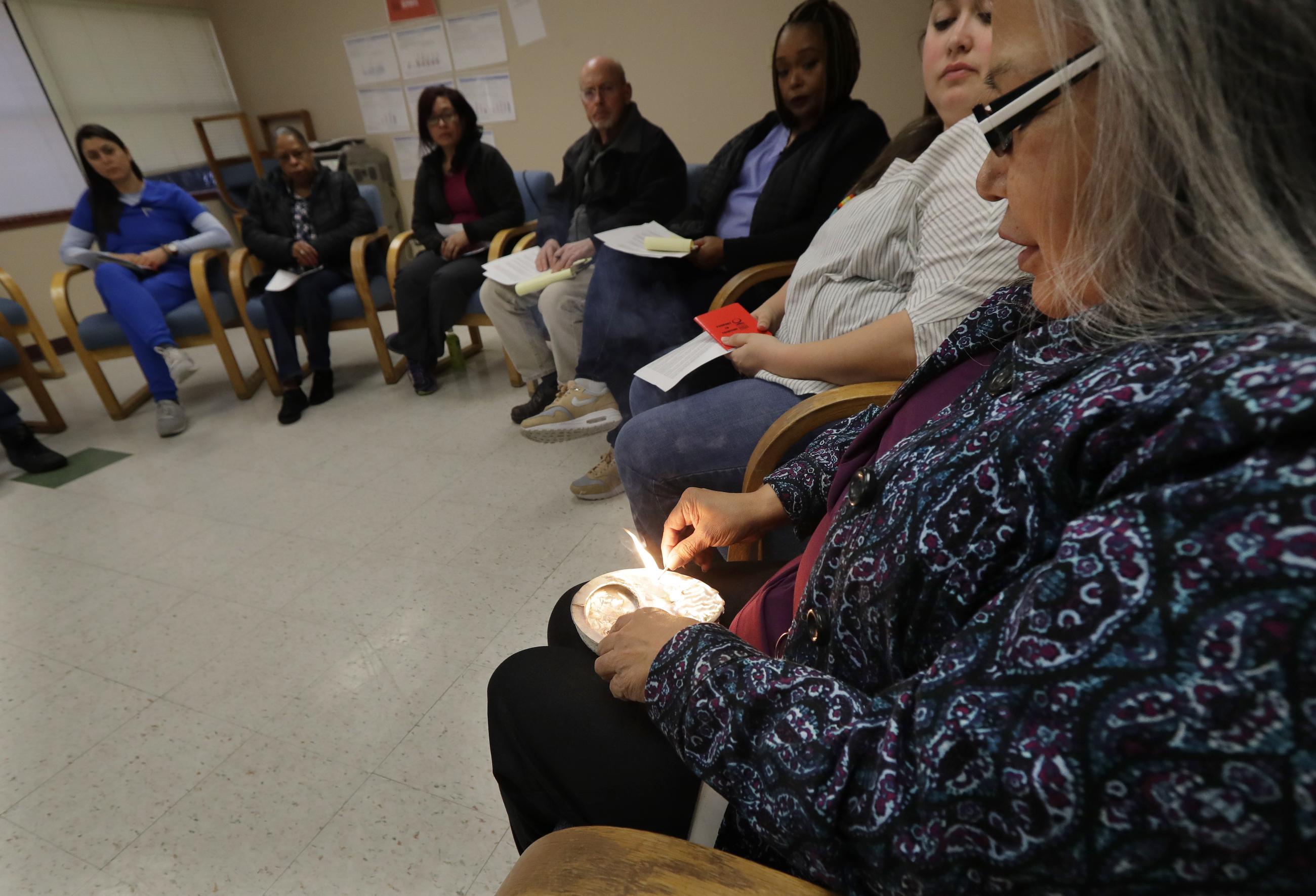 Fitting a square peg into a round hole
Connecting Medicaid reimbursements to traditional healing services may not be a simple process.
Fore said it would be "amazing" to allow Medicaid reimbursements for traditional services. "If [IHS is] delivering a service that is not reimbursable, that is challenging for us," he said.
But for tribes that are very private about their practices, being included in a "highly regulated" system could present a challenge, he said.
"I think the nuts and bolts of it become very challenging, and even more so if you got a traditional healer or practitioner or a tribe where they're very private, they don't want all this information out there, and yet you're saying, 'We've got to have all this information from you so we can bill for your services.' That may not be very culturally appropriate."
CMS said that in order for services to be covered under Medicaid, states need to determine a benefit category for coverage and describe the services and provider qualifications.
"A Medicaid and [Children's Health Insurance Program] state plan is an agreement between a state and the Federal government describing how that state administers its Medicaid and CHIP programs," the CMS spokesperson wrote. "It gives an assurance that a state will abide by Federal rules and may claim Federal matching funds for its program activities."
The Arizona waiver proposes using qualifying entities—such as a governing body of a facility or clinic, or another group of a tribe's choosing—"to define what constitutes as a traditional healing service." The qualifying entity would be responsible for identifying the educational and cultural requirements necessary for traditional healing providers.
The Seattle Indian Health Board has expressed concern about protecting traditional practices. "We'd like to see traditional Indian medicine services get to a reimbursable place, as long as we're able to protect the integrity of the practice and the Indigenous epistemologies associated with the practice," Lucero said. "So, in other words, we just don't want to share too much."
Describing traditional medicine practices as the "intellectual property" of generations of Indigenous people, she said there are concerns that practices would be appropriated if shared.
Trying to include traditional medicine services in Medicaid coverage is like fitting a "square peg into a round hole," said Jessie Dean, tribal-affairs administrator at the Washington State Health Care Authority, who is working with the Seattle Indian Health Board on the pilot.
Dean said he is hoping to learn more about the Seattle Board's methods of approving traditional Indian medicine providers. He said the Board has created a "community-based credentialing model" for traditional-health practitioners.
"Medicaid as a program relies heavily on state credentialing," he said. "Traditional Indian medicine is not state-credentialed, and in fact it would be fairly inappropriate to have a state credential [traditional Indian medicine] providers. … There has been a long history of trying to suppress that knowledge."
But making Medicaid payments accessible to traditional healers would demonstrate that traditional Indian medicine is seen as equivalent to Western medicine, said Squetimkin-Anquoe.
"It kind of reaffirms in many ways that this Indigenous knowledge and Indigenous-informed systems-of-care approach is a real thing and it's something that we're … introducing to the broader mainstream world," she said.
This story is part of a reporting fellowship on health care performance sponsored by the Association of Health Care Journalists and supported by The Commonwealth Fund. This is the first story in National Journal's series, "Healing from the pandemic in Indian Country," focusing on how tribal governments and health organizations are grappling with the mental-health toll the pandemic has placed on American Indian and Alaska Native communities.