Middle East­ern in­tel­li­gence of­fi­cials are con­cerned that Syr­i­an Pres­id­ent Bashar As­sad's re­gime could for the first time de­ploy bio­lo­gic­al weapons in re­tali­ation to an ex­pec­ted U.S. mis­sile strike, the Wash­ing­ton Post re­por­ted on Wed­nes­day.
Syr­ia has nev­er form­ally de­clared a bio­lo­gic­al weapons pro­gram, though it came close last sum­mer to ad­mit­ting own­er­ship of one.
Seni­or-rank­ing spy of­fi­cials from two Middle East­ern na­tions an­onym­ously told the Post that they have stud­ied the pos­sib­il­ity of Syr­i­an bio­lo­gic­al at­tacks in re­sponse to West­ern strikes on the Syr­i­an cap­it­al. The United States is seek­ing to build in­ter­na­tion­al sup­port around lim­ited cruise mis­sile at­tacks on the As­sad re­gime as pun­ish­ment for its widely sus­pec­ted Aug. 21 gas at­tack on Syr­i­an ci­vil­ians in the Dam­as­cus sub­urbs.
"We are wor­ried about sar­in, but Syr­ia also has bio­lo­gic­al weapons, and com­pared to those, sar­in is noth­ing," one of the in­ter­viewed of­fi­cials said. "We know it, and oth­ers in the re­gion know it. The Amer­ic­ans cer­tainly know it."
De­tails of Syr­ia's re­search and de­vel­op­ment of bio­lo­gic­al weapons re­main some­what mys­ter­i­ous. A 2008 ana­lys­is by a Wash­ing­ton think tank con­cluded that the mil­it­ary likely had es­tab­lished the abil­ity to pro­duce, at a min­im­um, botulism and an­thrax.
Jill Bel­lamy van Aalst, a biode­fense ad­viser to NATO, said Syr­ia in re­cent years has ac­quired much phar­ma­ceut­ic­al equip­ment that is "dual use." Though it may be used for val­id health re­search, the tech­no­logy also could be used to pro­duce patho­gens for weapon­iz­ing, the Post cited her as say­ing.
"You don't stock­pile bio­lo­gic­al weapons any­more, be­cause today it's all about pro­duc­tion ca­pa­city — and in Syr­ia the pro­duc­tion ca­pa­city is quite sub­stan­tial," the biode­fense con­sult­ant said.
Syr­ia re­portedly pos­sesses the equip­ment ne­ces­sary for modi­fy­ing patho­gens in­to aer­o­sol or powder form — the bet­ter for dis­pers­al in mil­it­ary at­tacks. There is dis­agree­ment among U.S. of­fi­cials about just how ad­vanced a po­ten­tial Syr­i­an bio­lo­gic­al at­tack would be.
What We're Following See More »
NEVER TRUMP
USA Today Weighs in on Presidential Race for First Time Ever
7 hours ago
THE DETAILS
"By all means vote, just not for Donald Trump." That's the message from USA Today editors, who are making the first recommendation on a presidential race in the paper's 34-year history. It's not exactly an endorsement; they make clear that the editorial board "does not have a consensus for a Clinton endorsement." But they state flatly that Donald Trump is, by "unanimous consensus of the editorial board, unfit for the presidency."
COMMISSIONERS NEED TO DELIBERATE MORE
FCC Pushes Vote on Set-Top Boxes
7 hours ago
THE LATEST
"Federal regulators on Thursday delayed a vote on a proposal to reshape the television market by freeing consumers from cable box rentals, putting into doubt a plan that has pitted technology companies against cable television providers. ... The proposal will still be considered for a future vote. But Tom Wheeler, chairman of the F.C.C., said commissioners needed more discussions."
UNTIL DEC. 9, ANYWAY
Obama Signs Bill to Fund Government
12 hours ago
IT'S ALL CLINTON
Reliable Poll Data Coming in RE: Debate #1
14 hours ago
WHY WE CARE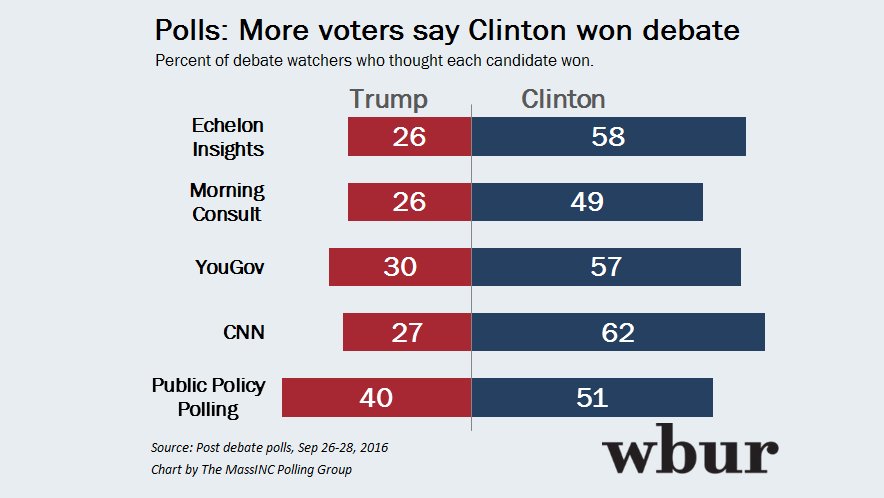 WHAT WILL PASS?
McConnell Doubts Criminal Justice Reform Can Pass This Year
17 hours ago