Add to Briefcase
Sept. 5, 2013, 3:30 p.m.
EAGLE PASS, TEXAS — Sam Far­hat grew up in this small south Texas town where he now owns Cow­boy Cor­ral, a cloth­ing shop where cus­tom­ers per­use racks of jeans, belts, and shirts while Far­hat — a big man of Palestini­an her­it­age wear­ing a cow­boy hat — an­swers their ques­tions in Span­ish.
Far­hat's busi­ness de­pends upon the foot traffic that leg­ally enters the United States from Mex­ico, just blocks from his down­town store­front. Out­side, people leav­ing dis­count per­fume, dress, and shoe stores carry shop­ping bags as they cross the bridge on foot, walk­ing past cars lined up wait­ing to cross the bor­der.
But talk in Wash­ing­ton of tight­en­ing bor­der se­cur­ity in towns like Eagle Pass as part of broad­er im­mig­ra­tion re­forms has loc­als weary. "That's not go­ing to help busi­ness, that's for sure," Far­hat said. "It's already hard enough for people to come across the bor­der."
For res­id­ents in Eagle Pass and oth­er nearby towns, the bor­der is not a polit­ic­al top­ic or an ab­stract concept — the Rio Grande River that sep­ar­ates Mex­ico from the United States is in their back­yard. Many of the ideas un­der con­sid­er­a­tion, from bor­der fen­cing to ad­di­tion­al Bor­der Patrol agents and even drones over­head, will have a dir­ect im­pact here.
"Those of us who live along the bor­der want to be just as safe and se­cure in our beds as any­one else does, but we want a solu­tion that works," said Demo­crat­ic Rep. Pete Gal­lego, whose dis­trict in­cludes Eagle Pass. "We don't want a polit­ic­al solu­tion, we want a prac­tic­al solu­tion."
That may not be easy. In many ways, Eagle Pass rep­res­ents the com­plex­ity of liv­ing in small bor­der towns, where life can be woven to­geth­er tightly with those of neigh­bor­ing com­munit­ies in Mex­ico. Res­id­ents here cross the bor­der reg­u­larly in­to the town of Piedras Negras, Mex­ico, to vis­it fam­il­ies and friends. Lines can get long on both sides of the bridge around Christ­mas and East­er. Com­munit­ies along the bor­der of­ten refer to their "sis­ter cit­ies" on the Mex­ic­an side, and may­ors and loc­al agen­cies have work­ing re­la­tion­ships. What hap­pens on one side of­ten af­fects the oth­er.
"Blood lines don't stop," said Laura Al­len, the Re­pub­lic­an county judge in nearby Val Verde County, which in­cludes the town of Del Rio. "Re­la­tion­ships don't stop at the river."
Se­cur­ing the Bor­der
In terms of se­cur­ity, Bor­der Patrol agents are a more com­mon sight in town than loc­al po­lice, and they of­ten help in re­spond­ing to emer­gen­cies. And the town already has some bor­der fen­cing; in 2008, Eagle Pass was the first town the fed­er­al gov­ern­ment sued in its ef­fort to in­crease bor­der fen­cing, draw­ing fierce op­pos­i­tion from town of­fi­cials and res­id­ents.
If Con­gress passes an im­mig­ra­tion bill, many of the se­cur­ity ele­ments could in­tensi­fy. The im­mig­ra­tion bill passed by the Sen­ate es­sen­tially calls for in­sti­tut­ing a mil­it­ary-like pres­ence along the bor­der, spend­ing $46 bil­lion to double the num­ber of Bor­der Patrol agents to 40,000, build 700 miles of bor­der fen­cing, and bol­ster tech­no­logy such as drones to in­crease sur­veil­lance.
Bor­der-se­cur­ity le­gis­la­tion un­an­im­ously passed out of the House Home­land Se­cur­ity Com­mit­tee, au­thored by Chair­man Mi­chael Mc­Caul, R-Texas, takes a dif­fer­ent ap­proach. Be­fore a dol­lar amount is dic­tated, the bill calls on the Home­land Se­cur­ity De­part­ment to first de­vel­op a bor­der-se­cur­ity plan — sub­ject to con­gres­sion­al ap­prov­al — that would elim­in­ate 90 per­cent of il­leg­al bor­der cross­ings with­in five years. Demo­crat­ic Rep. Sheila Jack­son Lee co­sponsored the bill, and oth­er Demo­crats have signaled they find the lan­guage easi­er to work with than the Sen­ate bor­der-se­cur­ity pro­vi­sion. It's ex­pec­ted to be one of the first pieces of im­mig­ra­tion le­gis­la­tion that House takes up after re­cess.
The con­gres­sion­al dis­trict with the longest stretch of the Mex­ic­an-U.S. bor­der in­cludes Eagle Pass. It's a swing dis­trict that Pres­id­ent Obama lost but Gal­lego won in 2012. Gal­lego says bor­der se­cur­ity is not a par­tis­an is­sue in his dis­trict.
"One of the frus­tra­tions that people along the bor­der have is so many people who are try­ing to drive the de­bate on bor­der policy and bor­der se­cur­ity are people who don't live on the bor­der, who've nev­er been to the bor­der, and yet they're try­ing to dic­tate the terms by which we do bor­der se­cur­ity," he said.
In­deed, there is a wide­spread sen­ti­ment here that people mak­ing polit­ic­al cal­cu­la­tions about the bor­der don't have sense of what daily life is like in bor­der com­munit­ies.
"They use the bor­der, they see the area as a sword and a shield in polit­ics, but we're hu­man be­ings, we live down here," said Demo­crat­ic State Rep. Poncho Nevarez, whose home is on the banks of the Rio Grande, so close that he can point to Mex­ico from his porch. His wife is Mex­ic­an, and his chil­dren take classes across the bor­der.
"We shouldn't be pawns in this game to see who can get them­selves elec­ted be­cause they can beat their chest more about how they se­cured the bor­der," he said.
Un­like oth­er parts of the bor­der where vi­ol­ence from Mex­ico makes head­lines, of­fi­cials here say prob­lems are com­par­at­ively tame, par­tially due to the pres­ence of Bor­der Patrol and state of af­fairs in neigh­bor­ing Mex­ic­an cit­ies.
"We're kind of the un­seen area of the bor­der here. You can go to El Paso, you can go to Laredo, but they don't have the same is­sues we have," Al­len said. "Ask me when was the last time we had to shut down our bridge be­cause vi­ol­ence spilled over from Mex­ico. It's not hap­pen­ing."
Bor­der Patrol of­fi­cials say they do ap­pre­hend people who com­mit ser­i­ous crimes in the U.S. and cross back il­leg­ally. In the Del Rio bor­der sec­tor, 50 pounds of co­caine and 63,485 pounds of marijuana were seized by Bor­der Patrol in fisc­al 2012.
One ma­jor pub­lic-safety scare took place here last year, when more than 130 in­mates broke out of a pris­on just over the bor­der in Piedras Negras. Au­thor­it­ies at the time were con­cerned that pris­on­ers could cross over to Eagle Pass, but it turns out that a Mex­ic­an drug car­tel was likely be­hind the pris­on break, a tac­tic car­tels use to re­plen­ish their ranks. Au­thor­it­ies found one sus­pec­ted es­capee this sum­mer hid­ing in a home in Eagle Pass, but there was no oth­er fal­lout.
Nevarez, who can point to the pris­on area from his yard, re­called rush­ing home after hear­ing of the break. But his fears were quickly al­layed as he reasoned that many of those pris­on­ers wer­en't go­ing to cross in­to Amer­ic­an soil, but rather stay in Mex­ico to work for the car­tels.
Gal­lego says that people in bor­der com­munit­ies are united be­hind want­ing to do something about the car­tels and drug trade.
"The people com­ing here, even if they're com­ing here il­leg­ally, they're com­ing here to work in ag­ri­cul­ture or con­struc­tion," said Shawn Mor­an, vice pres­id­ent of Na­tion­al Bor­der Patrol Coun­cil, a uni­on rep­res­ent­ing Bor­der Patrol agents. "But there is a large group that is com­ing here to sell drugs or be part of crim­in­al gangs and com­mit crimes. We shouldn't over­look that in any sort of im­mig­ra­tion re­form."
The Bor­der Patrol
Bor­der Patrol and oth­er fed­er­al agen­cies of­ten con­sti­tute the most vis­ible law en­force­ment in bor­der com­munit­ies. About 55,000 people live in the town and its outly­ing areas in Mav­er­ick County; Eagle Pass's po­lice de­part­ment numbered 76 in 2012.
Au­thor­it­ies won't re­lease fig­ures on the num­bers of bor­der agents des­ig­nated for par­tic­u­lar towns, but Eagle Pass and Del Rio are the two ma­jor towns in the Del Rio Bor­der Patrol sec­tor, which in­cludes 210 miles of bor­der and nearly 60,000 square miles of ter­rit­ory.There were 1,665 Bor­der Patrol agents des­ig­nated for this area in 2012, a fig­ure that doesn't in­clude Cus­toms and Bor­der Pro­tec­tion and oth­er fed­er­al agents.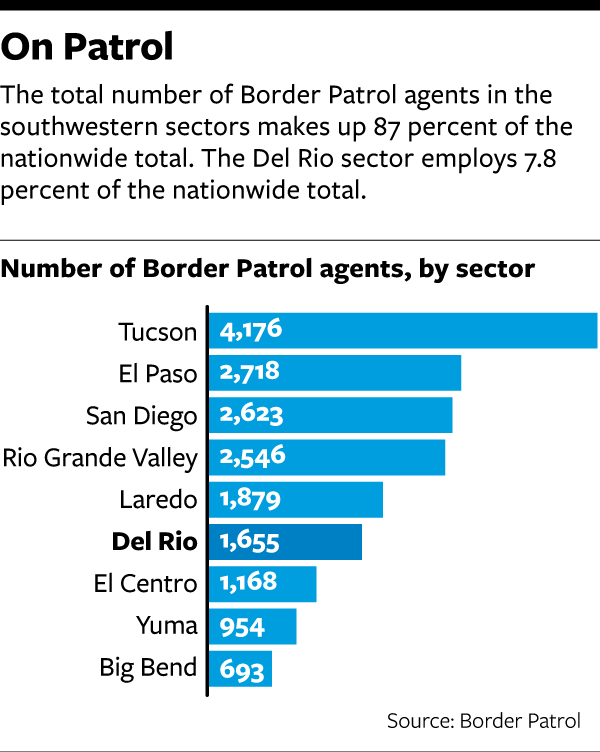 Nearly 87 per­cent of the na­tion's 21,394 Bor­der Patrol agents come from the nine south­w­est bor­der sec­tors. The Del Rio sec­tor ranks in the middle in terms of the num­ber of agents.
While Bor­der Patrol agents are ac­cep­ted as mem­bers of the com­munity and re­garded with re­spect, Gal­lego said some loc­als get frus­trated with the check­points. Bor­der Patrol check­points on roads ex­tend far bey­ond the bor­der; all mo­tor­ists have to stop and an­swer ques­tions re­lated to their cit­izen­ship. A dog trained to de­tect drugs sniffs cars, and check­point sta­tions are equipped with cam­er­as, equip­ment to de­tect ra­dio­act­ive ele­ments, and tem­por­ary hold­ing cells for sus­pec­ted il­leg­al im­mig­rants.
In 2012, the Bor­der Patrol ap­pre­hen­ded 21,720 il­leg­al im­mig­rants in the Del Rio sec­tor, the highest num­ber in the sec­tor since 2007 and much high­er than the El Paso sec­tor's 9,678 ap­pre­hen­sions.
Mor­an says the bor­der can be se­cured with few­er than the ad­di­tion­al 20,000 agents called for in the Sen­ate bill. His group pushed for an amend­ment by Sen. Jon Test­er, D-Mont., that would have re­vamped the pay sys­tem to al­low flex­ib­il­ity for agents work­ing over­time and cov­er­ing shifts.
"It's usu­ally dur­ing the busiest times, and when the smug­glers know when we're in between shifts, and that's when they try to make their moves," Mor­an said.
The ad­di­tion of more Bor­der Patrol agents could have an eco­nom­ic im­pact in these com­munit­ies, with an in­flux of jobs and dol­lars spent loc­ally. Some ranch­ers and oth­ers liv­ing fur­ther from the bor­der also want more agents to mon­it­or those tra­vers­ing their prop­er­ties as they make their way in­land. But many of­fi­cials close to the bor­der are skep­tic­al that the fed­er­al gov­ern­ment will be able to fully fund and sus­tain a doub­ling of Bor­der Patrol agents.
"If you're telling me you're go­ing to double the num­ber of gov­ern­ment jobs in my com­munity and if you're go­ing to al­low these people to con­trib­ute to the eco­nomy, they're go­ing to eat out at res­taur­ants and shop at stores and buy homes — from an eco­nom­ic de­vel­op­ment per­spect­ive, I'm for that," Gal­lego said. "But that's not a bor­der-se­cur­ity per­spect­ive. We haven't done any­thing for bor­der se­cur­ity when we've done that."
Eagle Pass May­or Ram­sey Eng­lish Cantu said that while there is a need to "have a great pres­ence," he would like to see re­sources poured in­to Cus­toms and Bor­der Pro­tec­tion, which op­er­ate the of­fi­cial entry points in­to the United States and where lines can back up. "We con­tin­ue to see ports of entries where people are smug­gling drugs across be­cause there isn't the ne­ces­sary in­fra­struc­ture," he said. "These are the things that need to be ul­ti­mately ad­dressed."
Far­hat and oth­ers in Eagle Pass would like to see more re­sources poured in­to short­en­ing the lines at the of­fi­cial ports of entry, which are op­er­ated by Cus­toms and Bor­der Pro­tec­tion, not Bor­der Patrol. Tolls col­lec­ted at the town's two points of entry make up more than a quarter of Eagle Pass's budget rev­en­ues.
The Fence
The fence, which once drew out­rage in these com­munit­ies, now at­tracts a level of amuse­ment.
In Eagle Pass, it's more than 10 feet high, cuts through a city golf course, and in­cludes open­ings throughout. "If those folks in Ohio were to see this, they'd say, 'Is this what you're wast­ing my tax dol­lars on?' " Nevarez said.
In Del Rio, Amer­ic­an land sits on the oth­er side of an ap­prox­im­ately 2-mile por­tion of the fence, and Al­len asks wheth­er the Amer­ic­an gov­ern­ment has cre­ated a De­mil­it­ar­ized Zone. It stops at a low, barbed-wire fence on private prop­erty. Loc­als point to the fence gates, with ex­tra ho­ri­zont­al bars, as places people climb over.
"The fence was not a good thing," Al­len said. "We would have liked to see that money put to use for oth­er things be­cause, like I said, I can very eas­ily show you where people walk around it, so why did we spend all that money?"
Between 2006 and 2009, the fed­er­al gov­ern­ment al­loc­ated $2.4 bil­lion for con­struc­tion of 670 miles of ped­es­tri­an and vehicu­lar fences, with costs ran­ging between $400,000 and $15.1 mil­lion per mile, de­pend­ing on the loc­a­tion, fence ma­ter­i­al, to­po­graphy and kind of fence, ac­cord­ing to a 2009 Gov­ern­ment Ac­count­ab­il­ity Of­fice re­port.
But Bor­der Patrol of­fi­cials point to the fence as a use­ful tool in help­ing to man­age cross­ings; agents can tar­get their patrols bet­ter since they know where the entry points are. Mor­an says the fence has been very use­ful in slow­ing down the traffic across the bor­der, par­tic­u­larly vehicu­lar cross­ings.
"But no fence is go­ing to stop people who are de­term­ined to get in­to this coun­try. You can't have a fence with gaps if you want it to be ef­fect­ive," Mor­an said. "The tech­no­logy is great and it's an as­set, but no drone and no fence or whatever made an ar­rest. Those help us do our jobs."
There's also a sense in bor­der com­munit­ies that the fence makes them ap­pear to be bad neigh­bors.
"If we take this mi­li­tia ap­proach to our bor­der, what kind of mes­sage are we send­ing to our sis­ter coun­try? I don't like that mes­sage," Al­len said. "Would we do that on the bor­der with Canada? I really don't feel like we would."