A week, nearly to the hour, after a violent mob stormed the Capitol building, House members voted to impeach Donald Trump for a second time, a legislative coda to the president's four years in office.
Congress is in the midst of a deadly, once-in-a-century pandemic and civil unrest not seen since the 1960s, a scene that bears a stark contrast to Trump's first impeachment. When House members took their vote in December 2019 to impeach the president for the first time, no National Guard troops slept in the Rotunda. There wasn't a 7-foot fence circling the Capitol. Lawmakers didn't have to pass through a magnetometer to enter the chamber floor.
The House on Wednesday voted 232 to 197 to impeach Trump. Ten Republicans joined with Democrats to rebuke the president.
When House members cast their votes for Trump's first impeachment, the president was holding a rally.
Trump had a massive impeachment team. White House staff was working to respond to the press in real time, and there was a bevy of lawyers and political experts to guide him through the process. Then, Trump could still retain top legal counsel. The charge—that Trump abused his power by threatening a foreign leader, and then obstructed the investigation—centered around Ukraine, not the seat of the nation's government.
Now, in the twilight of Trump's presidency, the White House is a ghost town, drained of staff and the wherewithal to mount a significant defense. Trump has been abandoned by all but the most fervent aides and political allies. Trump is reportedly considering former New York City Mayor Rudy Giuliani, now best known for his cartoonish efforts to overturn Joe Biden's election win in swing states, to lead his defense in the coming Senate trial. His biggest megaphone, Twitter, was taken away from him last week over the company's concerns that he would continue to foment violence among his followers.
This time around, the impeachment charge—incitement of insurrection—feels more personal.
"This is the most serious among the three," Rep. Zoe Lofgren, who has participated in the impeachments of Presidents Nixon, Clinton, and Trump, told reporters Wednesday. "He basically incited violence to overthrow the government; you can't get more serious than that."
Supporters of impeachment shared stories from the attack Wednesday afternoon.
"They may have been hunting for Pence or Pelosi to stage their coup... But every single one of us in this room could have been killed," said lead impeachment manager Jamie Raskin. Fellow manager Judy Chu recounted hiding in her office for hours last week, "terrified" to open the door for fear of "attack, kidnap, or murder" from rioters on the other side.
"What do you think they would have done if they had gotten in? What do you think they would have done to you?" Rep. Joaquin Castro asked on the floor. "And who do you think sent them here?"
A handful of Republicans publicly broke with Trump ahead of Wednesday's vote, including House GOP conference chair Liz Cheney. The first Republican to announce he would vote in favor of impeachment, Rep. John Katko, had a personal connection to the attack: One of the officers who was severely injured last Wednesday was his former intern.
Freshman Republican Rep. Nancy Mace said she had sent her children home ahead of certification, out of fear of potential violence. But the experience did not lead Mace to back impeachment; she argued that the proceedings were rushed and would further polarize the country.
"It violates due process," Mace told National Journal before the vote. "I think that there would be much more success if it were done properly over time, with deliberation, investigations, and evidence presented."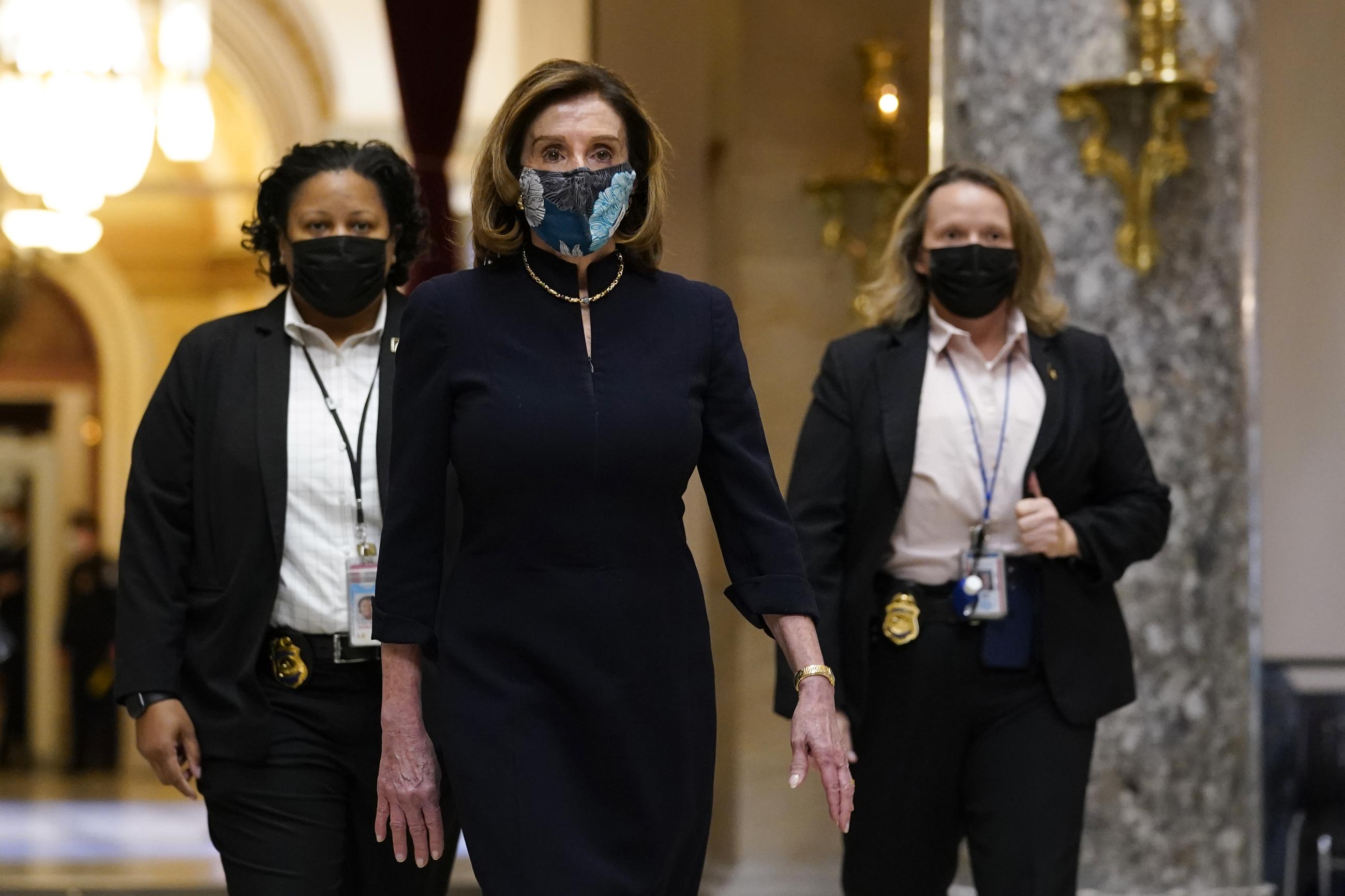 Republicans previewed their arguments in a House Rules committee hearing Tuesday evening. Ranking Republican Rep. Tom Cole said while Trump did bear "some responsibility" for the assault on the Capitol, lawmakers ought not look backward and "ensure that the transition to a new president is clouded with the uncertainty of a hastily executed impeachment."
Another committee member, Rep. Kelly Armstrong, argued that Trump's conduct leading up to the riot didn't constitute incitement, the sole charge that Democrats have made. Armstrong cited legal scholars Josh Blackman and Seth Barrett Tillman, who have argued that Trump's speech was protected by the First amendment and cannot be grounds for impeachment.
Republicans brought both arguments to the floor Wednesday.
"Pull up the criminal statute, look at the criminal code," said Rep. Guy Reschenthaler. "President Trump's words would not even meet the definition of incitement under criminal statutes. The measure before us today sets a dangerous precedent whereby political parties can justify impeachment simply because they do not agree with the president."
Rep. Dan Bishop said Democrats did "not specify inciting language" which would forfeit Trump's constitutional protection to free speech. The article of impeachment references Trump's speech just before the Jan. 6 riot when he told the crowd he won the election by a "landslide," and that "if you don't fight like hell, you won't have a country anymore."
"If we impeached every politician who gave a fiery speech to a crowd of partisans, this Capitol would be deserted," said Rep. Tom McClintock on Wednesday. "That's what the president did, that's all he did … I cannot think of a more petty, vindictive, and gratuitous act than to impeach an already-defeated president a week before he leaves office."
Democrats argued the expedited process was because of Trump's "ongoing threat" to national security. Republican Rep. Dan Newhouse, who joined Democrats to approve the article, said he would not use "process" as an excuse to vote against the impeachment article.
"Republicans complained about the process then," Democratic Caucus Chair Hakeem Jeffries said of Trump's first impeachment, where he served as a manager. "This is a violent insurrection. This is not an ordinary moment in American history."
Some Republicans have proposed taking up Rep. Rodney Davis's resolution establishing a bipartisan commission to investigate the attack, instead of impeachment. Rep. Brian Fitzpatrick has separately introduced a censure resolution with six GOP cosponsors.
The Republican defense of Trump comes as death threats roll into members' offices on both sides of the aisle from Americans who falsely believe November's election was stolen.
"One of the interesting things that I don't think has been covered enough is that a lot of the Republican colleagues have been getting death threats as much as Democratic colleagues," said Rep. Ro Khanna, a progressive Democrat. "The violence has been not partisan. Some of the most vulnerable people have been the ones who voted for certification on the Republican side."
Rep. Jason Crow, a centrist Democrat who helped members and press evacuate the chamber on Jan. 6, said on MSNBC on Wednesday that some Republican members were not voting to impeach because of fears for their safety.
"I had a lot of conversations with my Republicans colleagues last night, and a couple of them broke down in tears talking to me and saying that they are afraid for their lives if they vote for this impeachment," Crow said.