Senate Majority Leader Mitch McConnell promised to "leave no vacancy behind" in the federal judiciary. He'll fall just short.
While senators will in all likelihood confirm more than two dozen more federal judges before the end of the year, President Trump will more likely than not end this term without filling every vacancy in the nation's courts.
Though Republicans have been able to push through nominees to every appellate vacancy, Americans will vote on a president and Senate majority that will be charged with filing about 40 outstanding vacancies in the federal judiciary with hundreds more opening in the four years ahead.
"The only person who thought they were going to get 300 Trump judges confirmed is Trump," said Christopher Kang, a former Obama White House aide who cofounded the progressive group Demand Justice.
Senate Judiciary Chairman Lindsey Graham told the Federalist Society this month that the Senate would "probably" confirm 30 more district-court nominees. That falls short of clearing the four dozen nominations that Trump had left pending at the time.
"President Trump has done more than anybody in my lifetime to reshape the federal judiciary to a center-right judiciary by focusing on filling every vacancy," Graham said.
There are no vacancies in appellate courts, usually the last word in federal litigation, for the first time in at least 40 years.
But the story of district courts, in which Democrats get more say, is a different story. There are more than two dozen vacancies for which the White House has not even nominated a replacement. Most of those come from New Jersey, Massachusetts, and Washington, where Democrats have likely worked behind closed doors to prevent Trump from filling openings.
Those nominations could still come to pass, but there's little time to confirm new nominees with the Senate scheduled to be in session for only nine more weeks this year. Julien Neals, the county counsel for Bergen County, New Jersey, says he has kept his paperwork coordinated by the Justice Department current in case he's renominated to a position on New Jersey's federal district court for which President Obama first selected him in 2015.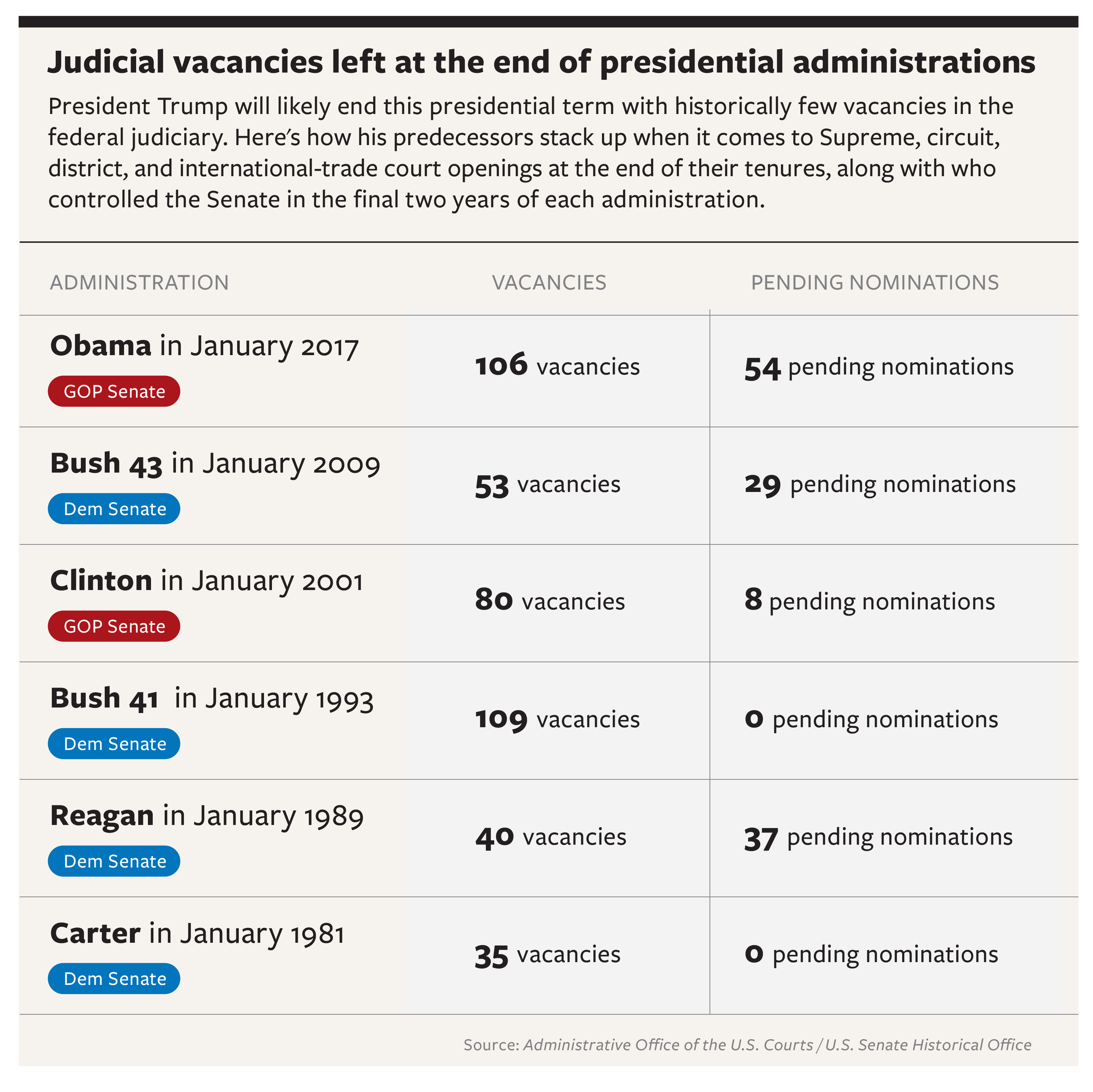 "I am not permitted to comment directly on the acceptance of a nomination," Neals told National Journal on Monday, "but I will state that I have been contacted since the initial nomination in order to keep my documents up to date."
According to the conservative Article III Project, which supports Trump's nominees, all of the 15 judicial nominees waiting for a hearing would sit in courts in states with at least one Democratic senator with effective veto power over their advancement.
More than half of the outstanding nominees hail from California. Sen. Dianne Feinstein, the top Democrat on the Judiciary Committee, and Sen. Kamala Harris, the Democratic nominee for vice president, have signed off on California nominees in the past but are less likely to do so as the year goes on. Others hail from New York and New Mexico.
"The home-state senators have an absolute veto over district-court vacancies," said Article III Project President Mike Davis. "And if these home-state senators want to hurt their constituents back home with mindless obstruction and Trump derangement syndrome, then they're going to have to answer to their constituents."
Also waiting to advance is Alabama Solicitor General Edmund LaCour. The progressive group Alliance for Justice targeted his nomination for defeat, citing his record on voting and civil rights, and Democratic Sen. Doug Jones has the ability to block his advancement. Jones has voted to confirm every Alabama judge since he took office in 2018 with the exception of Judge Andrew Brasher, LaCour's predecessor in Montgomery.
Progressives hope that leaving those vacancies open for a potential Biden administration and Democratic Senate to fill will yield more favorable nominees.
"We hopefully will have a new president in January, and Democratic senators then will have a terrific opportunity to put amazing jurists on the federal bench who are committed to equal justice and to expansive human and civil rights," said Daniel Goldberg, the Alliance's legal director. "... No Democrat should be, at this point, working to allow Donald Trump to fill these seats so close to an election."
The Senate this month, in between votes on critical appropriations to fund the government and combat the coronavirus pandemic, continues the march to confirm Trump's judicial nominees that are already in the pipeline.
Senators last week voted in large, bipartisan margins to confirm five nominees to sit on district courts in New York, Virginia, Michigan, Pennsylvania, and Wisconsin. McConnell has teed up the confirmation of eight more judges this week, evenly split between California and Illinois. The first of that group, attorney Mark Scarsi, easily hurdled his cloture vote on Monday.
Most of the rest will also likely face little opposition, having advanced out of the Judiciary Committee with bipartisan support earlier this year. But some are more controversial.
Sens. Dick Durbin and Tammy Duckworth, for instance, a few months ago celebrated the nomination of Judges David Dugan, Iain Johnston, Franklin Valderrama, and Stephen McGlynn, who will be confirmed this week after being recommended by a nonpartisan screening committee with input from the White House and Illinois Republicans in the House.
But the Leadership Conference on Civil and Human Rights, a coalition of progressive advocacy organizations active in judicial-confirmation debates, is opposing the confirmation of Dugan and McGlynn, citing in part their views on abortion rights.
"I find it somewhat jarring that these are considered consensus nominees," Kang said.
About a dozen more nominees for federal courts are waiting in the wings after being approved by the Judiciary Committee. That panel will likely send five more nominees from Ohio, Kansas, and Florida to the floor when it meets Thursday.
Just last week, the Judiciary Committee held a hearing for five more district-court nominees. Leading the hearing was Jones Day associate Kathryn Mizelle, whom the American Bar Association has rated as "not qualified" to sit on a Florida district court.
"For nominees to be announced in August, and then get hearings in September of an election with the thought that they might be confirmed, that would not have been the case before," said Paul Gordon, senior legislative counsel at the progressive People for the American Way.
By what is commonly referred to as the Thurmond rule, the Senate will sometimes slow judicial confirmations as presidential elections approach. That is not the case in 2020, and the Senate could even continue to confirm judicial nominees during the lame-duck session of Congress between Election Day and the New Year.
"I have no doubt that, even if Trump loses, [McConnell will] keep on getting the Republican Senate to confirm people," said Russell Wheeler, a visiting fellow in the Brookings Institution's Governance Studies Program.