With COVID-19 cases surging in the South, some rural hospitals are being inundated as beds in larger urban hospitals fill up and the virus makes its way to smaller towns.
Other hospitals in rural America, however, are seeing substantially lower numbers of patients, even after they resumed elective procedures. With few patients coming in out of fear of contracting the deadly infection, some facilities could be pushed to the financial brink, hospital groups told National Journal.
When Harrison Memorial Hospital ended up with Kentucky's first coronavirus case in early March, the facility shut down its elective procedures, said Sheila Currans, CEO of the hospital. Soon after, on March 23, Gov. Andy Beshear signed an executive order stopping all elective procedures to limit the spread of COVID-19.
"As a small rural community, we didn't ever get that surge," Currans said. "We also had no other patient activity going on, so we'd really gone into a significant negative margin that, were it not for the CARES Act, we would have to have some serious thoughts going on right now about being able to continue on as a rural community hospital."
The hospital received a loan through the Paycheck Protection Program and money from the pot of funding that the Health and Human Services Department doled out to support hospitals and providers, according to Currans.
She added that the hospital also received advance payments from Medicare, which the Centers for Medicare and Medicaid Services are able to provide during the public-health emergency.
Currans said the hospital will have to start paying the money back for the advanced Medicare payments in September. "We're not in a position yet to start paying back," she said, adding that she asked Senate Majority Leader Mitch McConnell in a meeting on July 15 to forgive these loans.
"Even once you were able to open your business, your hospital, back up based on the Kentucky public-health decision, the issue is still patients are fearful," she said. "We've had, as have many hospitals, this ongoing low utilization, and most of it can be attributed to patient fear."
As part of the Republican coronavirus package, Sen. Chuck Grassley unveiled legislation on Monday that would delay payback requirements for the Medicare loans until January 2021. Democrats backed a proposal in the House-passed HEROES Act in May that would also extend the time period before hospitals have to repay the loans, but by up to a year.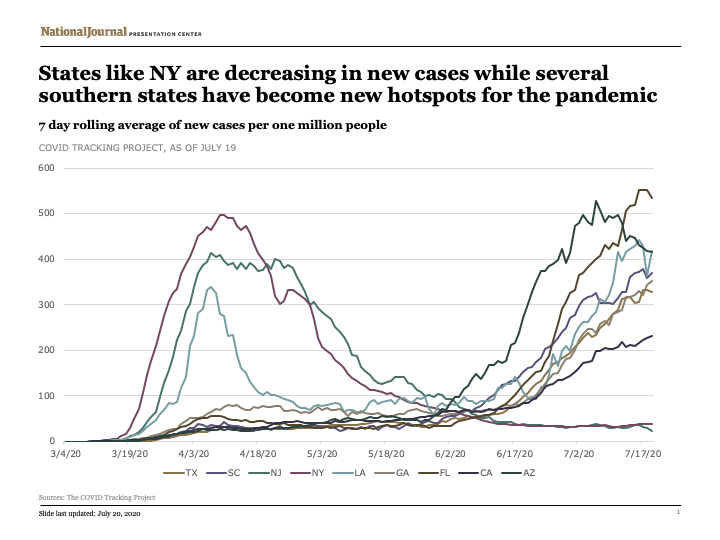 The Florida Hospital Association is lobbying Congress for loan forgiveness on the Medicare payments and for another $100 billion in provider relief funding.
"Emergency department volumes are down, and utilization is down overall for lab, radiology, and physician services," said Crystal Stickle, interim president for the association, in an email to National Journal. "Fortunately, rural hospitals are not seeing a large volume of COVID-19 patients. However, they still had to prepare for a possibility of patient surge, requiring outlays for personal protective equipment, other supplies and equipment. All together, these factors have led to a swift and dramatic reduction in revenue."
National Rural Health Association CEO Alan Morgan said that CMS was able to send out Medicare advance payment loans quickly to desperate hospitals in early April, adding that four rural hospitals closed that month. He is also advocating these loans be forgiven.
"We were having discussions directly with the administration," Morgan said. "At that point, our discussions were, 'Our members are not going to make payroll; they are laying off right now. We have to figure out the quickest way to get an infusion of cash.'"
Late in June, two House members from Ohio, Democratic Rep. Marcy Kaptur and Republican Rep. Bob Gibbs, introduced legislation to waive the repayment requirement as long as hospitals meet certain criteria, including not sticking COVID-19 patients with surprise medical bills. The legislation has been cosponsored by 72 lawmakers—52 Democrats and 20 Republicans.
The Ohio Hospital Association wrote to the state's congressional delegation on June 9, asking the lawmakers to support loan forgiveness. "These loans will come due as reductions to Medicare payments just as hospitals are trying to resume full operations," the group wrote. "Not to mention, hospitals also will be facing a severe cold/flu season and the likelihood of a second round of COVID-19."
Not all rural hospitals have seen the same fiscal impact during the pandemic.
An Alabama critical-access hospital decided not to take advanced payments, knowing they would have to be repaid down the line. Other pots of funding, including a recent tranche of money from HHS because the hospital was disproportionately impacted by the pandemic, were a "game changer" for Washington County Hospital and Nursing Home, said CEO Teresa Grimes.
Grimes added that the hospital is on track to end the year on similar financial footing to other years. The hospital was able to take on many coronavirus patients, including from the nearby city of Mobile, which helped bring in revenue for the hospital.
"When others basically didn't have any patients, we were maxed out with patients," she said.
But financial stability hasn't protected the hospital from other challenges during the pandemic. "It's still difficult to get some supplies," Grimes said. "Probably our biggest right now are the cleaning supplies, the types of wipes we would like to use."
While the supplies for personal protective equipment are adequate right now, Morgan said, he is concerned that the supply chains will not be able to keep up with the need for equipment in the fall, when there could be both flu and coronavirus outbreaks.
"I'm not convinced as a nation we are taking the steps we need to be doing to make sure that rural providers have the equipment they need—the necessary safety equipment they need this fall," he said. "That should be an enormous focus right now."
Along with the Medicare loan forgiveness, Morgan said he wants Congress to provide more funding for hospitals. "We're going to need funding ... as we head into the fall with the flu season combined with COVID now," he said.