Sept. 13, 2013, 9:36 a.m.
Mike Gravel, the un­likely pres­id­en­tial can­did­ate who cre­ated what is per­haps the most be­loved, ab­struse, polit­ic­al cam­paign ad of the past dec­ade, has got some com­pet­i­tion in Min­neapol­is may­or­al can­did­ate Jeff Wag­n­er.
Wager, a Demo­crat, has pro­duced a video that Tae­gan God­dard's Polit­ic­al Wire is call­ing "just out­stand­ing." In the video, Wager emerges from a lake to re­mind view­ers that he will not be taken in by dark money or shady deal­ers. "I'm cool with mak­ing $100,000 a year," said Wag­n­er. "I will not take money from the de­velopers. I will not take money from the polit­ic­al angle."
The pop­u­list mes­sage re­calls the ideal­ism por­trayed by Gravel, who prom­ised not to take dirty money. It's just a minute long.
Now com­pare that to Gravel's ads "Rock" and "Fire," two av­ant-garde, word­less things, pro­duced by Ot­is Col­lege of Art and Design staff. The first, about three minutes long, shows Gravel star­ing blankly at the view­er for over a minute be­fore heav­ing a large rock in­to a lake and walk­ing slowly away.
The second opens with him col­lect­ing wood in a forest and star­ing in­to the res­ult­ant camp­fire. Then for sev­en minutes we watch the fire burn with Gravel's web­site graph­ic su­per­im­posed.
Gravel's second ad is re­min­is­cent of an­oth­er fab­ulous ad for Jeff Barth, the Demo­crat­ic op­pon­ent to Re­pub­lic­an Rep. Kristi Noem of South Dakota. In it he wanders in­to a forest ex­plain­ing why D.C. in­siders are a bunch of "horse's asses," as fiddle mu­sic plays.
He also dons a hard hat, ges­tic­u­lates wildly with a news­pa­per, and fires a loaded weapon — all in un­der five minutes! Be sure to watch at least as far as the part where he cas­u­ally men­tions that his daugh­ters have hus­bands and straight teeth. We're pretty sure there's a policy pro­pos­al in there some­where.
We leave you with a clas­sic from the Alabama ag­ri­cul­ture com­mis­sion­er's race.
With a back­drop in­clud­ing a horse, a cow­boy hat, and a rifle, Dale Peterson asks Alabama Re­pub­lic­ans for the nom­in­a­tion. In 71 seconds of un­in­ter­rup­ted bril­liance — and the oc­ca­sion­al crack of whip — Peterson calls his primary op­pon­ent a "dummy" while prom­ising to name name and take no pris­on­ers in his fight against "thugs and crim­in­als" and "il­leg­als bused in by the thou­sands." We call this polit­ic­al ap­proach the pat­ri­ot­ic throat-punch.
And so ends our cov­er­age of the best polit­ic­al cam­paign ads for can­did­ates who went nowhere. Did we men­tion it's Fri­day in Wash­ing­ton?
Patrick Reis contributed to this article.
What We're Following See More »
NEVER TRUMP
USA Today Weighs in on Presidential Race for First Time Ever
9 hours ago
THE DETAILS
"By all means vote, just not for Donald Trump." That's the message from USA Today editors, who are making the first recommendation on a presidential race in the paper's 34-year history. It's not exactly an endorsement; they make clear that the editorial board "does not have a consensus for a Clinton endorsement." But they state flatly that Donald Trump is, by "unanimous consensus of the editorial board, unfit for the presidency."
COMMISSIONERS NEED TO DELIBERATE MORE
FCC Pushes Vote on Set-Top Boxes
9 hours ago
THE LATEST
"Federal regulators on Thursday delayed a vote on a proposal to reshape the television market by freeing consumers from cable box rentals, putting into doubt a plan that has pitted technology companies against cable television providers. ... The proposal will still be considered for a future vote. But Tom Wheeler, chairman of the F.C.C., said commissioners needed more discussions."
UNTIL DEC. 9, ANYWAY
Obama Signs Bill to Fund Government
14 hours ago
IT'S ALL CLINTON
Reliable Poll Data Coming in RE: Debate #1
16 hours ago
WHY WE CARE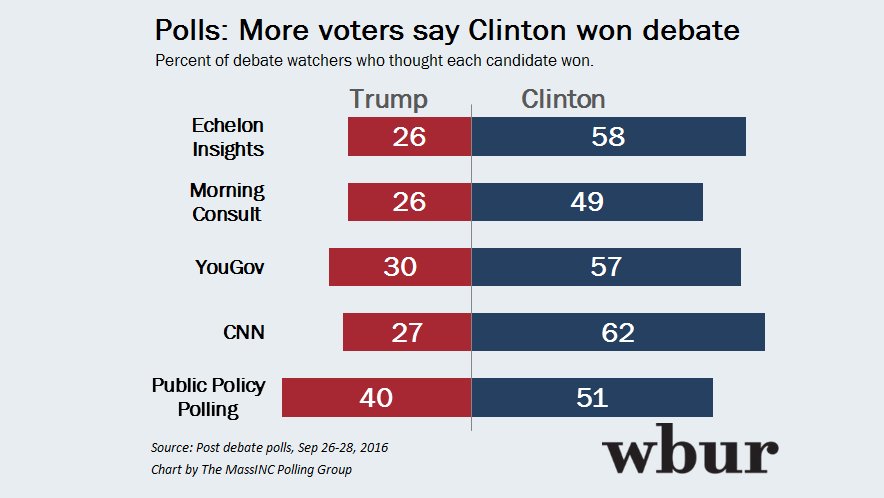 WHAT WILL PASS?
McConnell Doubts Criminal Justice Reform Can Pass This Year
18 hours ago