Sept. 18, 2013, 4:30 p.m.
When House Ag­ri­cul­ture Com­mit­tee Chair­man Frank Lu­cas, R-Okla., went to the po­di­um in June to ask law­makers to vote for a new farm bill, he was in a kind of trouble that no oth­er Ag­ri­cul­ture chair­man in re­cent memory has ex­per­i­enced.
After spend­ing two years de­vel­op­ing the bill, push­ing Re­pub­lic­an lead­er­ship to let him bring it to the floor, and man­aging more than 100 amend­ments in just two days, Lu­cas still had to beg for pas­sage.
"I plead to you. I im­plore you to put aside whatever the latest e-mail is or the latest fly­er is or whatever com­ment or ru­mor you've heard from people near you or around you," he said. "As­sess the situ­ation. Look at the bill. Vote with me to move this for­ward. If you care about the con­sumers, the pro­du­cers, the cit­izens of this coun­try, move this bill for­ward."
The ap­peal didn't work. The House voted against the farm bill 195-234, with six not vot­ing. The de­feat launched the le­gis­la­tion down a path that has wrought ma­jor changes on the pro­cess by which Con­gress ad­dresses the farm bill every five years — changes that are still play­ing out this week.
In fact, the bill's fate re­mains un­cer­tain this year. But for the House Ag­ri­cul­ture Com­mit­tee, the ques­tion is wheth­er its dif­fi­cult path is just one more case of House mem­bers stomp­ing their feet and say­ing "No, no, no," or wheth­er something fun­da­ment­al has changed in the mak­ing of ag­ri­cul­tur­al and nu­tri­tion policy. The an­swer may well be both.
As Rep. Col­lin Peterson, D-Minn., the rank­ing mem­ber on the pan­el and its former chair­man, put it, "We are in a big mess, and I don't know how we un­tangle this."
Foun­ded in 1820, the House Ag­ri­cul­ture Com­mit­tee is the old­est ag­ri­cul­ture in­sti­tu­tion in Wash­ing­ton. As re­cently as 2008, the com­mit­tee led the way for Con­gress to pass a farm bill that un­der­girded the most pros­per­ous peri­od in Amer­ic­an ag­ri­cul­tur­al his­tory; paid out $17 bil­lion to farm­ers last year dur­ing the worst drought in dec­ades; and provided food stamps for 47 mil­lion Amer­ic­ans dur­ing the Great Re­ces­sion.
Yet serving on the pan­el may be little fun these days, and even less polit­ic­ally re­ward­ing.
The fight to re­new the five-year farm bill — dom­in­ated by how much to cut from the food-stamp pro­gram — has been ac­ri­mo­ni­ous in the House and could get more so as the bill goes to con­fer­ence with the Sen­ate. Mean­while, the heavy in­volve­ment of House lead­er­ship in the Ag­ri­cul­ture Com­mit­tee's core is­sues, dif­fer­ences over ag­ri­cul­ture and nu­tri­tion policy, and the de­clin­ing abil­ity of in­di­vidu­al mem­bers to in­flu­ence le­gis­la­tion gen­er­ally have made a seat on the pan­el less at­tract­ive.
The av­er­age length of time law­makers stay on the com­mit­tee has de­clined, from a high of 10 years two dec­ades ago to less than six today. For those who sit fur­thest from the chair­man in the com­mit­tee's im­press­ive hear­ing room in the Long­worth House Of­fice Build­ing, the re­wards have been so few that one or two terms has seemed enough. Reps. Jeff Forten­berry, R-Neb., and Chel­lie Pin­gree, D-Maine, for ex­ample, both left this year to take seats on Ap­pro­pri­ations, where they sit on the Ag­ri­cul­ture Sub­com­mit­tee.
For those who have stayed, such as Lu­cas and Peterson, lead­er­ship has been dif­fi­cult. In the last Con­gress, Lu­cas fre­quently noted that half the mem­bers of his com­mit­tee were new. This year, Lu­cas and Peterson had to struggle to fill the ranks. They even­tu­ally got up to 46, in­clud­ing 25 Re­pub­lic­ans and 21 Demo­crats.
Lu­cas said the changes in com­mit­tee mem­ber­ship "ab­so­lutely" con­cern him, al­though he noted that law­makers have long pre­ferred com­mit­tees such as Ways and Means and Ap­pro­pri­ations. "We may not be as sexy, we may not be as good at fun­drais­ing as oth­er com­mit­tees," he said. He also said the "roller-coast­er turnover in gen­er­al mem­ber­ship in the House" has played a role.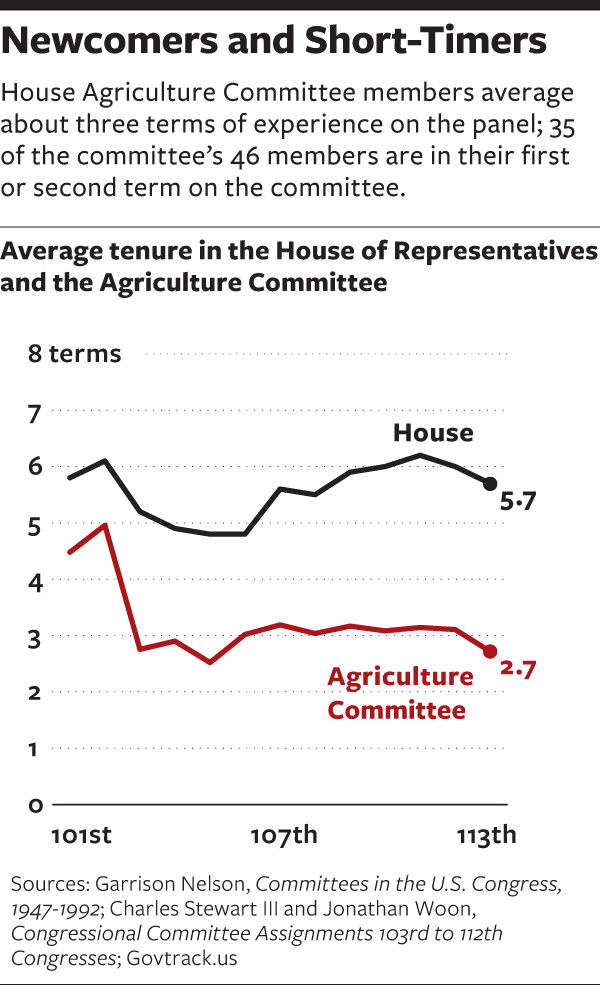 The biggest prob­lem with turnover, Lu­cas said, is that it denies the com­mit­tee the in­sti­tu­tion­al memory that helps write good farm bills. "It really does help to un­der­stand the sub­ject mat­ter you are vot­ing on," he said.
Few new com­mit­tee mem­bers come from farm fam­il­ies or ag­ri­cul­tur­al back­grounds and they "are not quite as able to de­fend them­selves from the pres­sure groups," Lu­cas said. By pres­sure groups, he means not only the farm lob­bies but also con­ser­vat­ive or­gan­iz­a­tions such as the Club for Growth and Her­it­age Ac­tion for Amer­ica, which cri­ti­cize farm sub­sidies.
On his side of the aisle, Peterson has faced at least as much turnover as Lu­cas but seems less wor­ried about the fu­ture. "I was con­cerned, but I like this group of people we have now. We've got some very good mem­bers. They are new to Con­gress, but they're not new to polit­ics. They know a lot more about ag­ri­cul­ture and the is­sues that we deal with than people real­ize."
An­oth­er res­ult is that the Sen­ate has gained ground on the House in ag­ri­cul­tur­al poli­cy­mak­ing. The House has tra­di­tion­ally passed a farm bill first, but in 2012 the Sen­ate, whose Ag­ri­cul­ture Com­mit­tee in­cludes sev­er­al former chair­men and a former Ag­ri­cul­ture sec­ret­ary, was first to act. The House Ag­ri­cul­ture Com­mit­tee did pass a bill in 2012 by a large bi­par­tis­an ma­jor­ity, but with the con­tro­versy swirl­ing around both farm sub­sidies and food stamps (form­ally known as the Sup­ple­ment­al Nu­tri­tion As­sist­ance Pro­gram, or SNAP), the House Re­pub­lic­an lead­er­ship re­fused to bring it to the floor.
When Con­gress passed a year­long ex­ten­sion at New Year's, it was a deal ne­go­ti­ated between Vice Pres­id­ent Joe Biden, who didn't want a cut in SNAP be­ne­fits, and Sen­ate Minor­ity Lead­er Mitch Mc­Con­nell, R-Ky., who wanted to con­tin­ue the dir­ect pay­ments that crop farm­ers get wheth­er prices are low or high. The House was largely left out of the ne­go­ti­ation.
A QUES­TION OF REL­EV­ANCE
Ag­ri­cul­ture had to battle for at­ten­tion in Con­gress even in the early days of the re­pub­lic, when most people made a liv­ing grow­ing food and fiber. In 1795, the House set up the Com­merce Com­mit­tee, but it took an­oth­er 25 years be­fore the Com­mit­tee on Ag­ri­cul­ture was es­tab­lished. The Sen­ate did not set up its Ag­ri­cul­ture Com­mit­tee un­til 1825, and the Ag­ri­cul­ture De­part­ment was not es­tab­lished un­til 1862. In spon­sor­ing the 1820 res­ol­u­tion to set up the House com­mit­tee, Rep. Lewis Wil­li­ams of North Car­o­lina called ag­ri­cul­ture "the great lead­ing and sub­stan­tial in­terest in this coun­try" but com­plained, "[W]hen ag­ri­cul­ture is op­pressed and makes com­plaint, what tribunal is this House to hear and de­term­ine on the griev­ances?"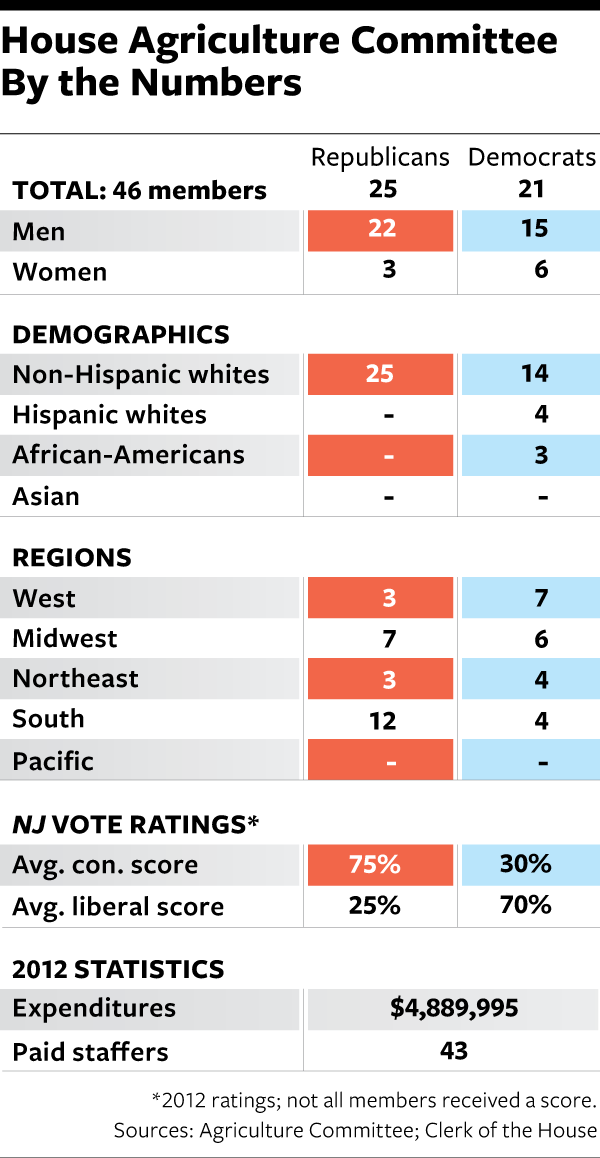 The com­mit­tee's greatest peri­od of power came in the 1930s. With rur­al Amer­ica suf­fer­ing from the Great De­pres­sion, Con­gress passed Pres­id­ent Roosevelt's New Deal farm pro­grams, which at­temp­ted to equal­ize sup­ply and de­mand, re­store soil de­graded by ques­tion­able farm prac­tices, and bring elec­tri­city to rur­al pop­u­la­tions. In the 1950s, Con­gress began passing short-term farm bills, usu­ally for five-year peri­ods, by sus­pend­ing the 1938 and 1949 farm bills that have be­come known as "per­man­ent law." The New Deal pro­grams also in­cluded dis­tri­bu­tion of sur­plus com­mod­it­ies to the hungry; in the 1960s, the com­mit­tee began to take hun­ger ser­i­ously with the cre­ation of the food-stamp pro­gram, which had the ad­ded be­ne­fit of as­sur­ing votes from urb­an and sub­urb­an House mem­bers for the farm bill.
Today, the House Ag­ri­cul­ture Com­mit­tee's core prob­lem ap­pears to be a lack of rel­ev­ance to many voters, even though the num­ber of people who be­ne­fit from food stamps and com­mod­ity-dis­tri­bu­tion pro­grams has swollen dur­ing the re­ces­sion.
As the U.S. pop­u­la­tion con­tin­ues to grow in­creas­ingly urb­an and sub­urb­an, the num­ber of people who de­pend dir­ectly on ag­ri­cul­ture — and the com­mit­tee's pro­grams — for a liv­ing de­clines while the food sup­ply re­mains so plen­ti­ful and cheap that con­sumers can take it for gran­ted. Food safety, or­gan­ic and loc­al food pro­duc­tion, and the im­pact of obesity are hot top­ics, but the com­mit­tee still fo­cuses most of its at­ten­tion on com­mod­ity pro­grams and the reg­u­la­tion of the fu­tures in­dustry.
Per­haps the com­mit­tee lead­er­ship's oddest de­cision over the years has been its lack of at­ten­tion to food stamps, which rep­res­ent more than 70 per­cent of USDA spend­ing. For ex­ample, the pan­el's De­part­ment Op­er­a­tions, Over­sight, and Nu­tri­tion Sub­com­mit­tee, which has jur­is­dic­tion, has held no hear­ings on the is­sue this year.
But from a polit­ic­al stand­point, it's not hard to see why food stamps have not been a primary fo­cus. An­ti­hun­ger ad­voc­ates have res­isted any­thing that would in­crease scru­tiny of the pro­gram, while farm-minded mem­bers have tra­di­tion­ally viewed food stamps as the price they had to pay to get urb­an mem­bers of Con­gress to vote for the farm bill.
BIT­ING IN­TO FOOD STAMPS
Things have changed. The fight over food stamps has dom­in­ated the cur­rent farm bill. The de­bate has been go­ing on since 2010, when Peterson was chair­man and began hold­ing hear­ings. Lu­cas, after he be­came chair­man, held an­oth­er round of hear­ings in Wash­ing­ton and around the coun­try be­fore writ­ing the bill.
But this year, even though the pan­el had many new mem­bers, Lu­cas al­lowed only a sub­com­mit­tee hear­ing on hor­ti­cul­ture be­fore hold­ing a markup ses­sion. Even though Re­pub­lic­ans in­sisted, over Demo­crats' ob­jec­tions, on in­creas­ing the cut in food stamps from $16.5 bil­lion in the 2012 farm bill to roughly $20.5 bil­lion in 2013, the meas­ure still passed the com­mit­tee on a bi­par­tis­an vote of 36-10.
The com­mit­tee vote was not enough to per­suade enough Re­pub­lic­ans or Demo­crats to sup­port the bill on the floor, however, lead­ing to the de­feat in June. Only 24 Demo­crats voted for the le­gis­la­tion. But even if the hoped-for 40 Demo­crats would have sup­por­ted it, the farm bill still would have failed, be­cause 62 Re­pub­lic­ans voted against it.
Past lead­ers, in­clud­ing Minor­ity Lead­er Nancy Pelosi, D-Cal­if., who was House speak­er in 2008 when the last farm bill was passed, de­ferred to the com­mit­tee most of the time. "What we do in the farm bill is really com­plic­ated stuff," Peterson said. "I would ar­gue it is more com­plic­ated than what we do with the IRS. I think mem­bers un­der­stand that."
Two people who did not de­fer to the com­mit­tee this year were House Speak­er John Boehner, R-Ohio, who wanted a change in dairy policy, and Ma­jor­ity Lead­er Eric Can­tor, R-Va., who gave a floor speech ur­ging mem­bers to vote for a food-stamp amend­ment that Demo­crats found odi­ous. Boehner and Can­tor won their floor votes and voted for fi­nal pas­sage, but at the ur­ging of Her­it­age Ac­tion and oth­er con­ser­vat­ive groups, many tea-party Re­pub­lic­ans voted against fi­nal pas­sage.
The re­sponse by Re­pub­lic­an lead­er­ship to the de­feat was un­pre­ced­en­ted in re­cent dec­ades: They split the farm bill in two. One bill, which passed in the House, con­tained ag­ri­cul­tur­al pro­grams. A sep­ar­ate meas­ure con­tained the food-stamp pro­gram. The re­fus­al by Can­tor and tea-party Re­pub­lic­ans to ac­cept the com­mit­tee bill's nu­tri­tion title and the lead­er­ship's un­pre­ced­en­ted de­cision to split the farm bill in two frac­tured a dec­ades-old mar­riage that tra­di­tion­ally helped get the le­gis­la­tion through Con­gress.
The cost of the ag­ri­cul­ture-only bill is about $196 bil­lion; the top-line num­ber would have been roughly $1 tril­lion with food stamps in­cluded. Over­all, the nu­tri­tion title would be over 70 per­cent of the farm bill's costs, and most of that is the food-stamp pro­gram.
But Re­pub­lic­ans were not yet fin­ished shak­ing things up. As part of the new strategy, Can­tor pre­pared a nu­tri­tion bill with about $39 bil­lion in food-stamp cuts over 10 years, roughly doub­ling the re­duc­tion in the pre­vi­ous bill.
The con­ser­vat­ives' ar­gu­ment is that the pro­gram is ab­used by re­cip­i­ents who don't meet eli­gib­il­ity re­quire­ments. These crit­ics want to tight­en loop­holes that they say al­low able-bod­ied adults to gain be­ne­fits. "Cur­rently, work­ing middle-class fam­il­ies strug­gling to make ends meet them­selves are foot­ing a bill for a pro­gram that has gone well bey­ond the safety net for chil­dren, seni­ors, the dis­abled, and fam­il­ies who des­per­ately need the as­sist­ance," Can­tor spokes­man Rory Cooper re­cently told Na­tion­al Journ­al Daily.
An­ti­hun­ger ad­voc­ates have com­plained, but Can­tor ar­gued as late as last week that any re­duc­tion in be­ne­fits will not erode the safety net for the needi­est Amer­ic­ans. "No law-abid­ing be­ne­fi­ciary who meets the in­come and as­set test of the cur­rent pro­gram and is will­ing to com­ply with ap­plic­able work re­quire­ments will lose their be­ne­fits un­der the bill," he said.
The food-stamp bill is sched­uled to hit the House floor this week. Pelosi said she ex­pects Demo­crats to re­ject it, giv­en that most op­posed the pre­vi­ous bill that had only $20.5 bil­lion in cuts. So Re­pub­lic­ans will have to rally much of their con­fer­ence to pass the bill.
Yet even if it does pass, there are still miles to go. A con­fer­ence with the Sen­ate, which passed its own com­pre­hens­ive farm bill, is likely to be tu­mul­tu­ous be­cause of the stark dif­fer­ences in the way the Demo­crat­ic-con­trolled Sen­ate and the Re­pub­lic­an-con­trolled House have treated food stamps. The Sen­ate bill cuts only $4 bil­lion from the pro­gram over 10 years.
Moreover, the clock is tick­ing. If a two-cham­ber deal is not reached by Sept. 30, farm-bill pro­grams will re­vert back to the 1938 and 1949 laws. However, even if the two cham­bers don't reach an agree­ment, crop in­sur­ance and the food-stamp pro­gram will con­tin­ue. Crop in­sur­ance has its own per­man­ent law, and food stamps are an en­ti­tle­ment that can con­tin­ue to op­er­ate even without reau­thor­iz­a­tion, provided the fund­ing is ap­proved through ap­pro­pri­ations bills or a con­tinu­ing res­ol­u­tion.
"Part of the prob­lem" in per­suad­ing Con­gress to pass the bill, Peterson said, "is that crop in­sur­ance will con­tin­ue wheth­er there's a bill or not, and food stamps will con­tin­ue."
Bi­par­tis­an­ship has not ex­ten­ded to the com­mit­tee's oth­er power cen­ter, either: reg­u­lat­ing the fu­tures in­dustry and the Com­mod­ity Fu­tures Trad­ing Com­mis­sion. Un­der Peterson's lead­er­ship, the pan­el played a role in the pas­sage of the Dodd-Frank Act, which reg­u­lated the fin­an­cial in­dustry after the fin­an­cial col­lapse in 2008. Un­der Re­pub­lic­an lead­er­ship, the com­mit­tee has passed bills that would re­duce the new reg­u­la­tions, al­though these stand little chance of be­com­ing law. This year, Re­pub­lic­ans also held three sub­com­mit­tee hear­ings on the reau­thor­iz­a­tion of the CFTC, which takes place every five years. Those hear­ings have been chaired by Rep. Mi­chael Con­away, R-Texas, whose Gen­er­al Farm Com­mod­it­ies and Risk Man­age­ment Sub­com­mit­tee is also in charge of com­mod­ity policy and crop in­sur­ance, mak­ing him by far the most power­ful sub­com­mit­tee chair­man.
If Re­pub­lic­ans re­tain the House, it may be Con­away who takes over the com­mit­tee's gavel. The fact that a Texas Re­pub­lic­an could chair the Ag­ri­cul­ture Com­mit­tee un­der­lines how polit­ic­al changes in the coun­try have res­ul­ted in dra­mat­ic changes in the com­mit­tee's mem­ber­ship.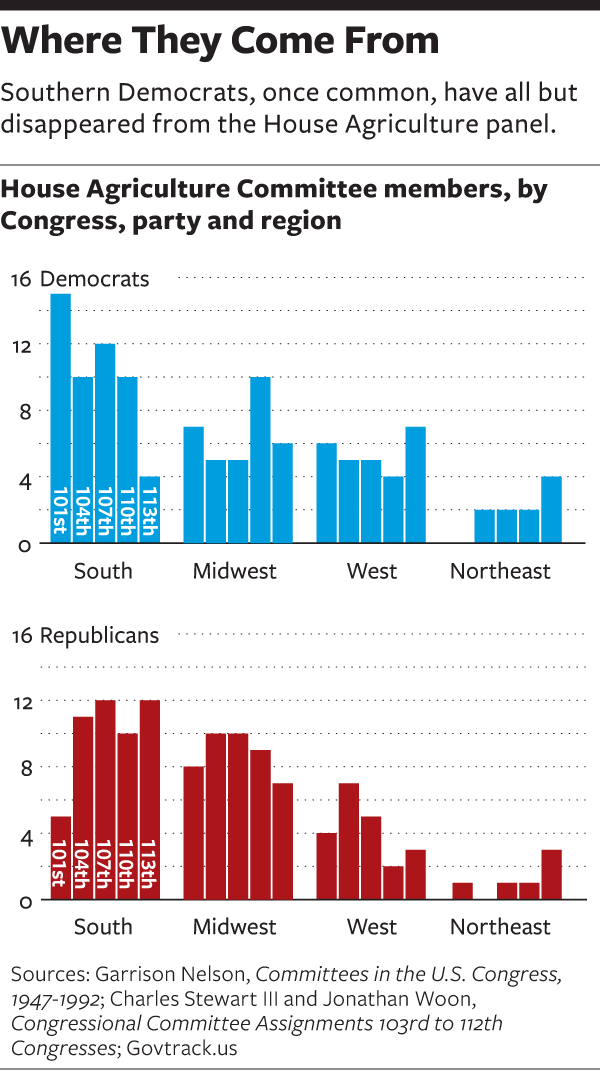 Rur­al Demo­crats from the Plains and the South dom­in­ated the pan­el through most of the 20th cen­tury and stayed on it for years. Those Demo­crats were usu­ally con­ser­vat­ive on so­cial and fisc­al mat­ters, but they came from dis­tricts whose con­stitu­ents ten­ded to be­lieve that wealth and power were else­where in the coun­try and that the role of gov­ern­ment — and the com­mit­tee — was to im­prove their lives and get them a fairer shake.
In the 1970s, the rur­al South began to elect Re­pub­lic­ans, but they too sup­por­ted farm pro­grams and food stamps. The GOP trend cul­min­ated in the 2010 elec­tions, when the com­mit­tee makeup changed to mostly rur­al Re­pub­lic­ans, who are in­ter­ested in com­mod­it­ies such as corn, cot­ton, rice, soy­beans, and wheat; Demo­crats from Cali­for­nia and New Eng­land, who are in­ter­ested mostly in dairy, fruits, ve­get­ables, and or­gan­ic and loc­al pro­duc­tion; and urb­an rep­res­ent­at­ives, who care mostly about nu­tri­tion pro­grams, par­tic­u­larly food stamps.
The com­mit­tee's mem­ber­ship is now skewed to the South, Cali­for­nia, and New York, with less rep­res­ent­a­tion from the middle of the coun­try than might be ex­pec­ted. Ari­zona, Idaho, Ken­tucky, Louisi­ana, Kan­sas, Maine, Mis­sis­sippi, Montana, Neb­raska, North Dakota, Utah, West Vir­gin­ia, and Wyom­ing — all states with key ag­ri­cul­tur­al con­stitu­en­cies — have no rep­res­ent­a­tion on the com­mit­tee at all.
Moreover, the pan­el now has a hand­ful of long-ter­mers at the top, with a chan­ging cast of char­ac­ters down the line, prompt­ing ser­i­ous ques­tions about the fu­ture and lead­er­ship.
Un­der House Re­pub­lic­an rules, Lu­cas is sched­uled to end his term as chair­man when this Con­gress con­cludes in 2014. Lu­cas said last week he will run for reelec­tion in 2014, and if the farm bill does not pass dur­ing this Con­gress, he will ask for a waiver from House rules so he can con­tin­ue as chair­man. If farm-bill op­pon­ents "use House Re­pub­lic­an rules as a weapon, I will fight on every stage," he said.
Ab­sent the waiver, Con­away is most likely to take over as chair­man if the Re­pub­lic­ans re­tain con­trol of the House and fol­low reg­u­lar or­der. Sev­er­al oth­er com­mit­tee mem­bers have more seni­or­ity, but there are reas­ons they may not as­sume the lead­er­ship. They are former House Ag­ri­cul­ture Com­mit­tee Chair­man Bob Good­latte, R-Va., and Reps. Steve King, R-Iowa, Randy Neuge­bauer, R-Texas, and Mike Ro­gers, R-Ala. Con­away, like Peterson, is a cer­ti­fied pub­lic ac­count­ant. If Con­away be­comes the highest-rank­ing Re­pub­lic­an and Peterson stays as the highest-rank­ing Demo­crat, the com­mit­tee would be run by two cer­ti­fied pub­lic ac­count­ants.
Still, even if Lu­cas does not keep the gavel, he will stay on the com­mit­tee to make sure Con­gress does not re­peat mis­takes that have hurt farm­ers in the past.
As Lu­cas put it, "I am not here to be­ne­fit from the polit­ic­al chaos of the day."