Add to Briefcase
Sept. 19, 2013, 4:15 p.m.
LE­BAN­ON, Conn. — Fed­er­al im­mig­ra­tion agents showed up on Valentine's Day and turned Mark Sellew's life up­side down. They wanted his em­ploy­ment re­cords. They wanted to see if the work­ers at his nurs­ery were leg­al. And to Sellew's hor­ror, 140 of them couldn't prove it. If he wanted to stay in busi­ness, he had to dump them — as soon as he could — just as his busiest land­scap­ing sea­son was ap­proach­ing and his need for manu­al labor was at its highest.
It took weeks to con­firm the work­ers' status, but in the end all but one were fired. "It was hor­rible," says Toni Ruiz, the hu­man-re­sources man­ager at Sellew's com­pany who was forced to con­front each of the sus­pect em­ploy­ees one by one with their false doc­u­ments. "They cried and cried. There were fam­il­ies, hus­bands, wives, chil­dren — all worked here. Some had 10, 15 years. I was dev­ast­ated."
Each week after the agents had come, Ruiz du­ti­fully in­formed the Home­land Se­cur­ity De­part­ment that she had let an­oth­er round of em­ploy­ees go. The work­ers who wer­en't fired, stung by the sud­den re­lease of their friends, struggled to keep up with de­mand. "It was hard for us, for a lot of us. All year long, we work on the same crew," says Jesse Hernan­dez, who was a laborer at the time. "The worst day was when all the people get to­geth­er and they say they have to go. A lot of people were cry­ing."
Was he cry­ing? "Hon­estly, yes," he says.
Hernan­dez, a leg­al im­mig­rant from Mex­ico, was pro­moted that sum­mer to su­per­visor. He now man­ages the pot­ting of 12,000 plants per day and a crew of 13 work­ers on an as­sembly line. "It was bet­ter for me, but I feel bad be­cause I feel like I take some­body's job," he says.
Mark Sellew's land­scap­ing busi­ness, Prides Corner Farms, was the un­lucky tar­get in 2011 of a gov­ern­ment audit de­signed to fer­ret out un­au­thor­ized work­ers. The audits are the pre­ferred work-site en­force­ment meth­od of this ad­min­is­tra­tion. Pres­id­ent Obama has shunned the Bush-era live raids that would prompt cries of La Mi­gra! from Span­ish-speak­ing laborers who fled their sta­tions at the mere whiff of au­thor­it­ies. Em­ploy­ers and im­mig­ra­tion at­tor­neys call the pa­per audits "si­lent raids." They're less dra­mat­ic, but the end res­ult is of­ten the same.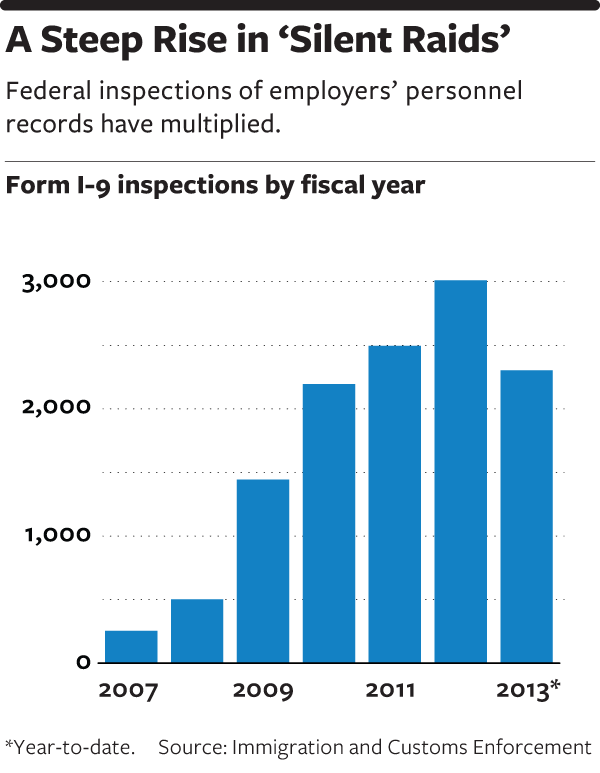 Sellew barely made it through the grow­ing sea­son that year. He lost $2 mil­lion just com­pens­at­ing his cus­tom­ers for giv­ing them a shoddy product. "The plants are not good. They kept grow­ing and grow­ing and grow­ing. The weeds kept grow­ing. We would dump full houses of plants," re­mem­bers Jaime Al­ba, who over­sees the grass nurs­er­ies.
Two years later, Sellew is still feel­ing the af­ter­shocks of the in­vest­ig­a­tion. "It's the most dif­fi­cult thing I've ever been through in my life," he says. "I haven't grown my busi­ness at all."
Be­fore the audit, his com­pany was boom­ing, even in the wake of the 2008 stock-mar­ket crash. In 15 years, Sellew had ex­pan­ded it from a $10 mil­lion op­er­a­tion to a $30 mil­lion busi­ness. Now, he counts him­self lucky to keep a steady pro­duc­tion line go­ing. He doesn't ex­pect growth any­time soon.
But he is thank­ful that his work­force, fi­nally, is stable. The sum­mer after the feds paid him a vis­it, he cycled through al­most 600 leg­al work­ers, mostly white or black loc­als, to fill the empty laborer spots. Four hun­dred of them didn't last the sea­son. Most quit after a few days. Some quit after a few hours, "es­pe­cially when it was rain­ing," Al­ba re­calls.
The lack of re­li­able help forced Sellew to turn to a heav­ily reg­u­lated gov­ern­ment sea­son­al guest-work­er pro­gram to fill his slots. The pro­gram al­lows em­ploy­ers to ap­ply for short-term work visas for for­eign work­ers dur­ing a grow­ing sea­son. The cum­ber­some ap­plic­a­tion pro­cess in­volves the Home­land Se­cur­ity and Labor de­part­ments, as well as the U.S. con­su­lates in the work­ers' coun­tries of ori­gin. Em­ploy­ers have to prove no will­ing and able Amer­ic­an work­ers are avail­able for the job open­ings. Even if em­ploy­ers get ap­proved for a cer­tain num­ber of for­eign work­ers, they have to of­fer jobs to all Amer­ic­ans who want them un­til halfway through their sea­son. The H-2A pro­gram, as it is known, is ex­pens­ive, too. Sellew must trans­port his for­eign work­ers to and from their home coun­tries, house them, trans­port them to and from the nurs­ery, and provide trans­port­a­tion for things like laun­dry or bank­ing. Its sole ad­vant­age is that it is by-the-book leg­al. No wor­ries about raids, si­lent or oth­er­wise. But it def­in­itely cuts in­to his bot­tom line.
The H-2A pro­gram cost Sellew a whop­ping $904,000 in 2012, the first year after the audit. That in­cluded $224,000 just to board the for­eign laborers and al­most $40,000 for their trans­port­a­tion and travel ex­penses. The wage in­creases for the nurs­ery's loc­al work­ers cost the com­pany $201,000, to en­sure that they were mak­ing as much as the for­eign work­ers.
It drives Sellew crazy that the pub­lic im­age of farm labor is that own­ers ex­ploit and un­der­pay their work­ers. "Every­one thinks we're tak­ing ad­vant­age of them," he says. "We're not." He pays the fed­er­ally man­dated hourly wage for sea­son­al for­eign work­ers, $10.91 an hour. Even be­fore the audit, Sellew was an above-board em­ploy­er. He paid $8.25 to all start­ing laborers, the state min­im­um wage. Many of his long­time work­ers made more. Now that he has to hire for­eign work­ers, all his start­ing em­ploy­ees get the H-2A wage of nearly $11 an hour. That means he hires few­er people.
Ag­ri­cul­ture is re­plete with stor­ies like Sellew's. It il­lus­trates the broad­er clash between "liv­ing wage" ad­voc­ates who want hourly wages of up to $12 an hour and hon­or­able em­ploy­ers who want to take care of their work­ers but say they can't pay that much and stay in busi­ness. Sellew, however, is squarely un­der the thumb of the fed­er­al gov­ern­ment be­cause he uses for­eign work­ers. He prob­ably couldn't ex­ploit them if he tried. And now, be­cause of the si­lent raid two years ago, he has little choice in what he must pay them. 
Oth­er em­ploy­ers like Sellew have a dif­fer­ent kind of choice: gamble with us­ing po­ten­tially un­doc­u­mented work­ers and pay them less, or sub­mit to the gov­ern­ment's will, pay them more, but make less money. In a busi­ness such as land­scap­ing, with its tight profit mar­gins and sea­son­al vari­ations, it can make the dif­fer­ence between sur­viv­ing or sur­ren­der­ing. And it's a giv­en that the work­ers suf­fer, too, with many end­ing up work­ing in­feri­or jobs — or worse, turn­ing to crime.
NOBODY WINS
Be­fore the in­vest­ig­a­tion, Sellew was a typ­ic­al ag em­ploy­er. He quietly re­lied on il­leg­al labor. He also ta­citly re­lied on his un­doc­u­mented work­ers to provide au­then­t­ic-look­ing iden­ti­fic­a­tion doc­u­ments, which gave him plaus­ible deni­ab­il­ity in the eyes of the gov­ern­ment. Was he aware that 70 per­cent to 80 per­cent of ag­ri­cul­ture work­ers had no pa­pers? Yes. Were his hir­ing prac­tices well with­in the law? Yes.
He per­son­i­fies the di­lemma fa­cing busi­ness as they try to com­ply with the gov­ern­ment's thick­et of im­mig­ra­tion reg­u­la­tions. Em­ploy­ers are re­quired to veri­fy each work­er's iden­tity and em­ploy­ment eli­gib­il­ity on fed­er­al form I-9. Hir­ing man­agers are re­quired to ac­cept au­then­t­ic-look­ing ID without ask­ing ques­tions or risk be­ing charged with dis­crim­in­a­tion. But any­one can pur­chase an au­then­t­ic-look­ing green card on a city street corner for $1,000. If in­vest­ig­at­ors dis­cov­er the fraud, the em­ploy­er must fire that work­er or face sanc­tions.
The prob­lem from the gov­ern­ment's side is that em­ploy­ers caught with un­doc­u­mented work­ers can hide be­hind a gi­ant fig leaf. Their work­ers' doc­u­ments look real, so what were they sup­posed to do? "They're go­ing to come back and say, 'Listen, I'm not an ex­pert. I can't tell the dif­fer­ence,' " says Bruce Fou­cart, a spe­cial agent at DHS's Im­mig­ra­tion and Cus­toms En­force­ment of­fice in Bo­ston, where the Prides Corner case was pro­cessed.
That's ex­actly what happened with Sellew's nurs­ery, tucked in to the verd­ant hills of east­ern Con­necti­c­ut. Fed­er­al in­vest­ig­at­ors found no leg­al vi­ol­a­tions in his hir­ing prac­tices. Even they ac­know­ledged that his work­ers' fake green cards and So­cial Se­cur­ity cards looked real. Sellew was off the hook. ICE can't pro­sec­ute em­ploy­ers who, however cyn­ic­ally, say they don't know the dif­fer­ence. The next best op­tion is to fine them. "If we can't prove that they know­ingly and in­ten­tion­ally hired il­leg­al labor, we will go after them where it hurts, which is the pock­et­book," Fou­cart said. Even that didn't work very well in the Prides Corner in­vest­ig­a­tion. Sellew wound up pay­ing a paltry $1,000 fine for a mis­take on one form.
Wash­ing­ton poli­cy­makers are well aware that they've placed em­ploy­ers in a no-win situ­ation. Un­for­tu­nately, chan­ging the law is even harder. Sellew ar­dently sup­ports the im­mig­ra­tion-re­form bill pending in Con­gress, but he fears the chance to pass it is wan­ing.
The le­gis­la­tion would give leg­al status to some 11 mil­lion un­au­thor­ized im­mig­rants, al­low­ing him to re­hire the work­ers he had to fire. (They haven't gone any­where, Al­ba says. He is still friends with a lot of them.) It would re­place the cum­ber­some H-2A pro­gram with a smooth­er work-visa sys­tem that would give for­eign work­ers the chance to stay in coun­try year-round if they con­tin­ue to work in ag­ri­cul­ture.
The work-site in­vest­ig­a­tions will con­tin­ue re­gard­less of im­mig­ra­tion re­form, giv­en ICE's man­date to keep em­ploy­ers from hir­ing un­au­thor­ized labor. Most audits, like Sellew's, cul­min­ate in the fir­ing of un­doc­u­mented work­ers and a series of fines. Pen­al­ties range from hun­dreds of dol­lars for a few fil­ing mis­takes to hun­dreds of thou­sands of dol­lars for big em­ploy­ers with a large ra­tio of un­au­thor­ized work­ers. They can be le­ni­ent or severe de­pend­ing on how co­oper­at­ive an em­ploy­er has been.
Still, the raids are ex­tremely dis­rupt­ive. "It's gut-wrench­ing," said Craig Re­gel­brugge, gov­ern­ment-re­la­tions vice pres­id­ent at the Amer­ic­an Nurs­ery and Land­scape As­so­ci­ation. He says it is far too com­mon for an audit to end how Sellew's did, with no ac­tu­al leg­al vi­ol­a­tions and a bunch of fired work­ers who head down the street and take a job as a house clean­er or a dish­wash­er, usu­ally for a lot less money.
"The way the policies are be­ing con­duc­ted right now are, frankly, cyn­ic­al. ICE comes in and audits a busi­ness, and it's com­pletely ex­on­er­ated," Re­gel­brugge said. "They fire a whole bunch of people. Those people are not de­por­ted, typ­ic­ally. It drives down their wages and work­ing con­di­tions. The busi­ness that is audited is thrown in­to tur­moil. There's no good that comes of this. Nobody wins."
The audits pur­posely avoid round­ing up and de­port­ing un­au­thor­ized work­ers, mak­ing them dis­tinct from the Bush-era raids. The Obama ad­min­is­tra­tion does not want work­ers to be pun­ished more than their bosses. But it's hard to go after em­ploy­ers without harm­ing the em­ploy­ees. They might not be de­por­ted, but they lose their jobs. They may end up work­ing for more-un­sa­vory bosses or worse, turn­ing to or­gan­ized-crime rings.
In areas that need a lot of mi­grant labor, the im­mig­ra­tion audits can raise crime rates. ICE typ­ic­ally audits em­ploy­ers in loc­al pock­ets, hit­ting all the dair­ies in north­ern Idaho, for ex­ample. The si­lent raids can dis­place thou­sands of un­doc­u­mented work­ers whose only oth­er em­ploy­ment op­tions may be in the black mar­ket. Last year, Mar­garet Mims, the sher­iff of Fresno County, Cal­if., sent a let­ter to Sen. Di­anne Fein­stein, D-Cal­if., ask­ing that ICE stop its I-9 audits in her area so that the un­em­ploy­ment rate would not be so high. If ICE re­dir­ec­ted its ef­forts to­ward hu­man traf­fick­ing, Mims sug­ges­ted, it would "help fam­il­ies in these com­munit­ies from los­ing their source of in­come."
Left un­said in Mims's let­ter was this con­clu­sion: If these folks had farm jobs, they would not be forced in­to work­ing for the Mex­ic­an drug car­tels.
BACK­BREAK­ING LABOR
There is no way to get around the grunt work of a nurs­ery job. Ruiz, the Prides Corner hu­man-re­sources man­ager, re­quires job ap­plic­ants to lift two 25-pound pot­ted plants as part of the job in­ter­view. She has heard every ex­cuse in the book when work­ers walk off the job. "They said, 'I'm too tall to be bend­ing over all day pulling weeds,' " she re­calls. " 'It's too cold.' "
One laborer told a team lead­er, "Even my moth­er says I shouldn't be work­ing this hard."
Prides Corner grows and ships everything from per­en­ni­al flowers to woody shrubs like aza­lea bushes to re­tail­ers from Bo­ston to Chica­go. The idyll­ic set­ting of the place — per­fect for a French pic­nic and per­haps a wed­ding pro­pos­al — be­lies the in­tens­ity of the pres­sure. Work­ers haul thou­sands of plants a day in all kinds of weath­er. When it rains in April, their hands are raw with cold. In Ju­ly, they struggle to stay hy­drated in the 90-de­gree hu­mid­ity. Sellew has two kinds of sun­screen in his jeep. "I need the sport stuff be­cause I sweat so much," he says.
Sellew ad­vert­ises his job open­ings loc­ally, as H-2A re­quires. If he gives a loc­al ap­plic­ant a shot at a job, it cuts in­to the num­ber of H-2A work­ers he is al­lowed to have that year. It doesn't mat­ter that those work­ers likely won't stick. "We have to kind of suck it up and hire them," he says. To screen out less ser­i­ous ap­plic­ants among the loc­als, Prides Corner now re­quires a drug test be­fore work starts. "That's helped a lot," Ruiz says.
"For do­mest­ic work­ers, oh boy, you def­in­itely need the drug test," Sellew agrees.
To dis­cour­age un­doc­u­mented work­ers from ap­ply­ing, Prides Corner's job ads now prom­in­ently state that ap­plic­ants must present val­id driver's li­censes. The leg­al ra­tionale for this new re­quire­ment is that most work­ers have to drive around the prop­erty, and they some­times have to make loc­al de­liv­er­ies. But be­fore the audit, the com­pany wasn't al­ways so de­mand­ing. Not every work­er needs to drive — and a li­cense was just one of many forms of ID an ap­plic­ant could provide.
After ful­filling the drug-free and driver's li­cense re­quire­ments, few loc­al work­ers are left. The H-2A pro­gram is the next op­tion. It is the cost­li­est way to get for­eign labor, so al­most all grow­ers shun it. A scant 4 per­cent of ag­ri­cul­ture work­ers in the United States are in the H-2A pro­gram. Most of the rest are un­doc­u­mented. A ma­jor­ity of the ag­ri­cul­ture em­ploy­ers who use it are like Sellew. After an audit, they turn to it as a last re­sort.
The truth is, nobody who isn't try­ing to make it as an im­mig­rant laborer wants this work. Even un­em­ployed people who can eas­ily prove their leg­al status stay away from ag­ri­cul­ture jobs. In 2010, only 20 per­cent of 36,000 do­mest­ic work­ers who answered H-2A-man­dated job ad­vert­ising ac­tu­ally ac­cep­ted the jobs. Five per­cent stayed through the length of the con­tract, ac­cord­ing to the Na­tion­al Coun­cil of Ag­ri­cul­tur­al Em­ploy­ers.
In areas where grow­ers can't get un­doc­u­mented labor, the har­vest situ­ation can be­come dire. In 2011, after Geor­gia passed a harsh im­mig­ra­tion law that re­quired em­ploy­ers to elec­tron­ic­ally check work­ers' IDs, farm­ers had more than 11,000 jobs open. Gov. Nath­an Deal, a Re­pub­lic­an, en­cour­aged pris­on pro­ba­tion­ers to take them, but even they walked off the job. One black­berry farm­er said he lost $50,000 that sea­son, ac­cord­ing to The At­lanta Journ­al-Con­sti­tu­tion.
Many H-2A work­ers are mak­ing out like ban­dits. Louis Ba­ra­jas, one of Prides Corner's laborers, said he has sent already $5,000 back home to his mom and nine sib­lings and has more in sav­ings. He would make $60 a week in con­struc­tion at home. Most of Sellew's H-2A work­ers have saved $10,000 or more. They all want to come back next year.
In the mean­time, the fed­er­al re­quire­ments leave Sellew shak­ing his head. Take the wheel­chair ramps man­dated by the Labor De­part­ment. The wood-stained ramps are con­spicu­ously af­fixed to the house that lodges 20 H-2A work­ers. Nev­er mind that these guys are hired to lift and load pot­ted plants all day. A per­son with back prob­lems isn't qual­i­fied to do this job, let alone a per­son who uses a wheel­chair.
"I still can't be­lieve it," Sellew says, as he drives past the han­di­cap-ac­cess­ible houses. "It looks ri­dicu­lous."
Prides Corner's oth­er 58 H-2A work­ers are housed in apart­ments about 10 miles away. Here again, the labor rules are pre­cise and strict, in­ten­ded to avoid bar­racks-like liv­ing con­di­tions. Each work­er must have 50 square feet of bed­room space. Two work­ers can share a room with 80 square feet if they are us­ing bunk beds. If the room hap­pens to be 75 square feet, however, only one work­er can be placed there. There is no cheat­ing. Ruiz is on a first-name basis with the state labor in­spect­or who meas­ures the liv­ing spaces.
Sellew saves some money over the winter be­cause he doesn't have to pay rent on the two houses on the Prides Corner prop­erty. But he will pay $8,700 per month ($150 per per­son) for the empty apart­ments after his sea­son­al work­ers leave. "It's a one-year lease," Ruiz ex­plains.
For Sellew, it helps that his H-2A work­ers, es­sen­tially pre­pack­aged and shipped up North just for these jobs, are dream em­ploy­ees. He af­fec­tion­ately calls one of them his "stud H-2A" be­cause he is a mean soc­cer play­er. "Their main re­quest is, 'Give me more hours,' " he says.
Sellew's team lead­ers — the rough equi­val­ent of fore­men on a ware­house or shop floor — also say they much prefer the H-2A work­ers over loc­als. "You have a hard time to get loc­al people," says Mickey Mor­ales, who over­sees con­struc­tion and the pot­ting sta­tions. "I'm the one who has to hire every year. I call 20 people and only 10 an­swer the phone. Only one comes for the ori­ent­a­tion, stays for a few hours, a few days, and then quits."
A LAST RE­SORT
Like most grow­ers, Sellew hates the seem­ingly end­less rules un­der the H-2A pro­gram. "They do everything they can to have us hire do­mest­ic work­ers for these jobs," he says.
That's ex­actly what the rules are in­ten­ded to do. Many of the cur­rent H-2A re­quire­ments were dis­mantled un­der the Bush ad­min­is­tra­tion, only to be put back un­der Obama at the re­quest of or­gan­ized labor. Labor uni­ons are in­tent on keep­ing the H-2A pro­gram full of strict work­er pro­tec­tions to en­sure that it is truly a last re­sort for em­ploy­ers. They be­lieve that em­ploy­ers should be do­ing everything they can to hire Amer­ic­an work­ers first.
This isn't Sellew's first ex­per­i­ence with the H-2A pro­gram. He used it in 2007 and 2008 for some of his su­per­visors, but he swore nev­er to go back to it after the Labor De­part­ment fined him for pay­ing them more than his manu­al laborers, who were mak­ing min­im­um wage. That's a no-no, even if the for­eign su­per­visors are do­ing high­er-level jobs. Sellew wound up pay­ing all of his laborers back pay for that year, a ret­ro­act­ive 20 per­cent raise. Now the H-2A rate of $10.91 per hour (prob­ably more next year) marks the new wage floor for Prides Corner. Su­per­visors, of course, make more.
From a uni­on per­spect­ive, that's what should hap­pen — for­eign work­ers should not make more than Amer­ic­an work­ers, and it's bet­ter for every­one when wages go up. This isn't just the point of view of the United Farm Work­ers, the primary ad­voc­ate for farm labor, but of or­gan­ized labor as a whole. "What works best is a place where people can come and work and still have their work­er rights re­spec­ted," says Maria Machuca, UFW's com­mu­nic­a­tions dir­ect­or. "The H-2A pro­gram cur­rently in place — if we don't get im­mig­ra­tion re­form, we'll keep that pro­gram. That works for us be­cause it has some of the ba­sic needs for farm­work­ers."
UFW is also un­apo­lo­get­ic about the re­l­at­ively high wages man­dated un­der H-2A, reas­on­ing that farm jobs are de­mand­ing and work­ers should be paid ac­cord­ingly. "Hope­fully, we're go­ing to make ag­ri­cul­tur­al work de­sir­able, at least for some people," Machuca said.
The lar­ger eco­nom­ic per­spect­ive is less rosy. Yes, the Prides Corner's wages did go up dra­mat­ic­ally, which was good for the work­ers. But Sellew has hired few­er people. He has man­aged to trim his work­force by about 13 per­cent, and he re­lies on ex­per­i­enced H-2A work­ers rather than loc­al teens who could learn on the job. "In the past, we hired high school kids and paid min­im­um wage. Guess what happened here? We stopped hir­ing them."
Yet both the farm­work­er uni­ons and the busi­ness grow­ers would prefer a new work visa that would al­low em­ploy­ees to work for the re­gistered ag­ri­cul­ture em­ploy­er of their choice. UFW and the grow­er com­munity ne­go­ti­ated the de­tails of the pro­posed farm visa this spring, and it be­came part of the Sen­ate im­mig­ra­tion bill that passed in June.
Ag­ri­cul­ture lob­by­ists now are try­ing to con­vince House law­makers that the ag­ri­cul­ture visa in the Sen­ate bill would make far more sense than chan­ging the H-2A pro­gram to be more em­ploy­er-friendly, as many Re­pub­lic­ans want to do. But that con­ver­sa­tion, as with many oth­ers on im­mig­ra­tion, re­mains mired in the House GOP's re­luct­ance to do any­thing at all. Many con­ser­vat­ives are op­posed to the idea of leg­al­iz­ing un­doc­u­mented im­mig­rants, and they could block al­most any re­form le­gis­la­tion from passing.
THE LONG VIEW
Sellew tries to keep a long-term per­spect­ive. Grow­ing plants out­doors for com­mer­cial sale de­pends on so many factors bey­ond hu­man con­trol that it re­quires a Zen-like philo­sophy to sur­vive. He has a copy of Henry Dav­id Thor­eau's Faith in a Seed in his of­fice.
He mar­vels that he sur­vived the ICE audit re­l­at­ively un­scathed, even though his busi­ness has stag­nated. But, he re­flects, his life is stable. His mar­riage is in­tact. His blood pres­sure is still nor­mal, prob­ably helped by his avid moun­tain bik­ing. His son Jack, a ju­ni­or at Cor­nell Uni­versity, still wants a ca­reer in ag­ri­cul­ture, even after wit­ness­ing the hellish sum­mer that fol­lowed the fate­ful vis­it from the gov­ern­ment.
Like his fath­er, Jack Sellew takes a long view on the fu­ture of ag­ri­cul­ture. "My gen­er­a­tion, and Amer­ica, dis­tances it­self farther and farther from the farm. I'm at Cor­nell. Fifty years ago, a ma­jor­ity of people here would have worked on a farm, driv­ing a tract­or and all that," he says. "Now I'm a big minor­ity that knows how to do any of that stuff. It's not a good thing."
Jack is also in the minor­ity among Amer­ic­an work­ers be­cause he can handle, and even likes, ag­ri­cul­ture work. "I spaced plants all sum­mer," he said of the months after the audit. "I per­son­ally love put­ting on gym shorts and a shirt and just sweat­ing all day, work­ing hard." Some of his en­thu­si­asm came from his youth and de­sire to show the more es­tab­lished work­ers that he was up to the task. "I'm just a high school kid. I didn't want them to think, 'Aw, he's just the own­er's son.' "
An­oth­er Prides Corner work­er, Bry­an Bill, is one of the few Amer­ic­an laborers hired in 2011 who ac­tu­ally stuck. Bill said he wanted to quit ini­tially, but he had a wife and two kids to sup­port. "As a man, you do what you have to do." As a team lead­er now, he is proud he can keep up with "the guys," the H-2A work­ers.
As work­ers like Jack and Bry­an be­come rarer, U.S. ag­ri­cul­ture will de­pend on people who come from poorer coun­tries to per­form manu­al labor in this rich one. Amer­ic­an grow­ers gen­er­ally agree it's not such a bad thing if those for­eign work­ers put down roots here. And in fact many of them have. Some have chil­dren who are cit­izens be­cause they were born here. Labor De­part­ment data show that oth­ers, even without pa­pers, have moved on to less phys­ic­ally tax­ing in­dus­tries.
Yet as long as the ag­ri­cul­ture work­force has no simple way to get pa­pers, poli­cing the in­dustry will be a night­mare. There are too many em­ploy­ers for ICE to keep up with all of them. The agency does the best it can to "send a mes­sage" to em­ploy­ers to act with­in the law. It is about as suc­cess­ful as the high­way patrol is in stop­ping speed­ers.
Sellew doesn't blame ICE for his troubles. He knows the aud­it­ors were just do­ing their job. He does, however, blame Re­pub­lic­ans who are hold­ing up im­mig­ra­tion re­form. "I'm a Re­pub­lic­an, but maybe I'm really an in­de­pend­ent," he says. "I don't think [Re­pub­lic­ans] are pro-busi­ness. A lot of people don't un­der­stand what it's like to get a labor force to do manu­al labor, and do it well. Im­mig­rant labor does the work in­cred­ibly well."
It's an ad­mis­sion that many with­in the U.S. — a coun­try built on farm­ing — still have dif­fi­culty com­ing to terms with. The dream to work the land is one that now be­longs to oth­ers.