With en­roll­ment in Obama­care health ex­changes set to open in less than a week, Amer­ic­an opin­ion on the law re­mains hardened, with a nar­row plur­al­ity pre­fer­ring to keep the health care law rather than re­peal it.
The find­ings come as Con­gress de­bates an ef­fort by con­ser­vat­ive law­makers and tea-party groups to de­fund the law or shut down the gov­ern­ment on Oct. 1.
The par­tis­an di­vide over the health care law is stark. More than three in four Re­pub­lic­ans, 77 per­cent, said the pro­gram should be re­pealed. Mean­while, 72 per­cent of Demo­crats said it should re­main in place. In­de­pend­ents are closely di­vided: 46 per­cent fa­vor re­peal and 45 per­cent op­pose.
Broadly, the sur­vey res­ults mir­ror past United Tech­no­lo­gies/Na­tion­al Journ­al Con­gres­sion­al Con­nec­tion Polls in Ju­ly and March, each of which found keep­ing the law favored by a nar­row plur­al­ity. Di­vi­sions over the law are not just by party but by gender, race, in­come, and level of edu­ca­tion.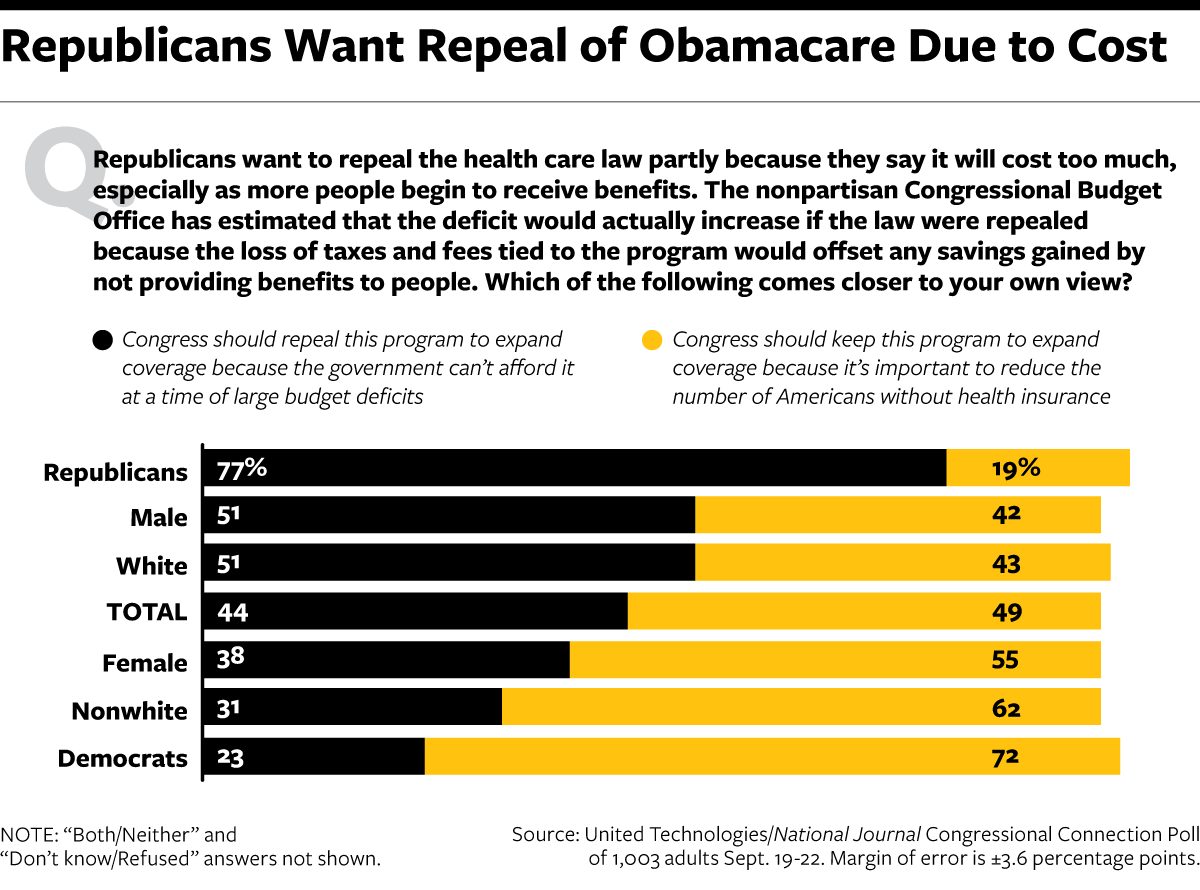 A ma­jor­ity of men, 51 per­cent, are in fa­vor of re­peal. But 55 per­cent of wo­men say the law should re­main in place. A nar­row ma­jor­ity of whites, 51 per­cent, fa­vor re­peal while 62 per­cent of non­whites would rather the law stay in place.
White men, par­tic­u­larly those without a col­lege de­gree, are the staunchest op­pon­ents of Obama­care. More than three in five of them, 61 per­cent, say it should be re­pealed. Con­trast that with col­lege-edu­cated white wo­men, 56 per­cent of whom be­lieve the pro­gram should stay.
Those with col­lege de­grees are the staunchest sup­port­ers of the law, with 56 per­cent in fa­vor of it. Among those with a high school edu­ca­tion or less, only 46 per­cent back it—a 10-point gap.
Those mak­ing less than $50,000 per year want to keep the law by 13 points, 53 per­cent to 40 per­cent. But a plur­al­ity of those mak­ing more than $50,000 would rather see it re­pealed, 49 per­cent to 45 per­cent. Not­ably, the law was writ­ten chiefly to help poorer Amer­ic­ans.
The poll, con­duc­ted Sept. 19-22, in­ter­viewed 1,003 adults over land­line and cell phones. It has a mar­gin of er­ror of plus or minus 3.6 per­cent­age points.
{{ BIZOBJ (video: 4469) }}