A few hours be­fore slam­ming in­to the East Coast, flood­ing base­ments, splin­ter­ing board­walks, and des­troy­ing whole com­munit­ies, Hur­ricane Sandy did something that cru­cially changed the na­tion­al re­sponse to the storm — it stopped be­ing a hur­ricane.
It didn't mat­ter that Sandy was a gi­gant­ic (ex­plet­ive) storm. It had com­bined in­to something more like a nor'east­er. Tech­nic­ally, it was a post-trop­ic­al cyc­lone, a name that surely has less con­not­at­ive mean­ing than "hur­ricane."
And then the bur­eau­cracy got in the way. Yes, it ap­pears not even the weath­er is free of red tape. Be­low, see how the hur­ricane-warn­ing mod­el looked when Sandy came ashore. When the storm be­came "post-trop­ic­al" (and there­fore not tech­nic­ally a hur­ricane) as it ap­proached land, it dropped out of the Na­tion­al Hur­ricane Cen­ter's pur­view.
(NOAA)
Warn­ings about the storm didn't drop al­to­geth­er. They did, however, change hands to an­oth­er branch of the weath­er bur­eau­cracy: loc­al Na­tion­al Weath­er Ser­vice of­fices. "That choice meant that loc­al met­eor­o­lo­gic­al of­fices, without the NHC's hur­ricane ex­pert­ise, de­term­ined what loc­al warn­ings to is­sue," an art­icle in the Septem­ber is­sue of Earth magazine, pub­lished by the Amer­ic­an Geosciences In­sti­tute, ex­plains. "It meant that loc­al gov­ern­ment of­fi­cials had to de­term­ine their own evac­u­ation or­ders from the loc­al met­eor­o­lo­gists."
The Earth piece is an in­ter­est­ing and at times frus­trat­ing out­line of the chaos of what hap­pens when nature in­ter­sects with ri­gid gov­ern­ment pro­to­cols. Be­fore the storm struck, the Na­tion­al Ocean­ic and At­mo­spher­ic Ad­min­is­tra­tion (the weath­er ser­vice's par­ent agency) was wor­ried that if the elec­tron­ic sys­tems had sent out a hur­ricane warn­ing but called it a "post-trop­ic­al storm," the sys­tems could have failed, they were that ri­gid. James L. Frank­lin, the chief of the Hur­ricane Spe­cial­ist Unit at the Na­tion­al Hur­ricane Cen­ter, told Earth "it might have worked, but we had no way to test it…. We are ob­lig­ated to fol­low the rules that we told [weath­er re­port­ers, loc­al gov­ern­ments, and emer­gency re­spon­ders] we will fol­low."
Earth ex­plains what happened next:
In the end, NHC stuck with the NOAA pro­tocol and went with the suite of warn­ings pre­scribed for non­trop­ic­al storms, con­sist­ent with the NHC's fore­casts. But that choice meant that loc­al met­eor­o­lo­gic­al of­fices, without the NHC's hur­ricane ex­pert­ise, de­term­ined what loc­al warn­ings to is­sue; it meant that loc­al gov­ern­ment of­fi­cials had to de­term­ine their own evac­u­ation or­ders from the loc­al met­eor­o­lo­gists. There was no uni­fied mes­sage, such as would have come from NHC if the team had re­tained con­trol in a hur­ricane scen­ario. Every warn­ing would have come from NHC, labeled as a hur­ricane from start to fin­ish, had Sandy hit land as a hur­ricane.
So what the change of storm class did was change the mes­sage, and per­haps watered it down in the pro­cess. "NWS was con­cerned that if it is­sued hur­ricane watches and warn­ings and then dropped them be­fore the storm struck land (and after the storm transitioned to post-trop­ic­al), there would be sig­ni­fic­ant con­fu­sion on the part of de­cision makers and the pub­lic," the of­fi­cial NOAA as­sess­ment of the storm reads.
Those in the weath­er me­dia were irked. Bry­an Nor­coss at The Weath­er Chan­nel told Earth, "The pub­lic mes­sages were very garbled on the level of threat." And this trickled down to the pub­lic's un­der­stand­ing of the storm. A Uni­versity of Pennsylvania as­sess­ment found that:
While there was uni­ver­sal aware­ness of the threat that Sandy posed and al­most all took some pre­par­at­ory ac­tion, there was also wide­spread con­fu­sion about the nature of warn­ings is­sued about Sandy, and pre­par­a­tion that was in­suf­fi­cient for the threat Sandy posed. For ex­ample, as short as six hours be­fore land­fall and after trop­ic­al-storm-force winds had been af­fect­ing the coast for a num­ber of hours, 40 per­cent of re­spond­ents mis­takenly be­lieved they were un­der a hur­ricane watch (in­stead of a hur­ricane-force wind warn­ing). Like­wise, most coastal res­id­ents mis­con­strued the primary threat of Sandy as com­ing from wind rather than wa­ter.
And it was the storm surge that caused the worst of the dam­age. The epis­ode, however, did spur NOAA to change its warn­ing pro­to­cols. Now, if a hur­ricane gets down­graded and it's still a massive storm set to do dam­age, we're still go­ing to treat it like a hur­ricane. This is what the new mod­el looks like.
(NOAA)
What We're Following See More »
UNTIL DEC. 9, ANYWAY
Obama Signs Bill to Fund Government
4 hours ago
REDSKINS IMPLICATIONS
SCOTUS to Hear Case on Offensive Trademarks
4 hours ago
WHY WE CARE
"The Supreme Court is taking up a First Amendment clash over the government's refusal to register offensive trademarks, a case that could affect the Washington Redskins in their legal fight over the team name. The justices agreed Thursday to hear a dispute involving an Asian-American rock band called the Slants, but they did not act on a separate request to hear the higher-profile Redskins case at the same time." Still, any precedent set by the case could have ramifications for the Washington football team.
STAFF PICKS
Bannon Still Collecting Royalties from 'Seinfeld'
5 hours ago
WHY WE CARE
The Hollywood Reporter takes a look at a little-known intersection of politics and entertainment, in which Trump campaign CEO Steve Bannon is still raking in residuals from Seinfeld. Here's the digest version: When Seinfeld was in its infancy, Ted Turner was in the process of acquiring its production company, Castle Rock, but he was under-capitalized. Bannon's fledgling media company put up the remaining funds, and he agreed to "participation rights" instead of a fee. "Seinfeld has reaped more than $3 billion in its post-network afterlife through syndication deals." Meanwhile, Bannon is "still cashing checks from Seinfeld, and observers say he has made nearly 25 times more off the Castle Rock deal than he had anticipated."
IT'S ALL CLINTON
Reliable Poll Data Coming in RE: Debate #1
6 hours ago
WHY WE CARE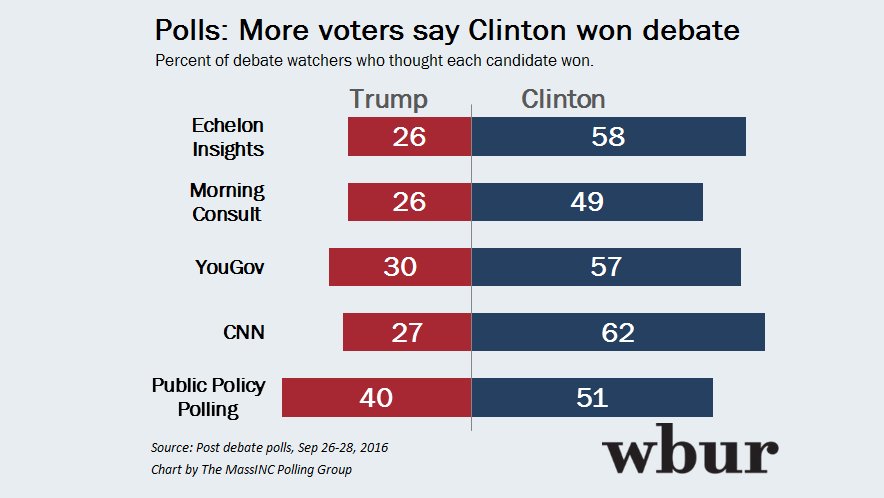 NEXT THURSDAY
Trump Transition Team Meeting with Silicon Valley VIPs
8 hours ago
THE DETAILS
Donald Trump's "transition team will meet next week with representatives of the tech industry, multiple sources confirmed, even as their candidate largely has been largely shunned by Silicon Valley. The meeting, scheduled for next Thursday at the offices of law and lobbying firm BakerHostetler, will include trade groups like the Information Technology Industry Council and the Internet Association that represent major Silicon Valley companies."