Sept. 26, 2013, 6:29 a.m.
The debt ceil­ing is a ter­ri­fy­ing, con­fus­ing, amorph­ous mon­ster. But there's a slide show that can at least give you everything you need to know about it.
We're not even totally in the clear on a shut­down over fund­ing the gov­ern­ment, but Con­gress is already onto the next fisc­al crisis. Treas­ury Sec­ret­ary Jac­ob Lew sent a let­ter to Con­gress on Wed­nes­day say­ing that if Con­gress doesn't act to raise the debt ceil­ing, the gov­ern­ment will be left with just $30 bil­lion in cash. "If we have in­suf­fi­cient cash on hand," Lew wrote, "it would be im­possible for the United States of Amer­ica to meet all of its ob­lig­a­tions for the first time in our his­tory."
This is something to be le­git­im­ately frightened about. House Re­pub­lic­ans, while they look as if they are get­ting ready to re­treat on the budget fight, are gear­ing up to go very, very hard on the debt lim­it. It's im­possible for con­gres­sion­al lead­er­ship to say how this will end, much less your humble me­dia pro­gnost­ic­at­or.
But how ex­actly did we get here? And what ex­actly could we be look­ing at? The Bi­par­tis­an Policy Cen­ter has put to­geth­er a slide show with lit­er­ally any­thing you could pos­sibly want to know about the mech­an­ics of the debt lim­it, how the gov­ern­ment has been able to hold off on "ex­traordin­ary meas­ures" for this long, and why Oc­to­ber could be a fisc­al apo­ca­lypse.
The cen­ter, even after Lew's let­ter, is pre­dict­ing that the U.S. gov­ern­ment will no longer be able to meet its fin­an­cial ob­lig­a­tions between Oc­to­ber 18 and Novem­ber 5. Here's why.
What We're Following See More »
NEVER TRUMP
USA Today Weighs in on Presidential Race for First Time Ever
11 hours ago
THE DETAILS
"By all means vote, just not for Donald Trump." That's the message from USA Today editors, who are making the first recommendation on a presidential race in the paper's 34-year history. It's not exactly an endorsement; they make clear that the editorial board "does not have a consensus for a Clinton endorsement." But they state flatly that Donald Trump is, by "unanimous consensus of the editorial board, unfit for the presidency."
COMMISSIONERS NEED TO DELIBERATE MORE
FCC Pushes Vote on Set-Top Boxes
11 hours ago
THE LATEST
"Federal regulators on Thursday delayed a vote on a proposal to reshape the television market by freeing consumers from cable box rentals, putting into doubt a plan that has pitted technology companies against cable television providers. ... The proposal will still be considered for a future vote. But Tom Wheeler, chairman of the F.C.C., said commissioners needed more discussions."
UNTIL DEC. 9, ANYWAY
Obama Signs Bill to Fund Government
16 hours ago
IT'S ALL CLINTON
Reliable Poll Data Coming in RE: Debate #1
18 hours ago
WHY WE CARE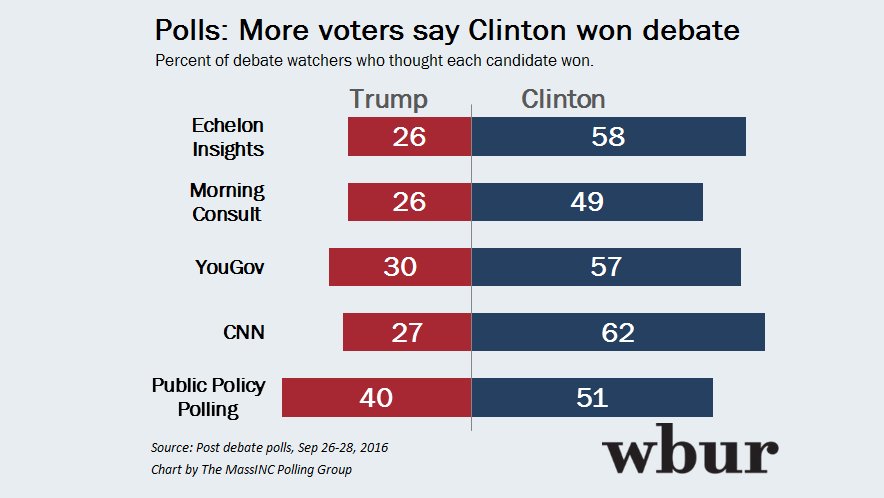 WHAT WILL PASS?
McConnell Doubts Criminal Justice Reform Can Pass This Year
20 hours ago