Sept. 26, 2013, 7:19 a.m.
Bar­ring some un­usu­al man­euv­er­ing by Sen­ate Ma­jor­ity Lead­er Harry Re­id, Ron Binz's chances of head­ing the Fed­er­al En­ergy Reg­u­lat­ory Com­mis­sion may be all but gone.
Sen. Tim Scott, R-S.C., an­nounced his op­pos­i­tion to Binz on Thursday morn­ing, mean­ing all 10 Re­pub­lic­ans on the Sen­ate's En­ergy and Nat­ur­al Re­sources Com­mit­tee—along with Demo­crat­ic Sen. Joe Manchin of West Vir­gin­ia—re­portedly stand against his con­firm­a­tion. That means the 22-mem­ber pan­el will not be able to re­com­mend him for a full Sen­ate vote.
A spokes­man for com­mit­tee chair­man Ron Wyden, D-Ore., signaled the White House may be mov­ing in a new dir­ec­tion. "The com­mit­tee is aware that oth­er can­did­ates are be­ing con­sidered to lead the FERC," Keith Chu said.
Binz's con­firm­a­tion pro­spects had been tenu­ous fol­low­ing a gruel­ing hear­ing be­fore the com­mit­tee earli­er this month. Manchin and Sen. Rob Port­man, R-Ohio, have said Binz re­vealed a bi­as to­ward re­new­able fuels over coal dur­ing his time as head of the Col­or­ado reg­u­lat­ory au­thor­ity, but Binz has denied he is anti-coal.
Spec­u­la­tion in­tens­i­fied Wed­nes­day when Sen. Mary Landrieu, D-La., said she had heard Binz was with­draw­ing his name. Not so, ac­cord­ing to the com­mis­sion. "Mr. Binz has not with­drawn his nom­in­a­tion," said FERC spokes­wo­man Mary O'Driscoll.
Al­though Binz may not be able to earn the com­mit­tee's ma­jor­ity sup­port, a spokes­man for Wyden said the pan­el would still hold a vote on re­com­mend­ing him to the full Sen­ate.
What re­mains to be seen is if Re­id will put Binz's con­firm­a­tion be­fore the full Sen­ate without the com­mit­tee's ap­prov­al, a move pre­vi­ous ma­jor­ity lead­ers have used in rare in­stances for stalled nom­in­ees. In 2005, the nom­in­a­tion of former Am­bas­sad­or to the United Na­tions John Bolton was sent to a vote be­fore the Sen­ate without the back­ing of the Sen­ate For­eign Re­la­tions Com­mit­tee. Re­id has not stated wheth­er he will use such a man­euver, but he did push the White House to nom­in­ate Binz over the ori­gin­al choice, John Nor­ris. 
Ac­cord­ing to Sen­ate data, only five nom­in­a­tions that got a neut­ral re­port­ing from a com­mit­tee have been brought to the floor since 1987, and only one was ap­proved. Sim­il­arly, only five neg­at­ive re­ports on nom­in­ees were sent to the Sen­ate floor, and just one was ap­proved.
What We're Following See More »
NEVER TRUMP
USA Today Weighs in on Presidential Race for First Time Ever
7 hours ago
THE DETAILS
"By all means vote, just not for Donald Trump." That's the message from USA Today editors, who are making the first recommendation on a presidential race in the paper's 34-year history. It's not exactly an endorsement; they make clear that the editorial board "does not have a consensus for a Clinton endorsement." But they state flatly that Donald Trump is, by "unanimous consensus of the editorial board, unfit for the presidency."
COMMISSIONERS NEED TO DELIBERATE MORE
FCC Pushes Vote on Set-Top Boxes
7 hours ago
THE LATEST
"Federal regulators on Thursday delayed a vote on a proposal to reshape the television market by freeing consumers from cable box rentals, putting into doubt a plan that has pitted technology companies against cable television providers. ... The proposal will still be considered for a future vote. But Tom Wheeler, chairman of the F.C.C., said commissioners needed more discussions."
UNTIL DEC. 9, ANYWAY
Obama Signs Bill to Fund Government
12 hours ago
IT'S ALL CLINTON
Reliable Poll Data Coming in RE: Debate #1
14 hours ago
WHY WE CARE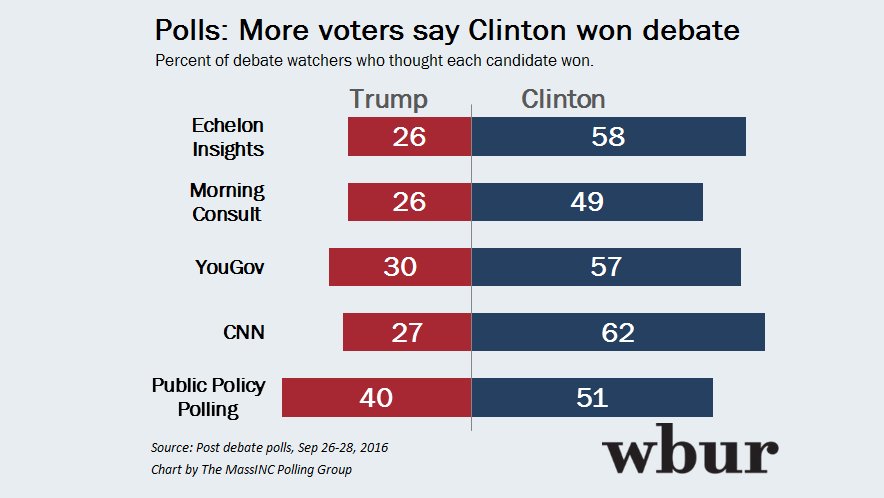 WHAT WILL PASS?
McConnell Doubts Criminal Justice Reform Can Pass This Year
17 hours ago