Sept. 26, 2013, 10:14 a.m.
There are lots of im­port­ant per­cent­ages in Amer­ic­an polit­ics, from the 99 per­cent to the 47 per­cent, but this week's most im­port­ant is the 22 per­cent. That's the por­tion of Amer­ic­ans who identi­fy with the tea-party move­ment ac­cord­ing to a new Gal­lup sur­vey re­leased Thursday. That's a re­cord low, down 10 per­cent­age points from a peak of 32 per­cent in 2010. But that doesn't mean the con­ser­vat­ive move­ment's in­flu­ence in­side Con­gress has waned.
If you're strug­gling to un­der­stand why Re­pub­lic­ans seem wed­ded to a con­front­a­tion over Obama­care that could lead to a gov­ern­ment shut­down or debt de­fault, or why Re­pub­lic­an Sen. Ted Cruz of Texas says the Amer­ic­an people are with him, des­pite the fact that most Amer­ic­ans say the GOP should just ac­cept the fact that Obama­care is law of the land, or that voters op­pose shut­ting down the gov­ern­ment over the law by a three-to-one mar­gin, look no fur­ther than the 22 per­cent. Thanks to ger­ry­man­der­ing, many Re­pub­lic­ans are more wor­ried about a primary chal­lenge than los­ing in a gen­er­al elec­tion — un­til that changes, the 22 per­cent will com­mand out­size im­port­ance re­l­at­ive to their size.
Noth­ing has made that more clear than the fight over gov­ern­ment fund­ing this week. While most Amer­ic­ans — and even most Re­pub­lic­ans, in some polls — op­pose the con­front­a­tion strategy, the 22 per­cent can't get enough of it. Take a Pew sur­vey from this week, which asked re­spond­ents if law­makers should "stand by their prin­ciples, even if the gov­ern­ment shuts down," or "com­prom­ise, even on a budget you dis­agree with." Over­all, a clear ma­jor­ity — 57 per­cent of Amer­ic­ans — said com­prom­ise. But among tea-party-lean­ing Re­pub­lic­ans, 71 per­cent said law­makers should stand on prin­ciple. Just 20 per­cent of the tea parti­ers want le­gis­lat­ors to com­prom­ise.
But here's the most re­veal­ing bit: Non-tea-party Re­pub­lic­ans favored com­prom­ise by a mar­gin of 54 per­cent to 38 per­cent. In oth­er words, Cruz isn't just at odds with most Amer­ic­ans, he's at odds with most Re­pub­lic­ans. 
A CN­BC poll re­leased Monday found the same split. While a ma­jor­ity of Re­pub­lic­ans sup­port de­fund­ing Obama­care, a near-ma­jor­ity op­pose threat­en­ing a gov­ern­ment shut­down over the is­sue 48 per­cent to 36 per­cent. Not sur­pris­ingly, in­de­pend­ents and Demo­crats op­pose the strategy by far-lar­ger mar­gins. In fact, the only demo­graph­ic unit that favored the con­front­a­tion strategy is those who identi­fy with the tea party; they sup­por­ted the shut­down ap­proach by a 54 per­cent ma­jor­ity.
And if it seems crazy that Re­pub­lic­ans would de­mand a lengthy list of con­ser­vat­ive wish-list items in re­turn for rais­ing the debt ceil­ing, as they did Thursday, you can thank the 22 per­cent for that as well. As The Wash­ing­ton Post's Greg Sar­gent poin­ted out, pars­ing data from his pa­per's re­cent poll, even though most Re­pub­lic­ans agree that not rais­ing the debt lim­it would cause "ser­i­ous eco­nom­ic harm," a ma­jor­ity — 53 per­cent to 32 per­cent — say Con­gress should still forgo rais­ing it, des­pite the danger.
And as Gal­lup found, the gap between Re­pub­lic­ans and the tea party may be widen­ing. The poll­ster's 2010 sur­vey on the move­ment found that 65 per­cent of Re­pub­lic­ans said they sup­por­ted the tea party. But Thursday's sur­vey found that that num­ber has dropped nearly 30 points, with just 38 per­cent of Re­pub­lic­ans now say­ing they sup­port the tea party. And there isn't much love in the oth­er dir­ec­tion, as just 55 per­cent of tea parti­ers have a fa­vor­able view of the Re­pub­lic­an Party.
This helps ex­plain why Cruz took to Rush Limbaugh's air­waves just minutes after end­ing his Sen­ate floor speech to slam his GOP col­leagues as cow­ardly de­feat­ists. And it helps ex­plain which "Amer­ic­an people" Ted Cruz is listen­ing to when he says that he's heed­ing the will of the people. He's listen­ing to the 22 per­cent, not the 59 per­cent who say he shouldn't shut down the gov­ern­ment to de­fund Obama­care.
What We're Following See More »
SAUDI ARABIA BILL
Veto Override Scheduled for Wednesday in Senate
14 minutes ago
THE LATEST
Senate Majority Leader Mitch McConnell said this afternoon that the Senate on Wednesday will take up an override of President Obama's veto of legislation that would allow the families of 9/11 victims to sue the government of Saudi Arabia. "The vote is expected garner the two-thirds majority necessary to override the veto."
MEDIA SHOULD HOLD TRUMP RESPONSIBLE
Reid Devotes Senate Floor Speech to Trump's 'Racism'
58 minutes ago
THE LATEST
"Donald Trump is a racist," announced Senate Minority Leader Harry Reid from the Senate floor this afternoon. Reid said all of us are occasionally politically incorrect, but "I don't know of anyone that when that happens doesn't acknowledge it and, if necessary, apologize quickly." But Trump, he added, says things with "full intent to demean and to denigrate." Reid argued that the media isn't holding Trump to account, and should explicitly call him a racist.
ABSENT FROM LIST: GENNIFER FLOWERS
Most Trump Guests Have Military Ties
4 hours ago
TOP OF MIND
Trending on Google: 'Why Should Trump Not Be President'
4 hours ago
THE DETAILS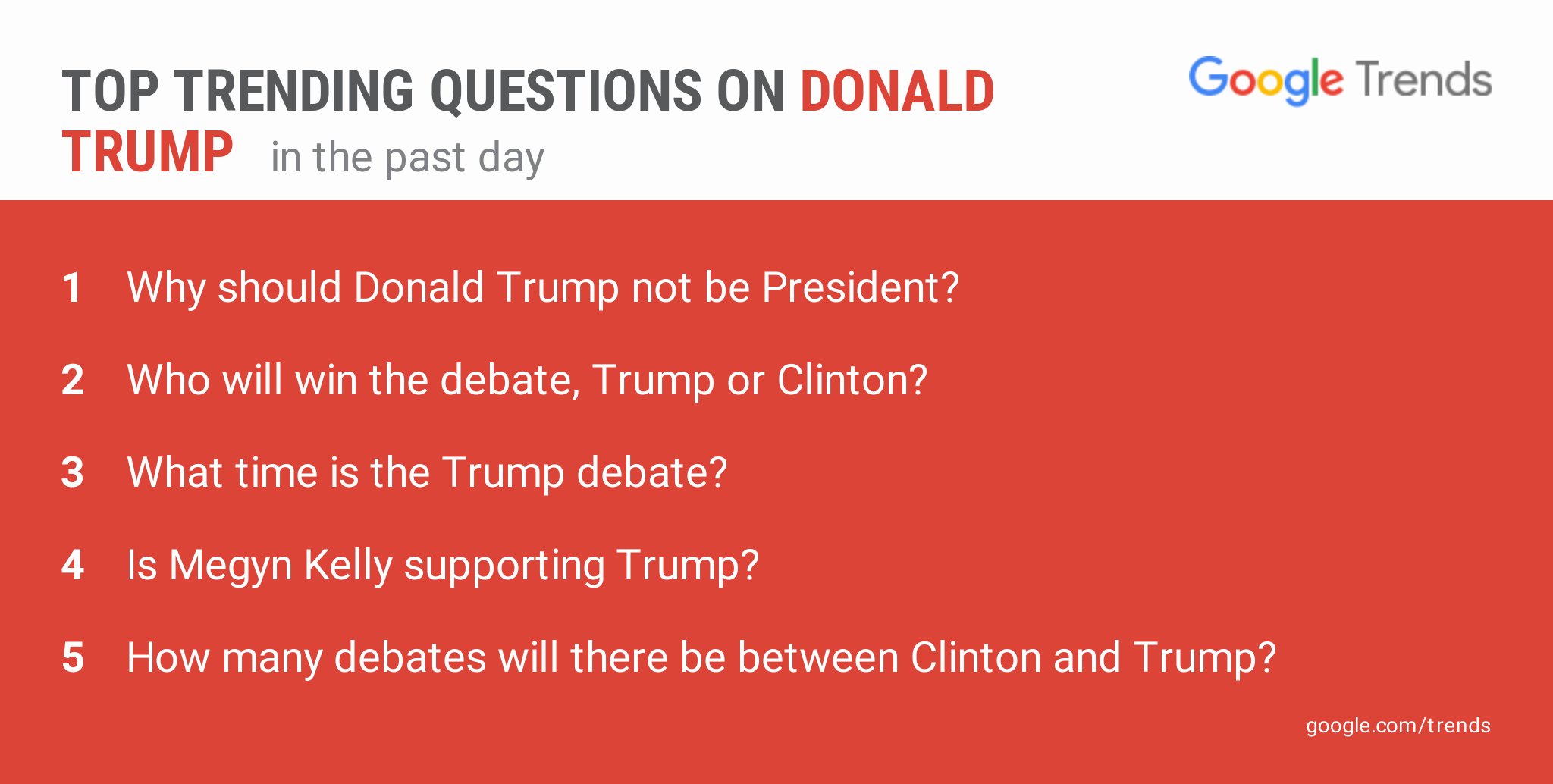 WHO PLAYED THE DONALD?
Longtime Clinton Aide Played Trump in Mock Debates
7 hours ago
THE DETAILS
After keeping the information private for most of the lead-up to the debate on Monday, it has been revealed that longtime Clinton aide Philippe Reines has been playing the role of Donald Trump in her debate prep. Reines knows Clinton better than most, able to identify both her strengths and weaknesses, and his selection for a sparring partner shows that Clinton is preparing for the brash and confrontational Donald Trump many have come to expect.