Sept. 26, 2013, 10:02 a.m.
Ex­perts mon­it­or­ing a U.N. gath­er­ing that con­vened Thursday to dis­cuss atom­ic-weapons elim­in­a­tion said they ex­pec­ted the event to re­veal ten­sions that have long di­vided nuc­le­ar-armed na­tions from much of the world.
None of the five coun­tries with re­cog­nized nuc­le­ar ar­sen­als ori­gin­ally sup­por­ted con­ven­ing the one-day High-level Meet­ing on Nuc­le­ar Dis­arm­a­ment in New York. An in­de­pend­ent U.N. think tank, though, has held out hope that Thursday's for­um could fo­cus new at­ten­tion on in­ter­na­tion­al ini­ti­at­ives to elim­in­ate nuc­le­ar arms, and pos­sibly build mo­mentum be­hind ef­forts to re­vive the Con­fer­ence on Dis­arm­a­ment — the world's only per­man­ent dis­arm­a­ment for­um — from polit­ic­al stas­is.
"In sub­stance, every­body's aware that noth­ing much will hap­pen" at the event, said Marc Fin­aud, a seni­or res­id­ent fel­low with the U.N. In­sti­tute for Dis­arm­a­ment Re­search. The meet­ing is "not a frame­work for ne­go­ti­ation," and would con­sist largely of "a series of mono­logues" by dip­lo­mats and spokespeople for non­gov­ern­ment­al groups, he said in a Tues­day tele­phone in­ter­view.
Brit­ish dip­lo­mat Guy Pol­lard last year voiced puz­zle­ment over how the planned gath­er­ing could ad­vance the goals of 3-year-old "road map" backed by sig­nat­or­ies to the Nuc­le­ar Non­pro­lif­er­a­tion Treaty. That pact only re­cog­nizes the nuc­le­ar ar­sen­als of the United King­dom and four oth­er coun­tries: China, France, Rus­sia, and the United States.
The "P-5" na­tions made plans to at­tend, though, when an out­cry en­sued over their de­cision to boy­cott nuc­le­ar-ab­ol­i­tion work­ing-group talks held over the sum­mer, Fin­aud said.
"The P-5 ac­tu­ally real­ized that maybe it was not a good policy to be ab­sent from the room" after see­ing "frus­tra­tion" mount over their de­cision earli­er this year, ac­cord­ing to Fin­aud, who was sched­uled to speak at a side dis­cus­sion on mak­ing the most of Thursday's main meet­ing.
U.N. Sec­ret­ary Gen­er­al Ban Ki-moon opened Thursday's meet­ing with a plea for non­pro­lif­er­a­tion-treaty hol­d­outs to sign onto the pact. In­dia, Pakistan and North Korea have nuc­le­ar-weapons pro­grams out­side the non­pro­lif­er­a­tion re­gime, and join­ing un­der its cur­rent lan­guage would re­quire them to give up those arms. The same could ap­ply to Is­rael, a non-sig­nat­ory that has neither con­firmed nor denied pos­sess­ing an atom­ic ar­sen­al.
The U.N. chief also urged Ir­an to an­swer long-stand­ing ques­tions about its nuc­le­ar pro­gram. Ir­a­ni­an ne­go­ti­at­ors are due on Fri­day to join new talks aimed at clear­ing the way for in­ter­na­tion­al in­vest­ig­at­ors to ex­am­ine wheth­er Tehran once took sci­entif­ic steps tied to nuc­le­ar-arms de­vel­op­ment.
What We're Following See More »
UNTIL DEC. 9, ANYWAY
Obama Signs Bill to Fund Government
56 minutes ago
REDSKINS IMPLICATIONS
SCOTUS to Hear Case on Offensive Trademarks
1 hours ago
WHY WE CARE
"The Supreme Court is taking up a First Amendment clash over the government's refusal to register offensive trademarks, a case that could affect the Washington Redskins in their legal fight over the team name. The justices agreed Thursday to hear a dispute involving an Asian-American rock band called the Slants, but they did not act on a separate request to hear the higher-profile Redskins case at the same time." Still, any precedent set by the case could have ramifications for the Washington football team.
STAFF PICKS
Bannon Still Collecting Royalties from 'Seinfeld'
2 hours ago
WHY WE CARE
The Hollywood Reporter takes a look at a little-known intersection of politics and entertainment, in which Trump campaign CEO Steve Bannon is still raking in residuals from Seinfeld. Here's the digest version: When Seinfeld was in its infancy, Ted Turner was in the process of acquiring its production company, Castle Rock, but he was under-capitalized. Bannon's fledgling media company put up the remaining funds, and he agreed to "participation rights" instead of a fee. "Seinfeld has reaped more than $3 billion in its post-network afterlife through syndication deals." Meanwhile, Bannon is "still cashing checks from Seinfeld, and observers say he has made nearly 25 times more off the Castle Rock deal than he had anticipated."
IT'S ALL CLINTON
Reliable Poll Data Coming in RE: Debate #1
2 hours ago
WHY WE CARE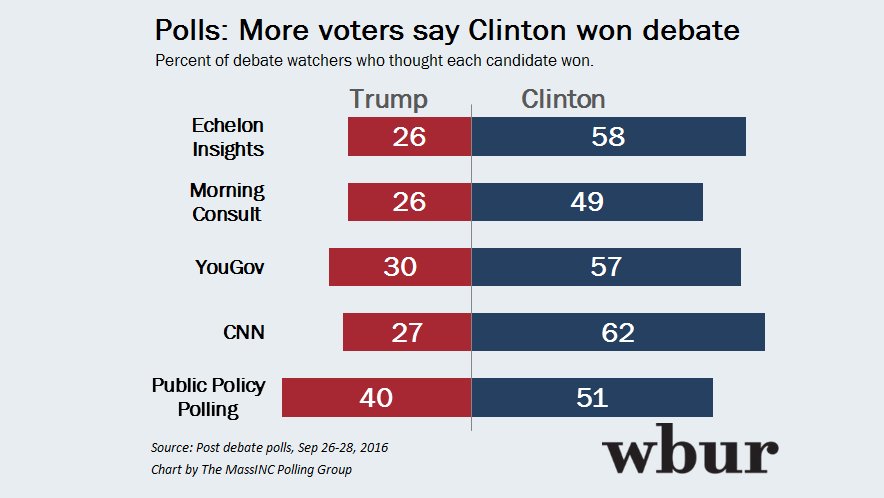 NEXT THURSDAY
Trump Transition Team Meeting with Silicon Valley VIPs
5 hours ago
THE DETAILS
Donald Trump's "transition team will meet next week with representatives of the tech industry, multiple sources confirmed, even as their candidate largely has been largely shunned by Silicon Valley. The meeting, scheduled for next Thursday at the offices of law and lobbying firm BakerHostetler, will include trade groups like the Information Technology Industry Council and the Internet Association that represent major Silicon Valley companies."