Sept. 27, 2013, 7:02 a.m.
What's next on non­pro­lif­er­a­tion and in­ter­na­tion­al se­cur­ity, in Wash­ing­ton and around the globe.
— Sept. 30: Deputy De­fense Sec­ret­ary Ashton Carter will be all about In­dia — at least for an hour. He's sched­uled to dish about U.S.-In­dia mil­it­ary co­oper­a­tion and de­fense trade at the Cen­ter for Amer­ic­an Pro­gress, a Wash­ing­ton think tank with strong ties to Pres­id­ent Obama. Carter has been steer­ing the Pentagon's ef­forts to se­cure a stronger mil­it­ary part­ner­ship with the na­tion that has both a boom­ing eco­nomy and his­tory of nuc­le­ar-weapons test­ing. His talk is timely, as Pres­id­ent Obama and In­di­an Prime Min­is­ter Man­mo­han Singh were slated to meet at the White House on Sept. 27.
— Sept. 30: An­oth­er high-pro­file Ashton — Cath­er­ine Ashton, high rep­res­ent­at­ive of the European Uni­on for for­eign af­fairs and se­cur­ity policy and vice pres­id­ent of the European Com­mis­sion — is poised to ad­dress the Wilson Cen­ter in Wash­ing­ton. Ashton has been a key fig­ure in set­ting up po­ten­tial multi-na­tion talks with Ir­an about its nuc­le­ar-de­vel­op­ment ef­forts — which the Middle East­ern na­tion in­sists are peace­ful in nature, yet West­ern powers fear are aimed at de­vel­op­ing atom­ic weapons. The think tank says Ashton will delve in­to is­sues the U.N. Gen­er­al As­sembly re­cently ad­dressed — namely Ir­an and Syr­ia "" as well as her work re­lated to the Balkans, Egypt and Somalia. The Wilson Cen­ter, un­der the lead­er­ship of former Demo­crat­ic con­gress­wo­man Jane Har­man, is us­ing the event to make the start of a new Glob­al Europe pro­gram that, is says, fo­cuses on "Europe's ex­tern­al chal­lenges and op­por­tun­it­ies."
— Sept. 30: Can the United States and Rus­sia move past mu­tu­al nuc­le­ar de­terrence? The Brook­ings In­sti­tu­tion's Arms Con­trol Ini­ti­at­ive is team­ing up with Har­vard's Belfer Cen­ter for Sci­ence and In­ter­na­tion­al Af­fairs for an event (at the Wash­ing­ton think tank's of­fice) that will tackle this and re­lated, thorny is­sues re­gard­ing post-Cold War U.S.-Rus­si­an re­la­tions. A trio of pan­el­ists — Gary Sam­ore, ex­ec­ut­ive dir­ect­or for Re­search at the Belfer Cen­ter, Wil­li­am To­bey, seni­or fel­low at the Belfer Cen­ter, and Pavel Zo­lotar­ev, deputy dir­ect­or of the In­sti­tute for U.S. and Ca­na­dian Stud­ies at the Rus­si­an Academy of Sci­ences, or ISKRAN — will chat about a new re­port they wrote, dubbed "Tran­scend­ing Mu­tu­al De­terrence in the U.S.-Rus­si­an Re­la­tion­ship."
— Sept. 30-Oct. 1: The much-talked-about U.N. Gen­er­al As­sembly will wrap up its work, but not be­fore hear­ing from Is­raeli Prime Min­is­ter Ben­jamin Net­an­yahu, who is slated to be the fi­nal speak­er at the yearly gath­er­ing of coun­tries. His speech — which will be web­cast — is ex­pec­ted to in­clude a re­peated call for Ir­an to cease its urani­um-en­rich­ment activ­it­ies. All eyes have been on the U.N. Se­cur­ity Coun­cil, which on Sept. 26 agreed on a res­ol­u­tion re­quir­ing Syr­ia to elim­in­ate its chem­ic­al weapons. The deal, not­ably, does not in­clude im­me­di­ate pen­al­ties (such as U.S. mil­it­ary strikes) if Pres­id­ent Bashar As­sad does not com­ply. In re­cent days the United Na­tions and the Or­gan­iz­a­tion for the Pro­hib­i­tion of Chem­ic­al Weapons were hash­ing out how to de­lin­eate their roles in in­spect­ing and ul­ti­mately elim­in­at­ing Syr­ia's newly de­clared chem­ic­al arms.
— Sept. 30-Oct. 1: Dis­arm­a­ment ex­perts from Europe and bey­ond will gath­er at the second EU Non-pro­lif­er­a­tion and Dis­arm­a­ment Con­fer­ence in Brus­sels. Top­ics for the three plen­ary ses­sions will be "strength­en­ing the non-pro­lif­er­a­tion and dis­arm­a­ment re­gime," "ad­dress­ing non-pro­lif­er­a­tion and dis­arm­a­ment in the Middle East" and "EU non-pro­lif­er­a­tion policy and im­ple­ment­a­tion." The gath­er­ing — ar­ranged by the EU Non-pro­lif­er­a­tion Con­sor­ti­um and the In­ter­na­tion­al In­sti­tute for Stra­tegic Stud­ies — is sure to touch on a stalled U.N. ef­fort to con­vene a con­fer­ence about des­ig­nat­ing the Middle East as a weapons-of-mass-de­struc­tion-free zone.
Oct. 1: Waste Con­fid­ence. The Nuc­le­ar Reg­u­lat­ory Com­mis­sion plans to meet in Rock­ville, Md., to dis­cuss and hear from the pub­lic about its pro­posed changes to its reg­u­la­tions re­lated to the en­vir­on­ment­al im­pacts of in­def­in­itely stor­ing spent nuc­le­ar fuel at nuc­le­ar-power plants. So-called waste con­fid­ence has been a con­tro­ver­sial top­ic. The NRC says the meet­ing will "provide an op­por­tun­ity for in­ter­ested parties to provide com­ments on the Waste Con­fid­ence Draft Gen­er­ic En­vir­on­ment­al Im­pact  State­ment (DGEIS) and pro­posed rule," start­ing with a "brief" staff present­a­tion be­fore a pub­lic-com­ment peri­od.
Oct. 2: Nine ex­perts will gath­er to dis­cuss the book "Stra­tegic Asia 2013-14: Asia in the Second Nuc­le­ar Age" at George Wash­ing­ton Uni­versity in the na­tion's cap­it­al. The tome "ex­am­ines the role of nuc­le­ar weapons in the grand strategies of key Asi­an states and as­sesses the im­pact of these cap­ab­il­it­ies — both es­tab­lished and lat­ent — on re­gion­al and in­ter­na­tion­al sta­bil­ity," ac­cord­ing to The Na­tion­al Bur­eau of Asi­an Re­search. The 13th an­nu­al volume of the book re­flects up­dated as­sess­ments of eco­nom­ic, polit­ic­al and mil­it­ary trends. The chapters, writ­ten by var­ied ex­perts, tackle top­ics such as Ir­an's nuc­le­ar am­bi­tions.
Oct. 4: Har­vard Yard will be the loc­a­tion of the sem­in­ar "Steps to Pre­vent Nuc­le­ar Ter­ror­ism: Re­com­mend­a­tions Based on the U.S.-Rus­sia Joint Threat As­sess­ment." The event, at Har­vard Uni­versity's John F. Kennedy School of Gov­ern­ment in Cam­bridge, Mass., will look at a new re­port from the Belfer Cen­ter and ISKRAN. The two or­gan­iz­a­tions pub­lished the "U.S.-Rus­sia Joint Threat As­sess­ment on Nuc­le­ar Ter­ror­ism" in 2011. Their new re­port, to be presen­ted at this sem­in­ar, "ana­lyzes the ex­ist­ing frame­work for ac­tion, iden­ti­fies gaps and de­fi­cien­cies, and makes spe­cif­ic re­com­mend­a­tions for im­prove­ment of nuc­le­ar se­cur­ity," or­gan­izers say.
What We're Following See More »
STAFF PICKS
Bannon Still Collecting Royalties from 'Seinfeld'
49 minutes ago
WHY WE CARE
The Hollywood Reporter takes a look at a little-known intersection of politics and entertainment, in which Trump campaign CEO Steve Bannon is still raking in residuals from Seinfeld. Here's the digest version: When Seinfeld was in its infancy, Ted Turner was in the process of acquiring its production company, Castle Rock, but he was under-capitalized. Bannon's fledgling media company put up the remaining funds, and he agreed to "participation rights" instead of a fee. "Seinfeld has reaped more than $3 billion in its post-network afterlife through syndication deals." Meanwhile, Bannon is "still cashing checks from Seinfeld, and observers say he has made nearly 25 times more off the Castle Rock deal than he had anticipated."
IT'S ALL CLINTON
Reliable Poll Data Coming in RE: Debate #1
1 hours ago
WHY WE CARE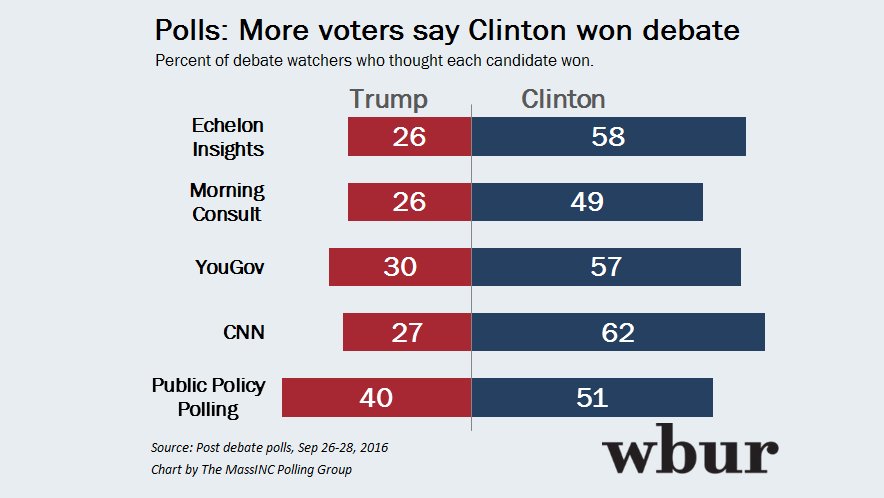 NEXT THURSDAY
Trump Transition Team Meeting with Silicon Valley VIPs
3 hours ago
THE DETAILS
Donald Trump's "transition team will meet next week with representatives of the tech industry, multiple sources confirmed, even as their candidate largely has been largely shunned by Silicon Valley. The meeting, scheduled for next Thursday at the offices of law and lobbying firm BakerHostetler, will include trade groups like the Information Technology Industry Council and the Internet Association that represent major Silicon Valley companies."
WHAT WILL PASS?
McConnell Doubts Criminal Justice Reform Can Pass This Year
3 hours ago
ALSO FIRED UNATTRACTIVE WAITRESSES
Trump Did Business with Cuba
4 hours ago
THE LATEST
Today in bad news for Donald Trump:
Newsweek found that a company he controlled did business with Cuba under Fidel Castro "despite strict American trade bans that made such undertakings illegal, according to interviews with former Trump executives, internal company records and court filings." In 1998, he spent at least $68,000 there, which was funneled through a consluting company "to make it appear legal."
The Los Angeles Times reports that at a golf club he owns in California, Trump ordered that unattractive female staff be fired and replaced with prettier women.