Add to Briefcase
Sept. 30, 2013, 9:24 p.m.
In the story of how Obama­care went from the un­dis­puted "law of the land," as Speak­er John Boehner said last Novem­ber, to a law Re­pub­lic­ans say is worth shut­ting down the gov­ern­ment to stop, Jim De­Mint has been the un­sung prot­ag­on­ist.
Past and present aides to the former South Car­o­lina Re­pub­lic­an sen­at­or, tea party law­makers he helped elect, and the Her­it­age Found­a­tion he now leads have their fin­ger­prints all over the polit­ic­al thrill­er that has left the fed­er­al gov­ern­ment hanging in the bal­ance. The De­Mint di­a­spora is driv­ing the drama, both be­hind the scenes and in front of the cam­er­as.
"He's sort of the grand­daddy of this cur­rent fight," said Matt Kibbe, the pres­id­ent and CEO of Freedom­Works, a key tea party ally.
When De­Mint ab­ruptly resigned his Sen­ate seat this Janu­ary four years be­fore the end of his term, some scoffed that he was cash­ing in, trad­ing the in­flu­ence of a sen­at­or for the paycheck of a lob­by­ist. His pre­de­cessor at Her­it­age had been paid $1 mil­lion a year and it is pre­sumed De­Mint is mak­ing at least that much. But that chat­ter has all but ceased.
"There's no ques­tion in my mind that I have more in­flu­ence now on pub­lic policy than I did as an in­di­vidu­al sen­at­or," De­Mint told NPR last week.
In large part, that's a test­a­ment to the wide net­work of like­minded aides and law­makers he's placed in po­s­i­tions of power across Wash­ing­ton. "De­Mint has left a leg­acy on the Hill that is full of ripple ef­fects — and they're good ones," said Chris Chocola, the pres­id­ent of the Club for Growth, which has spent mil­lions in GOP primar­ies to elect un­bend­ing con­ser­vat­ives. "He broke the mold and showed what could hap­pen and he in­spired oth­ers to fol­low."
That in­cludes Sen. Ted Cruz of Texas, who said this spring, "I would not be in the United States Sen­ate were it not for Sen­at­or Jim De­Mint." So when Cruz set out to build his Cap­it­ol staff, he dipped heav­ily in­to the De­Mint alumni net­work, hir­ing five of De­Mint's former aides. Among them is Aman­da Car­penter, his chief speech­writer, who helped pre­pare Cruz for his mara­thon anti-Obama­care speech. The oth­ers are Jeff Mur­ray, Al­ex­an­der Ara­man­da, Caitlin Thompson, and Sam­antha Leahy.
Cruz's chief Sen­ate ally in the de­fund­ing fight has been Re­pub­lic­an Mike Lee of Utah, an­oth­er De­Mint protégé. De­Mint en­dorsed Lee in a video mes­sage that aired dur­ing the heated 2010 GOP con­ven­tion where Lee emerged as the in­sur­gent nom­in­ee. "Please send Mike Lee to the Sen­ate so he can join me in the fight for our fu­ture," De­Mint told the del­eg­ates.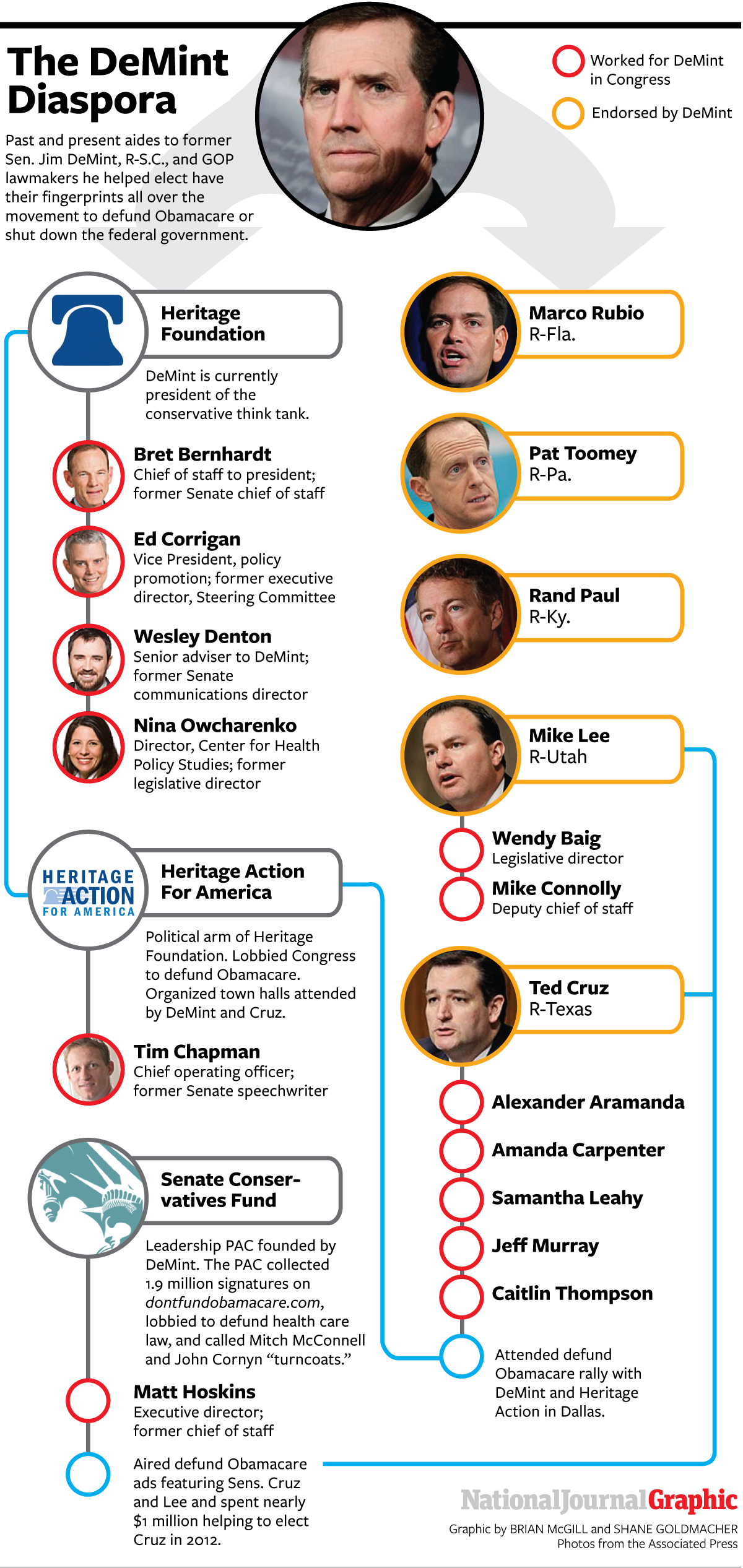 These days Lee's le­gis­lat­ive dir­ect­or, Wendy Baig, is a De­Mint vet­er­an, as is his deputy chief of staff Mi­chael Con­nolly (who also did a tour at the Club for Growth).
Out­side the Cap­it­ol, some of the loudest cheer­ing for the de­fund­ing push has come from the Sen­ate Con­ser­vat­ives Fund, a polit­ic­al ac­tion com­mit­tee that De­Mint foun­ded. The group has aired anti-Obama­care ads fea­tur­ing Cruz and Lee, gathered the sig­na­tures of 1.9 mil­lion Amer­ic­ans, and raised $1.5 mil­lion in Au­gust alone. Its ex­ec­ut­ive dir­ect­or, Matt Hoskins, cut his polit­ic­al teeth as De­Mint's chief of staff.
They've been joined in the battle by Her­it­age Ac­tion, the found­a­tion's sis­ter ad­vocacy arm, which spent $550,000 on web ads tar­get­ing 100 wob­bling Re­pub­lic­ans this sum­mer and has threatened to in­clude votes to keep the gov­ern­ment open and the health care law in place on its in­flu­en­tial score­card. One of De­Mint's former aides, Tim Chap­man, is the chief op­er­at­ing of­ficer of Her­it­age Ac­tion.
"I think De­Mint staffers have a unique bond," Car­penter said. "We all real­ized we were a part of something spe­cial and that's something we're all try­ing to carry for­ward in our new roles."
Though De­Mint's former aides main­tain a close-knit net­work, sev­er­al sought to dis­pel the no­tion that their former boss is some kind of Wiz­ard of Oz fig­ure, or­ches­trat­ing things be­hind the scenes. In­stead, they are bon­ded by a shared ideo­logy. "We all know we're not go­ing to go get K Street jobs after this. We're not mak­ing friends with lob­by­ists. We're try­ing to tear everything down," Car­penter said.
"It's neat," she ad­ded. "It's spe­cial."
AG­GRESS­IVE TURN
De­Mint, 62, was elec­ted to the House in 1998 but didn't be­come a na­tion­al brand un­til al­most a dec­ade later, after he joined the Sen­ate. The former mar­ket­ing ex­ec­ut­ive found a wel­come home among the grass­roots for his brand of strident, com­bat­ive ad­vocacy, even if it made for lonely fights in the Sen­ate at the time. Some have called him the god­fath­er of the tea party move­ment.
"The secret to what's he's been do­ing is he's figured out there's a huge pro­por­tion of the coun­try that is deeply con­cerned about where we're go­ing," Chap­man said. "He's giv­en them a voice. At the end of the day, that's what's made Jim an ef­fect­ive voice in Amer­ic­an polit­ics."
This Janu­ary, De­Mint took his in­ner circle with him to the Her­it­age Found­a­tion, which, along with Her­it­age Ac­tion, has taken a not­ably more ag­gress­ive pos­ture since his ar­rival. "It's taken on new life since he got there and it very much re­flects his un­der­stand­ing that the last mile in polit­ics is all about en­ga­ging grass­roots," said Kibbe, who has been with Freedom­Works for 15 years.
It was a Her­it­age-sponsored nine-city tour of town halls, star­ring De­Mint, that helped crys­tal­lize the GOP grass­roots ap­pet­ite for a shut­down fight dur­ing the Au­gust con­gres­sion­al re­cess. Cruz joined in for an event in Dal­las that Her­it­age es­tim­ated drew more than 1,000 at­tendees.
Cruz praised the "fear­less­ness" of De­Mint. "Su­per­man wears Chuck Nor­ris pa­ja­mas," Cruz joked. "And let me tell you, Chuck Nor­ris wears Jim De­Mint pa­ja­mas." The crowd erup­ted. It was the kind of rauc­ous scene hard to en­vi­sion un­der Her­it­age's past pres­id­ent Ed Feul­ner, who served from 1977 to 2013. Dur­ing that time, Her­it­age be­came the move­ment's in­tel­lec­tu­al cen­ter — a place for cof­fee, crois­sants, and con­fer­ence-room con­ser­vat­ism, not bois­ter­ous town halls.
The ag­gress­ive­ness of Her­it­age's polit­ic­al arm this sum­mer over the farm bill so in­censed the Re­pub­lic­an Study Com­mit­tee, the 170-strong group of House con­ser­vat­ives, that they ban­ished Her­it­age of­fi­cials from their weekly meet­ings, after dec­ades of co­oper­a­tion. Her­it­age Ac­tion's con­stant with-us-or-against-us score keep­ing has frus­trated all but the most con­ser­vat­ive House mem­bers.
The act­iv­ist shift un­der De­Mint has rankled some old Her­it­age hands, as well. Mickey Ed­wards, one of Her­it­age's found­ing trust­ees, told the At­lantic re­cently that Her­it­age now looks "like just an­oth­er hack tea party kind of group."
There are po­ten­tial leg­al pit­falls for De­Mint, as well. As a former sen­at­or, he's sub­ject to a two-year cool­ing off peri­od be­fore he's al­lowed to lobby his former col­leagues — even if he's loudly and pub­licly telling them what to do in the on­go­ing Obama­care fight. A Sen­ate eth­ics memo from 2012 re­minded of­fi­cials that "fed­er­al crim­in­al law pro­hib­its former sen­at­ors from know­ingly com­mu­nic­at­ing or ap­pear­ing be­fore any cur­rent mem­ber or em­ploy­ee of the Sen­ate or House"¦if they have the in­tent to in­flu­ence of­fi­cial ac­tions and they are act­ing on be­half of any oth­er per­son." De­Mint and Cruz ap­peared on the same stage in Dal­las, for in­stance, though nev­er at the same time, ac­cord­ing to news re­ports.
KAMI­KAZE POLIT­ICS
Eth­ics rules aside, es­tab­lish­ment Re­pub­lic­ans are com­plain­ing that De­Mint, Cruz, Lee, Her­it­age Ac­tion, and the Sen­ate Con­ser­vat­ives Fund have led the party in­to a kami­kaze mis­sion to de­mand that Pres­id­ent Obama un­wind his sig­na­ture do­mest­ic achieve­ment. Re­pub­lic­an Sen. Richard Burr of North Car­o­lina has called it the "dumbest idea I've ever heard."
Oth­ers have com­plained that De­Mint, Her­it­age, SCF, and the Club are too con­cerned about pun­ish­ing way­ward Re­pub­lic­ans and not win­ning more seats from Demo­crats who con­trol the Sen­ate. They point to De­Mint's his­tory of back­ing gen­er­al-elec­tion losers in GOP primar­ies, in­clud­ing Ken Buck in Col­or­ado and Christine O'Don­nell in Delaware, who both fumbled away win­ning seats in 2010.
But De­Mint, long a lonely ideo­lo­gic­al war­ri­or, has nev­er been one to listen to main­stream GOP or me­dia cri­tiques. The dif­fer­ence now is the House is steered by the right flank of the Re­pub­lic­an Party and the Sen­ate is pop­u­lated with at least a vo­cal group of un­bend­ing Re­pub­lic­ans in De­Mint's im­age — many of whom he helped elect.
"Pick any is­sue, pick any fight, and who are the people that are char­ging out in­to battle and lead­ing the fight, they are the Rand Pauls, the Mike Lees, the Marco Ru­bios — the lead­ers who are there be­cause of Jim De­Mint's sup­port," Cruz said in a South Car­o­lina speech this spring hon­or­ing De­Mint.
De­Mint was of­ten among the earli­est, loudest, and most im­port­ant back­ers of those in­sur­gents, of­ten against es­tab­lish­ment fa­vor­ites. For in­stance, De­Mint reached out to Ru­bio to set up an en­dorse­ment meet­ing the same day the of­fi­cial Sen­ate GOP arm en­dorsed Ru­bio's op­pon­ent, Flor­ida Gov. Charlie Crist. In his polit­ic­al mem­oir, Ru­bio wrote of how De­Mint's call had provided a crit­ic­al boost "on a day when I felt the en­tire Re­pub­lic­an uni­verse had lined up in op­pos­i­tion to me."
Ru­bio, Cruz, Lee, Paul, and Sen. Pat Toomey of Pennsylvania, an­oth­er De­Mint-backed in­sur­gent, were all among those who voted to­geth­er on a key pro­ced­ur­al tally to try to block a meas­ure to keep the gov­ern­ment open, fear­ing it would al­low Obama­care to be fun­ded. So did Sen. Tim Scott of South Car­o­lina, who re­placed De­Mint in the Sen­ate and is an­oth­er protégé.
After the meas­ure passed, Cruz turned his at­ten­tion to the lower cham­ber, suc­cess­fully push­ing hard­line House con­ser­vat­ives to unite and send the Sen­ate a second Obama­care-gut­ting meas­ure, this time delay­ing the law for a year. Lee could be found stalk­ing the halls of the House late Sat­urday night as votes dragged past mid­night.
The meas­ure would have pre­ven­ted the health care law from go­ing in­to ef­fect Oct. 1. But that was not enough to win the full sup­port of Her­it­age Ac­tion, which re­mained of­fi­cially neut­ral, be­cause "it falls short of full de­fund­ing."
"If I were speak­er, I'd tell the pres­id­ent, 'Mr. Pres­id­ent, we fun­ded the gov­ern­ment, but we're not go­ing to fund your bill,'"‰" De­Mint, who de­clined an in­ter­view for this story, told Bloomberg last week. "'We are not go­ing to give in — one month, two months, three months. We are nev­er go­ing to give in. It's just that im­port­ant.' And if the pres­id­ent wants to put the coun­try through that to save a law that isn't ready to go, well, then that's a battle we have to have."
Be­cause of his aco­lytes, it's a battle that's hap­pen­ing.
These days, Chocola of Club for Growth said that more and more Re­pub­lic­an can­did­ates come in for en­dorse­ment in­ter­views say­ing the same thing: "I want to be like Jim De­Mint."
"That," Chocola tells them, "is a good mod­el to fol­low."