Ir­an and the In­ter­na­tion­al Atom­ic En­ergy Agency ap­peared to gain little trac­tion last week in clear­ing the way for a stalled nuc­le­ar probe, des­pite pos­it­ive state­ments by par­ti­cipants, en­voys told Re­u­ters on Wed­nes­day.
Last Fri­day's meet­ing was the 11th between Ir­an and the IAEA since early last year to con­sider po­ten­tial ground rules for the U.N. nuc­le­ar watch­dog to look in­to in­tel­li­gence find­ings that the Middle East­ern na­tion once may have en­gaged sci­entif­ic activ­it­ies rel­ev­ant to atom­ic-arms de­vel­op­ment. The al­leged work could in­clude nuc­le­ar-rel­ev­ant ex­plos­ives tests, as well as work on a nuc­le­ar-bomb trig­ger at its Parchin mil­it­ary base.
Ir­a­ni­an del­eg­ates to last week's Ir­an-IAEA talks — the first held un­der Ir­a­ni­an Pres­id­ent Has­san Rouh­ani — said Tehran hopes to break sig­ni­fic­ant ground on the mat­ter in a mat­ter of months, ac­cord­ing to an in­formed dip­lo­mat. However, pre­vi­ous hints at for­ward move­ment ul­ti­mately led nowhere, mul­tiple en­voys said.
Ir­an and the U.N. or­gan­iz­a­tion are next slated to meet on Oct. 28, fol­low­ing two days of sep­ar­ate atom­ic dis­cus­sions between Tehran and six ma­jor gov­ern­ments. The five per­man­ent U.N. Se­cur­ity Coun­cil mem­ber na­tions and Ger­many for years have sought more con­crete as­sur­ances that Ir­an's nuc­le­ar pro­gram is not sup­port­ing de­vel­op­ment of a weapon cap­ab­il­ity.
A Sen­ate pan­el is not ex­pec­ted to con­sider a House-passed Ir­an sanc­tions bill for sev­er­al more weeks, at least, pos­sibly pla­cing any de­bate on the le­gis­la­tion after Ir­an's sched­uled meet­ing with the "P-5+1" na­tions, Re­u­ters re­por­ted sep­ar­ately on Tues­day.
Mean­while, Ir­an's law­makers broadly backed Rouh­ani's nuc­le­ar-re­lated out­reach at the U.N. Gen­er­al As­sembly last week, Re­u­ters re­por­ted on Wed­nes­day, cit­ing state me­dia.
What We're Following See More »
ABSENT FROM LIST: GENNIFER FLOWERS
Most Trump Guests Have Military Ties
44 minutes ago
TOP OF MIND
Trending on Google: 'Why Should Trump Not Be President'
54 minutes ago
THE DETAILS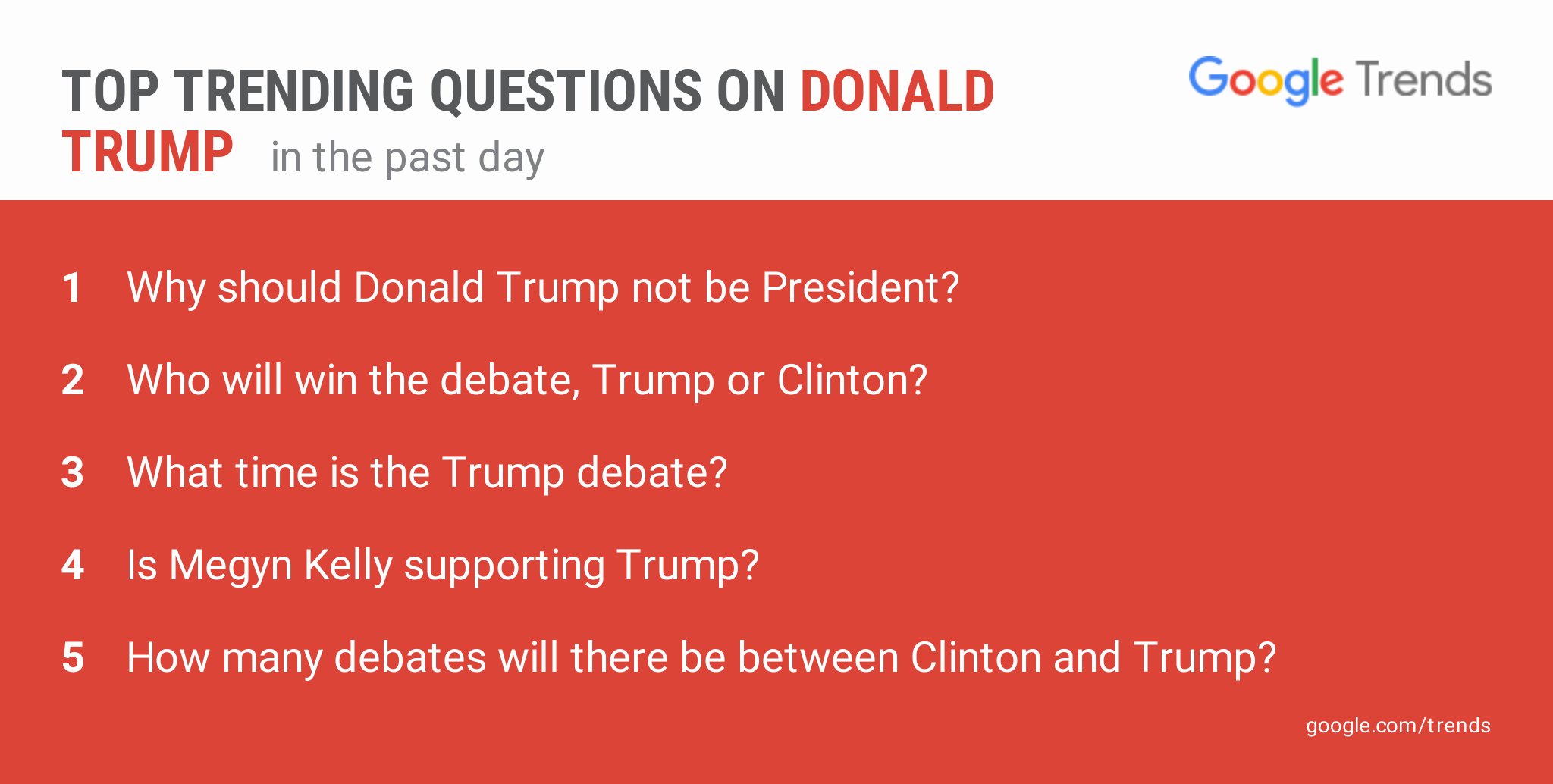 WHO PLAYED THE DONALD?
Longtime Clinton Aide Played Trump in Mock Debates
3 hours ago
THE DETAILS
After keeping the information private for most of the lead-up to the debate on Monday, it has been revealed that longtime Clinton aide Philippe Reines has been playing the role of Donald Trump in her debate prep. Reines knows Clinton better than most, able to identify both her strengths and weaknesses, and his selection for a sparring partner shows that Clinton is preparing for the brash and confrontational Donald Trump many have come to expect.
WEEKEND POLLING ROUNDUP
New Polls Still Show Razor-Thin Margins
3 hours ago
THE QUESTION
How Many Times Has the Trump Campaign Emailed Ted Cruz's Supporters?
3 hours ago
THE ANSWER
More than 30 times, in the case of some donors. Long before Cruz endorsed Trump—and before he even snubbed the nominee at the Republican National Convention—"the senator quietly began renting his vast donor email file to his former rival, pocketing at least tens of thousands of dollars, and more likely hundreds of thousands, that can be used to bankroll the Texan's own political future."