Only 14 per­cent of wo­men said the Re­pub­lic­an Party had moved closer to their per­spect­ive. More than twice as many wo­men, 33 per­cent, said the party had drif­ted fur­ther from them. A plur­al­ity, 46 per­cent, saw no change.
The dangers for the GOP of los­ing wo­men's sup­port are play­ing out in the Vir­gin­ia gubernat­ori­al race, where Demo­crat­ic nom­in­ee Terry McAul­iffe has taken the lead over Re­pub­lic­an At­tor­ney Gen­er­al Ken Cuc­cinelli, al­most en­tirely by open­ing up a lead among fe­male voters.
In the new poll, the res­ults for the GOP are even more omin­ous among young wo­men. Only 11 per­cent of wo­men young­er than 50 said the party had moved closer to them. In con­trast, 29 per­cent said the GOP had moved fur­ther away.
Col­lege-edu­cated white wo­men were par­tic­u­larly likely (45 per­cent) to say the Re­pub­lic­an Party was now fur­ther from their views. That is es­pe­cially sig­ni­fic­ant be­cause Re­pub­lic­ans had made crit­ic­al gains among that demo­graph­ic in the 2012 elec­tion cycle. Pres­id­ent Obama's sup­port among col­lege-edu­cated white wo­men dropped by 6 per­cent­age points, from 52 per­cent to 46 per­cent, between the 2008 and 2012 elec­tions, ac­cord­ing to na­tion­al exit polls.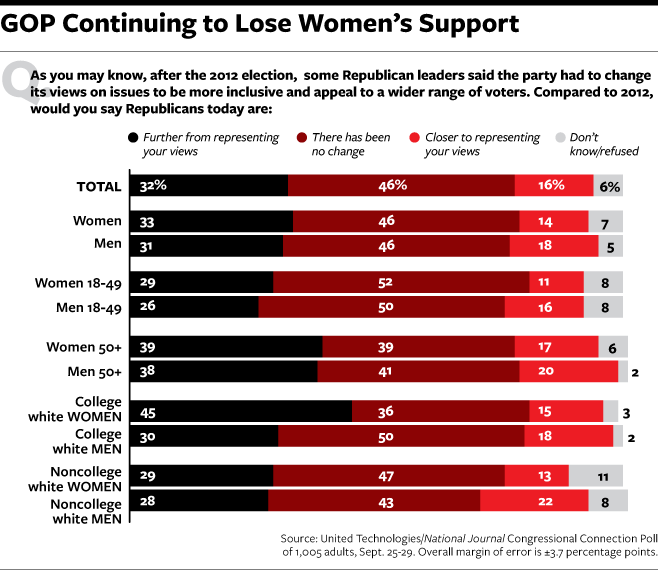 Of those wo­men who said the Re­pub­lic­an Party had moved away from them, nearly three in five, 59 per­cent, said it was be­cause the GOP had be­come "too con­ser­vat­ive." Only 33 per­cent said the party was fur­ther from them be­cause it wasn't con­ser­vat­ive enough.
Again, the res­ults were par­tic­u­larly sharp for col­lege-edu­cated white wo­men — the type of sub­urb­an voters that cam­paigns typ­ic­ally vie heav­ily to win. Of those col­lege-edu­cated white wo­men who said the Re­pub­lic­an Party has moved fur­ther from them, 66 per­cent said it was be­cause it had be­come "too con­ser­vat­ive."