There's an empty space in the Re­pub­lic­an Party where com­pas­sion­ate con­ser­vat­ism used to be, and an op­por­tun­ity for a pres­id­en­tial pro­spect to step in­to the breach.
The dis­ap­pear­ance of that trade­mark George W. Bush brand from Wash­ing­ton has nev­er been more ap­par­ent. The Re­pub­lic­an House has gone from stalling im­mig­ra­tion re­form and cut­ting food stamps to pre­cip­it­at­ing a gov­ern­ment shut­down by de­mand­ing the re­peal of the health law that is the corner­stone of Pres­id­ent Obama's leg­acy. The shut­down is threat­en­ing nu­tri­tion pro­grams, can­cer treat­ment, salar­ies, jobs, and much more.
It's one bad hand among sev­er­al the GOP has dealt it­self.
"We're not fin­ished com­mit­ting sui­cide here," said Re­pub­lic­an strategist John Weaver, a vet­er­an of the Mc­Cain and Hunts­man cam­paigns. "We also have the op­por­tun­ity to kill im­mig­ra­tion re­form, and the odds are that we will do that, just to make sure we're the angry-white-man party." He says the party may need a George McGov­ern-sized de­feat with a can­did­ate like Ted Cruz be­fore it chooses an­oth­er path.
Mark McKin­non, a former Bush strategist, is hop­ing for a more im­me­di­ate course cor­rec­tion. "Now that the coun­try has seen what com­pas­sion­less con­ser­vat­ives have wrought," he says, "per­haps the GOP will start to re­gain a hun­ger for com­pas­sion­ate con­ser­vat­ives."
Re­pub­lic­ans are do­ing noth­ing so far to cut in­to Obama's ad­vant­age on is­sues like who people trust more to help fam­il­ies and handle health care, and who they blame more for Wash­ing­ton grid­lock. Gal­lup his­tor­ic­al data sug­gest the GOP won't suf­fer long-term dam­age as a res­ult of the shut­down, but the con­text for this one is dif­fer­ent: It is hap­pen­ing in a drag­ging eco­nomy, it is com­ing amid oth­er un­pop­u­lar stands, and it could be fol­lowed "" or ac­com­pan­ied "" by a debt-ceil­ing dis­aster.
Dick Armey, the former House Re­pub­lic­an lead­er, sees de­feat loom­ing on both the PR and policy fronts. "I don't know that I have ever seen Re­pub­lic­ans gain one inch of ground to­wards their stated ob­ject­ive by pre­cip­it­at­ing a gov­ern­ment shut­down," he said.
In fact, by link­ing Obama­care to fund­ing the gov­ern­ment, Re­pub­lic­ans may have in­ad­vert­ently raised pub­lic aware­ness of the law and boos­ted traffic on the new in­sur­ance mar­ket­places. Now they are point­ing out glitches due in part to high volume "" un­der­cut­ting their cus­tom­ary in­sist­ence that Amer­ic­ans don't want the law. "We shouldn't be ad­vert­ising the fact that the web­site was over­sub­scribed. That's not ex­actly a strong talk­ing point for our side," John Fee­hery, a former House GOP lead­er­ship aide, says with a wry laugh.
Alarm­ist con­ser­vat­ive rhet­or­ic on Obama­care (so­cial­ist, dan­ger­ous, an ex­ist­en­tial eco­nom­ic threat, and a fail­ure be­fore it starts) is an­oth­er po­ten­tial land mine. What are the chances that, as people ex­per­i­ence the law firsthand, they'll look at that rhet­or­ic and won­der what the heck Re­pub­lic­ans were talk­ing about? "At least 50-50. Prob­ably high­er," says Ron Haskins, a so­cial policy ex­pert at the Brook­ings In­sti­tu­tion and a former seni­or GOP aide on Cap­it­ol Hill. He says he's been wor­ried about the dir­ec­tion of his party for months. "Every­day I wake up and it's something new," he says.
There are plenty of Re­pub­lic­ans out­side Con­gress who could serve as coun­ter­weights to the harsh im­age fueled by de­vel­op­ments on Cap­it­ol Hill, and even a few in­side. But eld­er states­men like John Mc­Cain and Bob Dole aren't be­ing heeded, and re­ac­tions by people ey­ing the White House have ranged from ob­lique to MIA.
New Jer­sey Gov. Chris Christie, run­ning for reelec­tion this year and a lead­ing 2016 pro­spect, usu­ally goes the route of "every­one's to blame." But he did re­lease a cam­paign ad this week "" " Bi­par­tis­an" "" that could be read as a re­buke of House and Sen­ate con­ser­vat­ives who would rather get nowhere than settle for less than 100 per­cent. "I say what I be­lieve. But I also know that my job is to get things done for the people of the state," Christie says in the ad. Then, after cit­ing tax cuts, spend­ing cuts, im­prov­ing edu­ca­tion, and re­forms of ten­ure, pen­sions and be­ne­fits, he con­cludes: "Everything we've done has been a bi­par­tis­an ac­com­plish­ment. See, I think as long as you stick to your prin­ciples, com­prom­ise isn't a dirty word."
Bey­ond Christie, cred­ible counter-mes­sen­gers in­clude Ohio Gov. John Kasich, Nevada Gov. Bri­an San­dov­al, Michigan Gov. Rick Snyder, and former Flor­ida Gov. Jeb Bush. But none of them are likely to step for­ward, in­di­vidu­ally or as a group, un­less and un­til they de­cide to run. And at that point, Fee­hery pre­dicts, the thrust will be tough love for wel­fare and food-stamp re­cip­i­ents and no love for Wash­ing­ton. In oth­er words, the out­siders will run hard against gen­er­al dys­func­tion, but not against the tea party or any oth­er fac­tion. That would be polit­ic­al sui­cide in a primary pro­cess dom­in­ated by grass­roots con­ser­vat­ives.
What We're Following See More »
UNTIL DEC. 9, ANYWAY
Obama Signs Bill to Fund Government
4 hours ago
REDSKINS IMPLICATIONS
SCOTUS to Hear Case on Offensive Trademarks
4 hours ago
WHY WE CARE
"The Supreme Court is taking up a First Amendment clash over the government's refusal to register offensive trademarks, a case that could affect the Washington Redskins in their legal fight over the team name. The justices agreed Thursday to hear a dispute involving an Asian-American rock band called the Slants, but they did not act on a separate request to hear the higher-profile Redskins case at the same time." Still, any precedent set by the case could have ramifications for the Washington football team.
STAFF PICKS
Bannon Still Collecting Royalties from 'Seinfeld'
5 hours ago
WHY WE CARE
The Hollywood Reporter takes a look at a little-known intersection of politics and entertainment, in which Trump campaign CEO Steve Bannon is still raking in residuals from Seinfeld. Here's the digest version: When Seinfeld was in its infancy, Ted Turner was in the process of acquiring its production company, Castle Rock, but he was under-capitalized. Bannon's fledgling media company put up the remaining funds, and he agreed to "participation rights" instead of a fee. "Seinfeld has reaped more than $3 billion in its post-network afterlife through syndication deals." Meanwhile, Bannon is "still cashing checks from Seinfeld, and observers say he has made nearly 25 times more off the Castle Rock deal than he had anticipated."
IT'S ALL CLINTON
Reliable Poll Data Coming in RE: Debate #1
6 hours ago
WHY WE CARE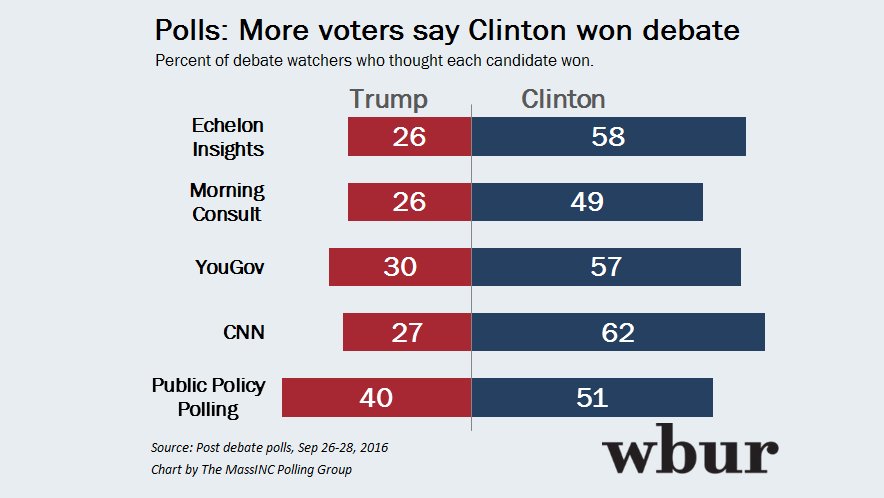 NEXT THURSDAY
Trump Transition Team Meeting with Silicon Valley VIPs
8 hours ago
THE DETAILS
Donald Trump's "transition team will meet next week with representatives of the tech industry, multiple sources confirmed, even as their candidate largely has been largely shunned by Silicon Valley. The meeting, scheduled for next Thursday at the offices of law and lobbying firm BakerHostetler, will include trade groups like the Information Technology Industry Council and the Internet Association that represent major Silicon Valley companies."