Last week, the CEO of Gold­man Sachs emerged from a White House meet­ing with Pres­id­ent Obama with a mes­sage to Con­gress: Don't play around with the debt ceil­ing.
"You can re-lit­ig­ate these policy is­sues in a polit­ic­al for­um, but we shouldn't use threats of caus­ing the U.S. to fail on its ob­lig­a­tions to re­pay its debt as a cudgel," Lloyd Blank­fein said.
Yet ex­ec­ut­ives and oth­ers at Gold­man Sachs and sim­il­ar big fin­an­cial firms have con­trib­uted tens of thou­sands of dol­lars to some of the very politi­cians who helped set the stage for the cur­rent show­down — and con­cerns over the debt ceil­ing.
For in­stance, Gold­man Sachs was the fourth-largest donor to Re­pub­lic­an Sen. Ted Cruz in the 2012 elec­tion cycle, ac­cord­ing to the Cen­ter for Re­spons­ive Polit­ics. Dona­tions from in­di­vidu­als as­so­ci­ated with the firm — where's Cruz's wife works — and the com­pany PAC totaled al­most $66,000.
Per­haps more than any oth­er law­maker, Cruz has in­sisted that a bill to keep the gov­ern­ment fun­ded be tied to meas­ures that would weak­en the Af­ford­able Care Act, set­ting the stage for last week's gov­ern­ment shut­down. As law­makers fight over how to pass a short-term meas­ure to fund gov­ern­ment agen­cies, the de­bate threatens to en­gulf dis­cus­sions over wheth­er to in­crease the debt ceil­ing.
Over­all, people af­fil­i­ated with Gold­man Sachs donated roughly equal amounts to Re­pub­lic­ans and Demo­crats in Con­gress. But the fin­an­cial sec­tor gen­er­ally fa­vors the GOP. Con­tri­bu­tions in the cur­rent cycle total $64.4 mil­lion, 56 per­cent of which has gone to Re­pub­lic­ans.
Moreover, there are sev­er­al con­ser­vat­ive Re­pub­lic­ans who sup­por­ted the strategy that led to the shut­down who count ma­jor busi­ness in­terests among their top donors.
Rep. Steve King, R-Iowa, has re­ceived $51,000 from the Amer­ic­an Bankers As­so­ci­ation's PAC since 2010, mak­ing the group his second-largest donor. Rep. Tim Huel­skamp, R-Kan., coun­ted the PAC as his fourth-largest donor, at $22,000.
As­so­ci­ation Pres­id­ent Frank Keat­ing, who is also a mem­ber of the Bi­par­tis­an Policy Cen­ter's Debt Re­duc­tion Task Force, penned an ed­it­or­i­al last month in The Wash­ing­ton Post warn­ing of grave con­sequences should the na­tion de­fault on its debt. "Us­ing the debt ceil­ing as lever­age in the de­fi­cit de­bate is un­wise and dan­ger­ous," he wrote. "Cit­izens na­tion­wide are frus­trated with the polit­ic­al stale­mate in Wash­ing­ton. But our na­tion's fin­an­cial in­teg­rity should not be used as a bar­gain­ing chip."
Yet last week, Huel­skamp told The Wash­ing­ton Times he would vote against rais­ing the debt ceil­ing without a long-term fisc­al plan that in­cludes Obama­care re­stric­tions.
What We're Following See More »
ABSENT FROM LIST: GENNIFER FLOWERS
Most Trump Guests Have Military Ties
2 hours ago
TOP OF MIND
Trending on Google: 'Why Should Trump Not Be President'
2 hours ago
THE DETAILS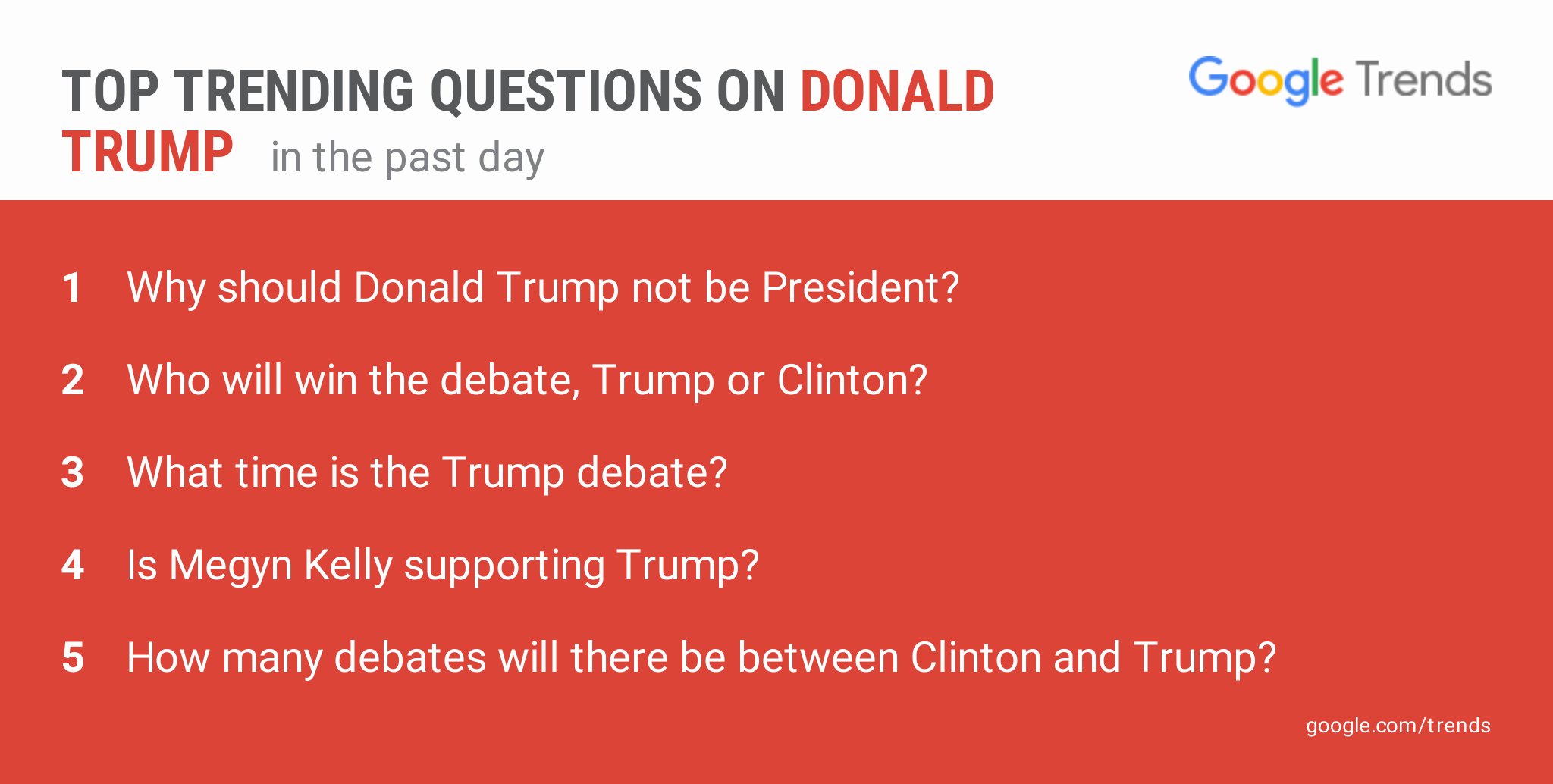 WHO PLAYED THE DONALD?
Longtime Clinton Aide Played Trump in Mock Debates
5 hours ago
THE DETAILS
After keeping the information private for most of the lead-up to the debate on Monday, it has been revealed that longtime Clinton aide Philippe Reines has been playing the role of Donald Trump in her debate prep. Reines knows Clinton better than most, able to identify both her strengths and weaknesses, and his selection for a sparring partner shows that Clinton is preparing for the brash and confrontational Donald Trump many have come to expect.
WEEKEND POLLING ROUNDUP
New Polls Still Show Razor-Thin Margins
5 hours ago
THE QUESTION
How Many Times Has the Trump Campaign Emailed Ted Cruz's Supporters?
5 hours ago
THE ANSWER
More than 30 times, in the case of some donors. Long before Cruz endorsed Trump—and before he even snubbed the nominee at the Republican National Convention—"the senator quietly began renting his vast donor email file to his former rival, pocketing at least tens of thousands of dollars, and more likely hundreds of thousands, that can be used to bankroll the Texan's own political future."