A large ma­jor­ity of Amer­ic­ans—nearly three in four—say they have not no­ticed ef­fects of this year's across-the-board spend­ing cuts.
The res­ults high­light a dif­fi­cult is­sue for Demo­crats and the Obama ad­min­is­tra­tion in the broad fight over gov­ern­ment spend­ing: The budget cuts they de­cry not only haven't ex­as­per­ated the pub­lic, they've gone largely un­noticed. That means both parties' polit­ic­al at­tacks over the se­quester have less sa­li­ence.
The poll res­ults also are not­able as Wash­ing­ton nav­ig­ates the fed­er­al gov­ern­ment shut­down and pos­sible breach of the debt ceil­ing—two par­al­lel crises car­ry­ing the po­ten­tial of eco­nom­ic harm. While Pres­id­ent Obama has stressed Sen­ate Demo­crats' ac­qui­es­cence to what he called "Re­pub­lic­an spend­ing levels," con­gres­sion­al Re­pub­lic­ans are ad­voc­at­ing an­oth­er round of re­duc­tions in ex­change for a debt-lim­it in­crease. Yet, ab­sent re­duc­tions in So­cial Se­cur­ity or Medi­care spend­ing, it ap­pears most Amer­ic­ans do not ex­per­i­ence—or do not think they are ex­per­i­en­cing—the ef­fect of lower gov­ern­ment spend­ing.
Of the people who said they had no­ticed some se­quester im­pact, the most com­mon ef­fect cited was "fur­loughs for fed­er­al work­ers you know." Fifty-eight per­cent of that sub­set said they had no­ticed fur­loughs, while 54 per­cent said they had seen "cuts in gov­ern­ment ser­vices you use," and 45 per­cent said they them­selves had seen "cuts in your paycheck or paychecks re­ceived by your fam­ily."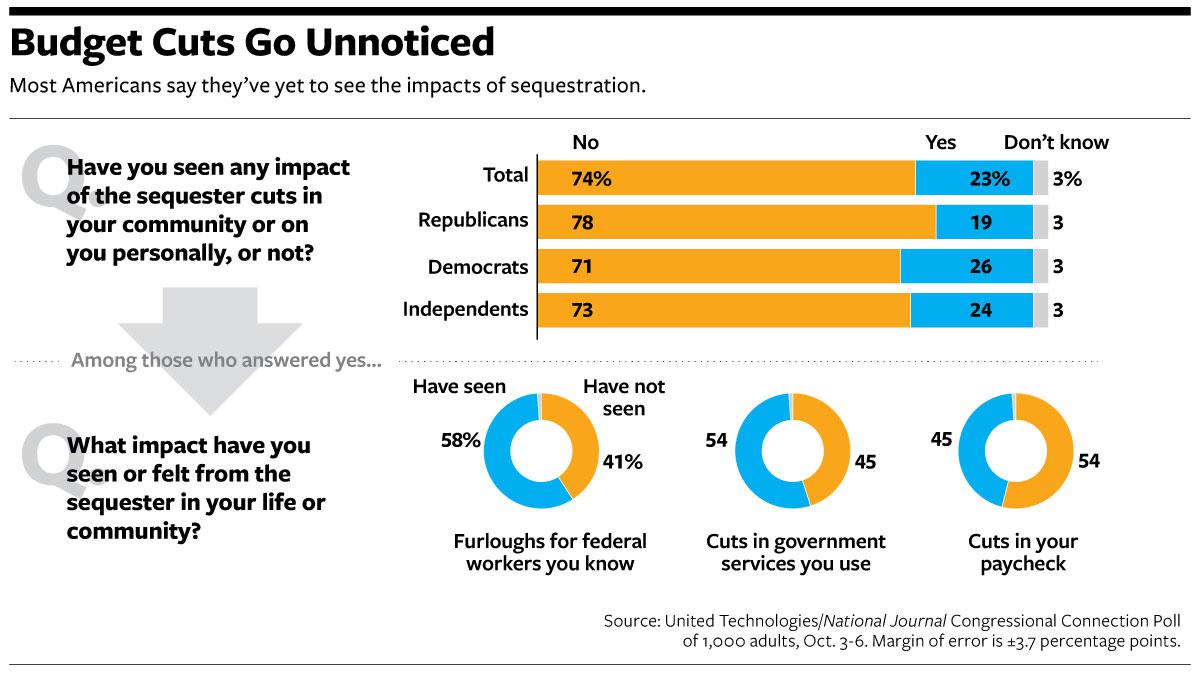 Col­lege gradu­ates were most likely to know a fur­loughed fed­er­al work­er, with three-quar­ters of those who said they had no­ticed the se­quester cit­ing that par­tic­u­lar ef­fect. Re­spond­ents mak­ing less than $50,000 a year, mean­while, were most likely among that sub­set to have no­ticed cuts to gov­ern­ment ser­vices they use or to their fam­il­ies' paychecks. Non­whites were also more likely than oth­er re­spond­ents to say that they had per­son­ally felt cuts in paychecks or ser­vices.
But again, re­l­at­ively few re­spond­ents in each of those sub­groups have even no­ticed se­quest­ra­tion to be­gin with. Just 21 per­cent of non­whites, 23 per­cent of people earn­ing less than $50,000 a year, and 25 per­cent of col­lege gradu­ates said they had no­ticed the cuts.