Oct. 10, 2013, 12:13 p.m.
The list of con­tract­ors that helped im­ple­ment the White House's land­mark health care re­form law in­cludes a who's-who of top-tier polit­ic­al donors, ac­cord­ing to a re­view by the Sun­light Found­a­tion trans­par­ency group.
That im­ple­ment­a­tion pro­cess has come un­der heavy scru­tiny re­cently be­cause of soft­ware glitches and long wait times that have plagued Health­Care.gov, the gov­ern­ment web­site de­signed to con­nect un­in­sured people with af­ford­able cov­er­age, since the site's Oct. 1 launch.
The Sun­light Found­a­tion com­piled a list of 47 con­tract­ors that worked on as­pects of the health care re­form im­ple­ment­a­tion, us­ing in­form­a­tion from two gov­ern­ment con­tract­ing sites. The list in­cludes main­stays of fed­er­al con­tract­ing, such as Northrop Grum­man and Booz Al­len Hamilton.
A sub­set of 17 con­tract­ors on the list spent $128 mil­lion on lob­by­ing in 2011 and 2012, the found­a­tion said, and 29 had em­ploy­ees or polit­ic­al ac­tion com­mit­tees that con­trib­uted $32 mil­lion to can­did­ates dur­ing that elec­tion cycle, in­clud­ing nearly $4 mil­lion to Pres­id­ent Obama.
White House of­fi­cials have at­trib­uted the early Health­Care.gov prob­lems to one part of the web­site that helps users cre­ate ac­counts and stores in­form­a­tion about them. The sys­tem wasn't built to with­stand the large volume of people who vis­ited the site in its first days, they said.
The White House has de­clined to say which vendor was re­spons­ible for that sys­tem.
Con­tract de­scrip­tions on the web­sites the Sun­light Found­a­tion mined are of­ten in­com­plete — es­pe­cially on USASpend­ing.gov, the site for his­tor­ic­al con­tract­ing in­form­a­tion — so it's not clear pre­cisely what work most con­tract­ors did on be­half of the law's im­ple­ment­a­tion.
What We're Following See More »
SAUDI ARABIA BILL
Veto Override Scheduled for Wednesday in Senate
1 hours ago
THE LATEST
Senate Majority Leader Mitch McConnell said this afternoon that the Senate on Wednesday will take up an override of President Obama's veto of legislation that would allow the families of 9/11 victims to sue the government of Saudi Arabia. "The vote is expected garner the two-thirds majority necessary to override the veto."
MEDIA SHOULD HOLD TRUMP RESPONSIBLE
Reid Devotes Senate Floor Speech to Trump's 'Racism'
2 hours ago
THE LATEST
"Donald Trump is a racist," announced Senate Minority Leader Harry Reid from the Senate floor this afternoon. Reid said all of us are occasionally politically incorrect, but "I don't know of anyone that when that happens doesn't acknowledge it and, if necessary, apologize quickly." But Trump, he added, says things with "full intent to demean and to denigrate." Reid argued that the media isn't holding Trump to account, and should explicitly call him a racist.
ABSENT FROM LIST: GENNIFER FLOWERS
Most Trump Guests Have Military Ties
5 hours ago
TOP OF MIND
Trending on Google: 'Why Should Trump Not Be President'
6 hours ago
THE DETAILS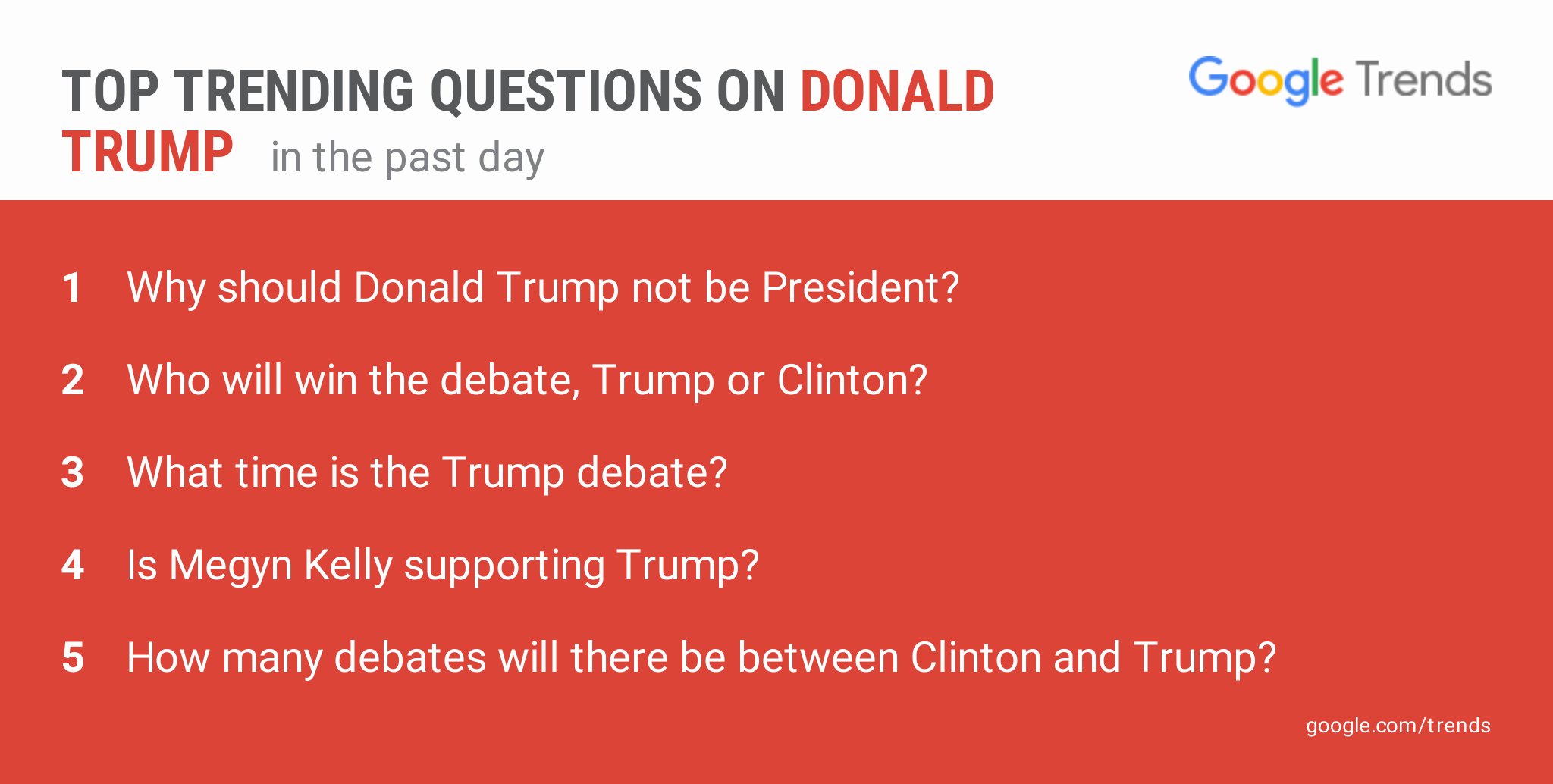 WHO PLAYED THE DONALD?
Longtime Clinton Aide Played Trump in Mock Debates
8 hours ago
THE DETAILS
After keeping the information private for most of the lead-up to the debate on Monday, it has been revealed that longtime Clinton aide Philippe Reines has been playing the role of Donald Trump in her debate prep. Reines knows Clinton better than most, able to identify both her strengths and weaknesses, and his selection for a sparring partner shows that Clinton is preparing for the brash and confrontational Donald Trump many have come to expect.