When it comes to de­fi­cit re­duc­tion, Amer­ic­ans in­creas­ingly fa­vor spend­ing cuts over tax in­creases. But their great­er open­ness car­ries a fa­mil­i­ar warn­ing: Re­duce spend­ing, but don't touch our favored en­ti­tle­ment pro­grams.
Those find­ings from the United Tech­no­lo­gies/Na­tion­al Journ­al Con­gres­sion­al Con­nec­tion Poll in­dic­ate the pub­lic has cooled on fur­ther tax in­creases after this year's fisc­al-cliff agree­ment to raise rates on in­di­vidu­als mak­ing $400,000 and fam­il­ies mak­ing $450,000. That's pos­it­ive news for Re­pub­lic­ans, who sup­port de­fi­cit-re­duc­tion pack­ages that skew heav­ily to­ward spend­ing cuts.
A plur­al­ity of adults, 43 per­cent, sup­port a de­fi­cit-re­duc­tion pack­age that in­cludes two-thirds spend­ing cuts and one-third tax in­creases. Com­par­at­ively, only 12 per­cent said they pre­ferred a plan with the re­verse — two-thirds tax in­creases and one-third spend­ing cuts. Thirty-one per­cent said they want a debt plan to in­clude equal parts cuts and tax hikes,
That's a 12-point swing from a poll taken last year. Then, a pro­pos­al to raise taxes and cut spend­ing had as much sup­port as one that em­phas­ized lower­ing spend­ing — both re­ceived 38 per­cent. A plan that favored tax in­creases drew 16 per­cent sup­port last year — 4 per­cent high­er than now.
A grow­ing re­luct­ance to raise taxes was also evid­ent with re­gard to spe­cif­ic tax de­duc­tions. In all four cat­egor­ies men­tioned to re­spond­ents — home mort­gages, state and loc­al taxes, char­it­able dona­tions, and em­ploy­ee health in­sur­ance ex­emp­tions — people were less in­clined to re­duce the de­duc­tions than last year. The shift was largest for the char­it­able de­duc­tion: 46 per­cent said law­makers should not re­duce the de­duc­tion at all, 9 points high­er than the 37 per­cent who said so last year.
The tax-re­lated poll res­ults aren't all rosy for the GOP. Over­all, most people sup­por­ted ad­di­tion­al tax rev­en­ue through re­duced de­duc­tions: 30 per­cent of adults want the char­it­able de­duc­tion lowered for every­one, and 19 per­cent of them want it re­duced for those mak­ing more than $250,000. Com­bined, that's still lar­ger than the share of adults who want to keep the tax ex­emp­tion as it is.
The res­ults on en­ti­tle­ment pro­grams present a fa­mil­i­ar di­lemma: The pub­lic wants to re­duce the debt, but the pro­grams that are the biggest drivers of the long-term de­fi­cit are also the ones they are least will­ing to cut. On So­cial Se­cur­ity, 76 per­cent of poll re­spond­ents say they don't want spend­ing to be cut at all; just 21 per­cent say they want spend­ing on the pro­gram to be re­duced a lot or some. It's a sim­il­ar story with Medi­care: 81 per­cent op­pose any cuts to it, while only 18 per­cent back re­duc­tions of any kind.
And when asked what they fear most about a de­fi­cit-re­duc­tion plan, a plur­al­ity of adults, 35 per­cent, said that it "would cut too much from gov­ern­ment pro­grams like Medi­care and So­cial Se­cur­ity."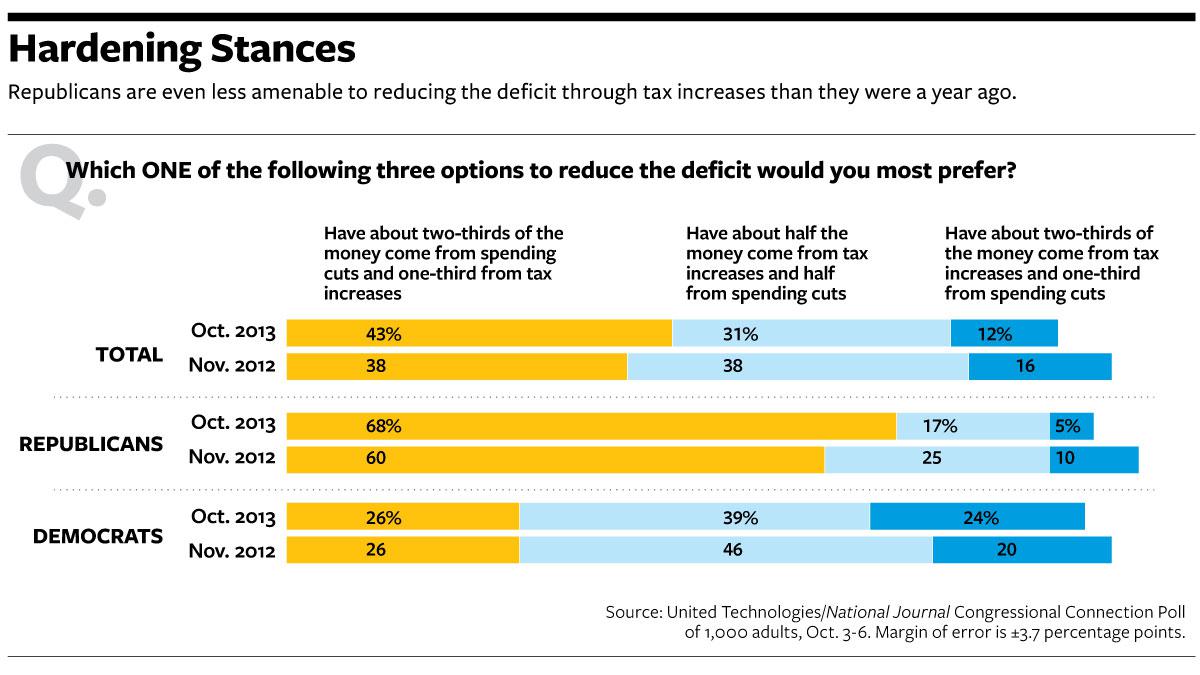 There is, however, one pro­gram the pub­lic is sud­denly in fa­vor of cut­ting: food stamps. More than half of adults, 56 per­cent, sup­port some or a lot of cuts to the pro­gram — 42 per­cent say they don't want any cuts at all. That's a sig­ni­fic­ant change since last Feb­ru­ary, when a Na­tion­al Journ­al poll found more people, 51 per­cent, said they didn't want to touch the food-stamp pro­gram. Sup­port now is highest among whites, 61 per­cent of whom want to cut the pro­gram, in­clud­ing 20 per­cent who say they want deep cuts.
The sur­vey sug­gests that a House Re­pub­lic­an vote in Septem­ber to cut bil­lions in food-stamp fund­ing, ac­tion crit­ics re­garded at the time as polit­ic­ally harm­ful, won't draw a back­lash from voters.
A chunk of adults ex­pressed con­cern that a de­fi­cit-re­duc­tion plan would either raise taxes too much or cut spend­ing too little. The poll found 25 per­cent of people said they fear it would "raise taxes on people like you." Sev­en­teen per­cent said they wor­ried such a plan wouldn't reach its tar­get for de­fi­cit re­duc­tion, while 14 per­cent are anxious it would "al­low for too much fed­er­al spend­ing in the next few years."