Oct. 11, 2013, 11:36 a.m.
Sen­ate Re­pub­lic­ans emerged from a more than 90-minute meet­ing with Pres­id­ent Obama on Fri­day more bullish than they have been in re­cent days on the chances to end the gov­ern­ment shut­down, now in its el­ev­enth day, and avoid breach­ing the na­tion's debt lim­it next week.
In the meet­ing, law­makers said that Sen. Susan Collins, the mod­er­ate Re­pub­lic­an from Maine, presen­ted to Obama a plan that would lift the debt lim­it un­til the end of Janu­ary and keep the gov­ern­ment op­er­at­ing for six months. Law­makers would then use that time to craft a broad­er fisc­al agree­ment.
"He seems open to some of the sug­ges­tions that I made," Collins said.
Her pack­age, as presen­ted, would also in­clude the rolling back of a tax on med­ic­al devices that helps fund the pres­id­ent's health care law. Obama did not em­brace the pack­age but nu­mer­ous Re­pub­lic­ans, in­clud­ing Collins, said the con­ver­sa­tion was "con­struct­ive."
Oth­er Re­pub­lic­an sen­at­ors have sug­ges­ted dif­fer­ent lengths of time for both the debt lim­it and gov­ern­ment op­er­a­tions, but they broadly agreed that talks were on track to­ward a solu­tion, per­haps for the first time since the crisis began.
"I think we're on a pretty good course right now "" I do," said Sen. Bob Cork­er, R-Tenn., after the meet­ing.
Broadly speak­ing, mul­tiple Re­pub­lic­ans said they were en­cour­aged the ne­go­ti­ations had shif­ted from dis­mant­ling the health care law to ad­dress­ing fisc­al mat­ters.
"He feels very strongly about the Af­ford­able Care Act," said Sen. Mike Jo­hanns, R-Neb, "and he's not go­ing to give on that."
In­stead, Re­pub­lic­ans hope to use the short-term debt-lim­it in­crease to ne­go­ti­ate a broad­er pack­age of changes to en­ti­tle­ment pro­grams.
Traps re­main. Collins noted that Obama "" who has de­clared defin­it­ively that he re­fuses to ne­go­ti­ate over re­open­ing the gov­ern­ment and lift­ing the debt lim­it "" seemed reti­cent to pack­age those items with any­thing else.
"It seems to be one of tim­ing for him," Collins said. "The prob­lem is if you don't put it all to­geth­er in one plan I don't know that we will be able to get suf­fi­cient sup­port to re­open gov­ern­ment and to ex­tend the debt lim­it. That's why I think it's bet­ter to com­bine them in one plan."
Not all Re­pub­lic­ans were en­cour­aged. "I'm not sure that it had any ma­jor ma­ter­i­al ef­fect one way or the oth­er," said Sen. Pat Toomey, R-Pa.
And Sen. John Cornyn, the No. 2 Re­pub­lic­an in the Sen­ate, was hardly pos­it­ive. In a pre­pared state­ment, he said "what could have been a pro­duct­ive con­ver­sa­tion was in­stead an­oth­er pre­dict­able lec­ture from the pres­id­ent that did not lay out a new path for­ward."
What We're Following See More »
UNTIL DEC. 9, ANYWAY
Obama Signs Bill to Fund Government
2 hours ago
REDSKINS IMPLICATIONS
SCOTUS to Hear Case on Offensive Trademarks
3 hours ago
WHY WE CARE
"The Supreme Court is taking up a First Amendment clash over the government's refusal to register offensive trademarks, a case that could affect the Washington Redskins in their legal fight over the team name. The justices agreed Thursday to hear a dispute involving an Asian-American rock band called the Slants, but they did not act on a separate request to hear the higher-profile Redskins case at the same time." Still, any precedent set by the case could have ramifications for the Washington football team.
STAFF PICKS
Bannon Still Collecting Royalties from 'Seinfeld'
4 hours ago
WHY WE CARE
The Hollywood Reporter takes a look at a little-known intersection of politics and entertainment, in which Trump campaign CEO Steve Bannon is still raking in residuals from Seinfeld. Here's the digest version: When Seinfeld was in its infancy, Ted Turner was in the process of acquiring its production company, Castle Rock, but he was under-capitalized. Bannon's fledgling media company put up the remaining funds, and he agreed to "participation rights" instead of a fee. "Seinfeld has reaped more than $3 billion in its post-network afterlife through syndication deals." Meanwhile, Bannon is "still cashing checks from Seinfeld, and observers say he has made nearly 25 times more off the Castle Rock deal than he had anticipated."
IT'S ALL CLINTON
Reliable Poll Data Coming in RE: Debate #1
4 hours ago
WHY WE CARE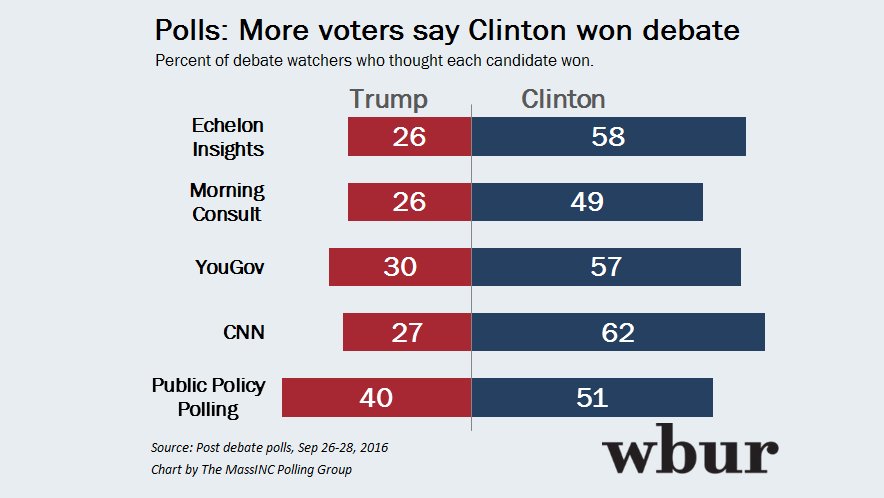 NEXT THURSDAY
Trump Transition Team Meeting with Silicon Valley VIPs
6 hours ago
THE DETAILS
Donald Trump's "transition team will meet next week with representatives of the tech industry, multiple sources confirmed, even as their candidate largely has been largely shunned by Silicon Valley. The meeting, scheduled for next Thursday at the offices of law and lobbying firm BakerHostetler, will include trade groups like the Information Technology Industry Council and the Internet Association that represent major Silicon Valley companies."