HER­MOSA BEACH, Cal­if. — Loc­als call the board­walk along the beach the "Strand." In this small Los Angeles sub­urb 15 miles south of the fam­ous Santa Mon­ica pier, it's easy to run in­to someone you know, and you can walk just about every­where. But this is still South­ern Cali­for­nia. Most people have cars, too.
The city's 20,000 res­id­ents, whose av­er­age in­come is roughly $100,000 (al­most double the na­tion­al av­er­age), also have noble sus­tain­ab­il­ity com­mit­ments. The city has banned Styro­foam cups, in­stalled elec­tric-car char­ging sta­tions down­town, and in 2010, the may­or pledged to make Her­mosa Beach car­bon-neut­ral.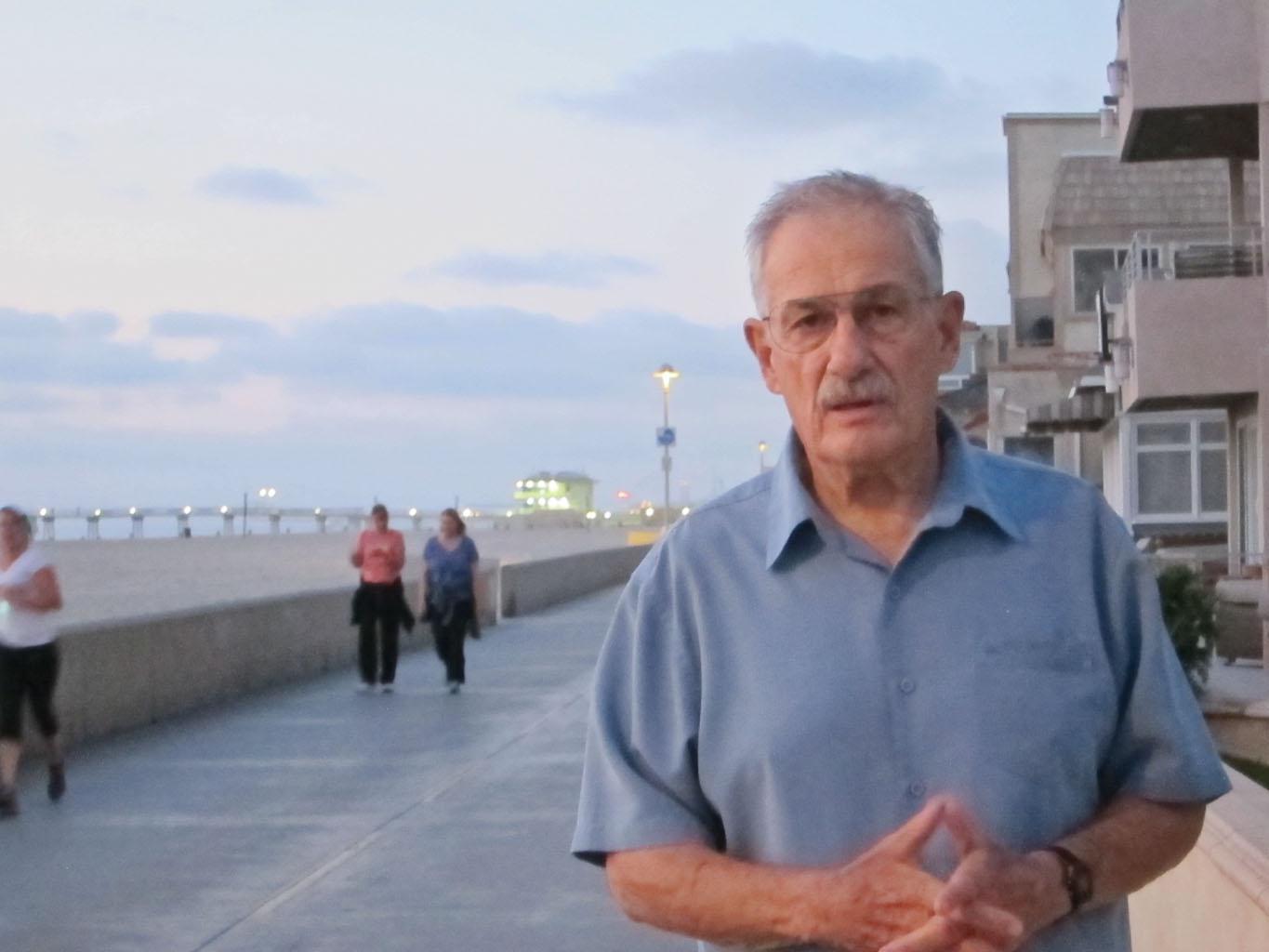 "The clean-tech, clean-en­ergy, green-jobs eco­nomy is com­ing and com­ing fast," then-May­or Mi­chael Di­Vir­gilio wrote in an op-ed. "We share a vis­ion for our city's fu­ture as a fer­tile home for new green ideas, busi­nesses, tech­no­lo­gies, and prac­tices." Her­mosa Beach res­id­ent and former may­or George Schmeltzer is fight­ing a pro­pos­al to drill for oil in this wealthy, beach town. (Amy Harder)
But even idyll­ic Her­mosa Beach — so fas­ti­di­ous it does not al­low wed­dings on the beach — can­not es­cape the na­tion's oil and nat­ur­al-gas boom. Four blocks up from the Strand, E&B Nat­ur­al Re­sources, an in­de­pend­ent oil com­pany based in Bakersfield, Cal­if., is seek­ing to drill as many as 35 wells to re­cov­er up to 35 mil­lion bar­rels of oil on a site that's just 1.3 acres. New dir­ec­tion­al-drilling tech­no­logy would al­low E&B to drill un­der­neath the beach and out in­to the ocean floor.
Her­mosa Beach's struggle re­flects a broad­er battle tak­ing place in Cali­for­nia: The green­est state in the uni­on, with a fierce reg­u­lat­ory re­gime com­bat­ing pol­lu­tion and fos­ter­ing en­vir­on­ment­al­ism on al­most every level, is hav­ing to sim­ul­tan­eously cope with an en­ergy boom along its oil-rich shoreline.
Cali­for­nia has al­ways had a lot of oil. Fif­teen of the coun­try's 100 largest oil fields are there, ac­cord­ing to 2009 data from the fed­er­al En­ergy In­form­a­tion Ad­min­is­tra­tion. After dec­ades of de­clin­ing oil pro­duc­tion, the one-two com­bin­a­tion of stable, high oil prices and new drilling tech­no­logy, in­clud­ing dir­ec­tion­al drilling and hy­draul­ic frac­tur­ing, more com­monly known as "frack­ing," is prompt­ing com­pan­ies to ramp up pro­duc­tion, both in Cali­for­nia's rur­al Cent­ral Val­ley near Bakersfield and in urb­an Los Angeles.
The Monterey Shale form­a­tion in the San Joa­quin Val­ley is es­tim­ated to hold two-thirds of the coun­try's on­shore oil-shale de­pos­its. If pro­du­cers can de­vel­op the tech­no­logy to tap in­to this rock — a big if — Cali­for­nia is poised for an even big­ger oil comeback than an­ti­cip­ated.
"With the like­li­hood of oil stay­ing at $100 a bar­rel or more, we will likely see an in­crease in both the re­search and de­vel­op­ment and the pro­duc­tion side," said Mark Necho­dom, dir­ect­or of Cali­for­nia's Con­ser­va­tion De­part­ment, the agency tasked with reg­u­lat­ing the oil and nat­ur­al-gas in­dustry. "People don't even real­ize that Cali­for­nia is an oil pro­du­cer, let alone that it's the fourth-largest oil and gas pro­du­cer in the coun­try."
Most people do real­ize, though, that the Golden State is a glob­al lead­er in com­bat­ing cli­mate change and de­vel­op­ing re­new­able en­ergy. In 2006, then-Gov. Arnold Schwar­zeneg­ger signed a bill in­to law that at­temp­ted to slash green­house-gas emis­sions from all corners of the Cali­for­nia eco­nomy.
On top of a cap-and-trade sys­tem for emis­sions in all sec­tors of its eco­nomy, Cali­for­nia also im­poses a low-car­bon stand­ard for trans­port­a­tion fuels and one of the most am­bi­tious re­new­able-elec­tri­city stand­ards in the coun­try, man­dat­ing that 33 per­cent of the state's elec­tri­city come from re­new­able sources by 2020.
In­deed, Cali­for­nia is the coun­try's re­new­able-en­ergy lead­er. It has in­stalled al­most five times more sol­ar power in the first quarter of this year than the second-closest state, Ari­zona, ac­cord­ing to the latest data from the Sol­ar En­ergy In­dus­tries As­so­ci­ation. Early next year, the largest sol­ar pro­ject in the world is slated to be­gin gen­er­at­ing elec­tri­city for up to 140,000 homes from the Mo­jave Desert.
The state trails only Texas in in­stalled wind ca­pa­city and is first in geo­therm­al pro­duc­tion.
But everything is re­l­at­ive. Necho­dom points out that, des­pite the im­press­ive lead­er­ship on re­new­able en­ergy, Cali­for­nia's eco­nomy — the eighth largest in the en­tire world — is still 96 per­cent re­li­ant upon oil and nat­ur­al gas. Cali­for­nia drivers use 14 bil­lion gal­lons of gas­ol­ine every year, ac­cord­ing to the Air Re­sources Board, the state's clean-air reg­u­lat­ory agency.
"The real­ity is, civil­iz­a­tion is about the con­cen­tra­tion of en­ergy, and right now hy­dro­car­bons are our most abund­ant and eco­nom­ic re­sources," said Necho­dom, whose ca­reer in­cludes stints work­ing on cli­mate change at the fed­er­al Ag­ri­cul­ture De­part­ment and in the bio­mass in­dustry. "But if we are not in the longer term work­ing on the trans­ition to a lower car­bon in­tens­ity, what are we do­ing? I've had that po­s­i­tion for years, and that's why I've worked act­ively on the fed­er­al cli­mate bill. We need to move to some oth­er way of power­ing our eco­nomy."
That fight is tak­ing place now at al­most every level of gov­ern­ment, from reg­u­la­tions in Wash­ing­ton to fights like the one in Her­mosa Beach. As the res­ult of a con­vo­luted leg­al battle dat­ing back to 1985, Her­mosa res­id­ents will vote next year on wheth­er to al­low E&B's pro­ject. If the com­pany wins, it would be the first oil drilling here in more than 80 years. If it loses, the city owes the com­pany $17.5 mil­lion.
"Our com­pany has a few pro­jects in Cali­for­nia where we have a lot of re­serves, and those re­serves have be­come eco­nom­ic be­cause of high oil prices," said Mike Finch, a vice pres­id­ent at E&B. He cited high oil prices and new tech­no­logy as key reas­ons the com­pany is pur­su­ing drilling in Her­mosa. "But the main thing is, we're very con­fid­ent in the fact that there is oil here in Her­mosa Beach and there is a lot of it," Finch said.
The unique cir­cum­stances are trig­ger­ing a small-town de­bate about oil drilling, its po­ten­tial be­ne­fits and draw­backs for the city, cli­mate change, and the U.S. ad­dic­tion to oil. Her­mosa is try­ing to do its part, with its car­bon-neut­ral goal, but there's no deny­ing that oil drilling will make that goal tough­er to meet.
Her­mosa res­id­ents Sta­cey Armato and George Schmeltzer are among the lead­ers in the fight against drilling, re­cently form­ing a polit­ic­al ac­tion com­mit­tee, Stop Her­mosa Beach Drilling, to cam­paign against E&B's pro­ject. They're wor­ried about a whole host of things, in­clud­ing that the com­pany might frack to tap the oil (both the com­pany and city of­fi­cials say no frack­ing will oc­cur). Most of all, they just don't want drilling in their back­yards.
"We think it's in­her­ently not something that goes in­to an urb­an en­vir­on­ment," said Schmeltzer, a former may­or of Her­mosa. "I don't have a prob­lem with oil as long as it's part of a pro­cess that looks to a fu­ture that elim­in­ates it."
But for now, oil is very much part of the present, even in the green­est state in the U.S.