In a nor­mal polit­ic­al en­vir­on­ment, the minor­ity party in the House has the least clout in Con­gress. With no need for a su­per­ma­jor­ity to move con­ten­tious le­gis­la­tion or the abil­ity to block bills from the ma­jor­ity, as oc­curs in the Sen­ate, the lower cham­ber's minor­ity his­tor­ic­ally has had a more lim­ited role in le­gis­lat­ing.
But we are not in a nor­mal polit­ic­al en­vir­on­ment. These days, the minor­ity is act­ing like the ma­jor­ity.
Ob­vi­ously House Demo­crats can't con­trol the floor or bring up their bills. But dur­ing the past few ma­jor fisc­al fights, a nearly united House Demo­crat­ic Caucus has car­ried bills across the fin­ish line, des­pite be­ing out­numbered by Re­pub­lic­ans. The last not­able time this oc­curred was dur­ing the fisc­al-cliff show­down, in which House Re­pub­lic­an lead­er­ship was forced to put a bill up for a vote that re­ceived sup­port from more than twice as many Demo­crats as Re­pub­lic­ans. Only 16 Demo­crats voted against it, com­pared with 151 Re­pub­lic­ans.
While the Re­pub­lic­an con­fer­ence has been di­vided in these big battles, House Demo­crats have been re­mark­ably uni­fied — with some mem­bers grit­ting their teeth and cast­ing votes for bills they don't like. Many Demo­crats at­trib­ute that to a lead­er­ship that has a proven abil­ity to de­liv­er votes.
"What counts is not how many Demo­crat­ic votes there are, what counts is how you get it to 218, and we will get it to 218," Rep. Steve Is­rael, D-N.Y., said hours be­fore the vote on the Sen­ate agree­ment to re­open the gov­ern­ment and tem­por­ar­ily lift the debt ceil­ing.
The meas­ure passed the House late Wed­nes­day with 198 Demo­crat­ic votes, des­pite a num­ber of pro­gress­ives strongly dis­ap­prov­ing of the se­quester-driv­en fund­ing levels in­cluded in the deal.
"We hate them, but we hate the shut­down more," said Rep. Keith El­lis­on, D-Minn., co­chair of the Con­gres­sion­al Pro­gress­ive Caucus.
"As much as we be­lieve in what we be­lieve in as pro­gress­ives, we would nev­er dream of shut­ting the gov­ern­ment down over our pri­or­it­ies. That might dis­ap­point some pro­gress­ives, but the truth is it's just wrong for the Amer­ic­an people," El­lis­on said. "I fer­vently want to see some real gun con­trol, some real gun safety, but I would nev­er try to wreck the coun­try over it."
Even Rep. Rosa De­Lauro of Con­necti­c­ut — one of just 16 Demo­crats who voted against the fisc­al-cliff deal be­cause the tax rates for wealth­i­er Amer­ic­ans were still too low for her — said hours be­fore the vote on the Sen­ate agree­ment, "I'm go­ing to wait to see what it has in it, but I want to keep the gov­ern­ment open and I want to see the debt ceil­ing raised."
"Our caucus has a sense of loy­alty to each oth­er and to our com­mon pur­pose," said Rep. Jim Mor­an, D-Va. "There is a bond of unity. Our in­di­vidu­al dif­fer­ences and our geo­graph­ic­al dif­fer­ences can be put aside with something this im­port­ant."
There was little grumbling among House Demo­crats leav­ing their caucus meet­ing Wed­nes­day. In­stead, there was a rauc­ous ap­plause. Not in re­sponse to "win­ning" a ne­go­ti­ation, said Rep. John Lar­son, D-Conn. "[Rep.] Jim Cly­burn told a won­der­ful story about unity, grow­ing up in South Car­o­lina."
What We're Following See More »
UNTIL DEC. 9, ANYWAY
Obama Signs Bill to Fund Government
2 hours ago
REDSKINS IMPLICATIONS
SCOTUS to Hear Case on Offensive Trademarks
3 hours ago
WHY WE CARE
"The Supreme Court is taking up a First Amendment clash over the government's refusal to register offensive trademarks, a case that could affect the Washington Redskins in their legal fight over the team name. The justices agreed Thursday to hear a dispute involving an Asian-American rock band called the Slants, but they did not act on a separate request to hear the higher-profile Redskins case at the same time." Still, any precedent set by the case could have ramifications for the Washington football team.
STAFF PICKS
Bannon Still Collecting Royalties from 'Seinfeld'
4 hours ago
WHY WE CARE
The Hollywood Reporter takes a look at a little-known intersection of politics and entertainment, in which Trump campaign CEO Steve Bannon is still raking in residuals from Seinfeld. Here's the digest version: When Seinfeld was in its infancy, Ted Turner was in the process of acquiring its production company, Castle Rock, but he was under-capitalized. Bannon's fledgling media company put up the remaining funds, and he agreed to "participation rights" instead of a fee. "Seinfeld has reaped more than $3 billion in its post-network afterlife through syndication deals." Meanwhile, Bannon is "still cashing checks from Seinfeld, and observers say he has made nearly 25 times more off the Castle Rock deal than he had anticipated."
IT'S ALL CLINTON
Reliable Poll Data Coming in RE: Debate #1
4 hours ago
WHY WE CARE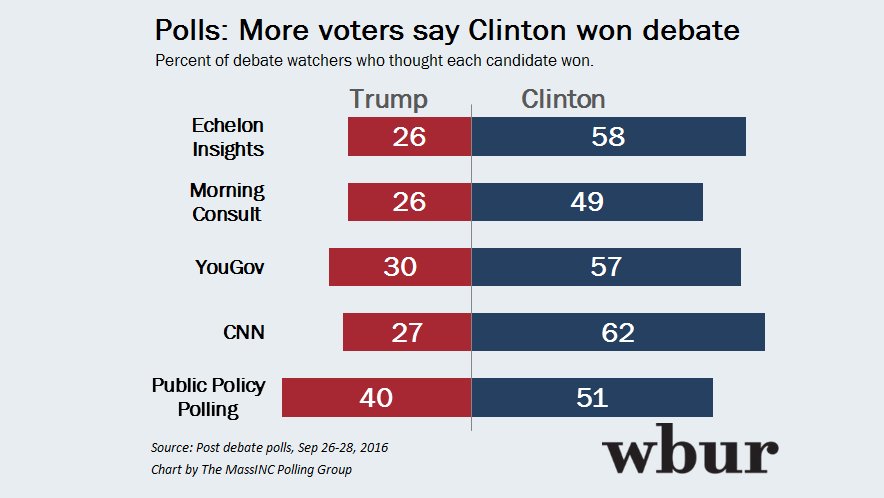 NEXT THURSDAY
Trump Transition Team Meeting with Silicon Valley VIPs
6 hours ago
THE DETAILS
Donald Trump's "transition team will meet next week with representatives of the tech industry, multiple sources confirmed, even as their candidate largely has been largely shunned by Silicon Valley. The meeting, scheduled for next Thursday at the offices of law and lobbying firm BakerHostetler, will include trade groups like the Information Technology Industry Council and the Internet Association that represent major Silicon Valley companies."